[This post is sponsored by ZUPA NOMA. I used their Organic Tomato Gazpacho to create the tomato sauce in this recipe.Thank you for keeping The Kitcheneer in the kitchen!]
I am a G.R.I.T.S.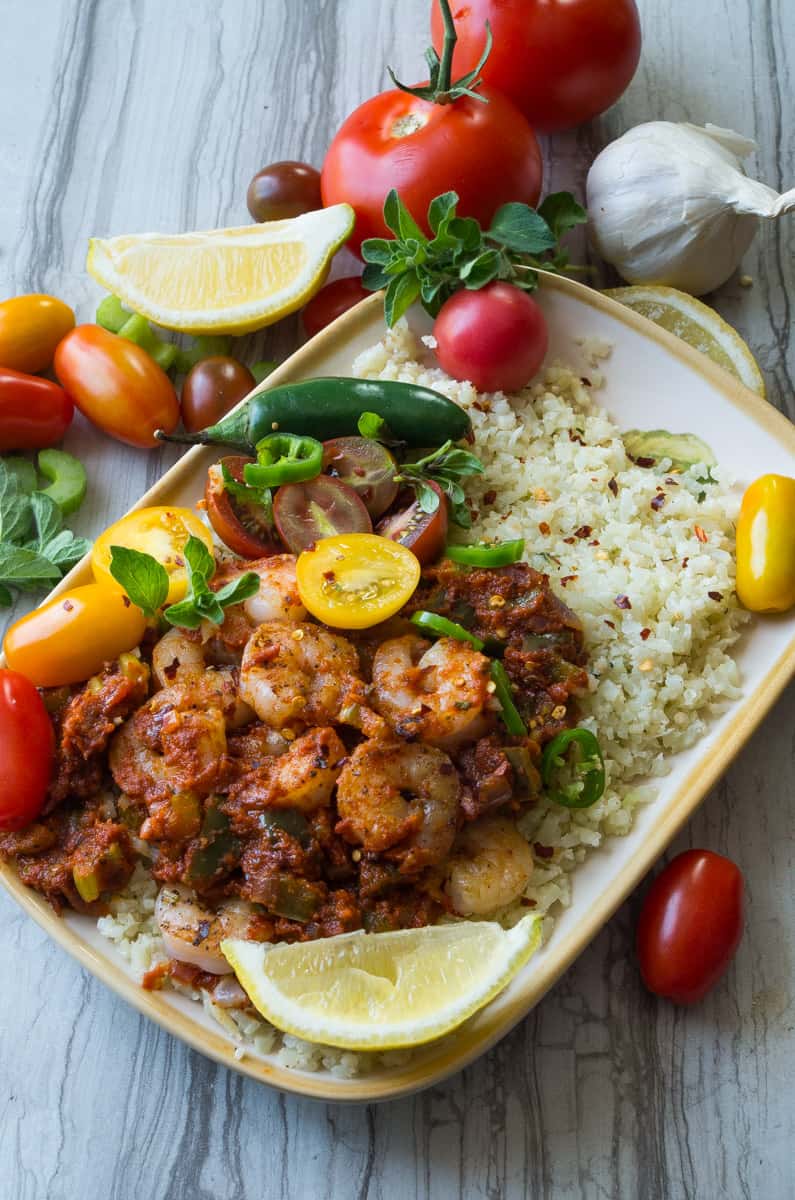 As in Girl Raised In The South. I was actually born in South Carolina and most of my breakfasts growing up were grits. AKA BEST BREAKFAST EVER. Loaded with butter and oh so good. But that doesn't exactly fit my healthy lifestyle anymore. So I decided to take my favorite breakfast and bump it up to brunch/dinner status with a bit of Louisiana flare.
I love anything with spice and I believe folks in the south do spices right. And since summer is approaching, I feel like it's time to embrace everything spicy, fun, and fresh!
Ok? Ok!
And I know some of those on the Whole30 (including me) have problems pulling together a meal that has all of your macros. Like, I will have broccoli and salmon on my plate…but where is my healthy fat? Usually I will stop in the pantry for a spoonful of almond butter and call it a night. But, ideally I want The Kitcheneer to be a place where it's a one stop shop for you.
You get your healthy carb (cauliflower plus veggies), your protein (shrimp), and your healthy fat (ghee/cooking fat) all in one bowl!
So you see, I am looking out for YOU! 🙂
Let's take a peek at this amazing bowl of Whole30 Shrimp and "Grits".
…. Fresh shrimp marinated in lemon juice and spices. This alone elevates the spice level by having it in the marinade THEN adding to the sauce
….. A spicy creole tomato based sauce that has me drooling just thinking about it. It starts with a little oil, garlic, green bell pepper, celery, spices, and a bit of my favorite ZUPA NOMA (which is so so good here).
The Organic Tomato Gazpacho is one of my favorite flavors from ZUPA NOMA. It truly is a superfood soup packed with fresh tang of whole, ripe tomatoes and sweetened with bell pepper and red onion.
And get this: each bottle of ZUPA NOMA contains FOUR servings of whole organic vegetables! How awesome is that!?
…once the shrimp is cooked and the sauce gets thicker and thicker it's time to make our grits
Cauliflower is riced and softened in a sauce pan with ghee and fresh herbs and garlic.
So have I convinced you that you NEED to make this brunch, lunch, dinner????
DO IT.
This is happening this weekend. Again. On our back patio with a glass of sparkling kombucha. Why? Because we can.
And this was very much inspired by my two earlier posts:
Cauliflower Grits Cups <-Whole30 friendly
Italian Shrimp and Creamy Polenta <- not Whole30 but gluten free
Save
Save
Save
Save