Sometimes simple is best.
And I have a SUPER easy dinner for you this Wednesday. Which is a MUST to get over the middle of the week hump.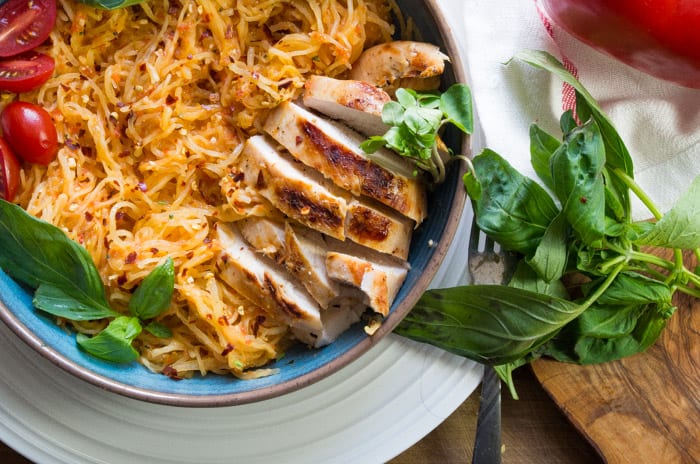 And it has been quite the week already. Jake has been working SUPER hard the past 3 months and I feel like I barely see him and it's been rough on both of us. I'm ready to have my guy back and back to simpler things.
Like this pasta.
But even better because I used spaghetti squash. And I eat so much of it because I think I like it more than regular pasta.
After my last reintro from the Whole30, on gluten day I tried a little pasta. And it felt like a gooey heavy stone in my stomach. No bueno.
And I honestly truly love this squash. And if you are new to it. It really does have the same consistency and texture of spaghetti squash. It's savory, carby, and has a hint of sweetness. Trust me, you'll love it.
Roasted red peppers are blended with olive oil, pine nuts, a LOT of basil, and I also threw in some sun dried tomatoes. Because I am already dreaming of summer flavors and it just needed to happen.
This sauce was SO good that we tried it on my Greek Salad and knew it was a winner. So, toss it with pasta or on your salad. Can't go wrong! Or maybe use it instead of pizza sauce on your pizza??? Hmm
Spaghetti squash is pretty easy to make. Just slice in half, drizzle with a little olive oil, sprinkle some salt and pepper. Then you roast in the oven for 40 minutes.
And unlike regular pasta, you don't need to worry about over cooking it. Pasta is a little frustrating when you walk away for one minute more than you intended. And now you have limpy doughy pasta. Gross.
Next, is this amazing Roasted Red Pepper Pesto sauce. Basically dump everything into a food processor and toss with the pasta. DONE.
And to make this a full meal, I added some grilled chicken. This could be a great leftover makeover recipe if you have some grilled chicken already in your fridge. Just reheat and add to this pasta dish.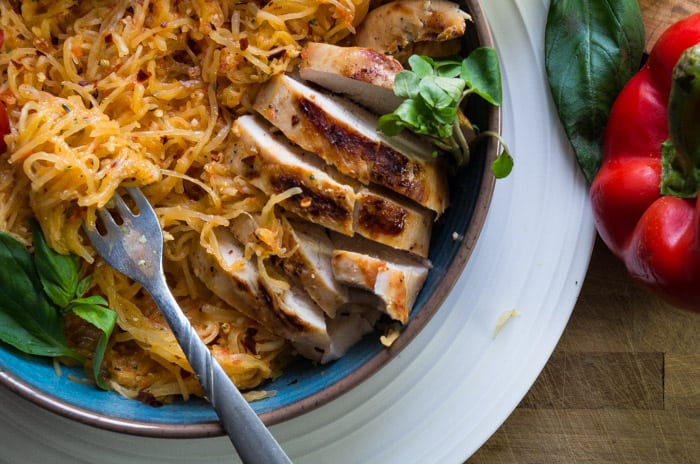 Now, let's eat and get through the rest of this week!
Roasted Red Pepper Spaghetti Squash with Grilled Chicken FTW!!!
This pesto was inspired by Half Baked Harvest
Save