[This post was made possible by The Honest Bison. I used their NY Strip bison steaks as the key ingredient in this recipe.]
Words can not describe how good a perfectly cooked grilled steak is.
As the internet will tell you, it's officially grilling season. Time to remove the grill cover and turn up the flames. (my cover doesn't exist as we never stop grilling)
But searing the PERFECT grilled steak is something you need to learn ASAP. Unless you like a nice black char... (I do not)
Grilled bison NY strips plus melty roasted garlic compound clarified butter and some grilled asparagus and a fresh tomato salad makes this the best kinda summer dinner. All done in 15 minutes!
And I am ALL about quick healthy dinners. Especially in the summer time. Just the IDEA of standing in front of the hot stove just makes me start to sweat. No thanks. k?
As i have mentioned before, Jake and I are in serious training mode for the Marine Corps Half Marathon in less than a month! EEEEEKKKK. So I have been spending less time in the kitchen and more time creating a a cage for my heart with my rib cage. I swear sometimes as I am gasping for air (repeat I am NOT a runner; I simply like the idea of running) that my heart is like "Why me???" And Jake with his long giraffe legs are way ahead of me....Super jealous of his gait. Don't get me wrong, I have improved SO much in the running department. But I haven't really got to the point of that "runner's high" it's more of a very long and painful mental thread of "this hurts, this hurts, this hurts" LOL But the days where we have good runs and I feel like a flying unicorn are what make the awful ones worth it.
Which means when I return from said run, I REALLY do not want to cook. Therefore, grilling or slow cooking become my go to cooking methods. And this recipe (per usual) is Whole30 compliant! I still continue to eat this way 80% of the time and LOVE it. I honestly don't miss any of the crap food I ate 2 years ago. And if juicy savory new york strip with a garlic infused herb compound butter isn't your thing. Then look away...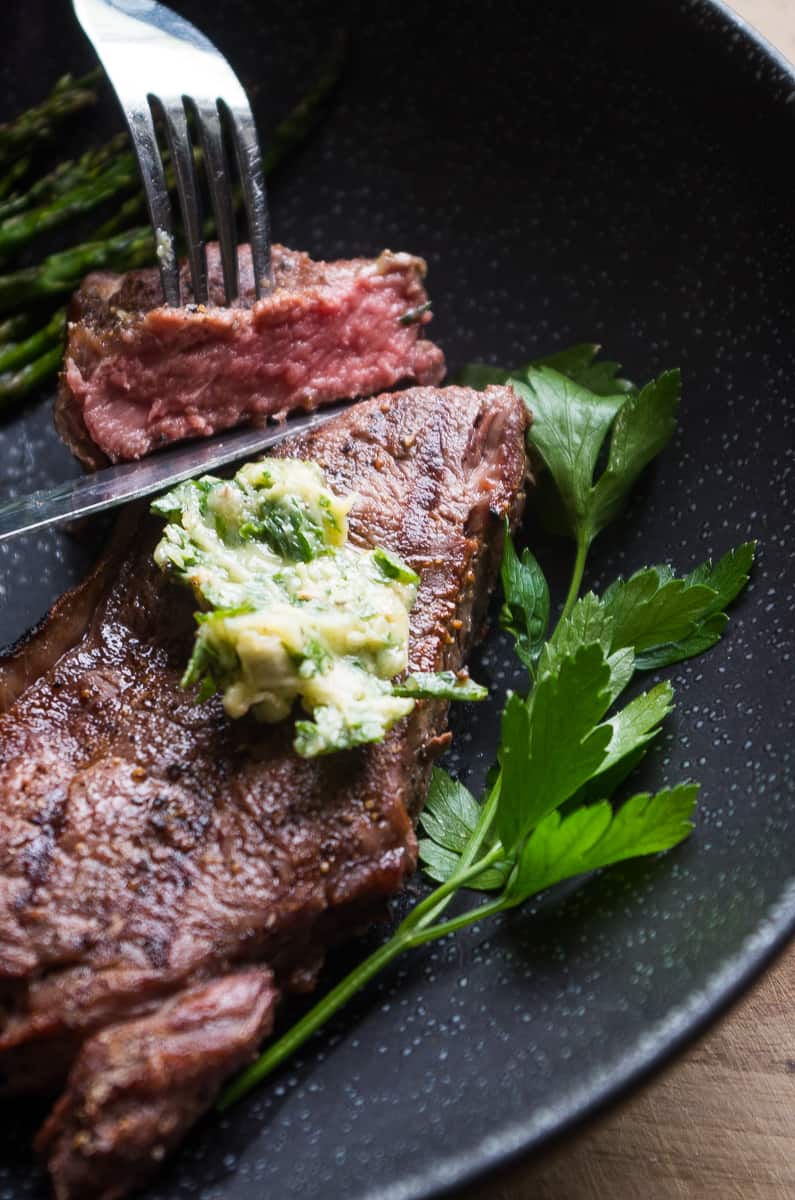 I dare you.
And this steak couldn't be any simpler to make.
For great cuts of steak like a strip, I keep it simple with a sprinkle of salt and pepper and a brush of olive oil and it's on the grill alongside the asparagus.
While it's grilling just add all compound ingredients to a food processor and give it a whirl.
Serve alongside a fresh tomato salad, asparagus,and this makes the perfect quick weeknight dinner that also will be great for entertaining at your next summer dinner party.
Have I convinced you yet that you NEED to try this steak??
Now how do you make the PERFECT grilled steak?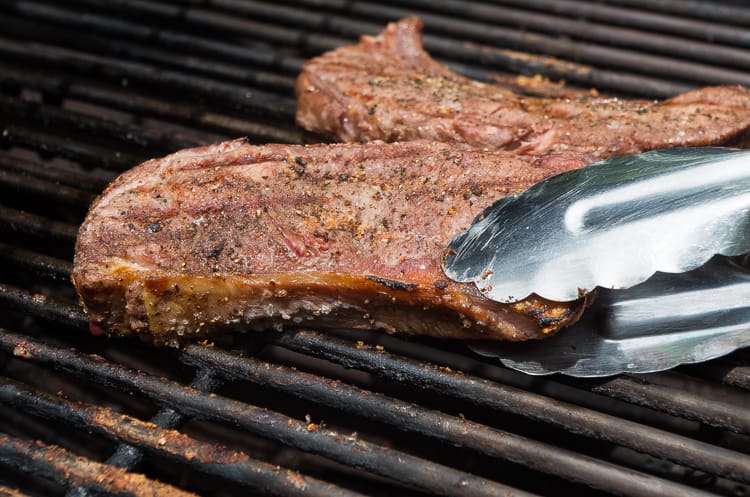 It's all about the temperature!
The best steaks are those that are at the right temperature when they go on the grill. If it's too cold, it will take longer to cook and thus you will miss that perfect medium pink steak.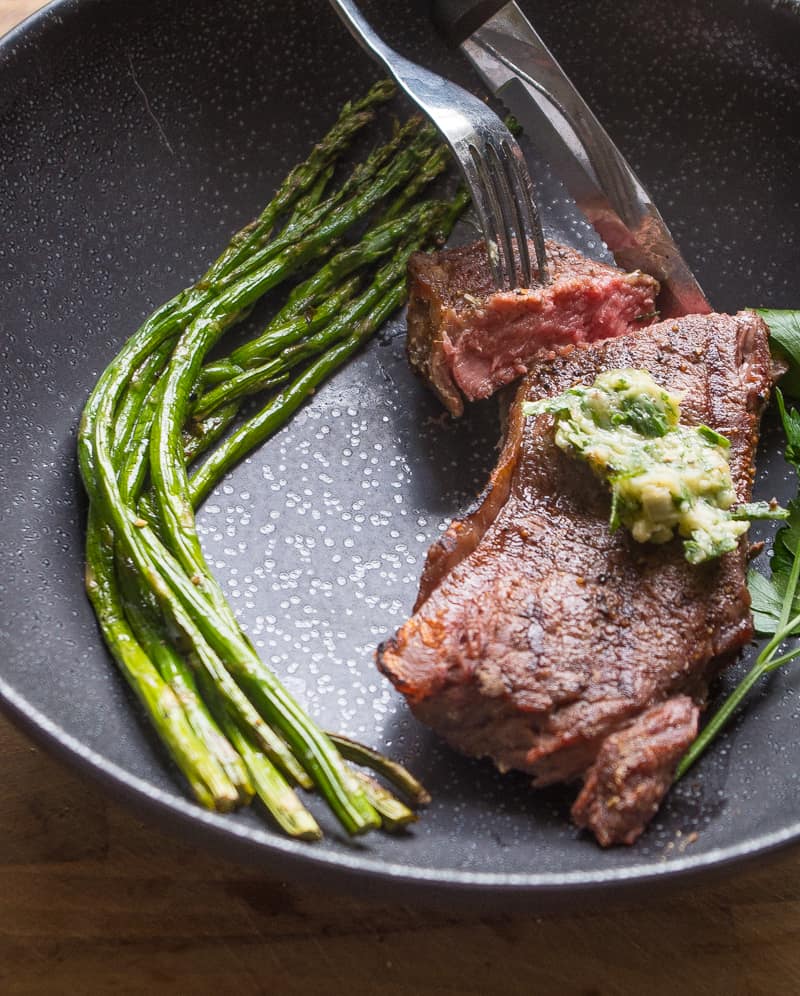 But allowing the steak to come room temperature then searing it on the hot grill allows it to get that nice brown seared crust but letting the inside gradually warm up to desired color.
I love medium steaks and always aim for the pink middle.
I had 5 oz steaks so they didn't take long at all on the grill. about 3-4 minutes per side!
Show off your new grilling skills this weekend with this steak and you won't be sorry!
Save
Save
Save