[This post is made possible with my partnership with The Honest Bison. I used their ground bison as the main ingredient in these sliders. Thank you for keeping The Kitcheneer in the kitchen!]
So, I decided today is a great day for burgers.
As I have mentioned before, there is no grilling "season" at our house. We grill all year round. Even if it means Jake is shivering outside in a hoodie holding a spatula. Everyday is a good grilling day. Even if you have to hold an umbrella.
So when the world officially declares it "Grilling Season" I roll my sleeves up and write a million grilling recipes to share with you all summer long.
And when you happen to make sliders that include the fries as a bun. You have to give yourself a pat on the back. Because that's pretty genius if I do say so myself. But I may be biased ;).
So let's talk sliders. The all American appetizer/pub food.
And since Memorial Day is quickly approaching which means honoring our fallen heros and celebrating our freedom because of them. Which means after doing the Murph WOD in the AM it's all about grilling and relaxing with friends and family by the pool (preferably) or in the shade of your backyard patio.
I made these sliders with bison. Not just any bison. But bison from The Honest Bison. Which means it's extra tender, juicy, and full of flavor. They take pride in the quality of their meat and it is 100% naturally grass-fed Bison, humanely raised with no grains, no hormones and no feedlots. Need I say more?
As I was saying, for the base of these sliders I used 100% grass fed ground bison and I seasoned them pretty simply as they really don't need much. Just some salt, pepper, cream of tartar (my secret for extra juicy burgers), and a pinch of cayenne pepper. Again, I likey the spicy.
From here, I got the idea to make buns from sweet potato. But I have done that before and it's pretty good. But then i got to thinking about curly fries and that's when I pulled out my spiralizer, softened the noodles in a pan, and packed them into a muffin tin and made sweet potato curly fry buns. Save the applause for the end of this post.
For eating Whole30 most of the time, burgers can get kinda...blah. You know, going bun less or wrapping it in lettuce (my favorite) but these are absolutely PERFECT for your Memorial Day BBQ for everyone. And if you happen to be on a Whole30, no one will know the difference. They will be too thrilled with the idea of eating a burger and french fries all in one bite!
And if sweet potatoes aren't your thang, then simply swap for russet potato. BOOM.
And because that wasn't enough fun I took these sliders a step further with a sun dried tomato aioli. Because it's practically summer and I love any excuse to use sun dried tomatoes. And don't worry, it's nothing too fancy to make. All I did was take some home made mayo or Primal Kitchen makes a great choice too. I stirred in some chopped sun dried tomatoes from a jar with a little bit of the oil,garlic,and a little mayo. Thats it!
I think these sliders would make a great addition to any BBQ,summer dinner party appetizer, or a great Father's Day recipe!
Let's get grillin'.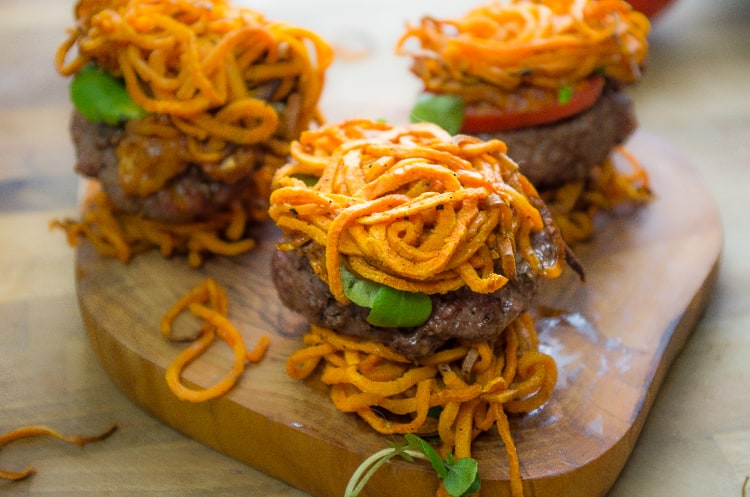 Save