I have the absolute pleasure of introducing you to the newest Whole30 APPROVED partner, Territory!
Territory offers great Whole30 compliant meals, prepared fresh by local chefs and delivered weekly to fuel your life!
That's why when the Whole30 and Territory asked if I wanted to try these Whole30 approved meals, the answer was a no brainer: YES!!!
I have completed the Whole30 8 times now and I seriously can say it has changed my life forever. And now that I have discovered Food Freedom I only continue to do Whole30s as resets. And as a result these past 2 years, I have lost 50 lbs and countless inches. But the biggest lesson learned from this journey is all my non-scale victories. I smile more. I have confidence out the wazoo. I'm more energetic and have energy to do my long runs on a Tuesday after work versus waiting until the weekend (or never) The Whole30 has taught me to grow outside the prison that was once "food". Food doesn't rule my life anymore and I am free.
And being on the Whole30 means a lot of planning and prepping. And sometimes life happens. And all the planning and prepping in the world can't save you. But Territory can rescue you in those dark times.
The time your husband ATE your Whole30 prepped lunch; the time you left your groceries in the car and it got spoiled, the time your dog ate something bad and you had to spend your evening at the vet's office and didn't have time to cook dinner and take care of your pup.
But that's life. And life throws dodgeballs and or wrenches at you.
But if you are lucky enough to live in the SF Bay Area, SoCal, Dallas- Fort Worth, or in the DC/ Virginia/MD area you're in for a treat because Territory meals are able to be delivered to your door!
In fact, Territory was founded on the question "What If?"
"What if?" You could have not just any food, but real Whole30 compliant food, that's not only good for you but really tasty?
If I haven't convinced you that you should try Power Supply then maybe some of these other life dodgeballs will.
The Unexpected Longest Work day EVER

This has happened on so many occasions on my Whole30 rounds. I start my day with my meal prepped breakfast, a cup of coffee with some hazelnut Nut Pod goodness, my lunch is a wonderful protein salad, and then my boss schedules me to a late afternoon meeting that runs until 7PM. I had some chicken thawing in the fridge but I simply have no desire to cook it. I am exhausted and VERY hungry at this point. Thank GOD I ordered a few Territory dinners this week. Now I can slip into my PJs and heat up my meal and binge some Netflix episodes without turning to non-compliant foods out of convenience.
Air Travel During the Whole30

A business trip unexpectedly pops up and you have to leave Tuesday morning to fly out to California. AND you just started your Whole30. You have two options here. Option A is look at the list of TSA approved food items and pick those off the Territory menu (pick ones without stew or gravy). Option B orderTerritory to pick up in their California location when you land. Easy Peasy life saver!
Gym Fuel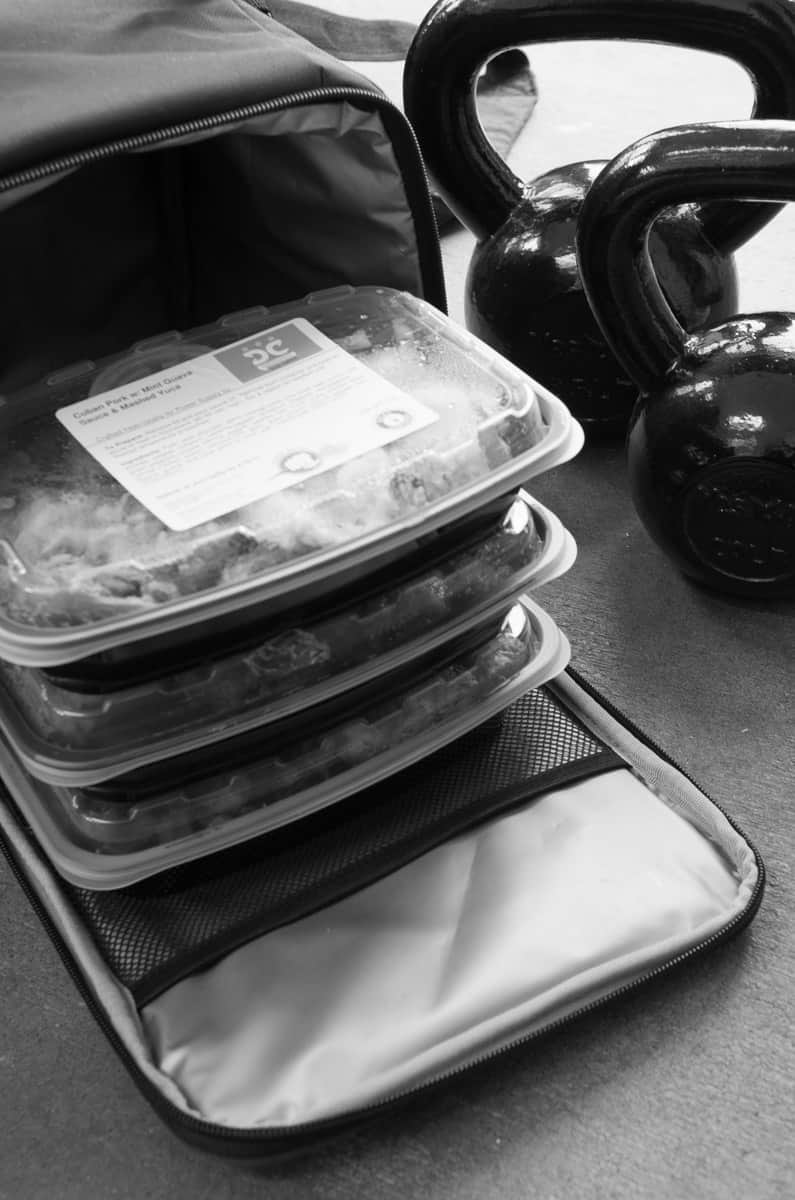 After a long day at work plus going straight to the gym, the mere thought of making a proper Whole30 compliant dinner has me saying, "Forget it" and going to bed hungry. And the thought of a spoonful of almond butter and a hardboiled egg is nauseating by day 17 for me. Cue in Territory. If I know I will be STARVING at the end of a hard workout I will sometimes bring food with me so I can start refueling my body ASAP. The smaller meals that Territory offers is PERFECT for this moment. The gym I go to have a mini fridge for such occasions so my meal is kept fresh the whole time and I can heat it up there to get much needed protein and fat into my body. The sooner you eat after a workout, the faster the results. Especially if you are looking to get toned. Hello beach body!
Vacay Baby!

Headed to that beach house this summer? I know I am! And what better way than to not only take a break from work but from cooking as well??? I know I will be bringing my Whole30 compliant deli meats, veggies, and fruit for quick meals but what about main meals?
Territory has got you. Simply order what meals you think you will want and how big you want your meals to be and voila! Instant delicious Whole30 meals delivered to your doorstep that you can pack in your cooler to take with you!
Busy moms

I am actually not a mother myself. But I know lots of friends and coworkers who are and I hear how much they struggle to get a meal that they actually want in their bodies on a daily basis. I know some moms who's only source of nutrition are from their toddlers' leftover cheerios and juice boxes. So, I know this meal delivery service will provide you with real wholesome ADULT food that is Whole30 compliant.
No cooking. No messes to clean up. No dishes. Simply heat and eat. Done!
My Opinion?
I absolutely loved all of my meals. I especially LOVED the Cuban Pork with Mint Guava Sauce and mashed Yuca. To add more to this meal I put it on a bed of greens, because I still love to cook and I had some spare spring mix in my fridge.
I could tell each meal was made with care and portioned perfectly. I love that Territory delivers twice a week when you order for a full week. This guarantees the freshness of your food. And any brand that supports those "What if?" life events has my approval.
And if you do have some spare time to add to these meals, then go for it! Add a bed of greens, a side of fruit or nuts/olives. I mean let's take a look at the menu I had this past week:
Beef Stew with Glazed Parsnips and Butternut Squash Mash
Cuban Pork with Mint Guava Sauce and Mashed Yuca
Pistachio Crusted Tuna Cakes with Fennel Apple Slaw
Sage Roasted Pork with Cinnamon Apples and Green Beans
Salmon and Spinach Quiche with Sweet Potato Hash
Scotch Eggs with Shredded Brussel Sprouts
YUM.
So, have I convinced you that you NEED to give Territory a chance to save your day?
Go here to see if their delicious meals can be delivered to your door! Also check out my other Territory post I contributed to over at Whole30.com!
Save
Save
Save