[This post is sponsored by my friends ZUPA NOMA.  I used their Whole30 approved Organic Carrot Coconut Lime soup as the main ingredient in this recipe. Thank you for keeping The Kitcheneer in the kitchen!]
Who's up for a healthy easy  Whole30 approved dinner this weekend?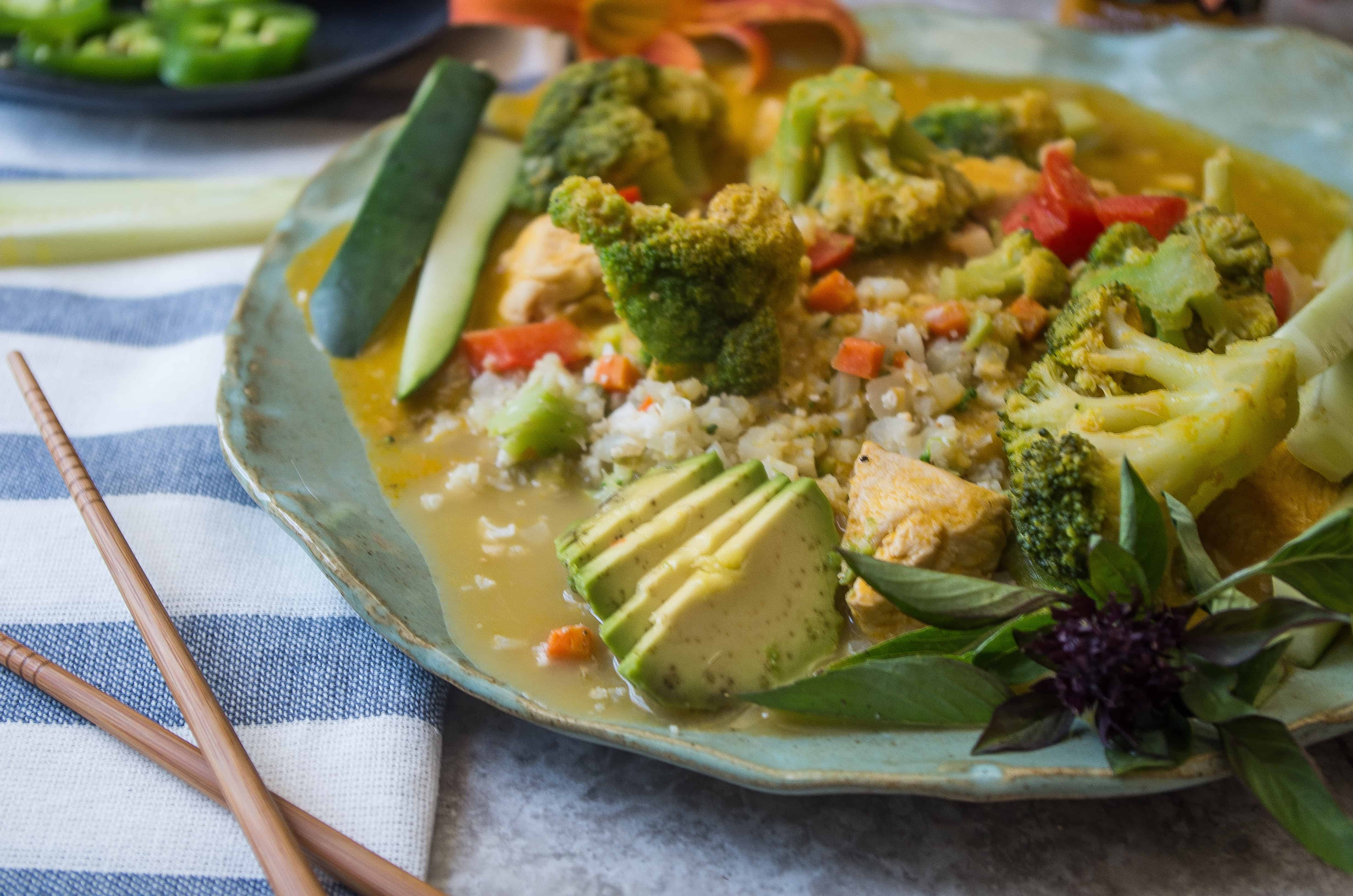 Or really, any day works for me.
I give you this Thai Carrot Coconut Lime  Chicken Curry- I know it's a long title but I needed all of those describe-y words in there.
I am just now diving into the world of curries. Because silly me thought a curry was a dish that consisted a lot of the spice "curry" (which I am not a big fan of). I like a little here and there, but not alot.
Now I understand the magic of a curry. It's so versatile and can literally be made of any combination of veggies and spices.
What's also OUTSTANDING about curries? They come together in about 30 minutes!
It's getting warmer outside and being it's July, which means lots of brighter, healthier, good for you meals are going to be coming at ya.
As I have mentioned many times before, I LOVE ZUPA NOMA and how their products make it so EASY to get in your daily vegetables, antioxidants, and vitamins. What I also love?
That they make such a great cooking hack #souphack. Instead of pureeing a bunch of carrots, lime juice, lemon grass, and a bunch of other stuff you just dump a couple bottles of their Organic Carrot Coconut Lime soup with a few extras ( ginger, onion, jalapeno, sesame oil, and garlic) in to the pan to thicken some to form the curry paste.
The rest of this dish comes together very easily from here on out. The chicken gets cooked in this amazing sauce. I also love incorporating coconut milk whenever I can. Infact this ZUPA NOMA flavor contains some coconut milk already! It's honestly a real win/win situation here.  It's light and if you get the unsweetened kind it only provides just a hint of coconut (which I like). But if you really want to go for a heavier coconut flavor, use a can instead.
Coconut milk also is known to ease digestion and works alongside the ginger, lemongrass and splash of lime juice to help rid your body of toxins while keeping you full and satisfied. Gimme all them nutrients please!
I also added some broccoli to the mix, because I am keeping it light and healthy here and nothing is healthier than some broccoli! But as i stated earlier, use whatever you have on hand! Kale, bok choy, brussels, or even some zucchini would be great here! Curries are AWESOME!
Next, I ladled some chicken with curry sauce over some cauliflower rice and added some favorite toppings! I julienned some cucumbers, more jalapeno slices for heat, avocado, more carrot, and added a squeeze of fresh lime juice!
Dinner is done!
Save