This super fun and summery way to get all your nutrients all at once. This Superfood Mermaid Smoothie Bowl has turned into one of my new favorites to cool off as my post-workout meal. Made with blue green algae powder (Spirulina), bananas, chia seeds, collagen protein, and topped with even more superfood toppings its pretty much summer in a bowl.
As long as I can remember I have been OBSESSED with mermaids. I have watched The Little Mermaid 1,235,789,004 times and still love it every time. Then mermaid and unicorn foods became a trend on Pinterest. Which made this chick giddy. I knew I had to incorporate a "mermaid" type recipe here on the blog.
Smoothie bowls (or any kind of bowl foods) are truly my warm weather go to. Usually made with meal prepped ingredients I have handy in the fridge and tossed quickly. I am good to go. But smoothie bowls are WAY better. Just blend, freeze for a little longer for that ice cream consistency and top with frozen berries, nut butter, seeds, and more! SO good and perfect way to restore energy after a sweat sesh.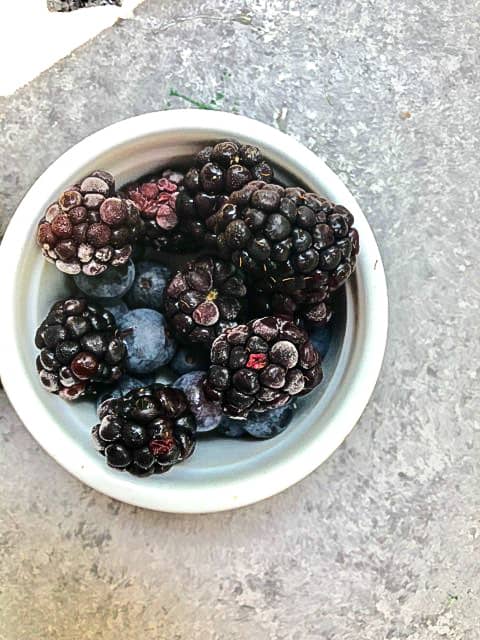 Jake and I HAD to order a fan for our garage gym last week. It was unbearable. I was rowing the other day and I couldn't breathe after only 500m! Usually that's my warm-up. My energy was zapped from the heat and high humidity. Can't wait for him to install it!
But I am also looking forward to warmer weather now that the never ending winter is finally gone. Hello to backyard family BBQs, twinkly lights that I plan on hanging in our gazebo out back, and lots and lots of gardening.
Our yard at the new house is truly a work of art. The previous owner was a master gardener/landscape artist. It's a dream. And I am terrified of killing it! It's a bit over grown and I am hoping to get someone to come over and identify everything (now that things are popping up for spring) and tell us how to care for them! So far we have identified: an ANCIENT hydrangea tree (I didn't even know that was a thing), 3 Japanese Maples, ferns, rose bushes, 5 different kinds of azalea bushes, cedars, birch trees, daffodils, and rhododendron trees (these are probably my favorite) all shades of dark pink to light lavender blooms. Plus a fig tree! I am so excited to learn and master these plants to keep them in tip top shape!

And with all this warm weather and outdoor sweat seshes I have come to love smoothie bowls even more. I have been making this one for several weekends in a row. The first one….wasn't photo worthy lol. It was WAYYYY too dark. I guess kale wasn't a good idea color wise. Ooops.

After lots of tweaking I FINALLY got the color, taste, and texture juuuuussssst right.
To make this pretty mermaid smoothie bowl:
- frozen bananas
- spirulina
- coconut milk
-honey
- collagen protein
I topped my bowl with: sliced kiwi, chia seeds, blueberries, blackberries, and paleo-nola (this stuff is addictive!)
That's it! So easy. SO delicious. You will think you are eating ice cream for breakfast!
Print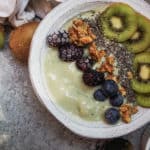 Superfood Mermaid Smoothie Bowl
---
Author:

Total Time:

2 mins

Yield:

2 bowls
- 2 small frozen bananas
- ½ teaspoon spirulina
- ½ cups of coconut milk
- 1 tbs honey
- 2 scoops of collagen protein
---
Instructions
Blend all ingredients in a blender
Pour into bowl of choice and place in freezer for 10 minutes
Top with chia seeds, blackberries, kiwi, granola, anything you want!