Moroccan Spiced Chicken Meal Prep bowls will be your no go to for this summer! Herb and harissa
spiced chicken drum sticks with crispy roasted veggies all cooked at once for an easy way to meal prep
lunches for the whole week so you can tackle your goals head on!
I have been wanting to share another meal prep recipe with you here for a while! Plus
this isn't just any old meal prep. It's Whole30, paleo, and gluten free! But certainly not taste free!
My meal prep game has been on point recently with being SO busy with house projects that I simply
don't have time after work to prep meals for lunch every day. Meal prepping for 3-4 days out has helped
SO much. And I also love to make recipes that include all components of a healthy meal.
Because let's rewind to 50lbs ago where I was scouring the internet for healthy meals. Notice I didn't say
"healthy recipes". Back in 2010 when I got serious about my healthy journey. I had ZERO clue where to
start. Like I had no idea what preservatives were and that all the Smart Ones meals I was eating daily
were not smart. I simply wanted someone to tell me what goes with chicken other than another carb. I
had no idea what to pair anything with that was healthy. Am I making sense?

So when I develop recipes now, I like to include what I am actually eating with the chicken or propose
healthy sides that balance the meal. I.e. protein, healthy carbs, greens, healthy fats.
I also like to make meal prep pretty seamless. And this Whole30 Moroccan Spiced Chicken with
Cauliflower Rice all goes on a sheet pan and into the oven and in the containers in less than 45 minutes!
Ever since I got these chicken drum sticks from my last Moink shipment I knew they screamed "meal
prep post"….This happens a lot now that I am a food blogger. I see something and I automatically know
what recipe it will be for the blog. In other words, I am crazy.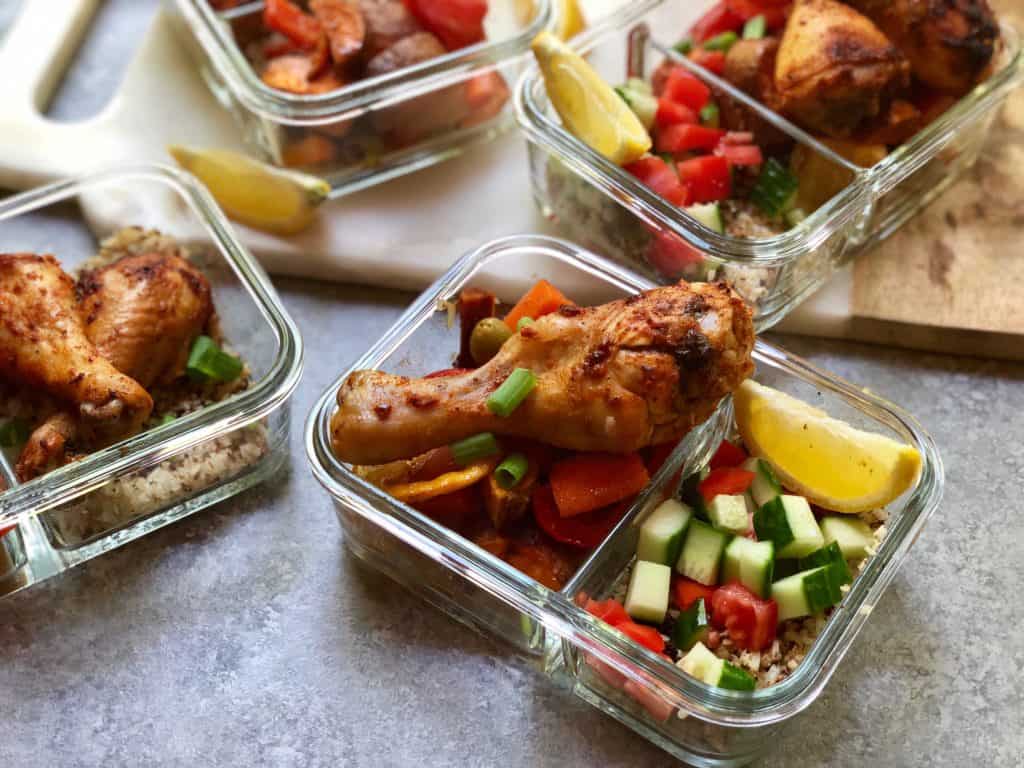 I generously seasoned the chicken with harissa spice ( I found it at World Market) , avocado oil, salt,
pepper, lemon juice, and cumin. I used store bought cauliflower rice (Trader Joe's) to make it even
quicker. And chopped up a few peppers, an onion, and some carrots.
I threw everything on a sheet pan and roasted it. DONE.

And I honestly don't think I could make meal prep any simpler than that. This made 4 great lunches that
can be enjoyed hot or cold. I topped the cold versions with a little cucumber and tomato salad plus a
fresh squeeze of lemon for more zest.
So SO good. Even Jake couldn't get enough! And he isn't that big of a fan of drum sticks.
I love them and think they are the perfect portion size for these meal prep containers. How cute and
practical?!
Print
Whole30 Moroccan Spiced Chicken Meal Prep
---
For the cauliflower rice

1

head of cauliflower riced

1 tsp

salt

1 tsp

pepper

2

cloves of garlic, minced

2

tbs avocado oil
For the chicken

1

-

2

lbs of chicken drum sticks

2

tbs avocado oil

½ tsp

salt

1 tsp

pepper

2

tbs harissa seasoning
Juice of

1

lemon
Zest of

1

lemon

2

carrots, chopped

1

onion, chopped

1

red bell pepper, sliced

1

lemon, sliced
---
Instructions
Preheat oven to 425F
On one baking sheet lined with parchment paper toss cauliflower with oil, garlic, salt, and pepper
On another baking sheet lined with parchement paper toss chicken with oil, seasonings, lemon juice, and zest,
Toss until chicken is evenly covered.
Add remaining vegetables to sheet pan
Roast both pans in the oven simultaneously for 40 minutes but remove the cauliflower rice at the 20 minute mark.
Divide into four meal prep containers and add parsley, cucumbers, tomatoes, and a lemon wedge as garnish.
Enjoy hot or cold for a great prepped lunch!