[This post is sponsored by ZUPA NOMA. Thank you for supporting the brands that help keep The Kitcheneer in the kitchen!]
So, I just made a pumpkin pie tart that is actually health food.
Say WHAT?!
Because a girl has to think of her figure around so many other tasty treats. But trust me, you will have NO idea this is remotely healthy in any way.
Like my husband (aka recipe taste tester) had TWO big slices and had zero clue this was healthy. Which in my brain is a success on it's own.
Since we are slowly (or should I say quickly?) approaching the eat-all-the-things-day aka Thanksgiving. I think having a little of this and that of healthy scattered on the table brings balance.
Let's take a quick poll: pumpkin pie or pecan pie? Yay or Nay?
I feel like it's not Thanksgiving without pumpkin pie on the table you know?
I am actually not a big pie eater nor a baker but I do love having a slice of it on turkey day.
But I am more of a crust person. Does that make me weird. Like I like the crust with "pie essence". So the point of this ssshpeal is that the crust has to be good for me to even take more than a bite of pie.
That's why I made this crust and it is literally the bomb dot com.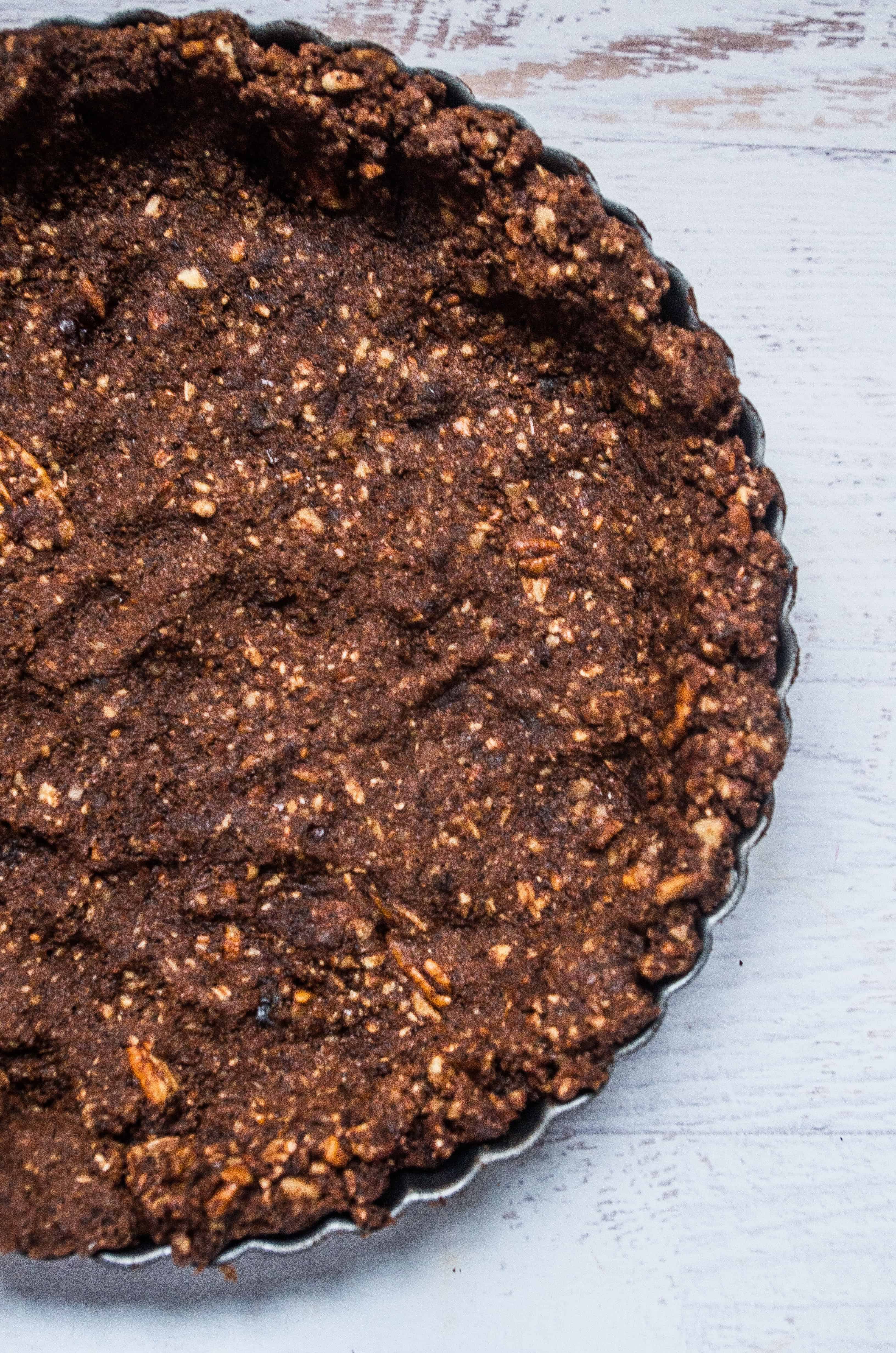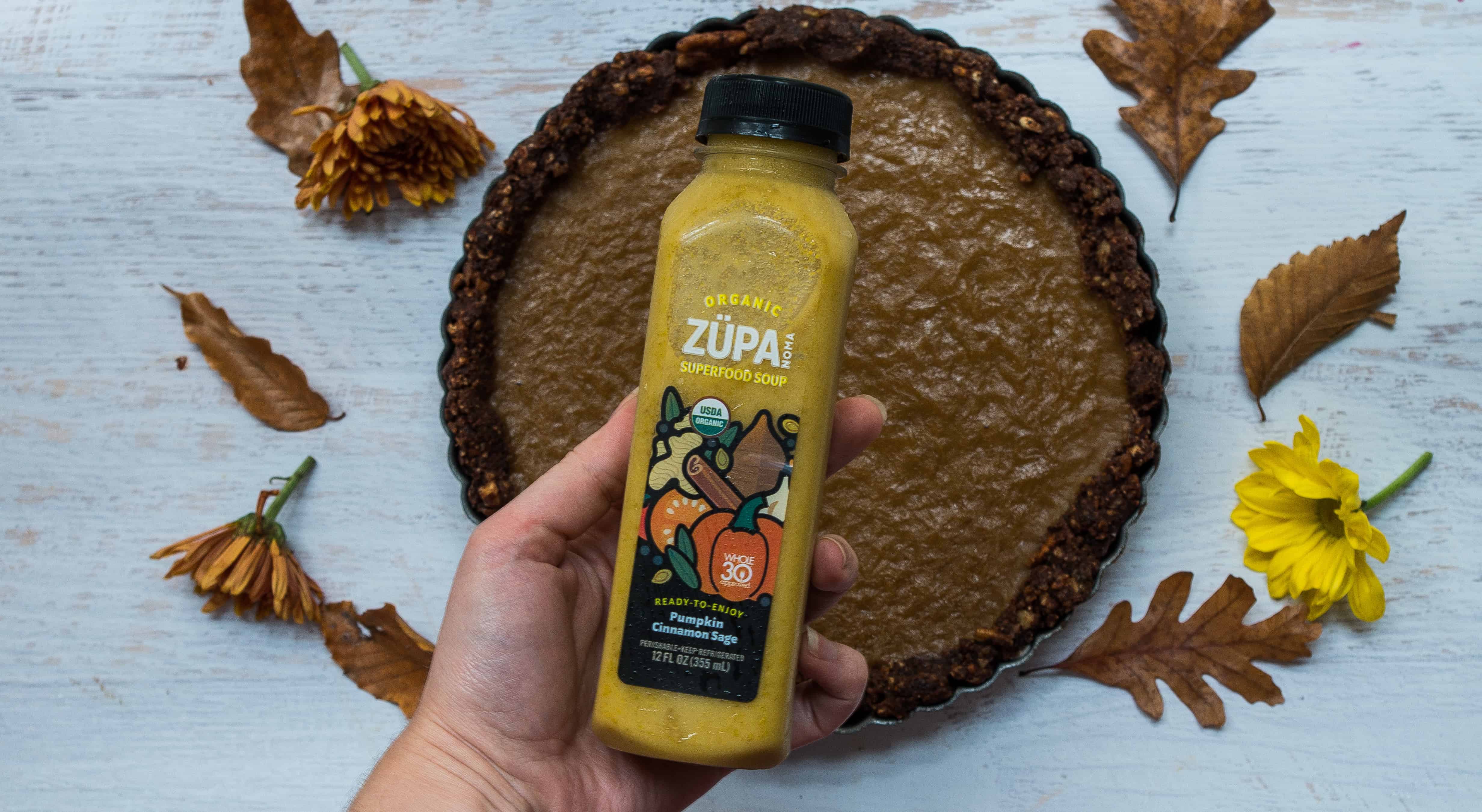 It's a combo of crushed pecans, dates, a little cocoa powder, and a little instant coffee. With all the pecan action, one could say it's a combo pumpkin/ pecan tart? Right???? 😉
Since this tart has a killer crust already, what about the filling?
The ZUPA NOMA Pumpkin Cinnamon Sage soup not only balanced out the very sweet crust but made this tart EXTREMELY easy to make.
Basically you can make this tart in your sauce pan, cool for a few minutes, then pour into crust. Done!
As you all are well aware I have a love for these soups. And yes, they are one of my sponsors but I TRULY love this product! I would not talk about it on the blog if I personally didn't try it and love it first hand! As always, I got you guys <3.
This soup is very rich in vitamin A & C, has a pinch of turmeric to reduce inflammation, and tons of nutrient dense fiber so you can actually have a slice (or two!)with ZERO guilt!
I pretty much blended the pumpkin soup with an extra blend of ginger and nutmeg,gelatin, some dates for extra natural sweetness, cinnamon, and coconut oil. It is definitely not your overly sweet store bought pumpkin tart!
It is simply sweetened (not pucker your mouth sugar coma sweet) but a natural sweetness that makes for a great cooling dessert after you have had your fair share of turkey and cranberry sauce!
The best part is there is NO BAKING involved! Just heat in a sauce pan, dump in crust, and store in the freezer until ready to serve! Which leaves your oven turkey ready.
Simply put, this No Bake Pumpkin Pie Tart is lightly sweet, healthy, absolutely delicious, and couldn't be easier to make with ingredients you already have on hand.
Now, let's eat pie!
OH! And if ZUPA NOMA wasn't awesome enough, they are giving my readers a 20% off discount off your first order with the code: KITCHENEER. Go try this soup!
Save
Save
Save
Save