This healthy, frothy, dreamy, creamy Whole30 Bulletproof coffee is beyond delicious and get's a perfect latte-like cup every time. Whether you are on the Whole30, Paleo, Keto, or Dairy Free this coffee will give the energy boost you crave plus lots of health benefits.
Nothing speaks my language before 9AM than the words " would you like some coffee?" I sleepily nod my head as wrap my hands around the warm life elixir that is coffee.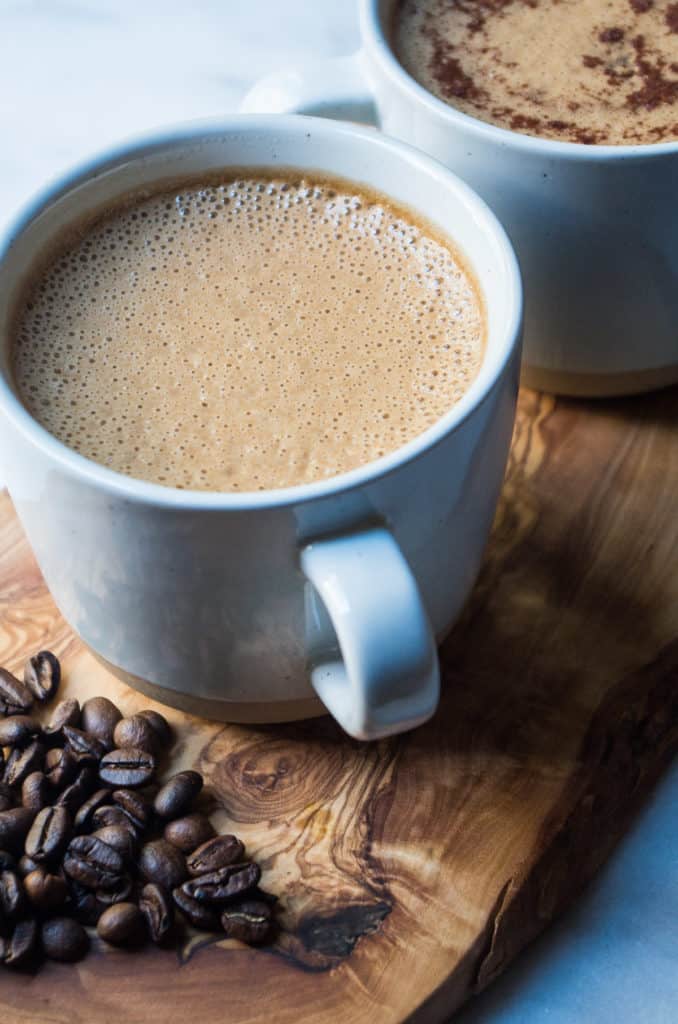 I have been a coffee person since I was 12. Seriously. And I am one of those who have a pretty complicated order at Starbucks.I know.pretty basic of me ;). Mainly because I am watching my sugar intake. I will order a nonfat chai tea latte with no syrup or an upside down caramel macchiato with 1 pump of sugar free syrup.
But on the Whole30 diet, the above mentioned delicious concoctions have no place in this plan. They all have sugar or dairy. Therefore they are out of the game. Since beginning my Whole30, I have gone from having 1-2 cups of coffee a day to none or the occasional weekend cup of coffee and a lot of green tea as my hot bevy options.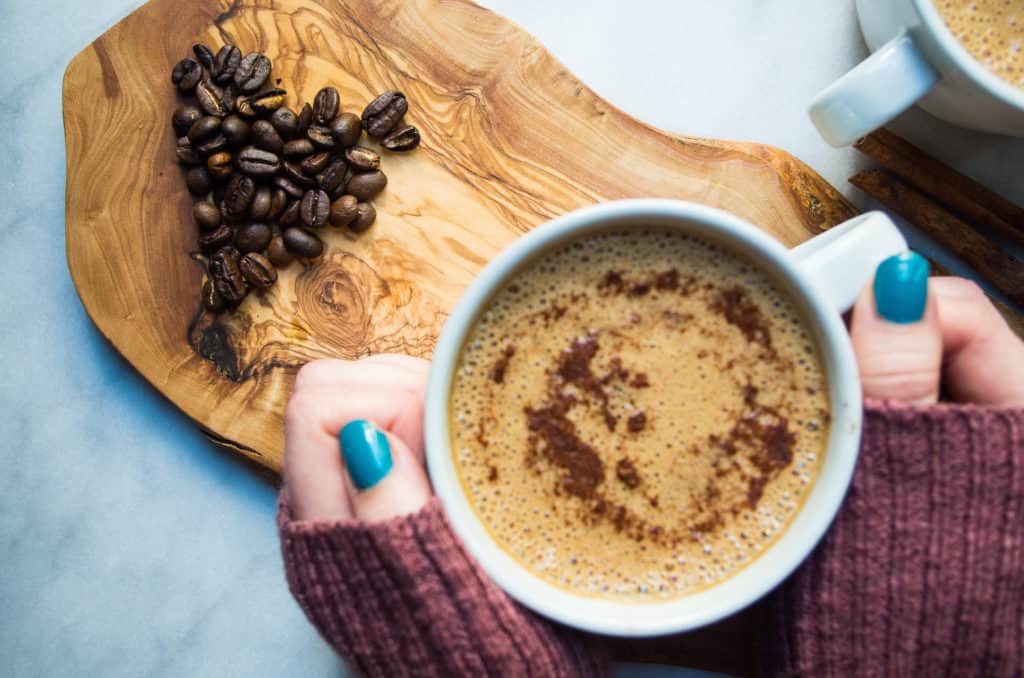 But I have discovered a great way to enjoy coffee on the Whole30 since I just can't do black coffee. #ijustcant it makes me gag and it makes me have ill feelings towards my former love of coffee. But I discovered bullet proof coffee before starting the Whole30 and I thought to make it compliant!
What is Bulletproof Coffee?
It is the true superfoods of the coffee world. It is coffee + high quality fats (traditionally known as "butter coffee") + MCT (medium-chain triglycerides) oil = a satiating hot beverage that will keep you full all morning long (of course along with a real breakfast ;)) it's also been proven to boost brain function - and I NEED that in the morning. Since it keeps you full those who are doing intermittent fasting or time restricted eating will benefit here to as this shouldn't break your fast. And honestly if you follow my method below you will have the most amazingly delicious creamiest cup of coffee I ever made at home!
Here is how a regular Bullet Proof coffee is made: ( from their website)
Brew 1 cup (8-12 oz.) of coffee using filtered water, just off the boil, with 2 ½ heaping tablespoons freshly ground Bulletproof® Coffee Beans. (French Press is easiest.)
Add in 1-2 tablespoons of Brain Octane™ to the hot coffee (It's STRONG – start with 1 tsp. and work up over several days).
Add 1-2 tablespoons grass-fed ghee
Mix it all in a blender for 20-30 seconds until it is frothy like a foamy latte
Mine is just as good if not better and it's just like one of those fancy Starbucks lattes you would pay $5 for just your morning coffee.
How to make my a Whole30 Bulletproof coffee:
I love keeping things as simple as possible in general. I typically design ALL my recipes around what I usually have in my fridge or pantry. That being said, this Whole30 Coffee contains normal pantry staples that can be found at any local grocery store.
Coconut cream: no need to buy something special here. Simply pop a can of coconut milk in the fridge and voila! That thick creamy coconut milk becomes thick and the perfect coconut cream for this drink.
Grass-fed Ghee: I LOVE adding ghee as my fat source of choice here (and in most of my recipes) it sits at room temperature and also is great option for those needing a dairy free option. However if adding this doesn't float your boat you can always use mct oil powder as a substitute.
A sprinkle of Cinnamon: Not only does it add a nice touch of spice but it also has a slew of health benefits such as its full of antioxidants, which help your body handle free radicals and lowers your risk of health conditions like cancer, heart disease, and diabetes.
I love whirling this coffee drink in a high speed blender because of the frothiness but you can also us a standard milk frother. Pretty much can mimic the best that other coffee shops can offer without costing $6 for a grande. Right?
Other ways to PERK up this Bulletproof Coffee:
Swap out the coconut cream - if coconut isn't your thing no worries! Or if you simply like your coffee black for a more concentrated coffee flavor. But if you do want to make a milk swap use unsweetened almond milk and cashew milk.
Give it a protein boost! - for those days where you are in a rush and need a little extra nutrients (most days am I right?) toss in a scoop of protein in! I love adding in some collagen peptides (This is my go to here). And if you are not on the Whole30 and want to make this into a vanilla Whole30 Bulletproof latte I love adding in this as it adds a hint of sweetness and fuels your body long enough to get through those mid-morning tummy grumbles!
Switch it up from using ghee - Although I am a fan of ghee you can always exchange it for coconut oil as a great addition as well as a one for one swap of healthy fats in this coffee! Or you can always opt for the traditional brain octane oil! So many choices with endless delicious caffeine concoction one could ever want!
Add a touch of sweetness - Again, if not on the Whole30 trend I like to add a drop or two of honey or maple syrup!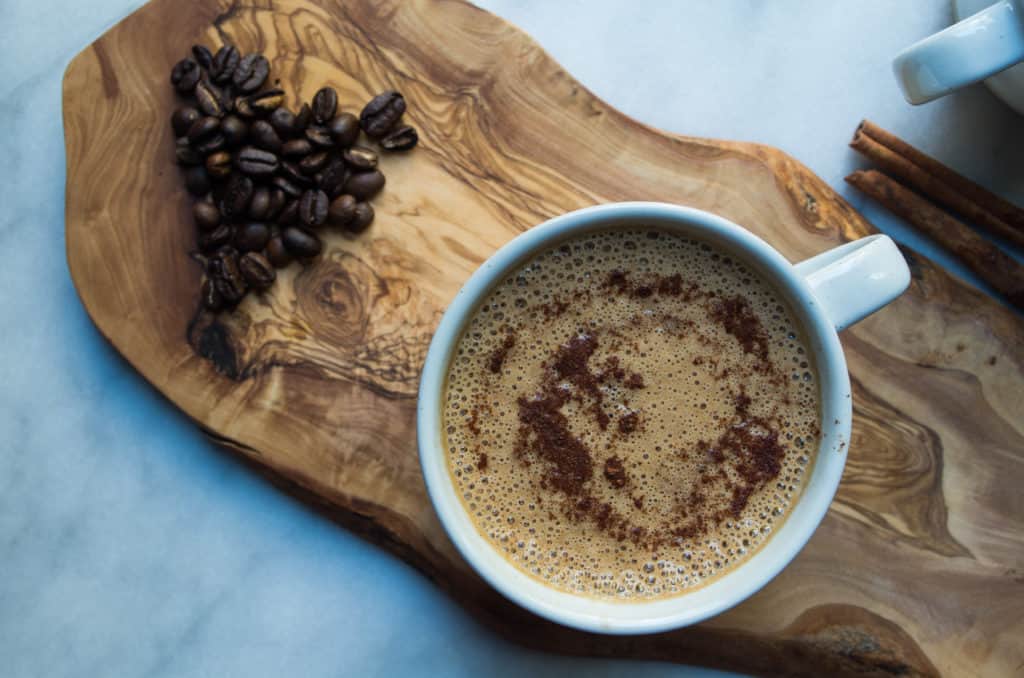 Need other coffee recipes?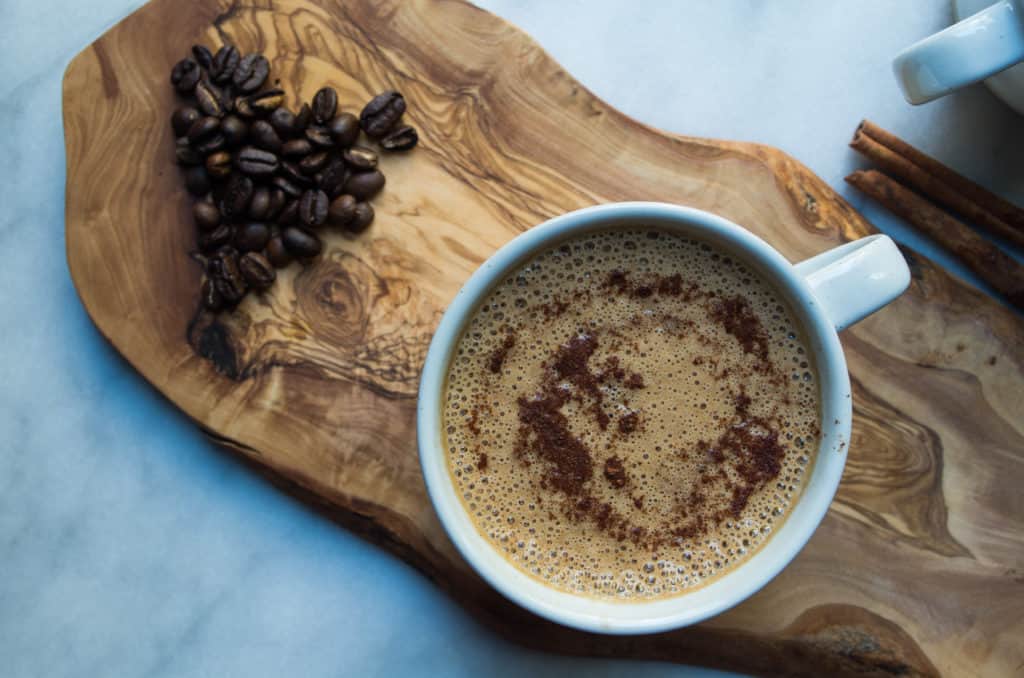 Print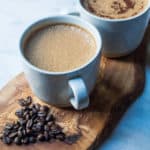 Whole30 Bulletproof Coffee
---
Author:

Total Time:

5 minutes

Yield:

1

serving

1

x
Description
This healthy, frothy, dreamy, creamy Whole30 Bulletproof coffee is beyond delicious and get's a perfect latte-like cup every time. Whether you are on the Whole30, Paleo, Keto, or Dairy Free this coffee will give the energy boost you crave plus lots of health benefits.
---
16oz

of fresh brewed coffee

1

tbs of coconut cream

1

-

2

teaspoon of ghee butter

½ tsp

cinnamon (optional)
---
Instructions
Add all ingredients to a blender
Blend on high
Enjoy!
Notes
See post above for any and all variations and substitutions!
Prep Time:

5 minutes

Category:

Drinks

Method:

Blender

Cuisine:

American
Keywords: bulletproof coffee, blender coffee, coffee recipes, whole30 coffee recipes, whole30, paleo,