First off no, this isn't a food recipe post or whatever. But I do believe this subject falls in line with The Kitcheneer where I do promote a healthy relationship with food, un-processing your diet to include only REAL clean ingredients, and movement you love.
I felt for a while now that I still had a missing puzzle in the wellness spectrum.
Changing my mindset with diet culture and WHY the answer to my emotions and anxiety is not in the fridge. I have taken a SUPER inward look at myself this past year and now I can't imagine ever dieting again.
Found movement I enjoy and it's not about "earning my carbs" or "punish yourself cause you had a piece of toast WITH peanut butter!"
Practicing Mindful Meditation and Prayer. This one has been HUGE for me this year.
But! I realized that what I put ON my body should be just as important as what I put in it!
BUT WHERE DO I EVEN START???
I am a tomboy at heart. I grew up playing with the boys and bringing bugs home in a shoe box and loved rough play over Barbies any day. So when I turned 30 last year I knew I needed a better skin care regime.
I had been using drug store moisturizers since around 25 years old and as the big 3-0 approached I began to look for what else was out there.
Turns out it's SCARY out there. Why do skin care items have to be so confusing?!
I had no idea what a toner was or why you need to wash your face THEN use oil right after! I was clueless!
After listening to some awesome podcasts, watching folks on Instagram, THEN had some real life people speaking about Beautycounter at my crossfit gym. I decided to try it. Plus they advertised they were natural and much safer on your skin.
I started small. Simple with just a bar of soap and a day cream.
I was SOLD. My skin responded with that dewy glow that seems to be the hot buzzword for healthy looking skin right now. I am using it here in hopes Google likes it 😉
That's why I have joined BeautyCounter as a consultant and I truly believe in their mission to give EVERYONE options for safer skincare and makeup!
Then I began looking into other skincare things. I found Primally Pure (I have mentioned them a few times on my Instagram account) where they too promoted healthy and safer skin care.
To be honest, that part didn't really get me at the beginning. I started from a place of vanity (unfortunately). Im happy to age. But I want to age gracefully.
It wasn't until I looked inward this past year that I realized that a healthy body with healthy skin is WAY more important than how I look.
Mind blowing how things change positively when you change your mindset 😉
Now, I come to you almost 3 YEARS after trying a lot of skincare products and can 100% vet that Beautycounter works.
My husband who has had acne and rosacea is whole life uses some of their products and has had ZERO breakouts and the tone of his usually red/pink cheeks have cooled down SO much. This was after YEARS of going to doctors and trying really harsh chemicals to combat his conditions. Another big reason why I love this stuff. It gave my hubby his confidence back <3
Ok. Let's get to why you clicked on this link.
After a couple of years of play here is my current MORNING routine.
I change it every month or so. It's important to give each product a chance to work it's MAGIC. :sunny:
I work full time and this routine I have down to 5 minutes or less now. I live for a WHAM BAM THANK YOU MAAM kind of routine!
This is my NIGHT routine. Then usually on the weekends I splurge for a spa-ish night. Especially during these weird quarantine times. It's really nice to treat yourself to some ME TIME.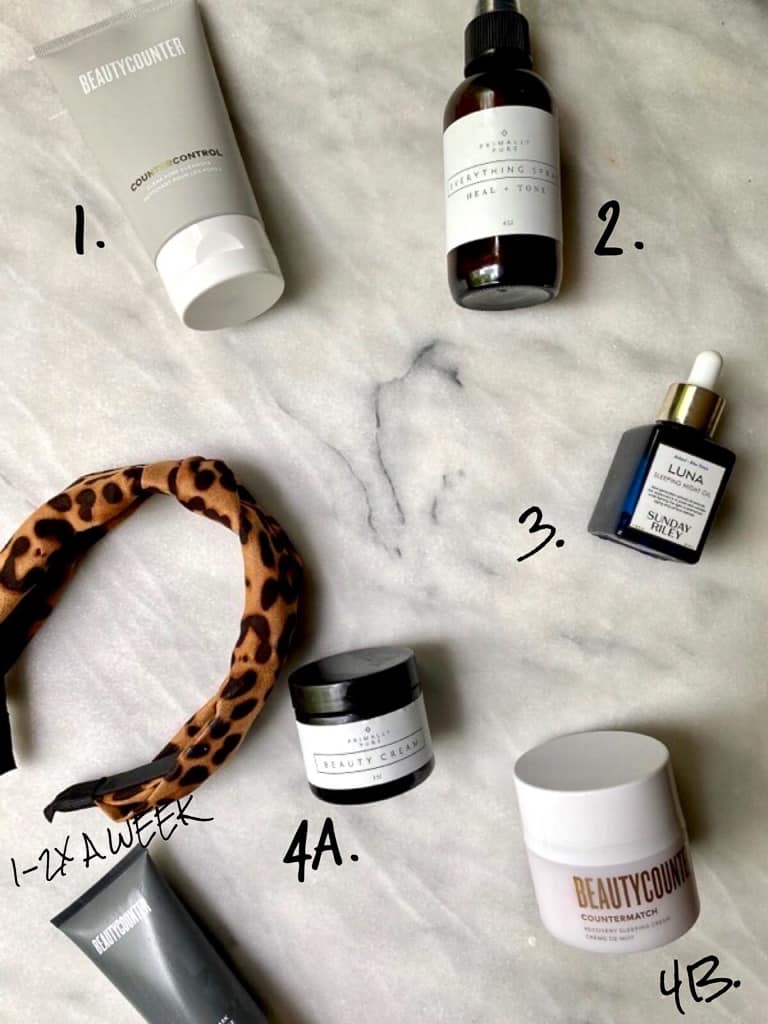 The Counter Control facial wash EXFOLIATES my face after a long day to get rid of any makeup or residual oils. It SMELLS so good too!
Then a quick spritz of my favorite thing from Primally Pure. Their EVERYTHING SPRAY is EVERYTHING. And really good on sensitive skin as my hubby uses it too!
The Sunday Riley isn't as clean as the Beauty Counter products but I love it and have been using it for a few months now. It's a real calming oil and perfect for right before bed.
a. I swap between the Primally Pure Beauty Cream or the (see below). I see them both as great options for a good moisturizer for bed time.
Ugh. the Picture cropped wrong! But this is the charcoal mask I mentioned earlier! I bought this mask right after using their bar soap and day cream and all my friends were talking about this mask! I use this 1-2x a week and it's my 10 minutes to purified complexion. It absorbs those bad oils and visibly minimizes pores! YASSSS!
My favorite?
Glass of wine or my new gin concoction (has no name yet) but it has lots of fresh mint!
A good pod cast or book
Questions for you:
Is skincare confusing for you too? Or was that just me?
What are your favorite skin care products?
What are you reading???
How ARE YOU??? I know things feel like they are falling apart but I am learning, listening, and HERE FOR YOU.
What else would you like to see here on The Kitcheneer? I am trying to build more wellness/beauty/skincare/fitness type content (in addition to recipes!) but always welcome your feedback!