Currently sipping my new favorite tea from Trader Joes: Organic Blood Orange and writing out my first ever travel guide post on my blog!
If you follow me on Instagram Stories you saw a lot of pictures that captured some of my favorite moments from our recent trip to Waco,TX. Jake and I like to make mini vacations out of our anniversary every year.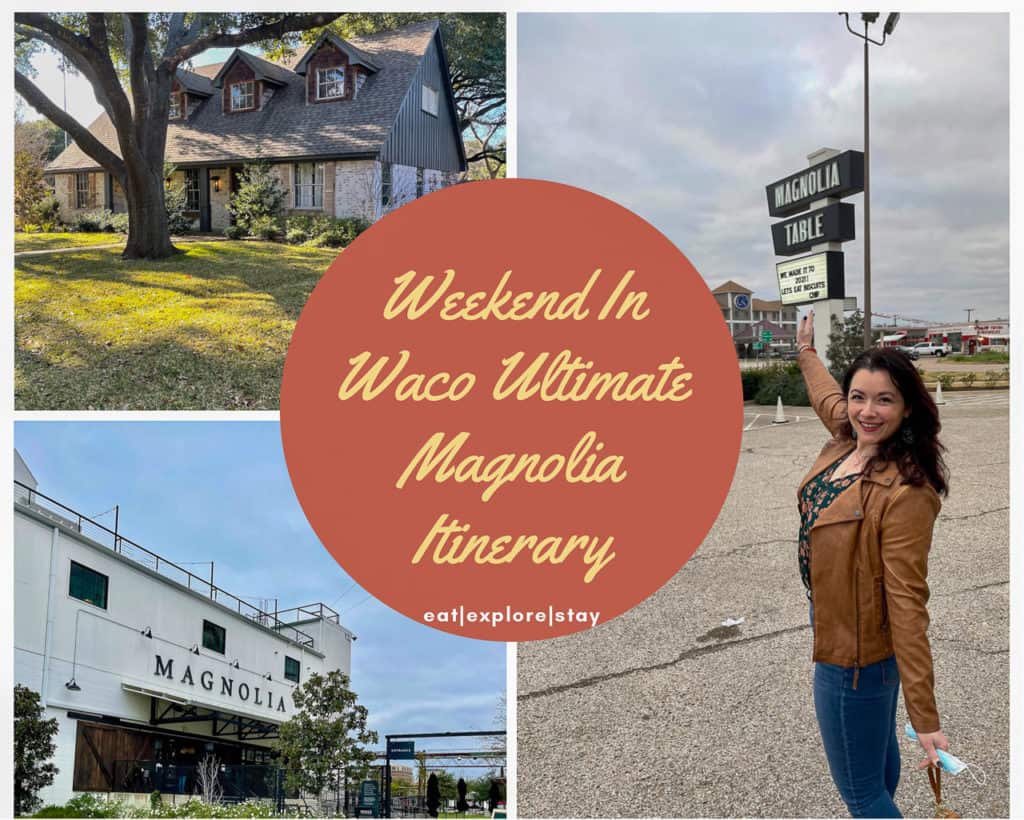 Last year was Savannah,GA. (HIGHLY recommend staying at one of their historic Bed and Breakfasts!). We stayed at The Gastonian! And before that was Biltmore and before that the Bahamas!
Our anniversary falls in the perfect time of year to travel. It's right after the holidays and it's the off season. And also I feel like EVERYONE is itching to travel after 2020 and with COVID I thought it would be helpful to share a travel guide of where to explore, what to eat, and where to stay to not only have so much fun but stay as safe and healthy as possible!
We definitely quarantined (I have been home since March!) prior to flying out.
After being encouraged by my friend, Taralynn I decided to capture more pictures of EVERYTHING on our trip!
I organized this post in the order of how our days went! We flew in on Thursday and left Monday morning. A full weekend of fun!
DAY 1 (Thursday)
WHERE TO STAY
AIR BnB! We found the CUTEST Air BnB and it's on the property of The German Schmear house from Season 3, Episode 4 of Fixer Upper. They renovated the detached garage into the most ADORABLE tiny house. Which was PERFECT for a couples retreat!
And it's nestled in a very quaint and quiet street that is also MINUTES away from The Silos! It's called The German Schmear Cottage and it was SPOTLESS and had the Fixer Upper touch!
We landed in Dallas (which is less than 2 hours from the cottage) and we stopped at Vitek's Market for lunch because we left so early that we didn't eat yet! I was so happy we did! I am actually not a huge BBQ fan (Jake is!) but I LOVED it! I got the Spud Pak with ½ a sweet potato with chopped brisket, jalapenos, pickles, onions, and sour cream. I can't have gluten and I am so happy almost everywhere we went to in Waco was so accomodating!
Jake got the pulled pork sandwich with ½ a baked potato. His was INHALED.
We bought some extra supplies (an ICE SCRAPER) for the rental car because it was supposed to SNOW in TEXAS on Sunday!
We still had some time to kill before we could check in to The German Schmear Cottage so I messaged our host and she was so nice to let us check in a little early so we could freshen up and rest a bit!
We ended up having a low key afternoon soaking up the fact that JOANNA GAINES had placed her magical touch on this property and grabbed some dinner at Slow Rise Slice!
I got their Cauliflower Crust pizza (AMAZING) with a side salad and Jake got their regular crust small pizza with pepperoni, bacon, green bell peppers, and red onion. I actually didn't take pictures of this! I FORGOT. But we HIGHLY recommend this place to grab a quick bite! Their recipes and pies are unique to them I could tell they strived to provide fresh, locally sourced ingredients to serve the best slices in Central Texas!
DAY 2 (Friday)
MAGNOLIA DAY!!!
I couldn't WAIT for Magnolia Day. The day where we would do ALL THE FIXER UPPER THINGS!
We managed to get a reservation at Magnolia Table (which is super hard to do - recommend booking a month in advance!). Surprisingly there was hardly anyone there! And after speaking to several of the Silos staff members they said how unusual that was. They said typically there is a line around the building with an hour and a half wait time!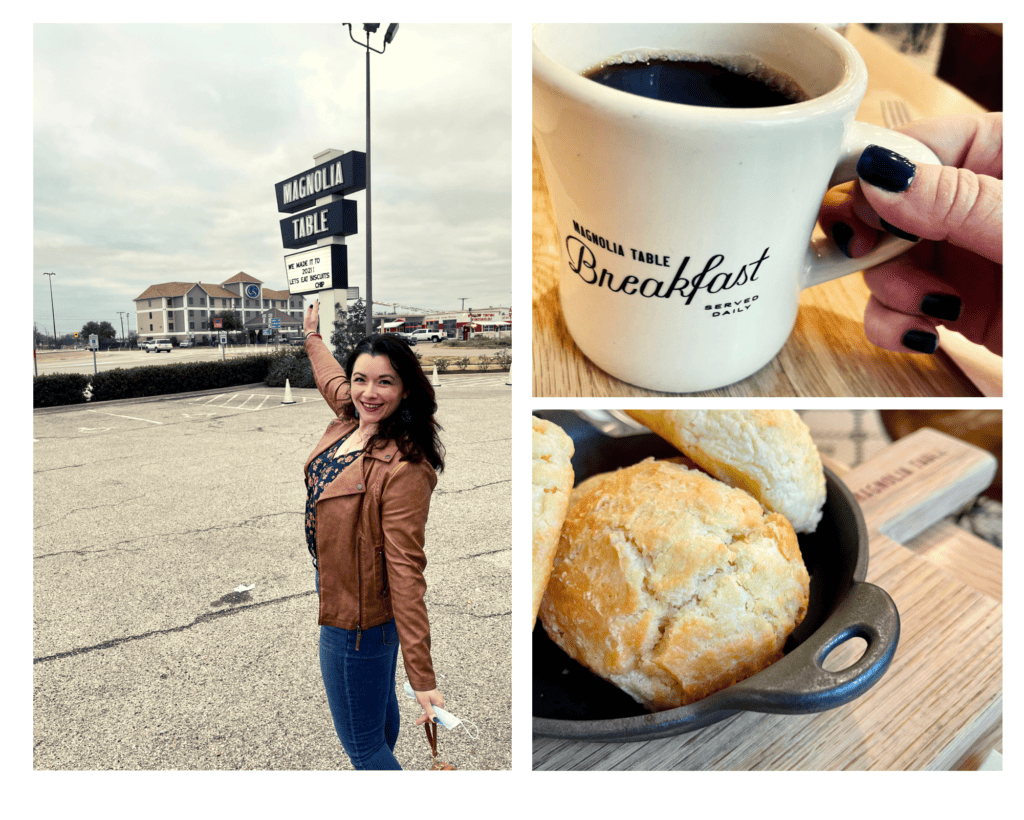 LUCKY US!
WHAT WE ORDERED AT MAGNOLIA TABLE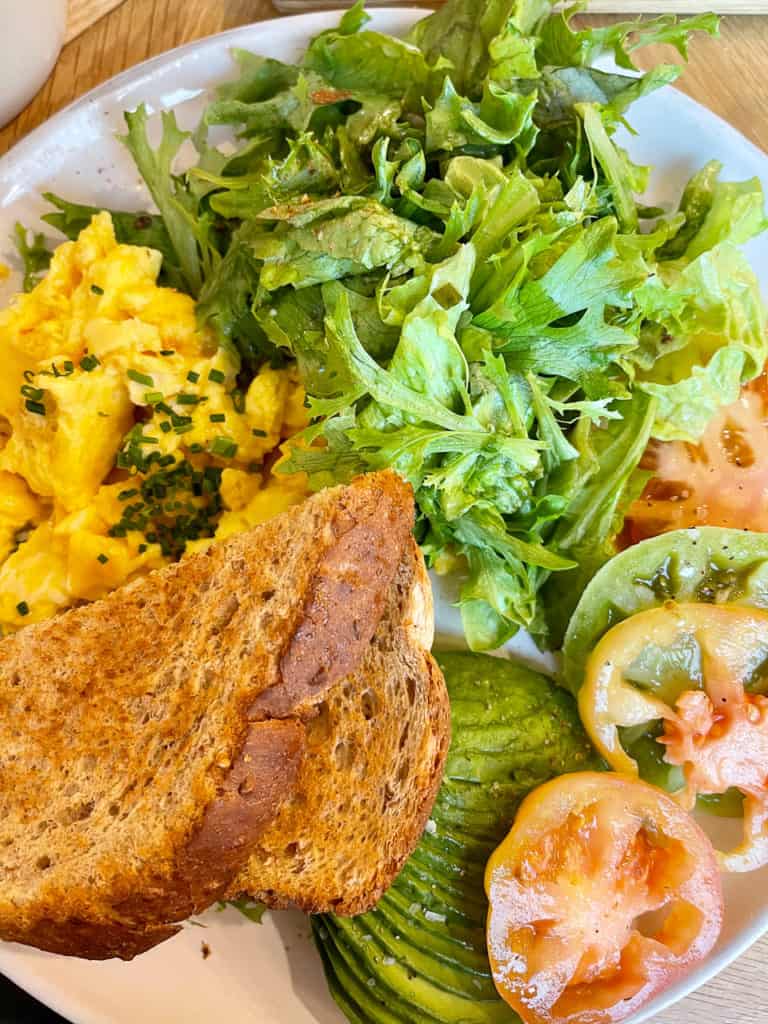 The food was incredible. The coffee was incredible. I ordered the Kind Breakfast which was two scrambled eggs, wheat berry toast, fresh avocado, a bed of greens and thick slices of heirloom tomatoes. Jake got to eat my toast!
Jake ordered the Farm Breakfast: 2 eggs made to order with the most amazing tater tots a homemade biscuit and peppered bacon. I had one of the tots....BEST TOTS EVER.
By 9:30AM we were at The Silos!
EXPLORING THE SILOS!
We obviously took LOTS of pictures here! Then we did ALL the shopping, spent too much money, and I have no regrets.
We started off at MAGNOLIA MARKET.
First off, EVERYTHING in all of the stores are INSTAGRAM and PINTEREST READY. Every angle. PERFECTION.
I bought everything from maxi dresses, bracelets, ceramics, new art for our dining room walls, and lots of gifts and souvenirs for family and friends.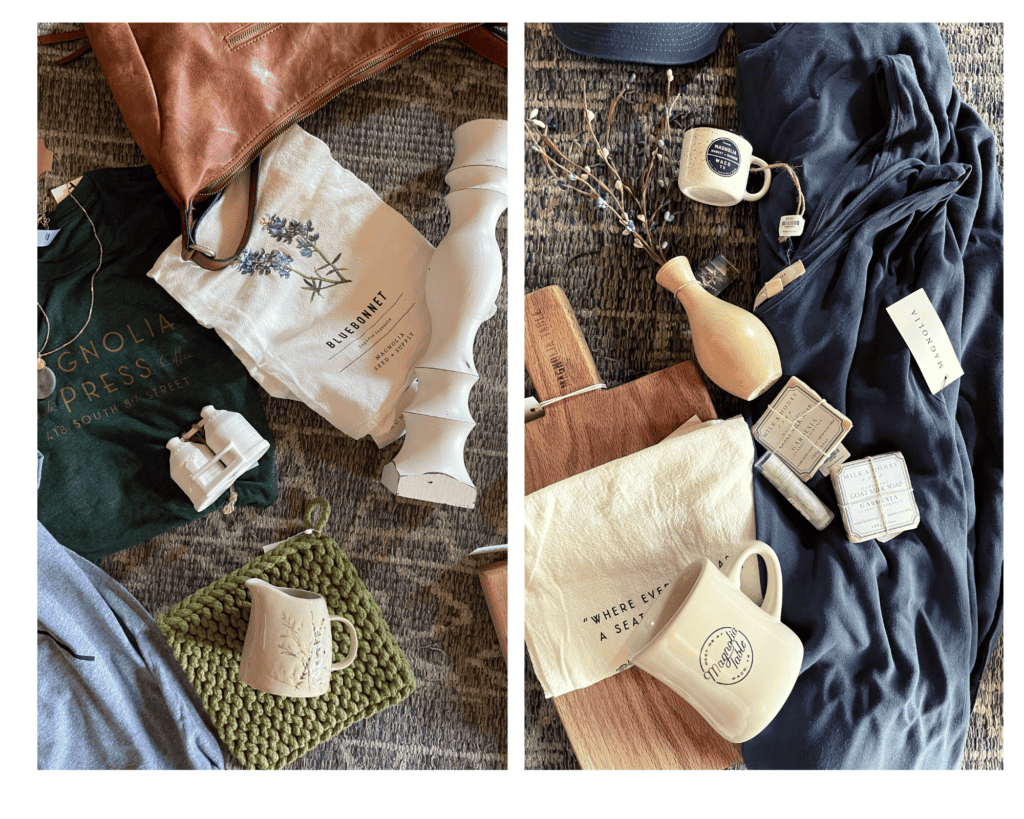 And if you are concerned about getting your stuff home? MAGNOLIA has got you! If you spend $100 or more (no problem! ;)) then they will ship your items for FREE to your house! In fact, FedEx just informed me that our Magnolia purchases will be here later today!
I recommend getting here early (before 10AM) because it started it get pretty crowded around noon. This way we got to shop, walk around, and explore without people.
Guys. The Chip's baseball field and the chapel is DONE. It's beautiful! The woodworking, attention to detail, and restoration of this beautiful church was breathtaking.
I just loved being outside! All of the green made me so happy! After being cooped up all year it was SO nice to travel and have time with my favorite human.
We were still full from breakfast so we stopped back by the cottage to drop off our things and then went back out to grab a cup of coffee from Magnolia Press! (totally bought a t-shirt from here!) If you know me, you know COFFEE IS MY LIFE BLOOD. Seriously. I even have some great friends I work with who we have bonded over our love of coffee (Hi COFFEE CREW!!! <3)
OUR MAGNOLIA PRESS COFFEE CO. ORDER
I ordered the 1905 latte. I got it with the LEAST amount of vanilla and toasted marshmallow flavor because I wanted to try one of their signature drinks but also I HATE super sweet coffee!
Jake ordered their cappuccino. I took this without him knowing. He hates it but I think I have a hot hubs <3
We went back to the Tried and True Bags and Accessories store because after speaking to Jake's mom over the phone she fell in love with the bracelet I got so of course we went back to get her one too!
We walked over to Jimmy Don's (right across the street from the silos. And found a great find of a store. The Findery! They had the CUTEST stuff. Highly recommend stopping in.
And it had a great view of The Silos!
We couldn't go to Waco without stopping in Harp Design Co.! It's such a cute shop and we got to see some of Clint's pieces in real life and I can honestly say we were SO tempted by one of his coffee tables! Now that I know that the level of quality in his work is AMAZING we might purchase some furniture pieces this year. Because we need a new coffee table and a dining room table too!
It was just so neat being in Waco,TX and seeing all the things I have seen on TV for the past several years! Have you signed up for Discovery + yet? I just did as soon as we got back! Currently watching Magnolia Table and Expedition Bigfoot. Because it's Bigfoot... and I am huge nerd when it comes to cryptologist stuff!
After all that exploring we were ready for a snack!
We went back over to The Silos area (guys, everything is so close together that it takes no more than 10 minutes to get to everything!) Again, SO happy they have gluten free options! We split the GF Oatmeal Chocolate Chip cookie and their water was so cute I had to grab one!
Another fun anecdote (and brilliant) idea from Chip & Jo is that at any Magnolia location the cashier will give you a Waco/Magnolia passport! You get a stamp for every place you visit! Plus it had tons of other ideas for eats,shopping,and other fun things to do in the area.
That's where we got the idea to go to Ninfa's Mexican Restaurant for dinner. Mexican is one of our FAVORITE date night options. We both love fajitas and Ninfa's did NOT DISAPPOINT. BEST.FAJITAS.EVER. This is mandatory for your Waco itinerary! And tip your waiter/waitress EXTRA during these times!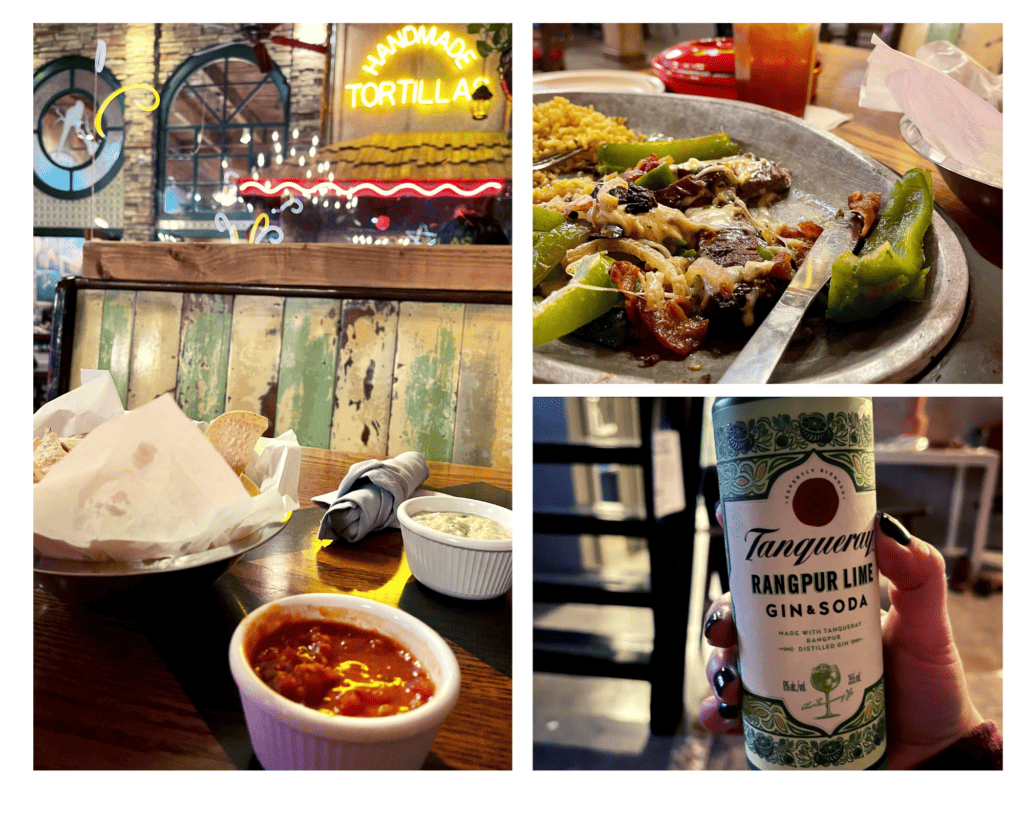 After dinner went back and enjoyed one of these and called it a night!
DAY 3 (SATURDAY)
OUR ANNIVERSARY!
I love prehistoric mammals. Don't know how I became obsessed but I am. I could live on the prehistoric mammal floor in NYC's Natural History Museum. Especially the giant sloth. My favorite. Click here to learn all about the giant sloth. In fact I dare you to go down the wiki rabbit hole and learn allllll about these amazing creatures!
But we didn't see giant sloths. We saw Colombian Mammoths at the Waco Mammoth National Monument! Only $10 and you get to walk around an actual enclosed dig site!
But before that we stopped at Dichotomy's Coffee & Spirits! I loved Magnolia Press and maybe next time I will try another drink but Dichotomy's espresso drinks were some of the best I have ever had! I ordered a cortado with oat milk and honey. It was PERFECTION.
Back to the Mammoth National Monument. It's actually one of the largest nurseries of Colombian mammoths ever found in North America! It was so cool!
Afterwards we checked out some of the short trails in the park. Sort of freaked myself out because the trail we were on...we kept seeing what looked like large cat scat. So my head was on a swivel looking for mountain lions! Thank God we made it back!
Since the fajitas were so filling the night before we weren't hungry until lunch! We went to Cafe Homestead. What a fantastic find! It's more in the country and they had the freshest farm to table (literally) plus you could also tour the farm, take a hay ride, and check out their onsite crafting stores where they sold homemade quilts, furnishings, pottery, and homemade soaps! It was one of the best finds on our trip and it was beautiful!
I ordered their Brazo'a Summer Salad. It had romaine, strawberries, blueberries, pecans,chicken and their homemade dressing. Jake ordered their cheeseburger, fries, and it came with actual homemade ketchup!
After lunch we walked around the farm and checked out a few of their shops. SO CUTE. Then we went back closer to the Silos to shop at another store called Gather. I almost bought the store.
Being a food blogger my cupboards are FILLED with mismatch (yet cute) ceramic plates (my props) so I am always holding myself back when I see cute plates/bowls/platters/etc. NOT HERE FOLKS. I bought it and I can't wait to feature them in future recipes!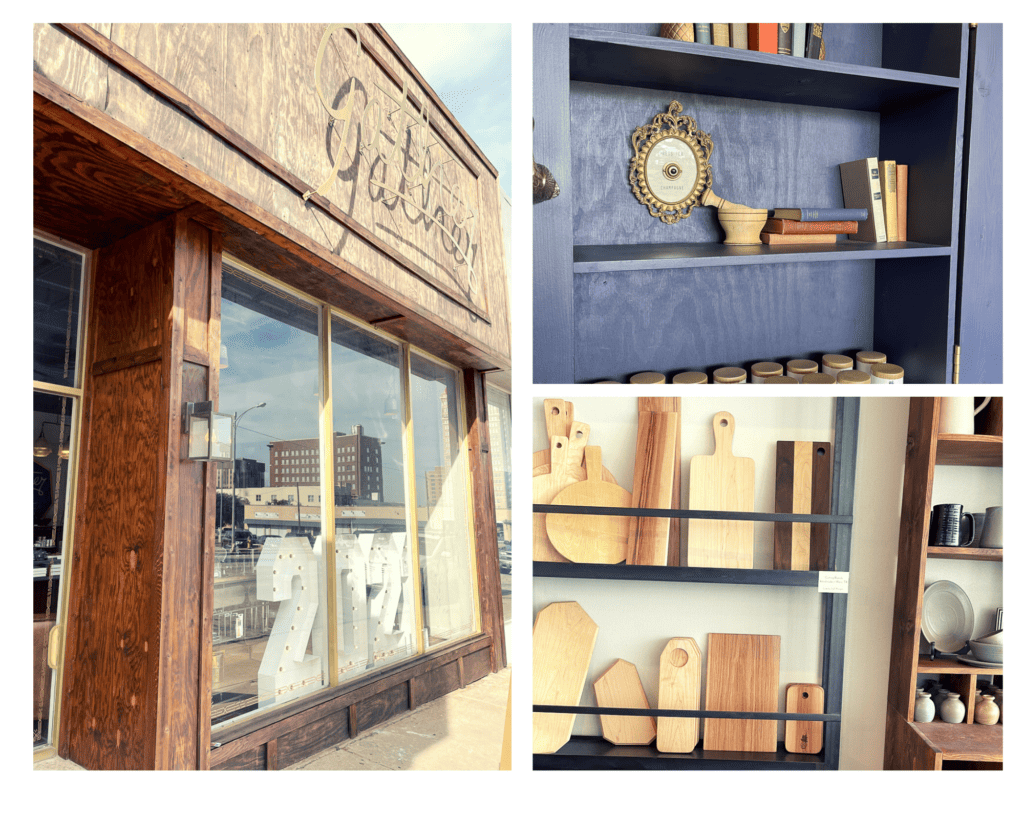 DATE NIGHT OUT AT ONE THIRTY FIVE PRIME
We had to hurry back to the cottage to change for our fancy night out! I actually ordered an Uber for the first time since 2019! They were super nice and COVID conscious! I wanted us both to order a cocktail since I read that 135 Prime was known for them (in addition to their steak and seafood!)
You can't go to Texas without having a nice cut of steak! And these were from a specific herd that our waiter said could trace their DNA back 200 years to original Japanese Wagyu!
I did take a picture of my Vesper martini! I became a martini fan in 2020! 😉 and this one was so good!
I actually didnt take pics of our dinner! I was being present and enjoying the moment <3
DAY 4 (Sunday)
SNOW DAY!!!
Yup. We actually didn't make any concrete plans after we took a look at the weather forecast. SNOW IN TEXAS! Who knew?!
But it was the perfect cozy day to be inside and watch the snow flakes fall. It snowed for 10 hours straight!
We watched movies (almost finished Schitt's Creek!) and finally watched The Joker! So good!
We also were able to scrape the ice off the car and grab a quick breakfast. All of the places that were in the Magnolia Passport were closed on Sunday but Our Breakfast Place was not.
I got their Winter Hash with 2 poached eggs over kale,bacon, and ranch roasted potatoes. Jake ordered their breakfast platter with scrambled eggs, toast, and sausage. It was such a fantastic environment with so much southern hospitality! Gave me the feel of a small town diner. Would definitely go back!
The rest of our stay we just rested and ended up ordering from Slow Rise Slice again for dinner!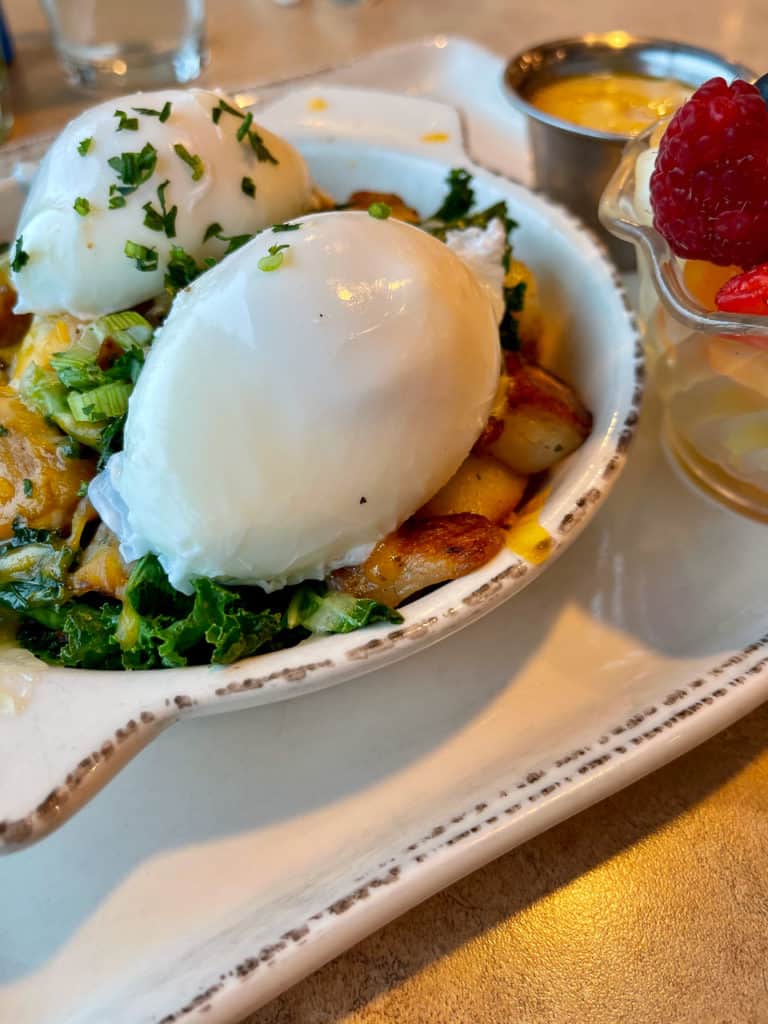 I hope you enjoyed this travel guide for a weekend in Waco, TX! I had a lot of fun writing it and I hope it encourages you to go and visit this lovely small Texas town with a touch of Magnolia!