Ok folks! This post has been a LONG time coming and the kitchen remodel was actually completed in the end of 2020. BUT! Better late than never right?!
So being the cook in the family PLUS a food blogger means the kitchen is like my second bedroom. It's my studio, work space, and a place for family and friends to gather.
And we ALMOST didn't get this house BECAUSE this kitchen was almost a deal breaker for me.
So if you are on the fence about purchasing or renting a home because a room doesn't fit your ideal, please stop and consider the potential of the space!
We bought our home in 2017. And I knew immediately we HAD to tackle the kitchen first right???
WRONG.
Being a first time home owner comes with lots of lessons learned. First being, just because your house passes home inspection doesn't mean it's good to go.
Our actual first project on this house was digging a 3' deep french drain through our backyard because water was collecting under our house. SO FUN right? 🙄
Next was building our home gym (post coming soon). Then the living room (again, be patient ;)).
The Kitchen: Before
Maybe you can identify in this picture WHY I was considering walking away from this house because the kitchen was just...UGH. The split level island, the "Applebee's" style pendant light, the tiniest microwave I ever seen ( I called it the "Lean Pocket" cooker...cause I can imagine that is all that could fit in there 😆), and the late 80s vibe of wooden paneled everything. Plus there were 4 entrances to the kitchen!
But after acknowledging the things I DIDN'T like. I saw potential in the space. It was a pretty large space, the cabinetry was gorgeous, a SUBZERO fridge was installed, and I was already re-creating the space in my mind as our realtor guided us out the door to discuss things over.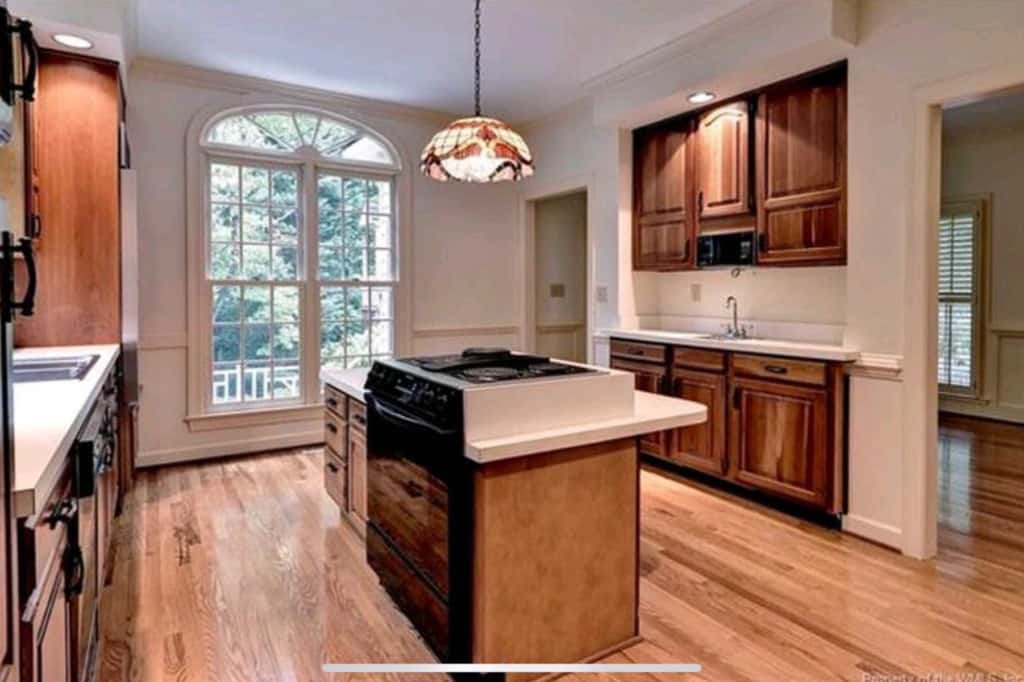 How to Remodel a Kitchen?
That was the first task. Deciding what was needed and how to do it in the most budget-friendly way possible. Jake and I are true "Dave Ramsay" people and are debt free minus our mortgage and we had no intentions of going into debt over any house projects. So we saved for roughly 1 ½ years for this project. Something to keep in mind if you are planning a big renovation.
Do research for your Kitchen Renovation
Before committing to ANY thing financially, Jake and I took tours of local contracting companies to out source the projects we couldn't tackle on our own. Such as:
Island Design/Fabrication
Countertop Material
Sink Material
Electrical Work (for the new island)
Don't be afraid to walk away from ANY contractor! We shopped around and did tours of factories, manufacturing plants, etc before we found the right one! Find someone who treats you as an actual HUMAN and not super "salesy". After shopping around we landed on our local Reico Kitchen and Bath to do most of our island design and they did SUCH a fantastic job coordinating with the counter top manufacturer we chose to ensure everything was delivered and installed at the same time.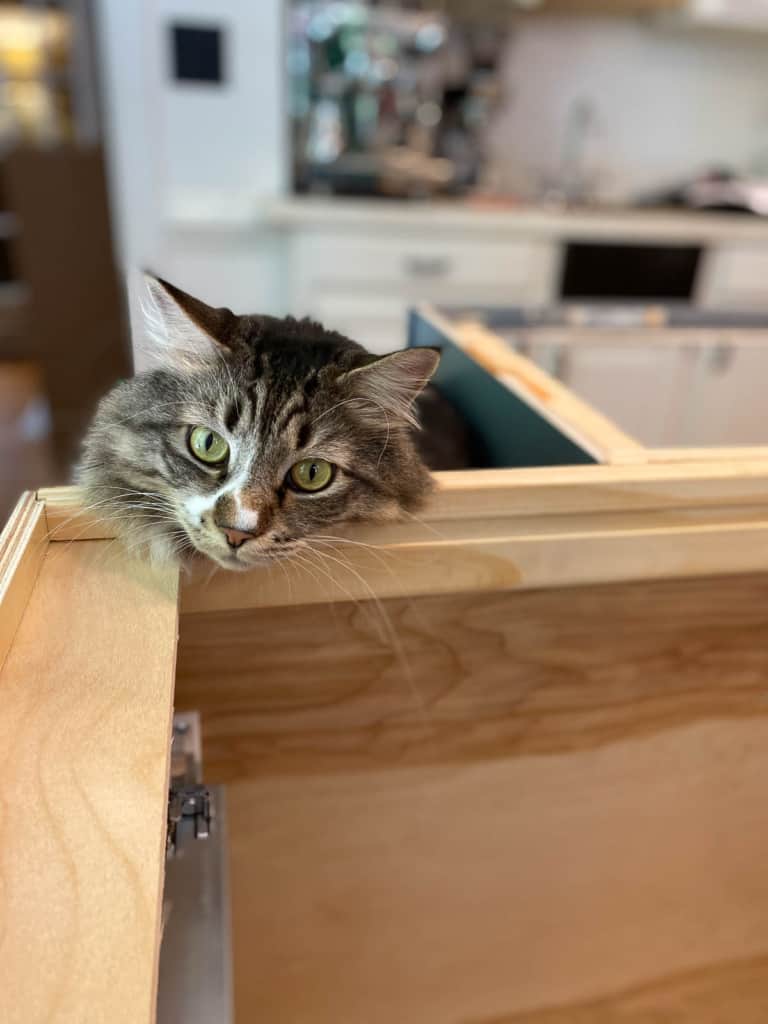 Creating a budget plan for your Kitchen Remodel
When tackling one of the largest rooms in our home, we knew we needed to break down each of our requirements into itemized estimated costs for each thing. From cost of labor, materials, to added "hidden" costs that add up super quickly over time.
The island redesign was the most expensive item on our list at around $10k. But again, we did a lot of the upfront work to mitigate raising the end cost. Good contractors will work WITH you on this! Just be very clear on the tasks YOU are doing and what THEY are doing. Jake and I always prepped the areas and cleaned up. These simple tasks saved us HUNDREDS. I also helped with the design of the island.
Aiming for Quality
Even though we kept budget at the forefront of our priorities, we also were creating our DREAM KITCHEN. Meaning there are a few high ticket items that we were not going to budge on. We also saw the kitchen as a partial business investment with The Kitcheneer in mind ;).
My must have things on my kitchen remodel ideas list:
A functionally designed kitchen island - (maximum space claim and storage physically possible in our space, room for our new 36" range, microwave storage, paper towel storage, room for 2 stools, and deep soft-close drawers)
This espresso machine
Identify your needs vs wants
Would I have WANTED all new cabinets? YES. Was it a need? No.
Our house came with GORGEOUS hardwood maple cabinets. There was nothing physically wrong with them. Jake and I decided this was going to be our first DIY project in the kitchen. Painting the kitchen cabinets with our paint sprayer we got as a house warming gift.
This is A PROCESS. But SO WORTH IT. This took at LEAST 10K off our total kitchen remodel doing this project ourselves. But not gonna lie, our house looked like a scene from Dexter with all the plastic hanging everywhere.
Because if you have never worked with a paint sprayer before, you NEED to tape the plastic down and ensure there are NO holes where specks of paint can fly through. You will end up having a HUGE mess to clean up. I will cover the painting of the kitchen cabinets and our lessons learned in another post. 🎨
Identifying your needs vs wants in your kitchen remodel can save you TONS of $$$. Also identifying what you are able to tackle yourselves saves the most $$$ long term.
Choose Inspiration off of Timelessness vs Trends
Kitchens are meant to be social places, of sustenance, and a place where magical things occur. What are your thoughts on your own kitchen in regards to its long term investment and return? Do you plan to keep your home forever? Or do you plan to sell or rent the space some day?
These are all questions you should ask yourself BEFORE doing ANYTHING in the kitchen!
Pick colors that are bright and neutral. Classic bright white and black kitchens are timeless. And can be dressed up with pops of color via hanging spices, wall art, throw pillows on the breakfast nook chairs, to adding in green plants!
For reference we used Sherwin Williams's "Pure White" Satin for the walls and semi-gloss for the trim and the cabinets in the Emerald edition. (I ended up loving this white so much I ended up painting the trim in the other rooms of the house with it! even the hallway walls both upstairs and down!)
Giving your kitchen a slight update with a fresh coat of paint can make all the difference in increasing the value of your home! That's why we painted the walls AND cabinets. We even saved more money by spray painting the existing cabinet hardware black instead of purchasing new ones!
The AFTER Kitchen Remodel Pictures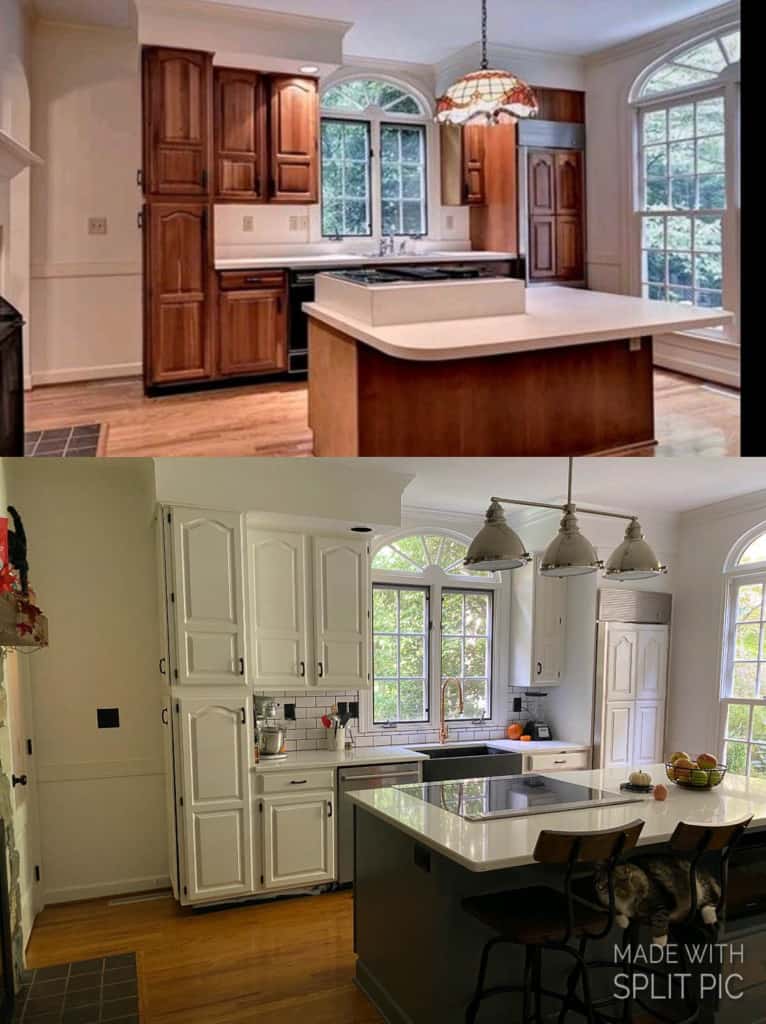 Ok, here is the AFTER pictures of our kitchen remodel transformation as promised!
I AM IN LOVE with my kitchen! It was worth the work, the waiting, the tours, research, and decision making. It is my workshop, our place of gathering, and it is making our house a home. And no, we DO NOT plan on selling this house for a VERY long time! So it was worth the investment we put into it!