Today I am sharing something very special yet incredibly simple: How to Make Over-Easy Eggs the way my late grandma taught me how also known as Dipping Eggs. This simple egg are slightly more technical than they appear. To achieve the perfectly intact yolk with the perfectly set egg whites took me a few tries. But don't worry! I am going to walk you through it!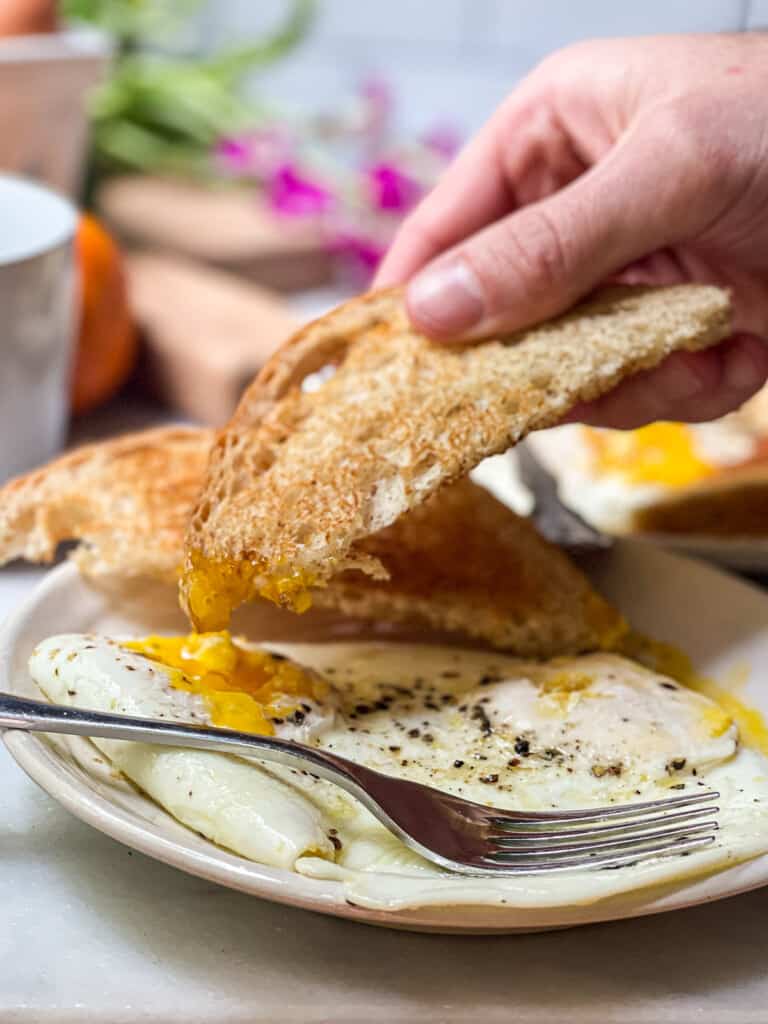 Over-Easy eggs was literally one of the first things I learned how to cook as a kid. But they weren't called over-easy eggs, my grandma called them "Dip Dip Eggs" because the runny yolk made the perfect dip for toast! And honestly is one of my most favorite breakfasts. She would always remind me to crack and break the egg gently as to not break the yolk.
But in general eggs are basically one of my favorite foods! I love simple soft scrambled eggs with some Trader Joe's Chili Crunch Oil on top, Avocado Toast with a grated hard boiled egg, to serving it soft boiled over some ramen!
Jump to:
Easiest way to Make the PERFECT Over Easy Eggs
Dipping Eggs are so simple yet can be so tricky to master certain techniques. But it basically starts with do you have the right pan to do the job? I always recommend a small non-stick pan (I picked mine up at HomeGoods- but this one is affordable and does a great job!) or a well seasoned cast iron pan will also do the job nicely here.
Other than the eggs them selves, you need a reliable spatula. A wide flat spatula is your BFF here. The right tool for the job is KEY here to make the perfect eggs.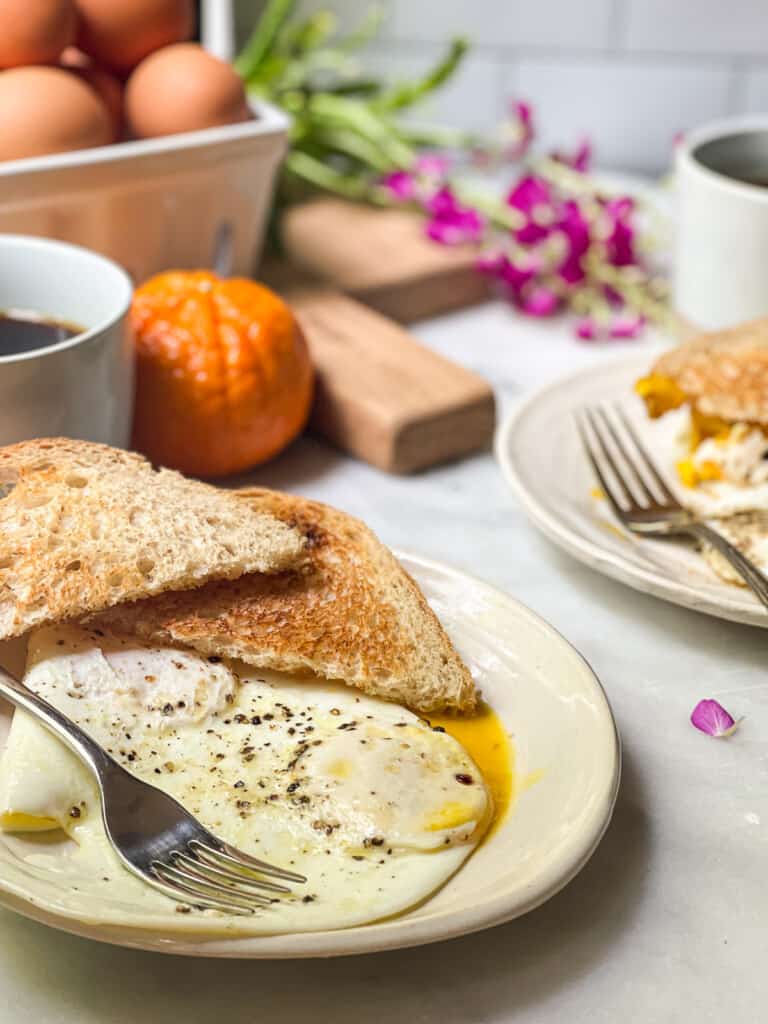 Mastering the Dip Dip Egg
I know these are technically over easy eggs (I was this many days old when I googled that what I knew as a child as "Dip Dip Eggs" was actually Over Easy Eggs 🤷‍♀️) But honestly it's one of my favorite ways to make a simple breakfast and are way more than just another fried egg.
First you must gently crack the raw egg into the pan WITHOUT breaking the yolk with a little butter or ghee. This is key. You also don't want the pan super hot. I honestly think a medium to medium low heat is perfect. The season simply with a pinch of salt and black pepper.
Next is the tricky part. When to flip the eggs? When the whites of the egg have JUST turned opaque. Using a thin spatula test the edges of the egg by seeing if you can slip the spatula underneath without moving the egg just yet. If you can, then you are READY.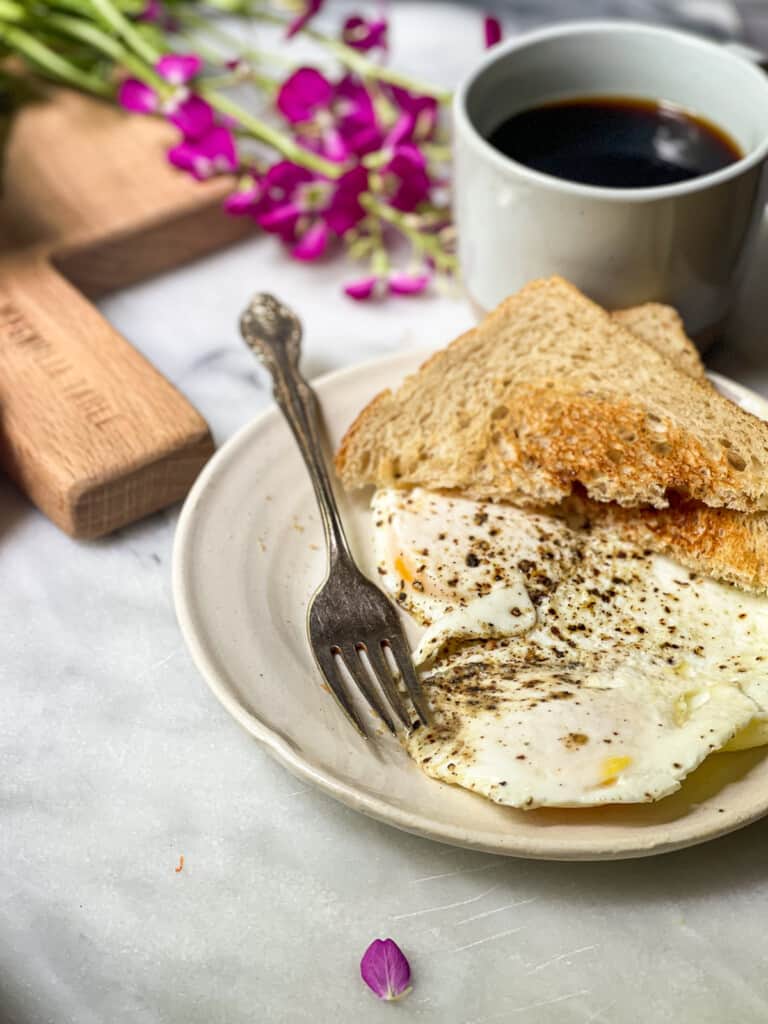 FLIP IT! Slide the spatula under and center it under the yolk... take a deep breath and flip!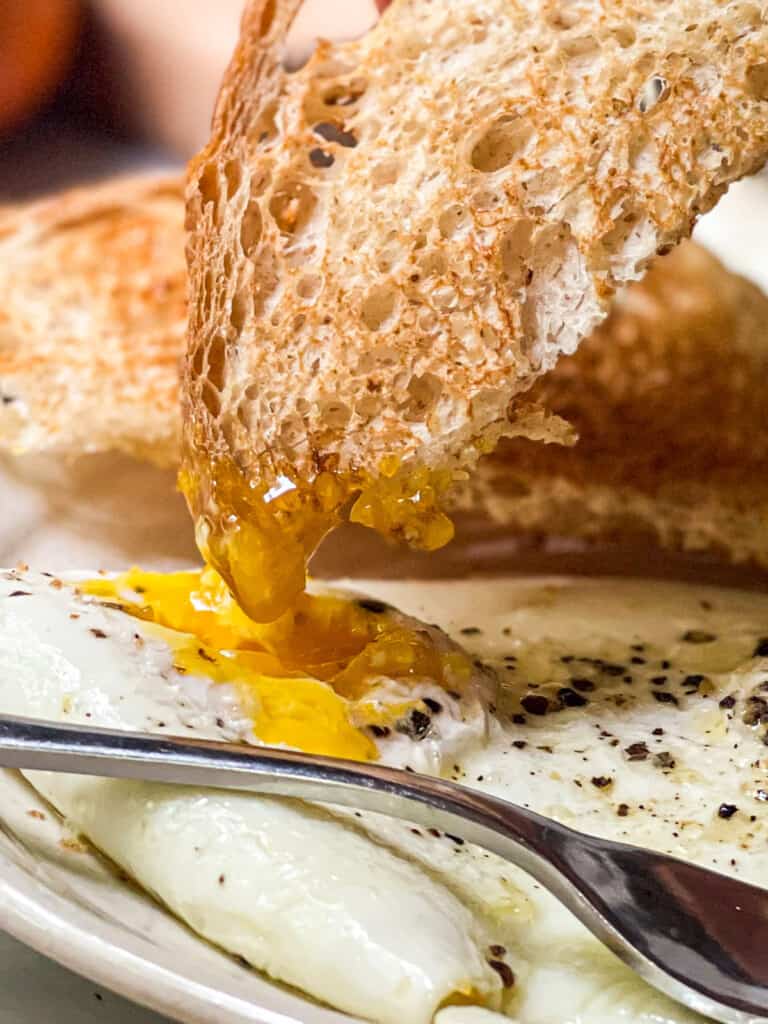 Turn off the heat and the eggs sit on the second side for a few more seconds.I LOVE a runny yolk so I barely let it sit. Flip on to a plate and eat! Good news is if you leave it for a little too long it's not a mess up it's now a sunny side up egg!
Over Easy Eggs Serving Suggestions
I typically can't help the nostalgia of simply serving these eggs "Dip Dip Egg" style but the possibilities are endless when it comes to these great eggs!
Spicy - I LOVE Trader Joe's Chili Crunch Oil and add a little on top of the eggs to add some spice!
Avocado Toast It - Serve on top of avocado toast and watch the runny yolk turn your toast even tastier.
Fun Sandwich Style- What is a "fun sandwich"? This is what my grandma used to make us as kids. She would make us a grilled cheese then put the over easy eggs in the middle then giggle when we bit into the runny egg yolk and say "surprise"! That is one of the things I loved about her. Her sense of humor. Subtle but surprisingly mischievous.
Top tip: Timing
As mentioned earlier, the best tip is timing. Plus cooking on a lower temperature than you think. Medium-Low to Medium heat and watch the eggs carefully to spot that moment where the whites of the eggs are almost set and to see if you can gently slide your spatula underneath. Once you can slide your spatula easily underneath the yolk, flip, and take off heat. Depending on how runny you want your yolk, leave it on the off-heat pan for a few second to no more than 30 seconds. Most important is to give yourself grace. I have accidentally broken yolks, cooked it for too long, or got frustrated and just made it into a scramble. You learn from mistakes not from successes. That's why I am sharing this post with you, I have MANY lessons learned!
Print
How to Make the Best Over-Easy Eggs (the way Grandma taught me)
---
Author:

Total Time:

5 minutes

Yield:

2

eggs

1

x
Description
Mastering the Over Easy Egg is easy meets a little technical and little it's in the wrist flip. Trust me, this is the easiest and tried and true way to perfect the dip dip egg. Because that's what you do with over easy eggs, you dip sourdough toast in them! 
---
1

tbs of ghee or grass fed butter

2

eggs
Salt and Pepper
Sourdough toast for serving
---
Instructions
Melt ghee in a small nonstick skillet on medium heat. Swirl to coat.
Gently crack eggs (careful to not break the yolk) into the skillet.
Cook until the whites of the eggs have just set. Let the eggs cook undistrubed until the whites of the eggs are set and almost opaque except for about ½ inch area around the yolk. 
Flip it! Carefully flip the eggs by gently sliding the spatula centered under the yolks.*
Turn off the burner. Let the yolk-side cook a few seconds more. For a really runny yolk I allow about 10-15 seconds of cooking on the yolk side. 
Notes
* You can cook one egg at a time too! This way it will be slightly easier to flip!
Cook Time:

5 minutes

Category:

Breakfast

Method:

Stove Top

Cuisine:

American
Keywords: over easy eggs, egg recipe, breakfast, dip dip eggs, dipping eggs