Grilled Wahoo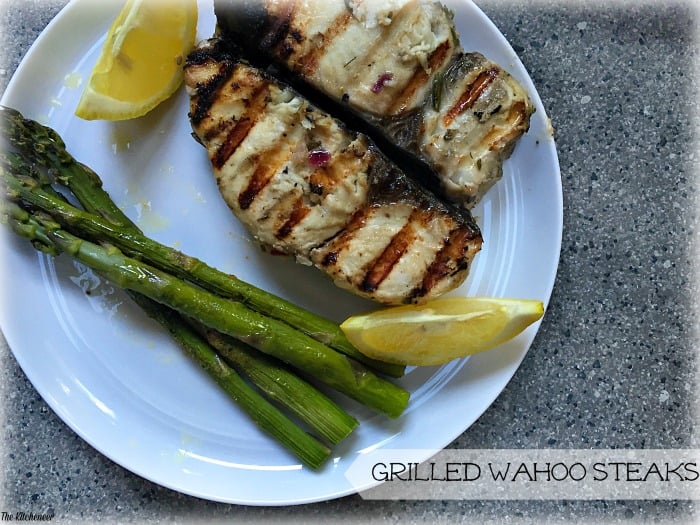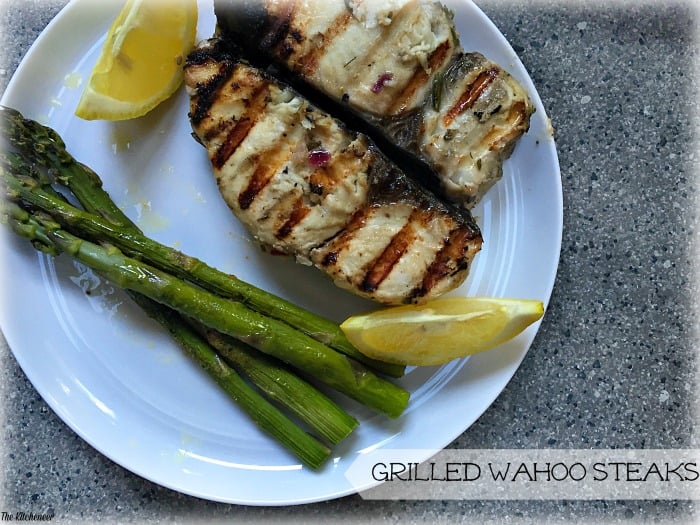 We just got back from our annual vacation trip to the Outer Banks, NC. It was a much needed vacation, but boy was it HOT! It was at least 92 degrees everyday with little to no wind. But surprisingly I didn't burn all that much!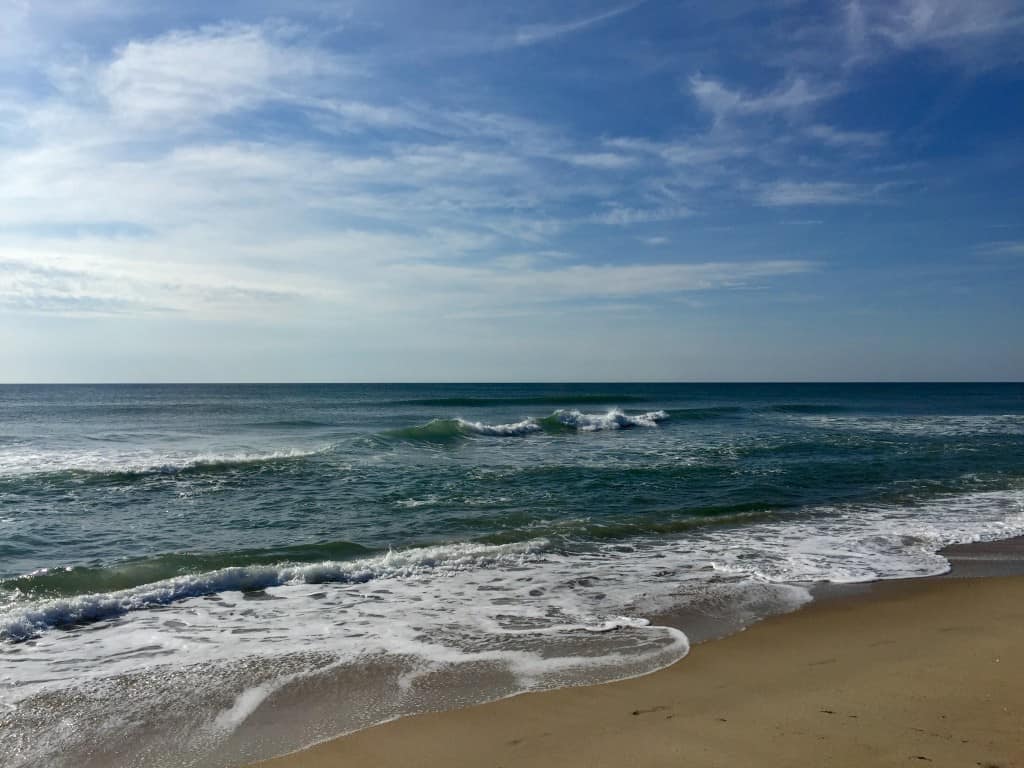 On the way, we usually stop by Morris's Farmer's Market! They have the BEST peaches/nectarines and I always pick up some for the week!
After the market we stopped at the Blue Moon Cafe for lunch…which is absolutely delicious! I had one of their specials: A Seared Scallop salad with berries and goat cheese! YUM I am totally making a copy cat version of this here on the blog soon!
We only spent a couple of hours at the beach every day and took "sun breaks". We would cool off, grab some lunch, watch whatever was on TV aka day time TV which meant American Dad.
Then the rest of the evenings were spent in the pool.
Because it was vacation, I did Paleo 80/20 instead of my usual Whole30 strict for the week. I would eat my usual scrambled eggs and fruit for breakfast, big salad for lunch, and lean protein with veggies for dinner. But if there was something I really wanted I would get it. Like my one treat for the week was a spicy mahi mahi sandwich from the Atlantic Coast Café. If you are ever in that area you should eat there. The food is fresh, it's on the water, and the service is great!
And of course being the Crossfit addicts that we are, we HAD to check out Crossfit OBX. ….and I don't think I have sweated so much in my entire life. There is no AC and the only fans blowing were nowhere near us, so the phrase "sweating buckets" literally applied to the whole class.  We did a workout that consisted of snatch complexes…an EMOM ( Every Minute on the Minute) of them for 45 minutes! My arms and hands were so sweaty I had to chalk up after every rep! But it was a great workout and I get to practice my snatches! We also got some cool T-shirts! Mine says " F%$*@ Burpees" lol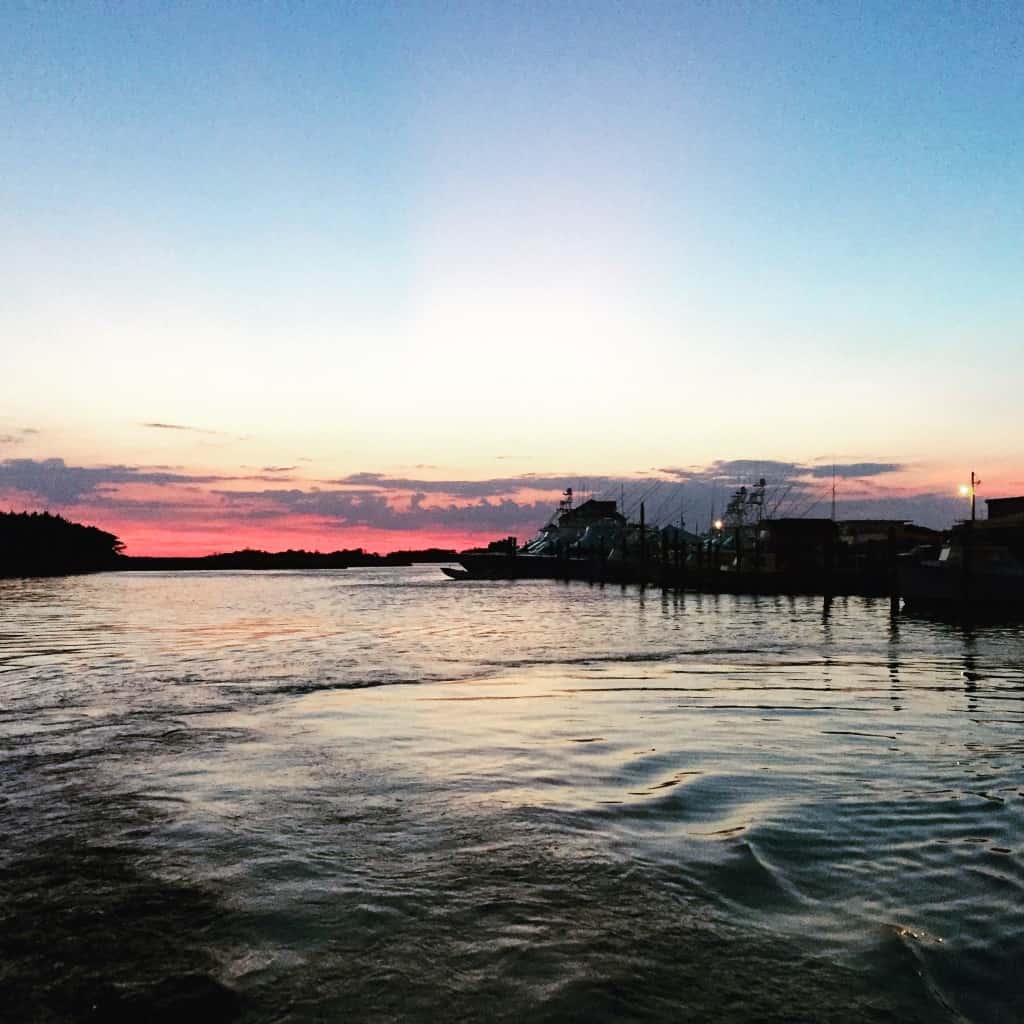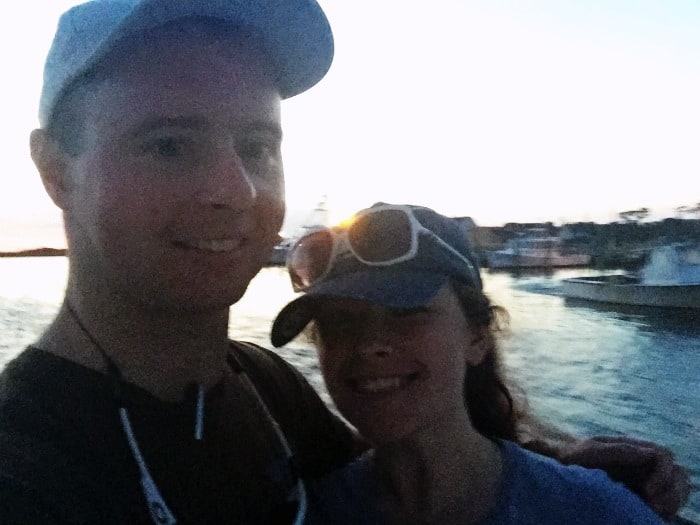 The following day we went out on a charter to do some deep sea fishing! I have never fished before and I still didn't get to! Apparently, I am one of those people who get sea sick…and luckily Jake insisted on getting a charter with a big cabin with AC cause I spent 80% of the trip in there laying down and pretending that the little lights on the ceiling stayed in one place and didn't swirl around like the rest of the world. I laid there and had to mentally set myself to endure the ride. I was happy everyone else was having a good time! My father in law caught a sail fish which I managed to capture on video! Here is a pic of the rambunctious guy!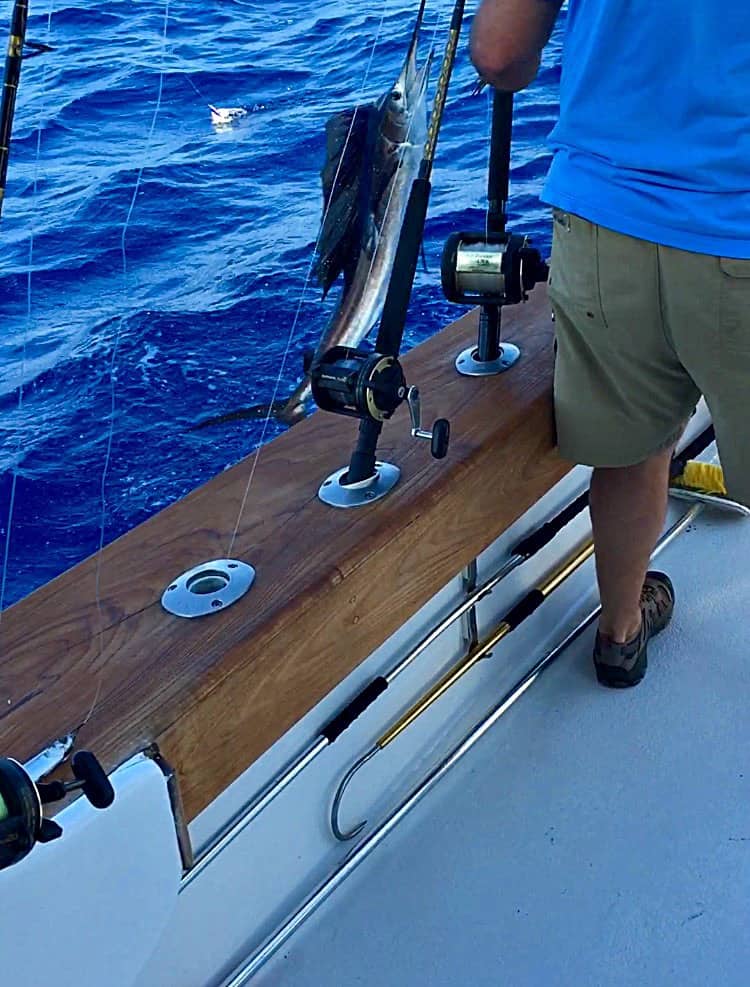 It was a VERY slow fishing day after the sail fish. Jake caught one dolphin and my mother in law caught one wahoo afterwards. But we got a lot of fillets off of them!
And I was the first one off the boat ( 11 hours later). 😉
I felt better instantly the moment my feet were on dry land.
I have never tried wahoo and was interested on how it would taste. After much research, grilling it seemed the best way to prepare it. And luckily our captain butterflied our steaks!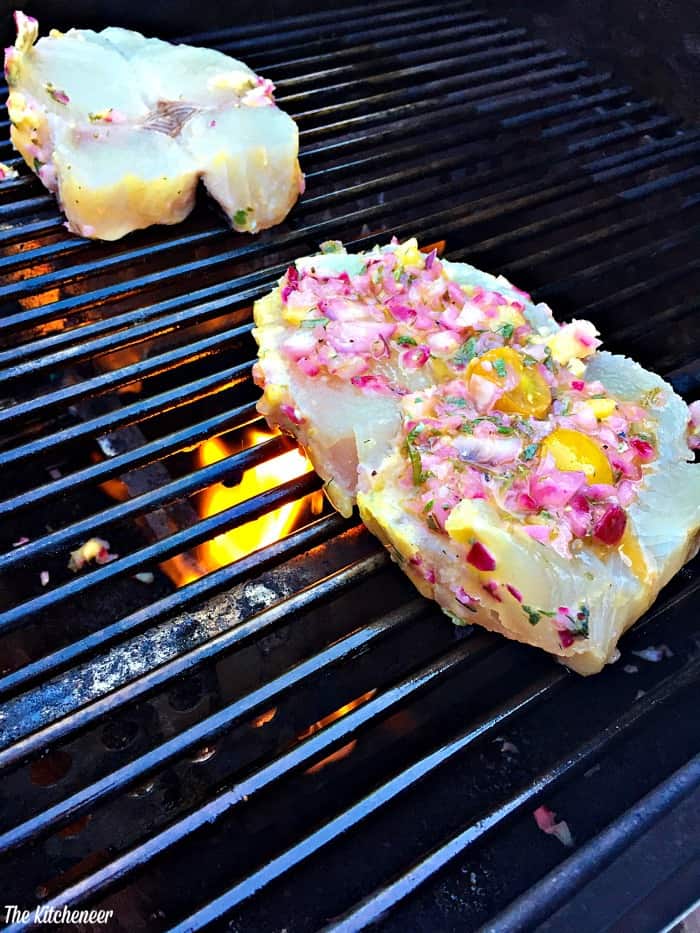 I marinated it with grass fed butter, onion, lemon juice, and fresh herbs from the garden.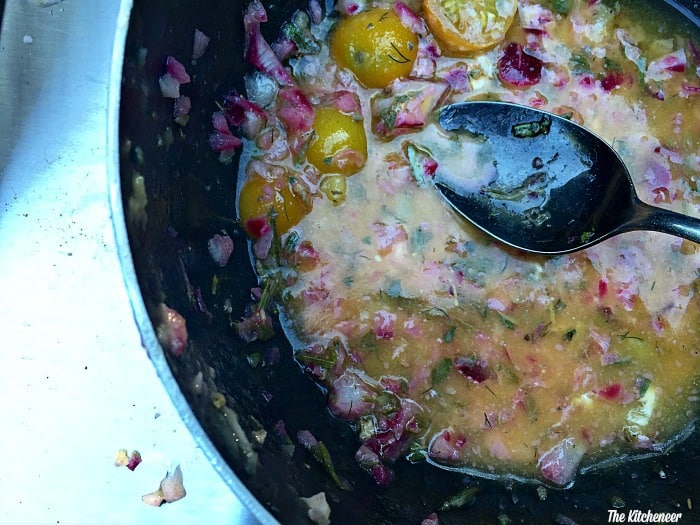 I t came out delicious! I am not a seafood lover in the slightest, but this didn't taste fishy at all! Very mild! I loved it and am looking forward to many more wahoo dinners! If you can't find wahoo, this recipe will work with tuna steaks as well.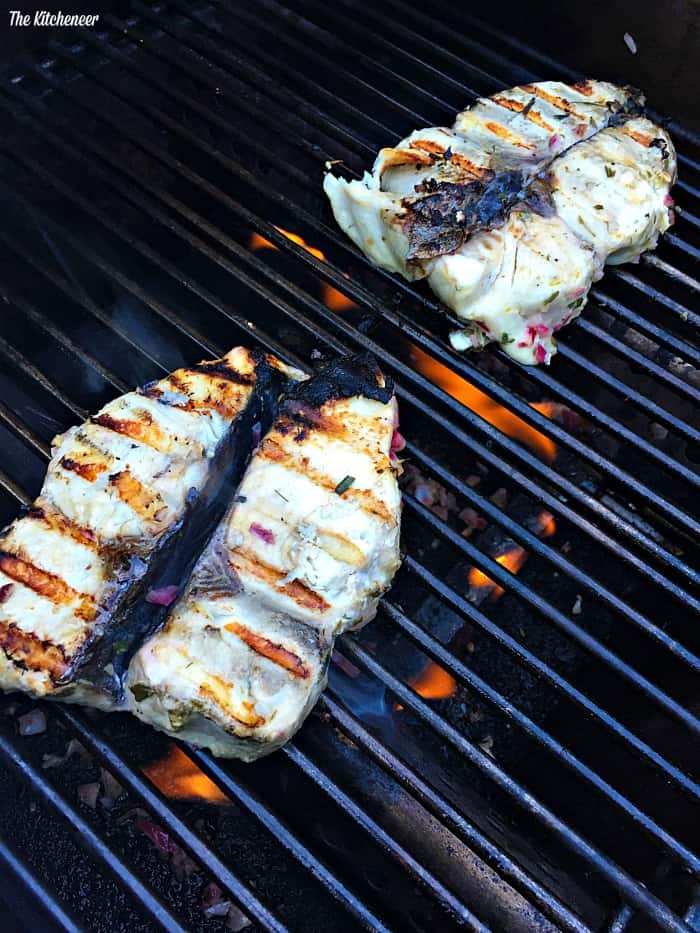 Grilled Wahoo
Author:
Amanda aka The Kitcheneer
Nutrition Information
Serving size:

1 steak

Calories:

500
Fat:

30g

Carbohydrates:

5g

Sugar:

2g

Sodium:

650 mg

Protein:

23g
Prep time:
Cook time:
Total time:
Freshly caught wahoo steaks are marinated in grass fed butter and fresh garden herbs, then seared on the grill for the perfect summer dinner!
Ingredients
2 wahoo steaks, butterflied ( ours were about 4oz each)
6 tbs of grassfed butter ( most of it will melt off and DON'T substitute margarine! It will NOT come out right!), melted
¼ red onion
4 cherry tomatoes, halved
3 sage leaves
2 rosemary sprigs
2 dill sprigs
1 tsp kosher salt
1 tsp black pepper
½ tsp cayenne
Juice of 1 lemon
Instructions
Melt butter in a medium to large sauce pan
Pulse onion,tomatoes,, herbs, salt and pepper in a food processor and add to the butter
Turn heat on low to infuse the flavors together
Turn heat off and add lemon juice to the marinade
Add the steaks, spooning the marinade on top
Let sit in marinade for at least 20 minutes
Preheat the grill on low
Right before you put the fish on the grill, dip a paper towel in olive oil and place between tongs to grease the grill plate
Put steak on the grill and raise heat to medium low
Cook for about 2-3 minutes per side
Enjoy with some asparagus!
Notes
Note: the fat content in this recipe might be less than it is because a lot of the marinade will melt off or go unused.
Get the Latest Updates!
Get a FREE Whole30 7 Day Meal Plan when you sign up!