This sizzling Simple Grilled Wahoo recipe will become your new favorite fish to grill all summer long! A perfect protein to try out on the grill that is marinated in a light citrus and butter sauce recipe. Fresh wahoo is a great and healthy way to serve up dinner at your next backyard BBQ or even July 4th!
We just got back from our annual vacation trip to the Outer Banks, NC. It was a much needed vacation, but boy was it HOT! It was at least 92 degrees everyday with little to no wind. But surprisingly I didn't burn all that much!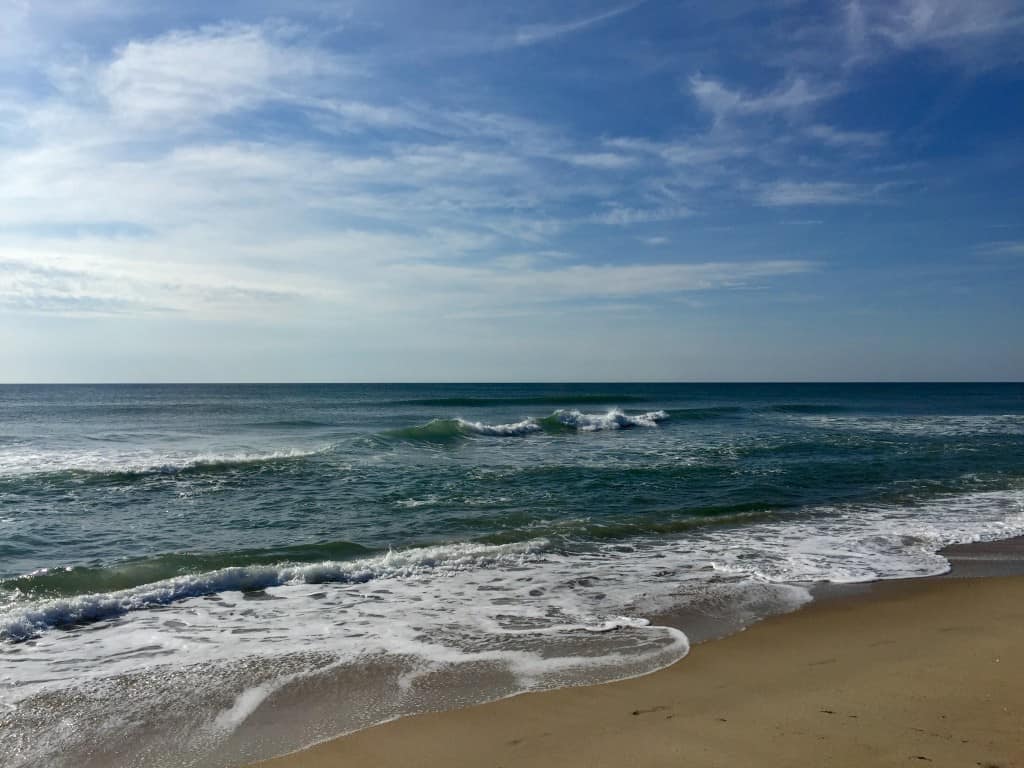 On the way, we usually stop by Morris's Farmer's Market! They have the BEST peaches/nectarines and I always pick up some for the week!
After the market we stopped at the Blue Moon Cafe for lunch...which is absolutely delicious! I had one of their specials: A Seared Scallop salad with berries and goat cheese! YUM I am totally making a copy cat version of this here on the blog soon!
We only spent a couple of hours at the beach every day and took "sun breaks". We would cool off, grab some lunch, watch whatever was on TV aka day time TV which meant American Dad.
Then the rest of the evenings were spent in the pool.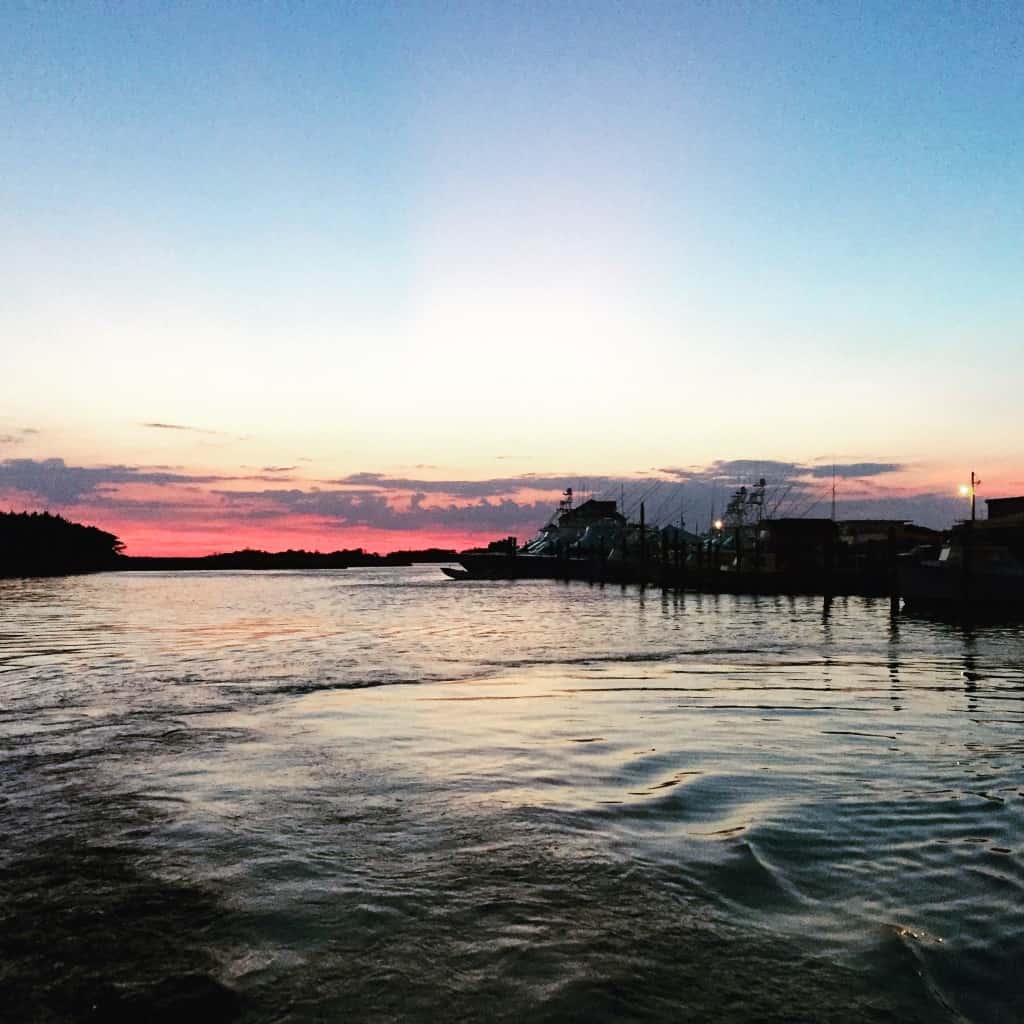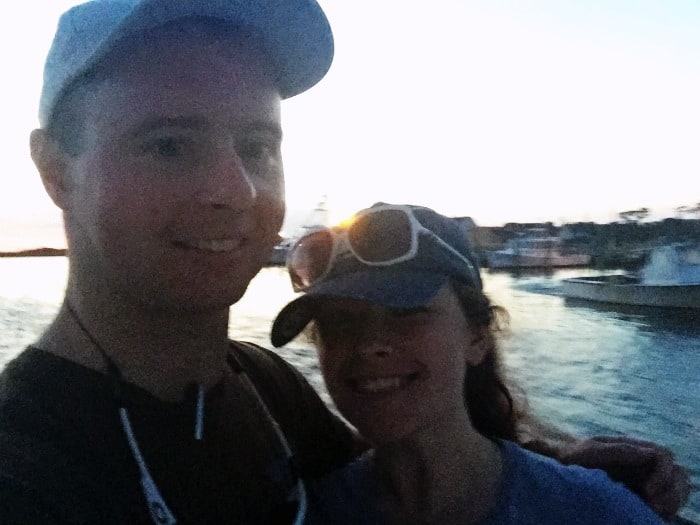 The following day we went out on a charter to do some deep sea fishing! I have never fished before and I still didn't get to! Apparently, I am one of those people who get sea sick…and luckily Jake insisted on getting a charter with a big cabin with AC cause I spent 80% of the trip in there laying down and pretending that the little lights on the ceiling stayed in one place and didn't swirl around like the rest of the world. I laid there and had to mentally set myself to endure the ride. I was happy everyone else was having a good time! My father in law caught a sail fish which I managed to capture on video! Here is a pic of the rambunctious guy!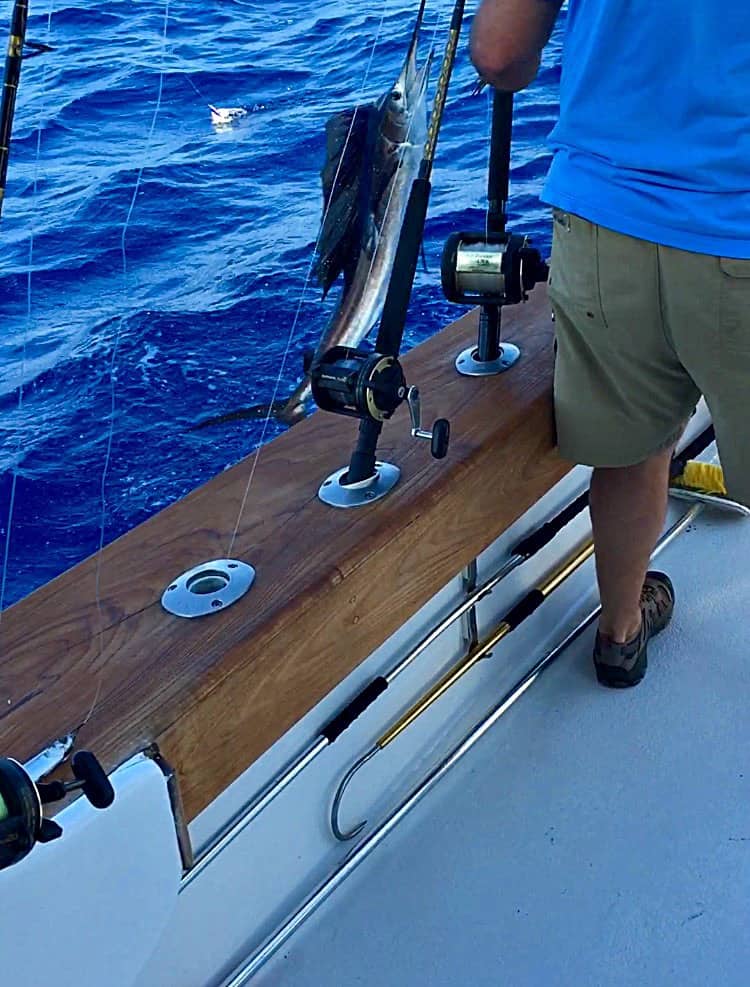 It was a VERY slow fishing day after the sail fish. Jake caught one dolphin and my mother in law caught one wahoo afterwards. But we got a lot of fillets off of them!
And I was the first one off the boat ( 11 hours later). 😉
I felt better instantly the moment my feet were on dry land.
I have never tried wahoo and was interested on how it would taste. After much research, grilling it seemed the best way to prepare it. And luckily our captain butterflied our steaks!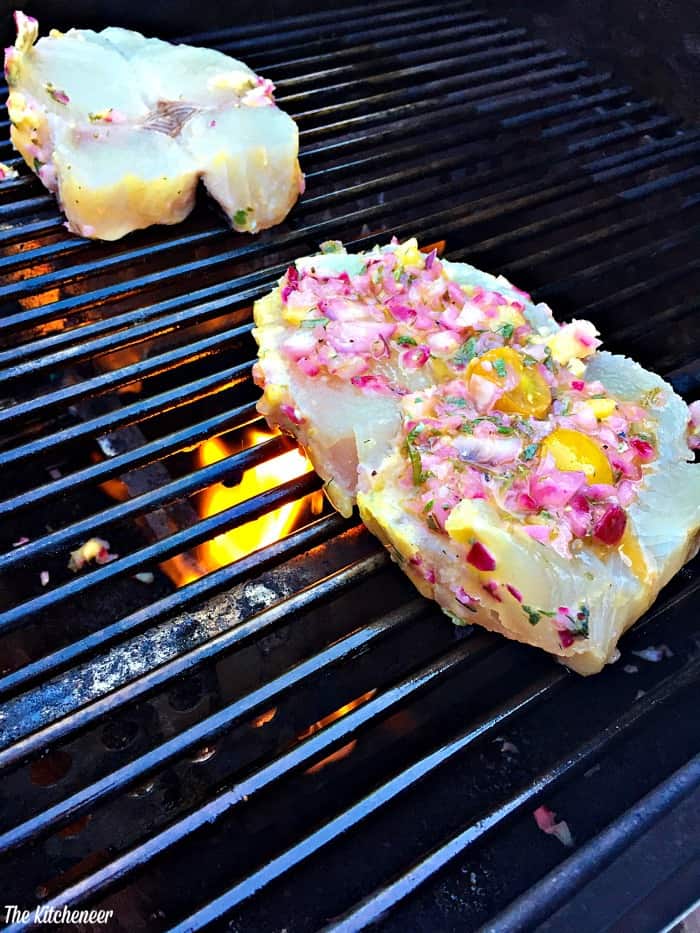 What is a Wahoo fish?
A salt water fish that closely resembles a barracuda and one of the fastest fish out there!
Ok, but what does wahoo taste like?
Well, it's a white fish that honestly tastes like chicken. I KNOW how cliche that sounds but it's true! It also can be described as having a light and delicate flavor with lean meat and circular flakes that fall off perfectly after being grilled.
Wahoo is also one of those proteins that is mild takes on flavors very well. So that smoky flavor we are going for here will really shine through.
How to cook Wahoo on the grill?
This is literally a delicate YET hardy fish to grill. I found it to be pretty easy in terms of
the grilling process and with these few simple tips you will have your wahoo from sea to plate in no time! Don't be intimidated to cook fish on the grill here!
Choose the right cut for your fish: Meaning, when you (or your butcher) go to prepare the fish ask to get it butterflied. Or cut into smaller sized fillets. This will make it easier to flip on the grill and less likely to fall apart.
Use the right equipment: You have to have the right tools for the job right? Fish is easiest to handle on the grill with a long-handled fish spatula or thin metal spatula works really well here too. I personally love this BBQ Fish Spatula and this Fish Turner.
Next, THE PROCESS of GRILLING WAHOO
Ok, now with the above tips we will get into the details of grilling your wahoo fillets.
Let the grill do the work. Like we say in the grilling world," If you are looking you aren't cookin'!" The best temperature for wahoo is around the 400F mark. You want it hot as it helps sear the fish and makes it easy to flip and easier to cook evenly.
Prep the grill plates: For more delicate proteins like fish and poultry, it's always best practice to grease the grill plates lightly with a little oil. By oiling a wad of paper towels and generously oil the plates. You just made your life A LOT easier with this step!
GRILL IT! Place wahoo steaks on the grill plates directly over the heat for 3-4 minutes per side. Make sure to quickly grill the sides of the fish too! Use a fish spatula or a thin metal spatula to carefully flip the fillets. The spatula will also help you achieve those nice grill marks too!
You will know the wahoo steaks are ready to take off the grill when the juices are flowing and the meat is starting to flake easily (the perfect texture). Remove from heat and allow to rest for 5-8 minutes.
What to serve with Grilled Wahoo Steaks?
Next is the fun part! Deciding what to serve with your wahoo steaks! So many ways to compliment this delicious dish!
You can serve with a classic slaw and a few roasted potatoes (or fries)
A side of asparagus and rice pilaf and a few lemon wedges
Roasted brussels sprouts and top the fish with some red pepper flakes and chopped parsley
You can also ladle any leftover marinade mix onto the fish with a tablespoon capers
My personal favorite is to serve it bowl-style with a bed of greens, shelled edamame, brown rice, soy sauce, and a side of ginger for a Asian-style bowl.
I marinated it with grass fed butter, onion, lemon juice, and fresh herbs from the garden.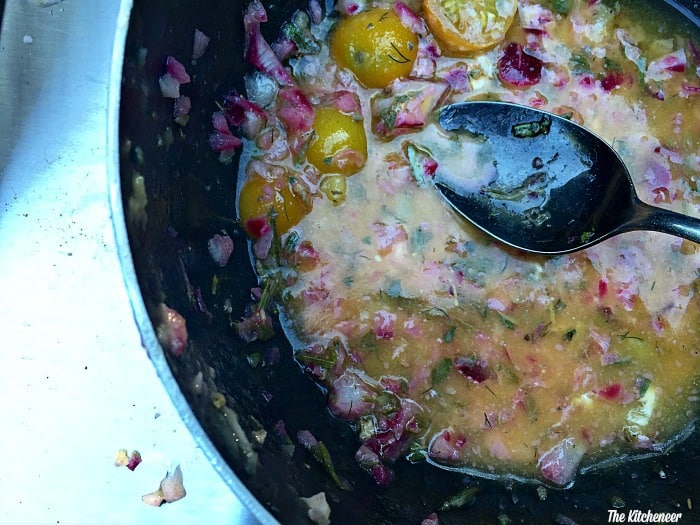 It came out delicious! I am not a seafood lover in the slightest, but this didn't taste fishy at all! Very mild! I loved it and am looking forward to many more wahoo dinners! If you can't find wahoo, this recipe will work with tuna steaks as well.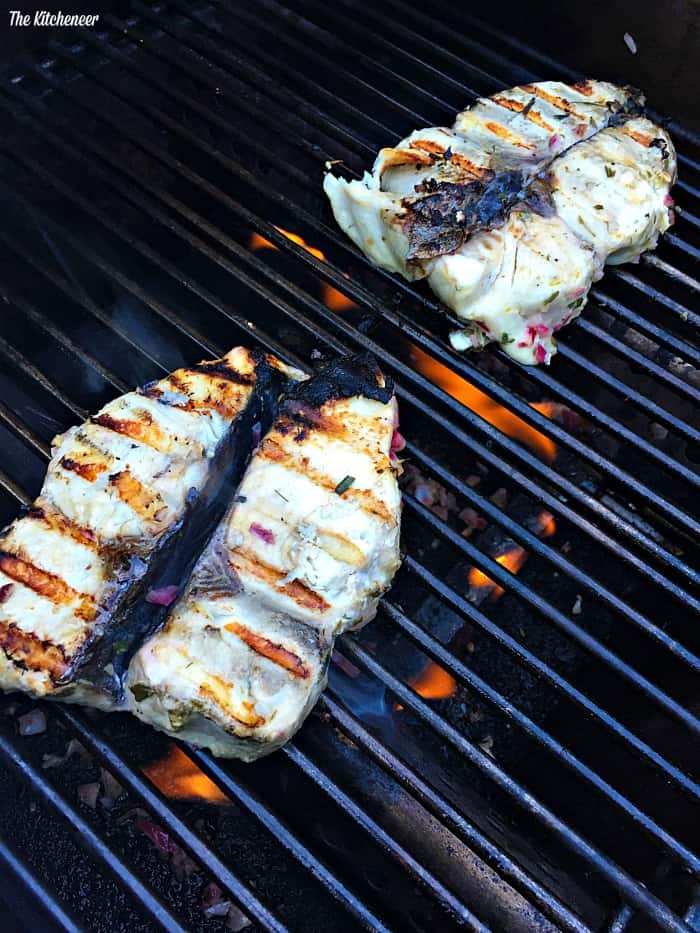 Grilled Wahoo
Author:
Prep time:
Cook time:
Total time:
Freshly caught wahoo steaks are marinated in grass fed butter and fresh garden herbs, then seared on the grill for the perfect summer dinner!
Ingredients
2 wahoo steaks, butterflied ( ours were about 4oz each)
6 tbs of grassfed butter ( most of it will melt off and DON'T substitute margarine! It will NOT come out right!), melted
¼ red onion
4 cherry tomatoes, halved
3 sage leaves
2 rosemary sprigs
2 dill sprigs
1 teaspoon kosher salt
1 teaspoon black pepper
½ teaspoon cayenne
Juice of 1 lemon
Instructions
Melt butter in a medium to large sauce pan
Pulse onion, tomatoes, fresh parsley, lime juice, salt and pepper in a food processor and add to the butter
Turn heat on low to infuse the flavors together
Turn heat off and add lemon juice to the marinade
Add the wahoo fillets, spooning the marinade on top
Let sit in marinade for at least 20 minutes
Preheat the grill on low
Right before you put the fish on the hot grill, dip a paper towel in olive oil and place between tongs to grease the grill plate
Put steak on the grill and raise heat to medium high
Cook for about 2-3 minutes per side
Top with some sliced green onions and serve with some asparagus!
Serving size:
1 steak
Calories:
500
Fat:
30g
Carbohydrates:
5g
Sugar:
2g
Sodium:
650 mg
Protein:
23g
Notes
Note: the fat content in this recipe might be less than it is because a lot of the marinade will melt off or go unused.