Sweet yet savory, these pork chops are elevated into the fall season with a little apple love and caramelized with ghee and sage.
Caramelized sage coated pork chops are tossed in a skillet with ripe apple slices and popped in the oven to roast in its own juices. C'mon folks, this meal is a MUST.
Growing up pork chops meant Shake n' Bake. Therefore, I HATED them. I had no idea pork chops weren't this dry piece of mystery meat covered in salt. Ew.
With my grown up palate I have experimented with pork over the years and I have grown rather fond of this other lean protein option. I especially love to make carnitas or pulled pork for easy crown pleasing meals.
But, the bone-in pork chop takes the home run. It's juicy, savory, and all around delicious. Especially when you add sage and apples. Duh.
These pork chops come together fairly quickly.
After seasoning them and covering them generously with sage leaves
It becomes caramelized in searing hot ghee in the skillet
Pouring apple cider over it only seals in its juices….umm yum
Then add even MORE apple flavor with actual apple slices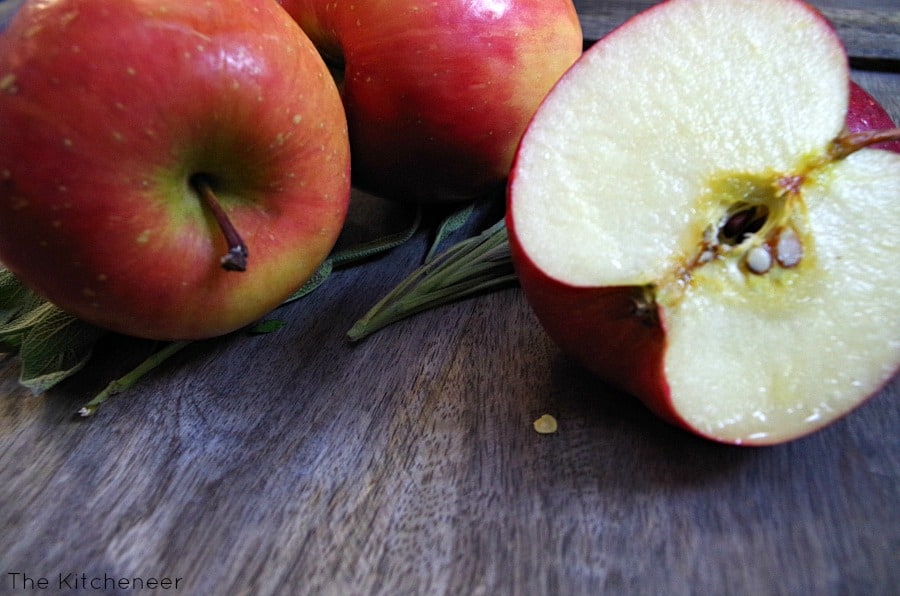 It's then popped in the oven to roast to create a fall meal that will become your new favorite go to this season.
The apple cider is reduced in the oven and creates a yummy apple sauce…
Trust me. This could turn into an addiction.
Especially if you're a fall fan like I am.
#sweaterweatherwinning #alltheapples #porkchopsareforforever #andever #gomakethisnow
#please
Save