Here comes the sun, do da doo doo….Here comes the sun, and I say...it's alright!
I'm sorry. Saw the opportunity to reference Beatles lyrics and I took it!
So who is still feeling the effects of indulging a little too much over holiday? MEEEEE!!!!
In comes this Sunshine Glow smoothie. I am in LOVE with the color of this one. It's bright, warm, and screams healthy.
Besides the color, I love that there are so many good-for-you-things packed in there. Like: unsweetened almondmilk, pineapple, mango, turmeric, cayenne pepper and lemon juice.
And this smoothie really has a great flavor profile. That first sip hits with the sweet creaminess of the almond milk/pineapple/mango then a little spice from the turmeric/cayenne, then a bright lemon citrus at the end!
This smoothie will have you full,focused, and energized with the boosting power of turmeric and cayenne pepper!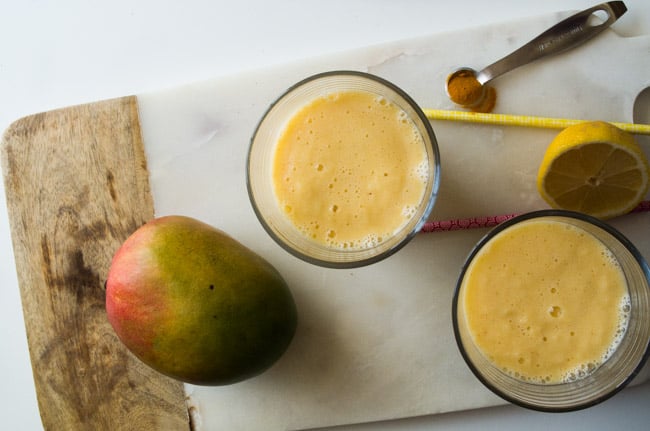 My favorite part about smoothies?
You get to drink all of your nutrients in a delicious way that you actually WANT to slurp!
Just add, whirl, blend, slurp!
Life is good.
Save
Print
Sunshine Glow Smoothie
---
Author:

Total Time:

5 minutes
Description
This smoothie will leave you full, focused, and energized all day with the power of turmeric!
---
- 2 Cups Unsweetened Almond Milk (I used Blue Diamond)
- 1 Cup Frozen Pineapple
- 1 Cup Frozen Mango
- ½ Cup Lemon Juice
- ½ teaspoon Turmeric
- ¼ teaspoon Cayenne Pepper
---
Instructions
- Add almond milk plus frozen fruit and blend to combine
- Add remaining ingredients and whirl until smooth
- Divide between two glasses and enjoy!