[This post is sponsored by ZUPA NOMA drinkable soups. I used their Organic Tomato Gazpacho Soup to make this amazing dressing for this summer burger. Thank you for keeping The Kitcheneer in the kitchen!]
Annnnnddddd it's burger season!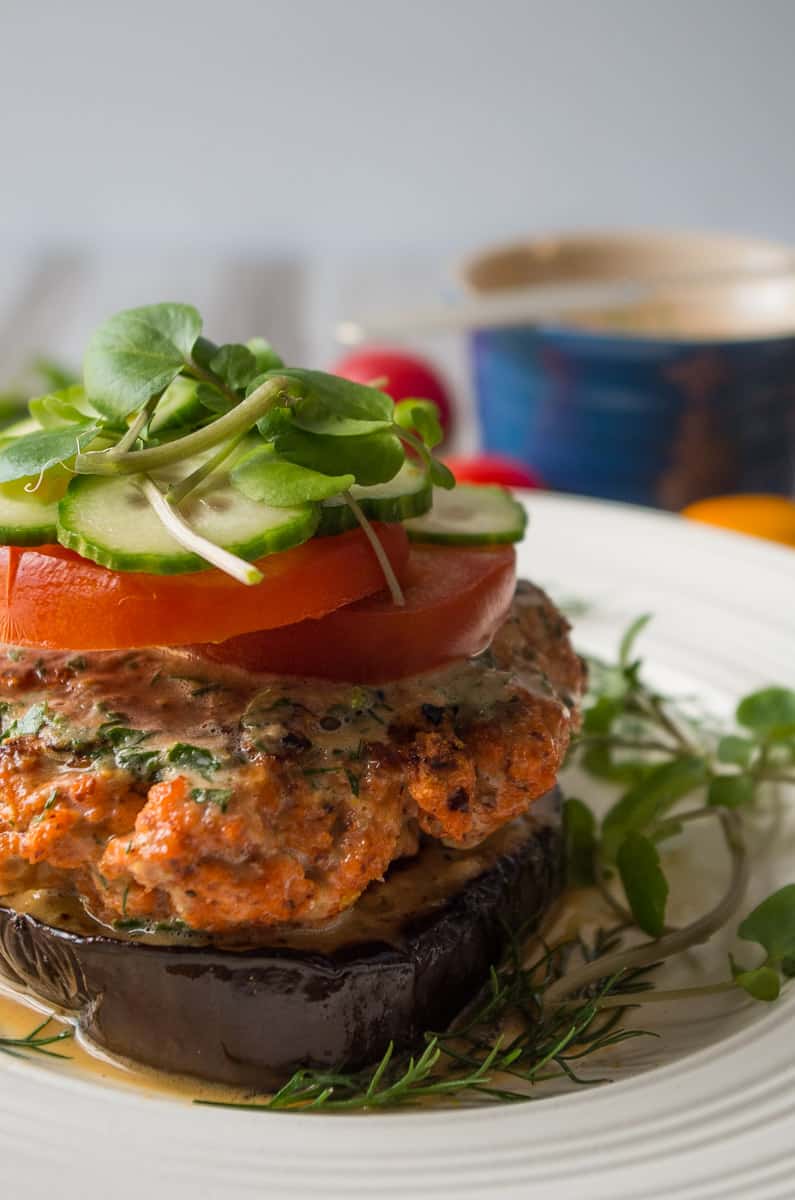 I think burgers and salads are my two favorite foods. They are both so easy to make and have endless varieties of flavor possibilities. They are also potentially my two food groups.
And since Easter season is officially over. Grilling season shall commence. Which is the best. Sitting outside by the pool, catching some vitamin D, and throwing the softball back and forth with Jake in the backyard is my favorite thing to do while the burgers are cooking.
And thanks to our mosquito service. I can enjoy the outdoors even more this summer. Like I don't do mosquito. Not now. Not EVER. I'm slightly allergic and they love me. So I tend to stay tan less most summers because I can't even go outside for 5 minutes without being bit and swollen. UGH.
But because of our new service, our yard is mosquito and tick free. LOVE IT!
OK. Let's get back on track.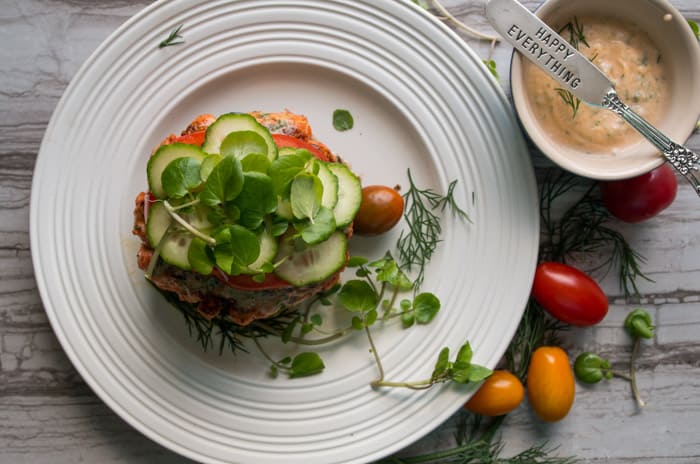 I have been trying SUPER hard to include more salmon in our diets. It's not hard, it's just that I have a habit of cooking chicken. But I know the health benefits to eating salmon are astronomical according to the countless articles I see. HELLO OMEGA 3's!
And I know I already LOVE blackened tuna. So I decided to give blackened salmon a go. In burger form. Guys, hands down my new favorite way to eat salmon.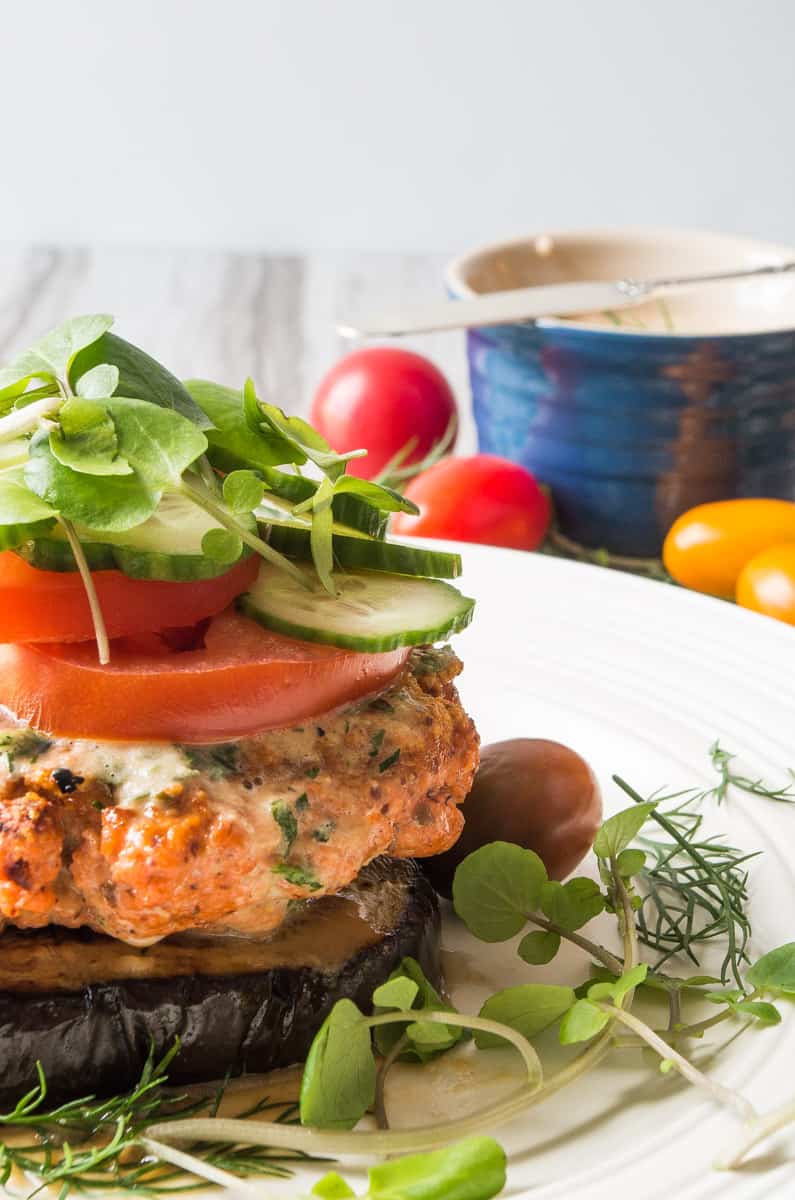 It's ground with so many of my favorite flavors and cooks very nice and even on the grill. Just make sure to not walk away and get distracted for more than 5 minutes.....cause things will go very wrong. Ask me how i know 😉
But my second batch came out great! And I made some eggplant "buns" to go with this. I adore eggplant and it totally compliments the salmon.
But this spread. THIS SPREAD is what makes this burger.
I used coconut cream as the base. Which is the super thick part on top of the can of coconut milk. Or they sell it in small cans at trader joes or Amazon.
It's pretty much the greek yogurt/sour cream in the Whole30 world.
I combined it with fresh cucumber, dill, lemon juice, and ZUPA NOMA Organic Tomato Gazpacho soup which added the creamy avocado texture with the tang of summer tomato. I also added some capers. Because they are salty and squishy and I LOVE them.
Think of it as the Whole30 love child of tartar, remoulade,and tzatziky sauce.
Cool creamy tangy salty with a little crunch. So much profile in this sauce but so EASY to make.
And I can't forget to mention that the soup itself contains a little olive oil which  helps your body absorb and make the most of all the carotenoids, lycopenes and important fat-soluble vitamins in this soup working hard to keep your heart healthy.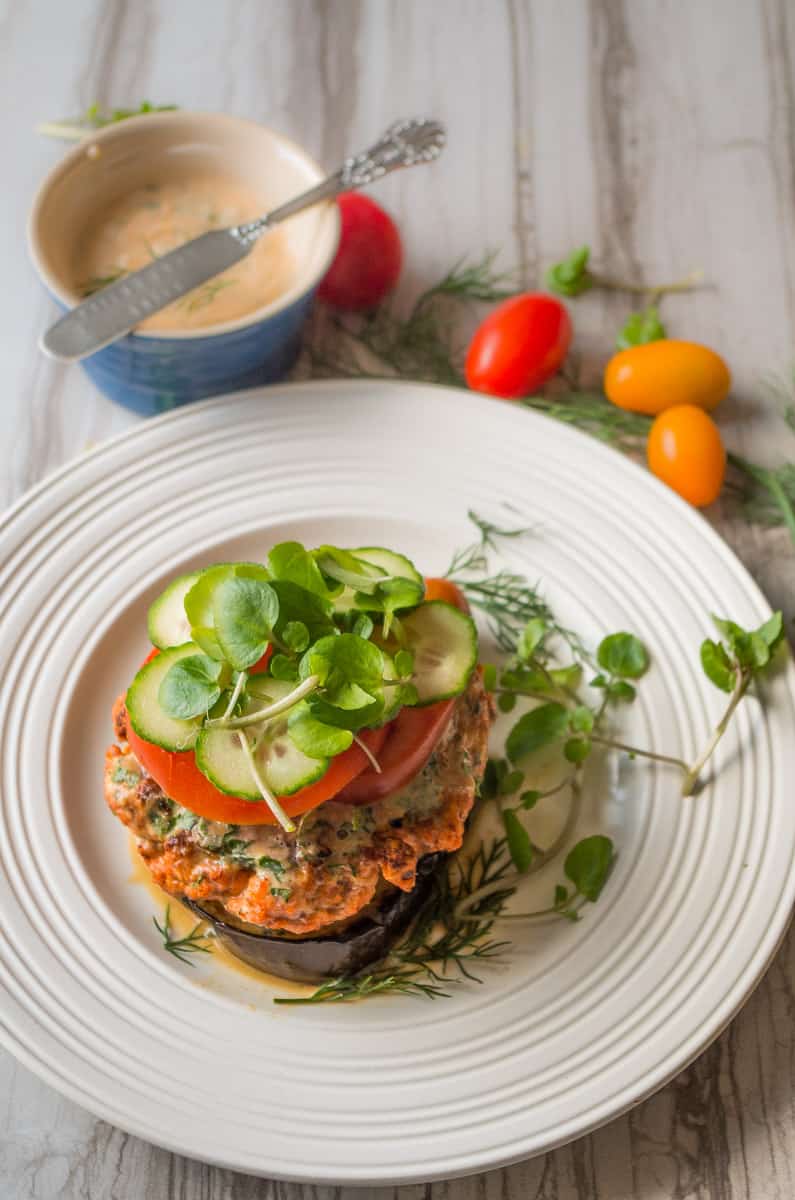 This burger is simply a must for this grilling season and a must for your Whole30. Not only are these burgers insanely delicious, but super easy to prepare. I'm talking 20 minutes of prep and 10 minutes MAX cooking time. Dinner in 30 minutes? Im sold.
I also made these recently for my meal prepped lunches. Just cook the patties, portion on one "bun" and store a little sauce on the side in your container. I like to eat mine with a side of baby carrots. Because I love the crunch! And to annoy my coworkers 😉