[This post is sponsored by ZUPA NOMA. I used their Organic Tomatillo Jalapeno soup as the key ingredient in this recipe. Thank you for keeping The Kitcheneer in the kitchen!]
An amazing one pan dish with crisp-tender chicken sauteed then baked to perfection in a spicy creamy lick-your-bowl sauce.
And it's my favorite thing right now. As I am dreaming of summer vacation in waaaayyyyy far (but not too far future)-actually a few weeks away now. For some reason I know in my brain that July is only 1 month away. BUT IT'S ONE MONTH AWAY!!!!
I am so ready for a break. Especially poor Jake and his daily commute past the DC area. I feel so bad for him! Hopefully our move will make things easier on him.
Which is why I focus on happier things, like how we made it through our half marathon alive and had this creamy spicy sauce with crispy skinned chicken all made in one pan as a reward!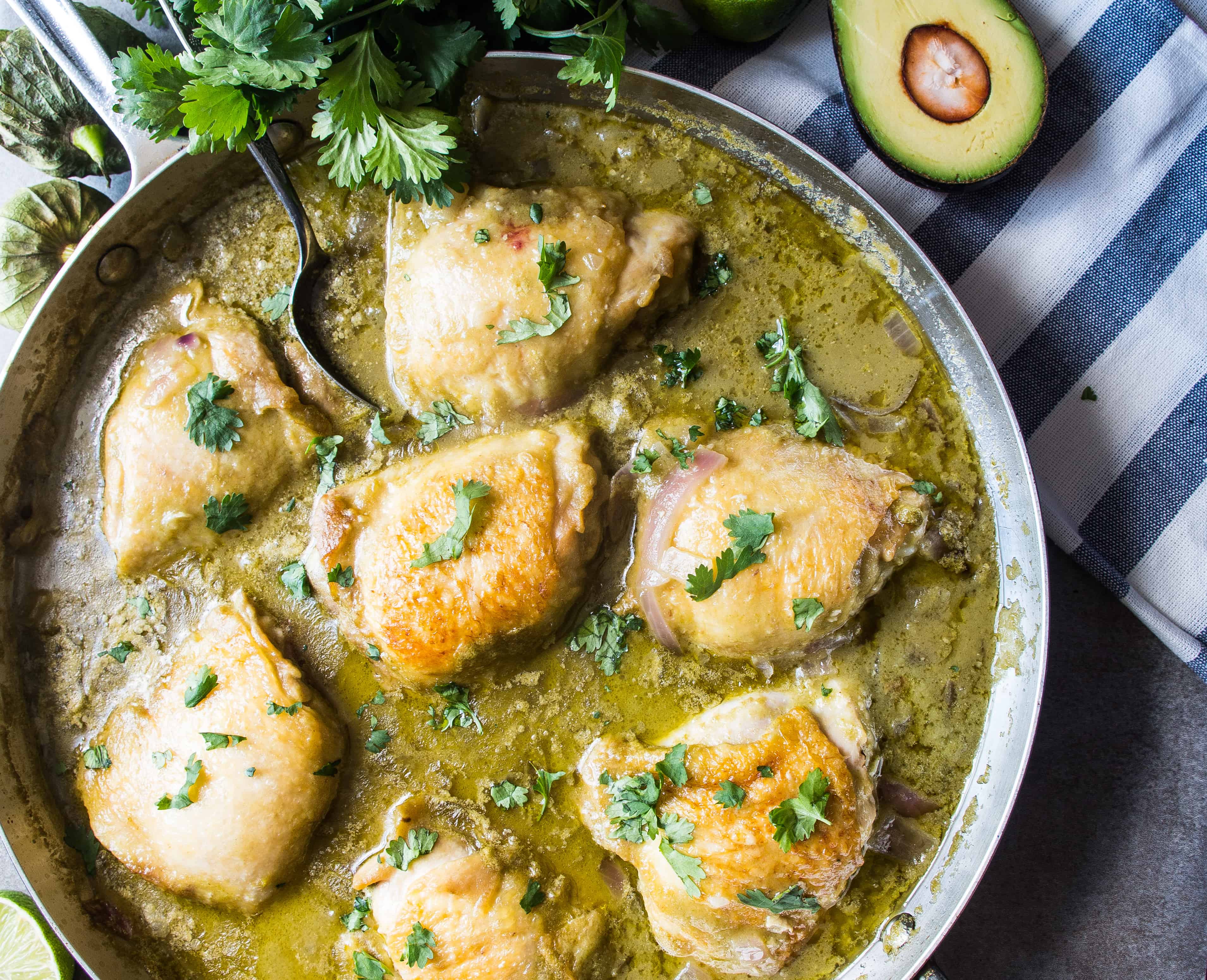 I absolutely love chicken thighs. They have so much more flavor and the skin creates a nice little pocket to add even more flavor to this dish. It wasn't until i started exploring outside the box of boneless chicken breasts that i discovered how awesome thighs are. They are truly a no fuss kind of protein and even if you don't make a sauce (but please do!) these will come out so flavorful!
You are really going to love this dish. Pinky promise.
The chicken is simply seasoned with some salt and pepper on and UNDER the skin for maximum flavor. Browned in ghee in a hot skillet then drowned in a bubbly, creamy, spicy salsa verde sauce.
The sauce comes together after the chicken has that nice brown crispy skin in the same pan. It starts with some garlic, onion, and more ghee. Next comes the coconut milk and almost 2 WHOLE bottles of  Organic Tomatillo Jalapeno soup and a little chicken stock to add even more depth of flavor. Once thickened, I added a splash of lime juice and placed cover over the skillet to finish cooking the chicken.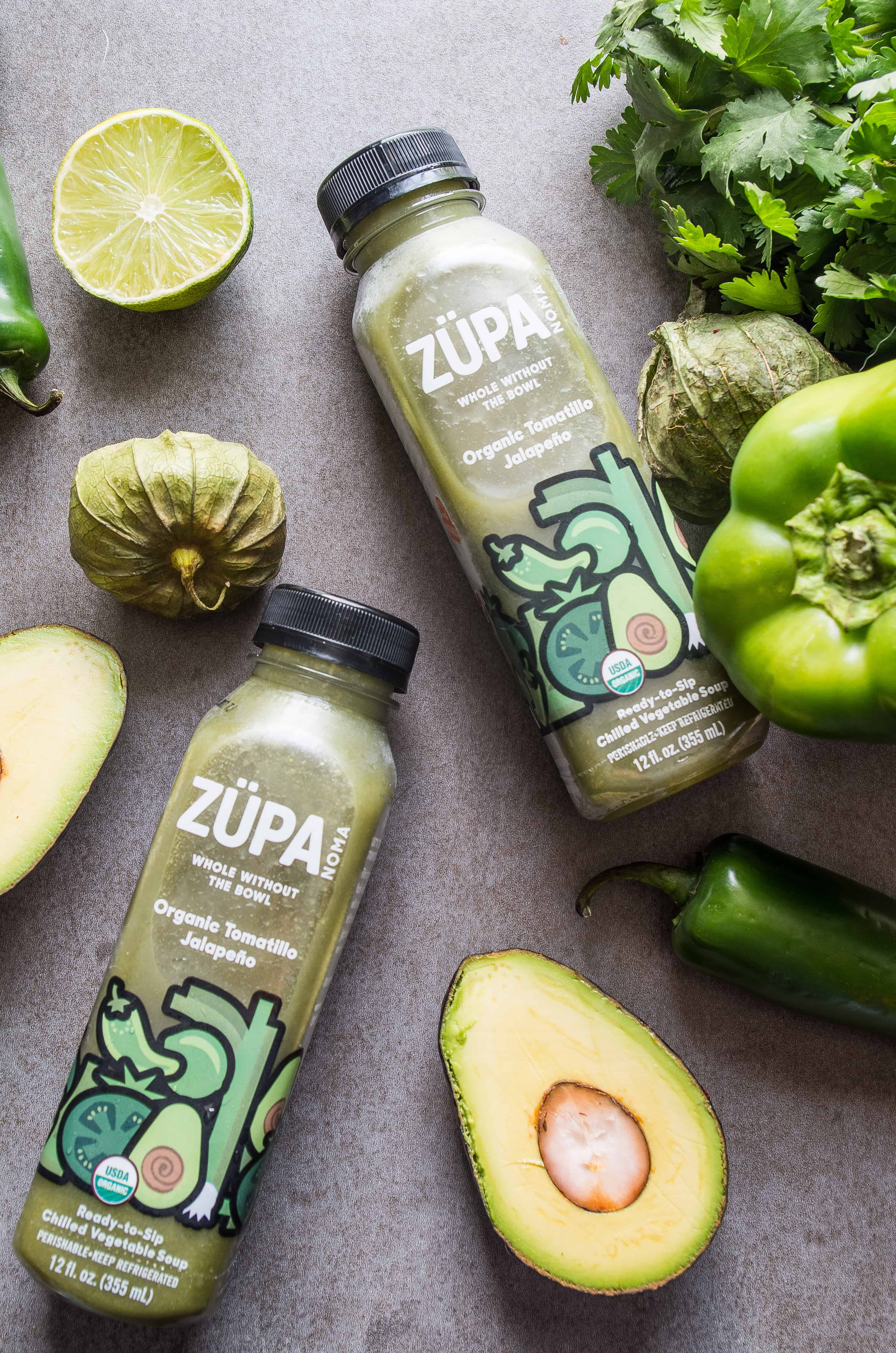 Again, I literally CANNOT say enough good things about the ZUPA NOMA soups. It really has been my go to choice to get all my veggies in everyday! Each bottle contains 4 servings of veggies and the Organic Tomatillo Jalapeno flavor adds that salsa verde flare. It contains spirulina,which is a power house superfood that boosts your immune system and because I also used garlic and lime juice in this recipe, your immune system will be in over drive!
And I love using these delicious soups as an easy hack to elevate my meals and adding tons of flavor and getting my veggies in everyday! Talk about a win/win!
Basically this sauce is almost curry like and I love serving it over a bowl of cauliflower rice, topping it with avocado, jalapeno, and cilantro for a super quick one pan weeknight dinner your family will be begging you to make weekly from here on out!
Save