These Chimichurri Steak Fajita Bowls will be taking up brain space alllll day. Because they are that good!
I mean, just look at it. Pure food porn at its best.
Not that I'm biased or anything ;).
And also I could eat Mexican/ Tex-mex for just about every meal of every day. Not joking.
They say your taste buds change several times throughout your life. Like my mind was completely blown the day I ate mustard and LOVED it. Because before 10 years of age, I hated it. Couldn't even sniff it without gagging. <---drama queen alert.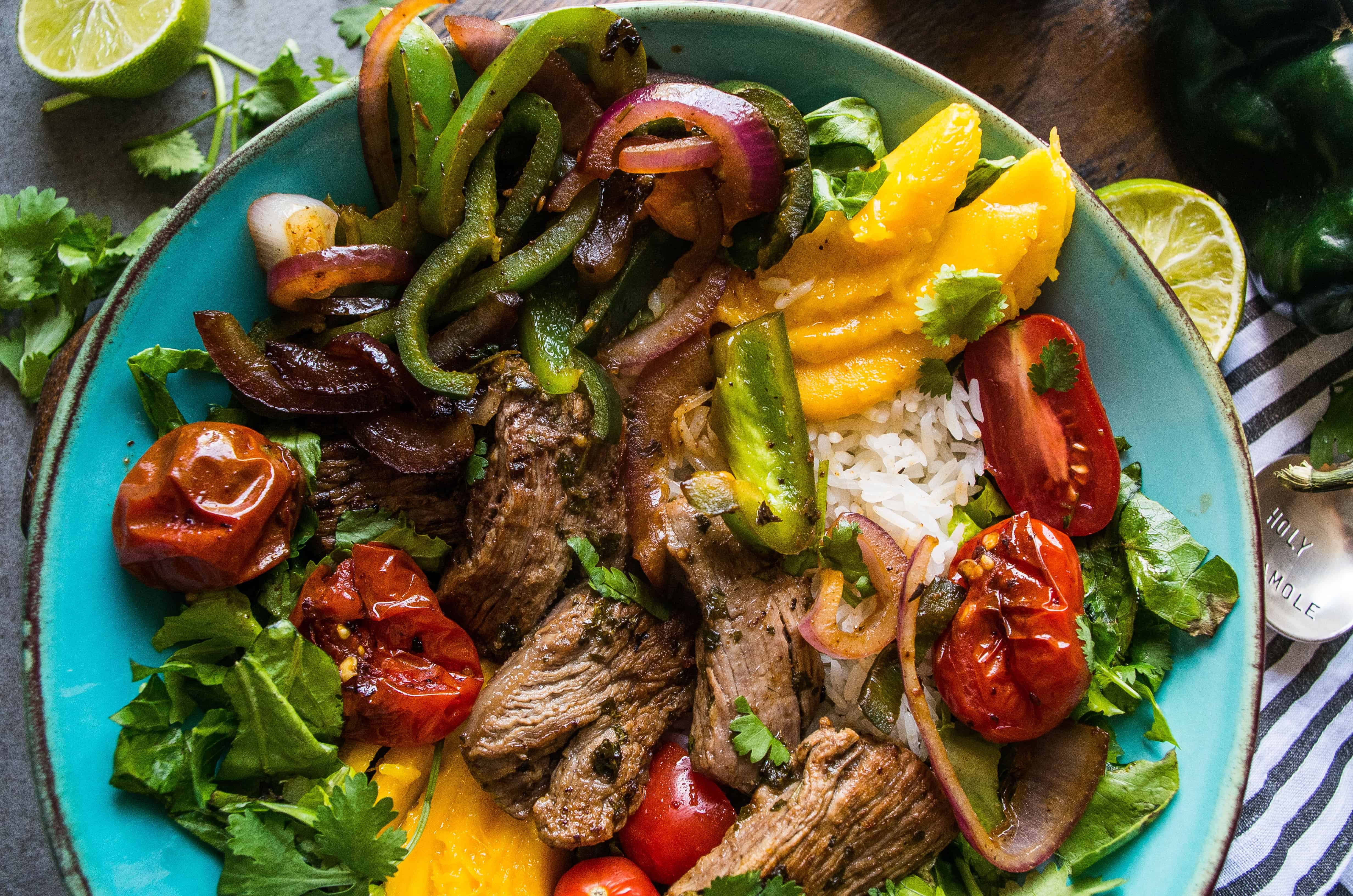 And I always have considered myself an Italian lover at heart (and I still am), but guys on any given night when Jake and I are doing the typical married thing:
him: so, what do you want for dinner?
me: i don't know what do you want
him: i dont know what do you want
me: just pick something
him: is it bad that I want mexican again?
me: *bright eyed and bushy tailed* yasssss!!!!
And usually I make 2-3 Mexican inspired dinners each week including carnitas bowls, taco salads, or make fajitas at home. Fajitas are soooo easy to make on a whim on a busy night that they usually end up being the most used recipe. Plus they make outstanding leftovers.
When we actually go out to eat at a Mexican place, we always get fajitas. And typically I fork it instead of loading up a tortilla. Which makes it a healthier way to eat it.
Which brings us to these gorgeous bowls that are too good to be a salad. I love making all sorts of food bowls at home. All you need is a protein, grain, greens, fruit/nuts/seeds, and some dressing.
So easy, so flavorful, so colorful, I mean; can't you see how excited I am about sharing these with you?!
Let's talk about the build of these bowls.
Since I was feeling the Mexican vibe for this week's bowls I chose flank steak as the protein star.
I also decided it needed some incredible marinade like chimichurri to kick it up a notch. Now, if you are unfamiliar with the amazingly bright, bold, citrus-y, touch of savory, and all around tasty sauce that is chimichurri then you need to make this ASAP.
Chimichurri is simply like a better version of traditional pesto. This sauce is a blend of herbs like cilantro, parsley, coriander, and oregano plus a squeeze of lime, some heat from a serrano pepper, and a little more spice from some red pepper flakes. It truly makes this bowl pop with flavor.
The steak marinates on the counter in a glass container (or overnight for more delicious results).
Next we make a quick batch of rice. I typically let my rice cooker do the work here. It's hands off and allows me more time to prep the other stuff while it cooks. But to spice things up this time, once the rice was done cooking I added a drizzle of avocado oil, some lime juice, and cilantro. HELLO cilantro lime rice FTW.
Note: If you want to keep this super low carb, substitute cauliflower rice and it will be even healthier than it already is!
Next is the greens/veggies. I used a blend of green peppers, poblano peppers, red onion, and blistered tomatoes. You can also leave these raw if you are in a pinch for time. But honestly, it takes less than 10 minutes to saute in the skillet.
And for the love of mangos, I added some julienned mangos to add some sweetness to this bowl.
The marinated flank steak is finished out on the grill for roughly 10-12 minutes. After letting it rest, slice thin against the grain.
This bowl is bursting with all my favorite flavors and I seriously cannot be more obsessed. It's the perfect easy weeknight dinner that comes together in 30 minutes.
It's the perfect meal for when you are trying to be as healthy as a salad but are not that committed to all those leaves.
Its also just the perfect meal to please the whole family.
So, dinner tonight. Your house right? I'll bring the guac.
Save
Save