We made it through the first week in September! Let's celebrate with delicious chocolate "dessert" with vegetables that may have tip toed into this batch. Te he.
When I was mapping out my blogging schedule for the next month or so, I really wanted to provide more of a variety here on The Kitcheneer. I love doing savory entrees, snacks, and soups. But sometimes we need chocolate in our lives! Am I right? Or am I right??
That's where these Chocolate Chip Zucchini Spice Muffins came from. And I love it when i can hide veggies in recipes. Especially for you moms out there who would love to get there kids to eat more greens. These muffins will do just that and I minimized the sugar in here too. I naturally sweetened these with maple syrup instead of plain old white sugar.
I figure these muffins would be perfect to launch on the blog this Friday as a lot of folks in Virginia are getting ready to send their kids back to school next week!
When I think of back to school foods, I always loved having a granola bar or a muffin as a quick run-out-the-door breakfast. As a kid, I would usually go for the blueberry or spice-like muffin. Hence, why I chose a spice muffin flavor here. It's subtle, sweet, and covers up any trace that there is zucchini in there. Also, the chocolate chips are an added bonus. 🙂
Zucchini in baked goods is pretty much the best thing ever:
You get your greens in
Keep that summer bod all through winter
Use up that late summer produce
It adds so much moisture to these muffins that that alone is worth adding them in.
The muffin batter is one that I use most times: whole wheat and all purpose flour blend, greek yogurt, coconut oil, and milk.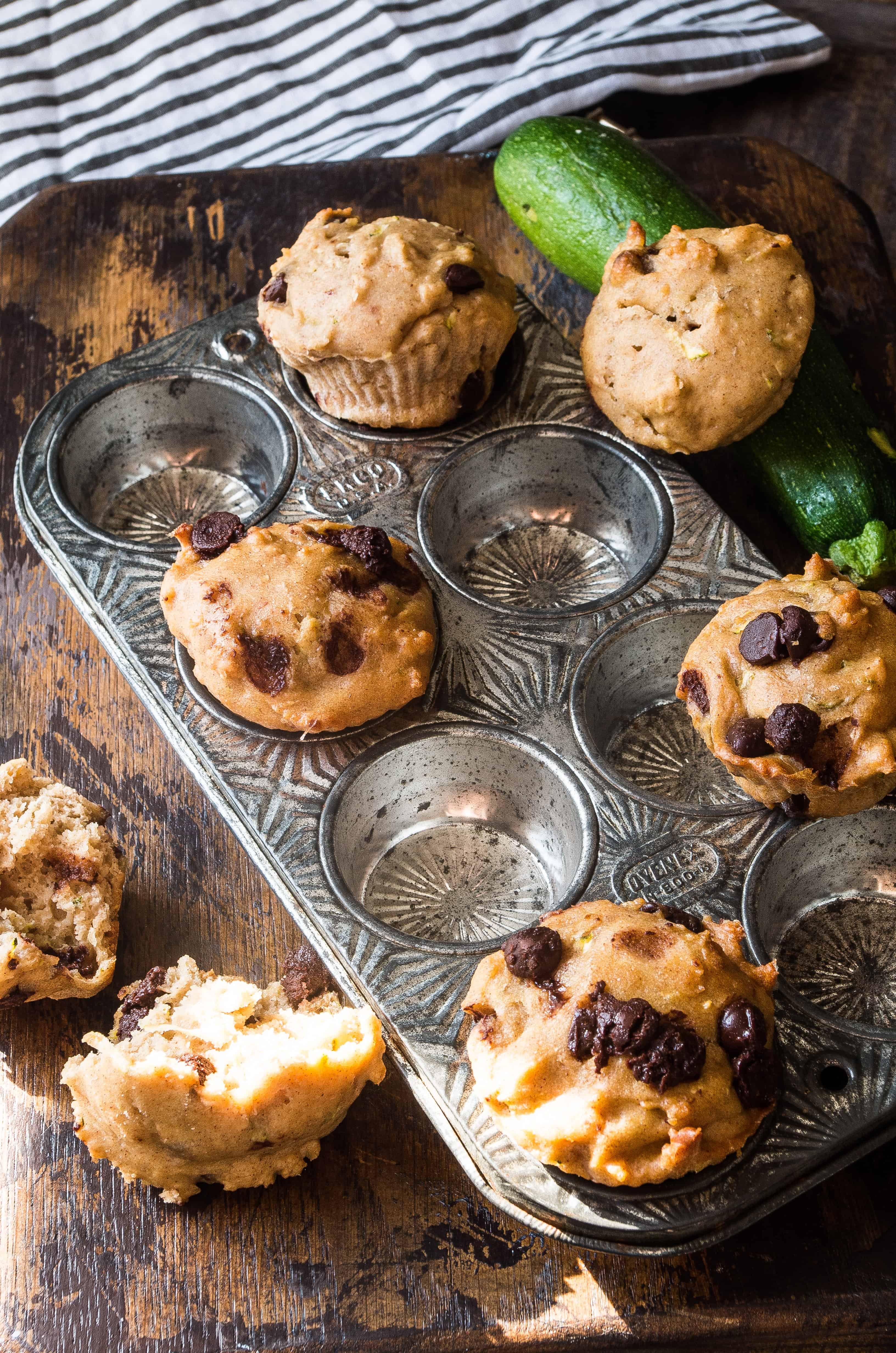 I just added some spices like allspice, cinnamon, and a hint of nutmeg.
For some natural sweetness I added some maple syrup and honey.
Some shredded zucchini for moisture and of course the healthyness of it all
And finally a sprinkle of chocolate chips because it's Friday! Treat yo self!
As I mentioned earlier, these muffins have sneaky veggies in them, packed with flavor, CHOCOLATE, and perfect for grab and go breakfast or a quick afternoon snack for the kids. Either way you gotta try these!
Save
Save