Holiday bison crostini with cranberry balsamic glaze AND a dollop of whipped ricotta cheese will be THE appetizer for this Christmas!
Wow, ok that is mouthful of a title...but! I really couldn't think of a better one and hopefully it helps with my SEO! 😉
Today I am partnering up again with my friends from The Honest Bison! They truly have some of the best quality cuts of meat I have ever tried. NOT JUST SAYING THAT.
I do NOT share anything on this blog that I do not actually use or love on a daily/weekly basis.
AND BECAUSE I LOVE YOU: ALL MY READERS GET 10% OFF THEIR ORDER WITH MY CODE: KITCHENEER
These crostinis could not be easier to throw together an hour before your guests arrive!
The bison tenderloin tips come already diced in small pieces- means less work for me!
In addition to being awesome-sauced and lovingly tossed in my favorite winter-holiday flavors; the bison tenderloin tips and it's clingy cranberry balsamic glaze pair perfectly sitting on top of a  cool pillow of whipped ricotta and a crisp satisfying crunch of freshly toasted bread. And a little garnish of pomegranate arils and mint? You just upped your appetizer game 100%.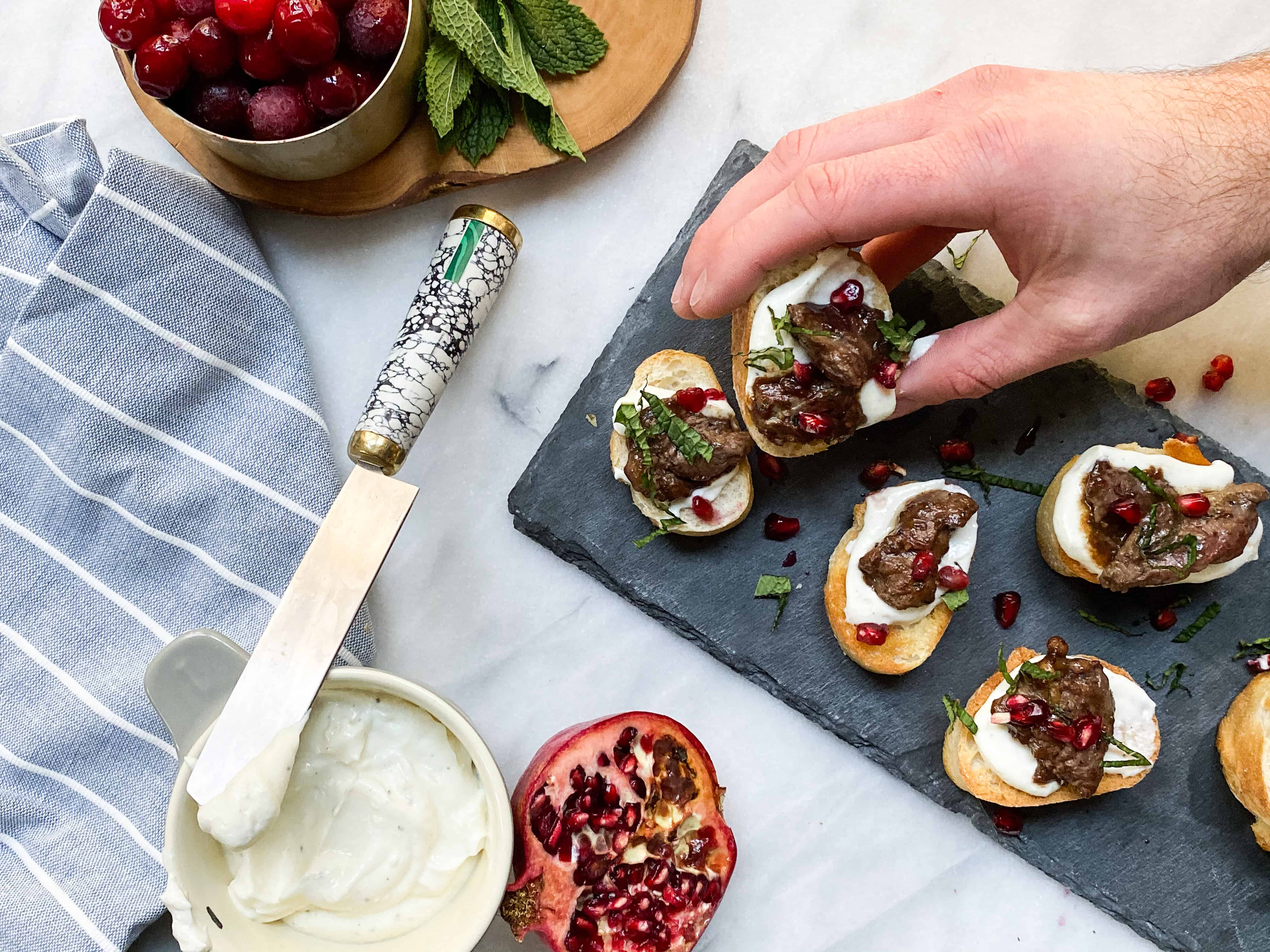 Fresh (or frozen) cranberries break down in the balsamic glaze. Dates are what I used as a natural sweetener in this glaze. I am not too much of a fan of super sweet anything and this sauce is just the touch of sweet that elevates the bison to new heights.
While the glaze reduces to a thick shiny dream sauce (sigh), the bison is simply seasoned with salt and pepper and sauteed in a skillet.
Then pulse the ricotta in a food processor or blender, toast the bread, toss the bison in the glaze,and DONE.
So easy, yet can impress any guest with this delicious holiday appetizer.
FUN FACT: I brought these in to work the next day, one of my friends who has never even tried bison was addicted! She said she kept sneaking more from the fridge! Also, it's husband approved as he was annoyed that I shared it 😉
For more bison recipes (with the help of The Honest Bison): See below!
Florentine Style Bone-In Ribeyes
Garlic Herb Bison Roast of King's Landing
And the perfect drink to go with these? May I suggest the Pomegranate Orange Mocktails?
Print
Holiday Bison Crostini with Cranberry Balsamic Glaze
---
For the Tenderloin Tips
2 packages of The Honest Bison Bison Tenderloin Tips
1 tsp salt
1 tsp pepper
2 tbs of olive oil
Cranberry Balsamic Glaze
1 cup of cranberries
1 cup of balsamic vinegar
4-5 dates, pitted and chopped
Whipped Ricotta
8oz of whole milk ricotta
1 tsp salt
1 tsp pepper
Fresh Mint (for garnish)
Pomegranate Arils (garnish)
Favorite bread, sliced
---
Instructions
Preheat oven to 400F
Season tenderloin tips with salt and pepper, set aside
In a small sauce pan, heat all ingredients for the glaze on medium-high heat, stirring occasionally until cranberries begin to burst (about 7-8 minutes)
Pour into blender and blend until smooth
While sauce is cooking, make the whipped ricotta.
Add ricotta and salt and pepper in a food processor or blender and blend until smooth! Set aside.
Brown the tenderloin tips in olive oil on medium-high for about 5 minutes.
Toss tenderloin tips with the glaze.
Allow to cool a little, then slice into bite-sized pieces.
Brush bread with a little olive oil, toast in oven for about 5-6 minutes.
Assemble: spread ricotta on crostini, top with tenderloin tip, and garnish with mint and pomegranate arils.