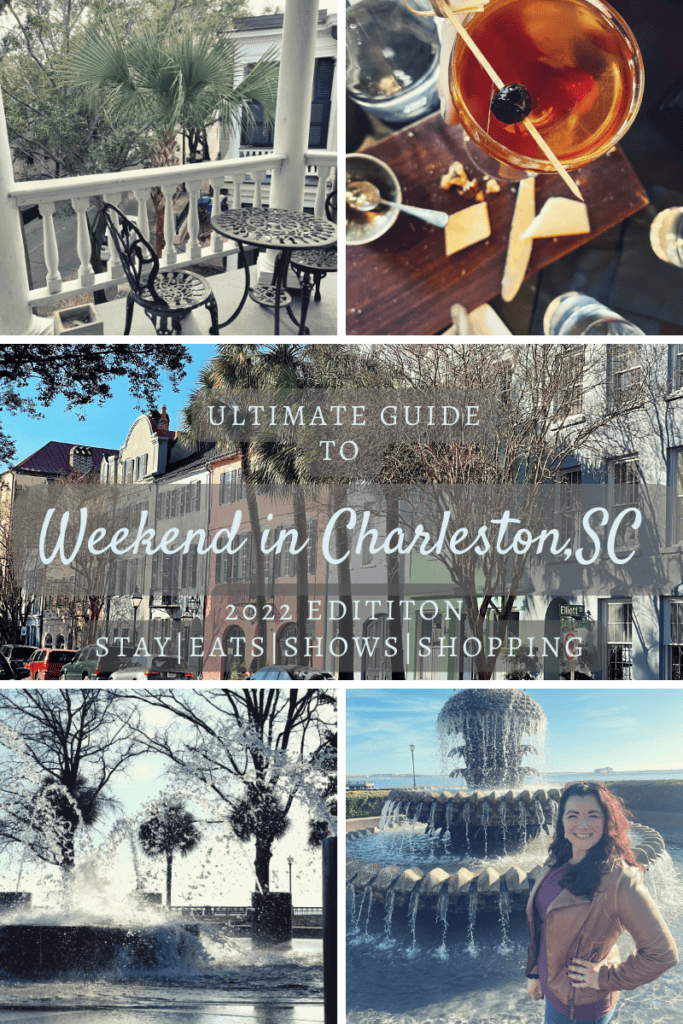 Let's kick off this Travel Guide to Charleston 2022 right!
Currently: Watching Dumplin' on Netflix and writing my SECOND travel guide post on my blog!
I am SO excited to be introducing NEW and different types of posts this year. OF COURSE the focus will always be on providing you with delicious recipes that are made from REAL FOOD and with a healthy mindset. BUT I want to include other things I get excited about here too: TRAVEL, GARDENING, and HOUSE PROJECTS! (Stay Tuned!)
If you follow me on Instagram you saw a lot of Charleston things a couple weeks ago from our recent anniversary trip. Jake and I love taking little mini vacays on our anniversaries. Last year was Waco,TX. This year it's Charleston!
Our anniversary happens to fall in the perfect time of year where it's the off season in most places. It's right after New Year's and everyone is typically settling back in to the work flow. And since we have been living the pandemic whirlwind..travel can seem so uncertain and unnerving. That's another reason I want to write this travel blog post about Charleston. I want to show you how to safely navigate planning your trip to Charleston,SC in 2022! Where to stay,eat,shop,and explore. I got you!
I organized this Travel Guide to Charleston 2022 in sections (where we stayed, ate, explored, and shopped). Let's go!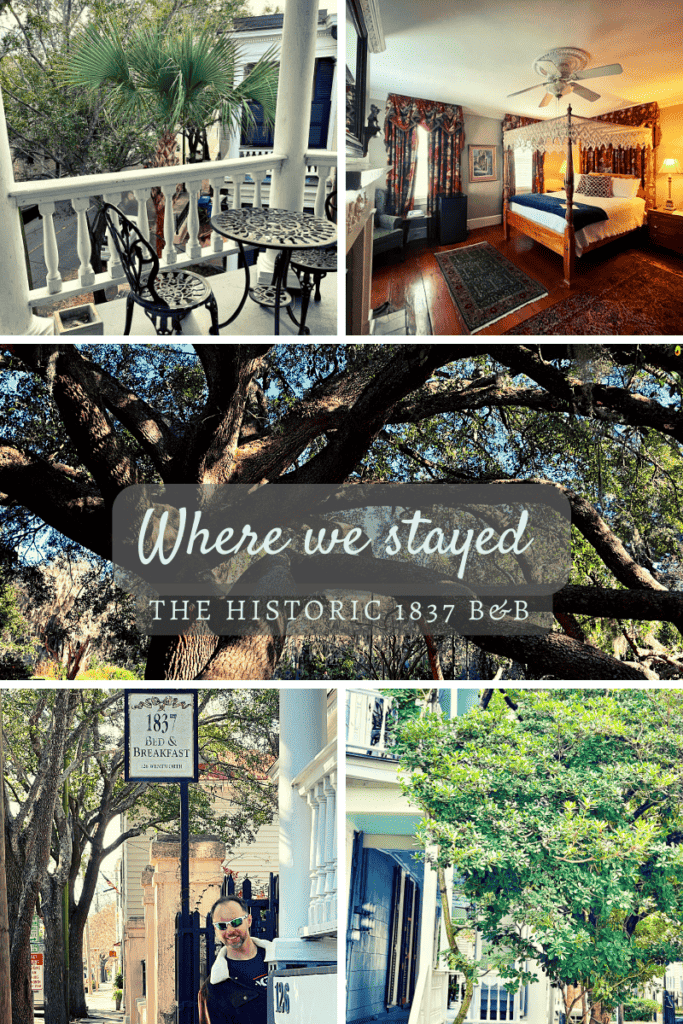 Travel Guide to Charleston: Where We Stayed
We decided we were going to stay at a historic Bed & Breakfast in Charleston,SC. After much research of reviews we decided on 1837 Bed & Breakfast. It had great reviews, walking distance from King St (THE place to be in Charleston), and lower rates than the other historic bed & breakfasts. It had a cute little balcony for coffee/tea sipping before heading out to explore everyday.
The room was super clean and even though they are not doing daily cleaning due to the C-word, they were fantastic about bringing you fresh towels if you need more! It was also so elegant in decor with slight modern accommodations like a TV and HVAC.
Another great (but often not thought of accommodation was free parking!) This is HUGE in downtown Charleston. Because GOOD LUCK finding a free place to park! And beware of parking on King Street on the Second Sunday of the month. Apparently if you park there after noon on a second Sunday you will get towed. (We actually witnessed this!)

It's cool though. Hear me out. The close the whole street after 12PM on Second Sundays so everyone can walk and shop without worrying about traffic.
As far as their breakfasts go, we didn't try them! I know! But with SO many places to eat in Charleston I had others in mind. And well... the menu didn't sound great to our tastes for the days we were there. I am sure they were good though!
All in all I would recommend staying at the 1837 Bed & Breakfast!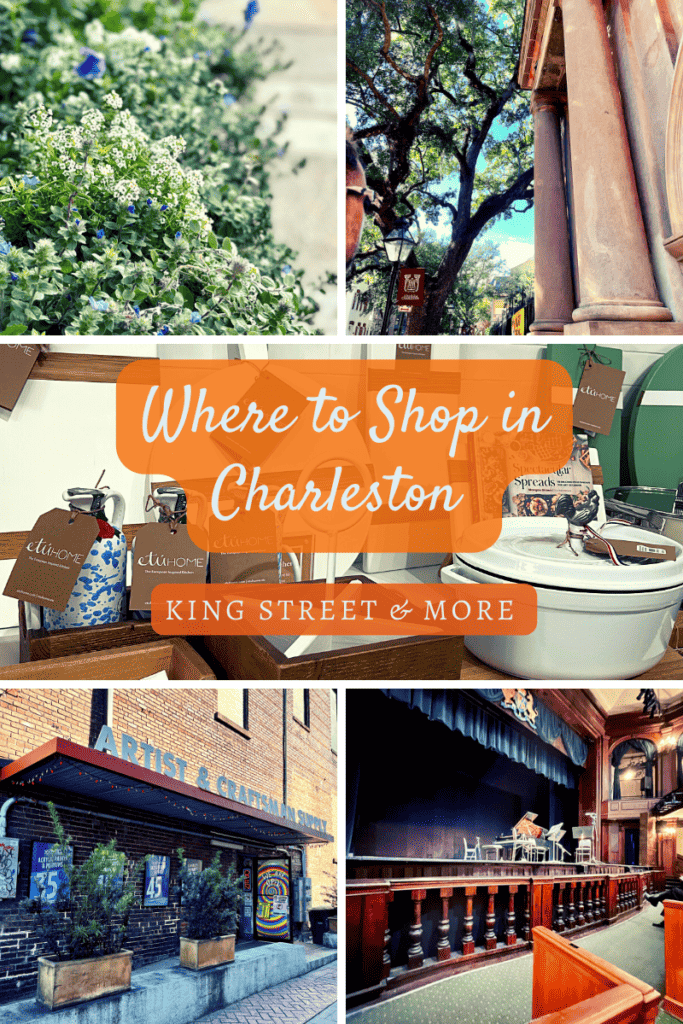 Which brings me to the next part. WHERE TO SHOP in Charleston!
While I didn't take many pictures of inside the shops there were SO MANY. (and I also feel weird taking pics in stores)
Here is where we stopped in no particular order but recommend!
Urban Outfitters
Anthropologie (got the cutest bowls and glassware!)
Francesca's (ALMOST got a black jumpsuit - but it fit weird so it was a no)
Collared Greens - cute but pricey clothes!
Scotch & Soda - after watching this season's Queer Eye I HAD to make a stop here!
7 Hills Living - my FAVORITE shop we went in. Had lots of Turkish hand knotted rugs (almost got one - may still get one for the loft project) But the owner was so nice and took the time to teach us about craft rugs and he also had so many beautiful Moroccan Lamps. I got a gorgeous compact mirror, earrings, and a ceramic cat (gift for our neighbor who watched our cats while we went)
Candlefish - such a neat candle shop! They also had workshops here to teach you how to make your own!
Faherty Brand - Such an amazing clothes store. Had everything we loved. Even Jake found outfit inspo there (see pic below)
Etu Home - SUCH an adorable kitchen/dinnerware/furniture shop!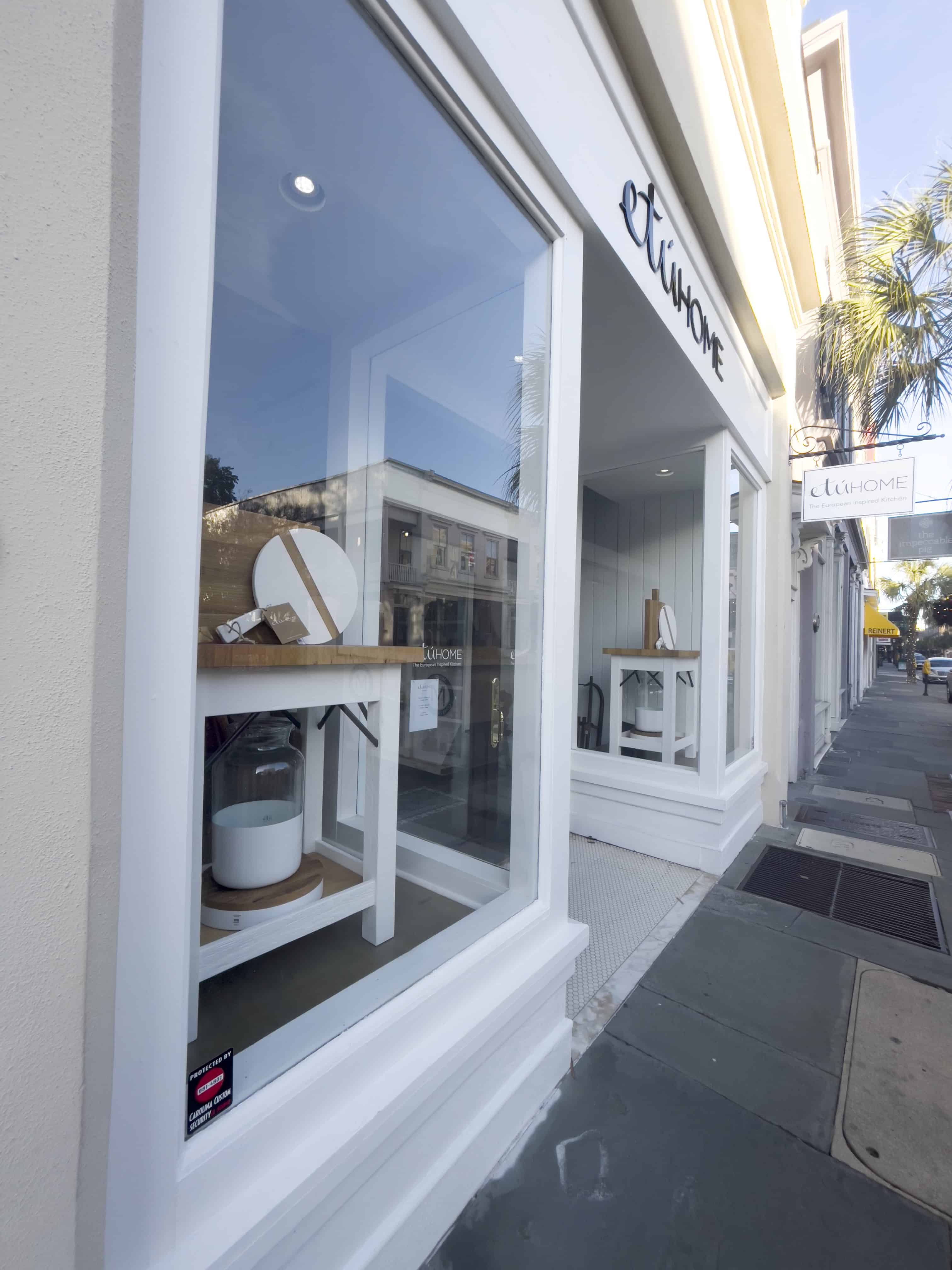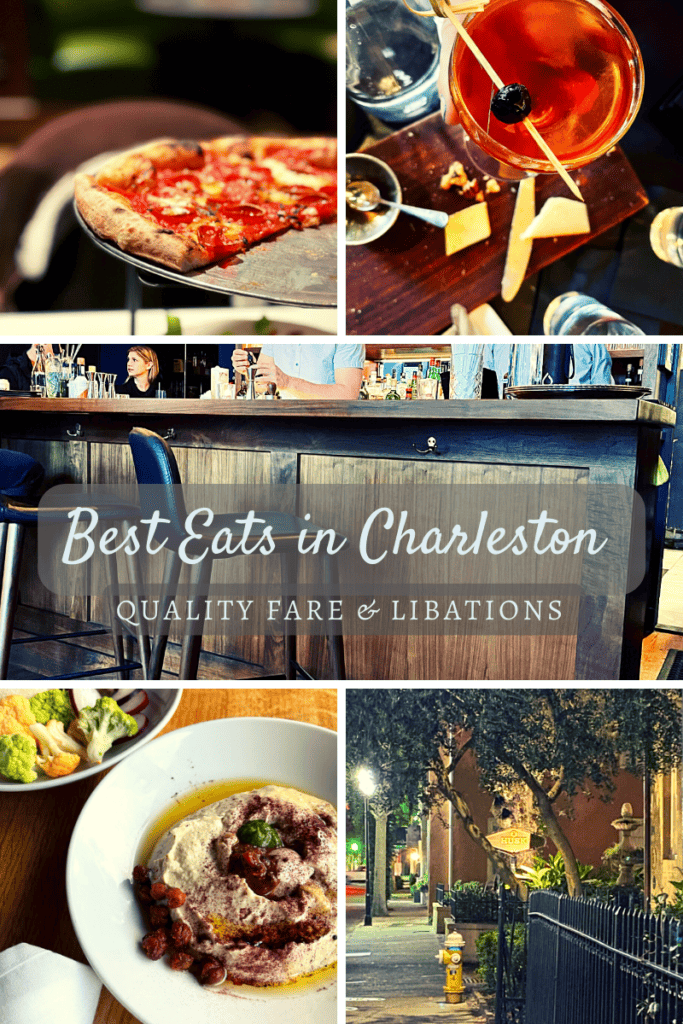 Travel Guide to Charleston: Where To Eat
Now let's talk about where we ate! And we barely scratched the surface of the TONS of places to go to!
We drove down on a Friday and I had made dinner reservations at a pizzeria called Frannie & The Fox.
BUT! We got into town a little early and after checking into 1837 B&B, we walked around and found this hole in the wall called Doar Bros. OH MY GOODNESS. We went here twice during our stay. BEST COCKTAILS ever. Jake discovered he loved Manhattans and I tried one of their Mary Moultrie (Vodka, Aperol, Blood Orange, Rosemary, Lemon, Pomegranate Seeds, Soda). I was also in love with their interior decorating. It was dark yet inviting. Intimate but felt free to laugh and be yourself. Plus the owners were a hoot to chat with. Don't go to Charleston and not swing by. Even if you don't drink. They had plenty of things to choose from including light fare (aka charcuterie boards).
First thing you should know is that Charleston is a very dog friendly town. I LOVED it. So when we walked into the hotel where Frannie & The Fox was located, there were folks with their canine comrades in the lobby. So CUTE. (Not in the restaurant - which is annoying to bring pets)
Highly recommend! We shared an Italian salad and some pizza!
Saturday we got up and grabbed a cup of coffee downstairs then decided to again just explore until we got hungry for something. Well, we got our steps in for sure (I think 20K by end of day!) But we discovered this neat breakfast place called DAPS Breakfast. The menu looked good so we went for it.
SO GOOD. I got their Chickpea Patty Breakfast Sandwich (I am OBSESSED and currently working on a recipe for the blog to recreate it!). Jake got their Breakfast Plate with eggs, potato hash, and sausage. Definitely recommend going back!
After breakfast we did lots more walking and spotted this juice bar and decided to stop for a snack.
We both got a DELICIOUS smoothie from Playa Bowls. Their menu is HUGE but everything looked good and full of plants! So it sounded like some good balance to me!
Lunch was very light as we had reservations at The Coast for dinner. We AGAIN found another gem for a delicious hummus appetizer. The Butcher & The Bee hit the spot. Another farm to table establishment that had plenty of options from great Southern comfort foods to healthy light fare.
We shared the hummus appetizer with crudites and pita bread. SO TASTY.
Dinner was a repeat for me but a first for Jake. I used to come to Charleston for work at my previous job. So we had a working dinner here at The Coast Bar & Grill. Seriously the BEST SALMON I have ever had.
And that is exactly what I ordered. The Wood Fired Salmon with veggies (no picture) Just one of us laughing hysterically - cause that's what we do. We have a blast together (even 9 years later <3)
Sunday was our official anniversary so we took a more relaxed stroll to breakfast : Ruby Sunshine.
A great brunch spot! Located right next to the harbor they had everything we love for breakfast. I can't ever pass up poached eggs so I ordered the eggs Benedict and Jake ordered their breakfast sandwich. Basically it's New Orleans flare with Charleston's touch. Loved it.
We kept things a little lighter since we were saving room for dinner at Husk. But we couldn't go to Charleston without stopping at La Patisserie for an espresso and a dessert! Best espresso and French style desserts in town! We shared a little each but wanted to still just wanted a little taste before dinner!
Dinner was FANCY. We made reservations at Husk. Centrally located in historic downtown Charleston, Husk transforms the essence of Southern food. Executive Chef and Lowcountry native, Travis Grimes, reinterprets the bounty of the surrounding area, exploring an ingredient-driven cuisine that begins in the rediscovery of heirloom products and redefines what it means to cook and eat in the South.
Again, not too many pictures. Was our anniversary after all and wanted to be present 🙂 I got to wear a dress and feel cute so had to document that ;).
I ordered their roasted chicken and Jake ordered the steak. VERY elegant and definitely worth every penny.
Speaking of Anniversaries... I thought I'd share what I got Jake for our 9th Anniversary. I love supporting local businesses and my friend Hannah has a painting one that I have asked her to commission (this is my 7th painting from her now), An Anniversary portrait! It's our wedding day on the beach of Antigua but with a blooming willow tree (9th anniversary traditional gift is a willow). Willow means you are resilient. That we bend but don't break. So I had her paint one on the beach in bloom of the same color as my flower bouquet. I am in LOVE with it so I thought I'd give her a shout out here. If you ever need to commission a painting, she does it all! Go check her out at Handpainted by Hannah!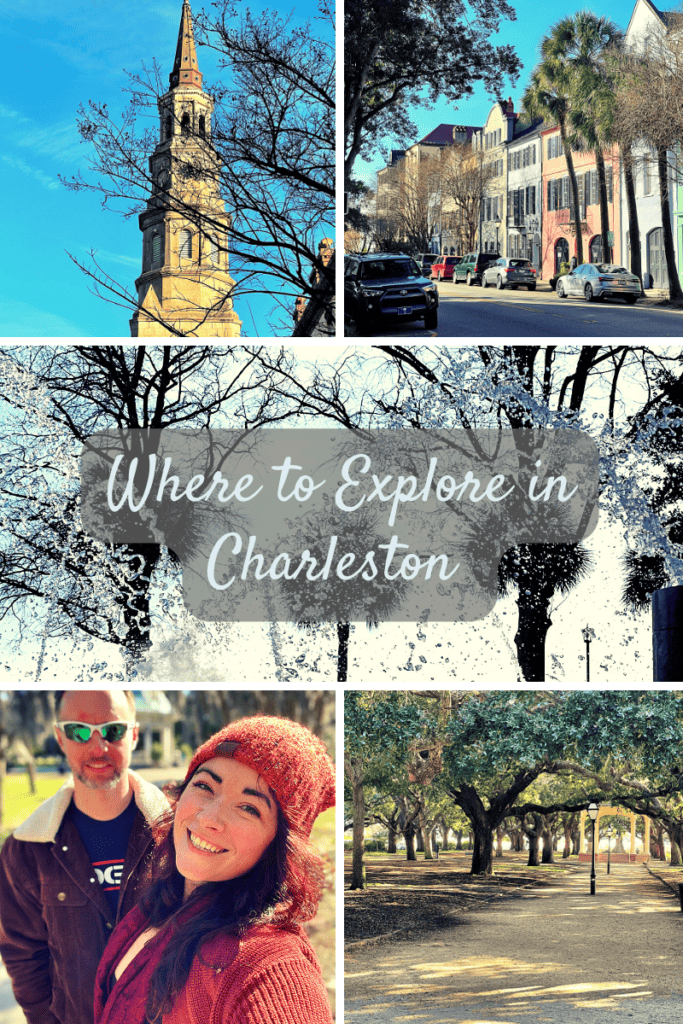 Last but not least, here is where we explored between the shops and restaurants!
We got up fairly early on Saturday and meandered toward DAPS (about 2 miles) and I just was capturing the sites.
After we ate, we wandered over to Hampton Park. I saw they had a gazebo and knew we had to go (since we got married in one)
Charleston truly is one of the prettiest and picturesque cities I have ever visited! No words needed.
We bascially spent all day on Saturday walking up and down King Street, shopping, snacking, and just having fun.
Sunday after breakfast at Ruby Sunshine, we walked straight over to the waterfront where we saw the harbor, rainbow row, Battery Park (more gazebos), and more sight seeing.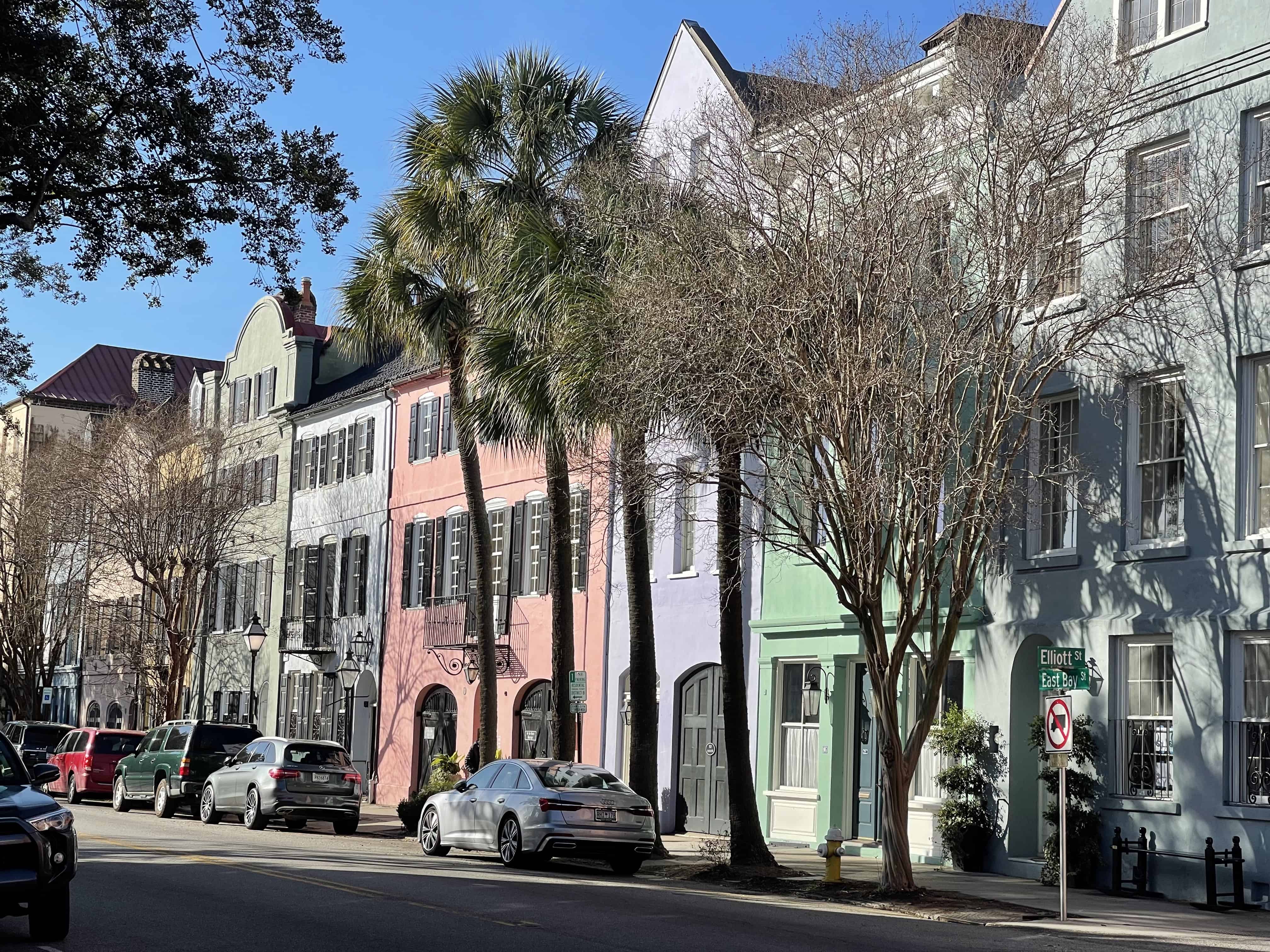 On our anniversary I was able to get tickets to a Chamber Music Concert at The Dock Street Theater. This was such a beautiful small theater built in the late 1700s. Jake and I love classical music so I knew this would be right up our alley. We are definitely one of those people that can have a playlist of Gahler to Pavrotti to 3LW to KISS. Were just well rounded ;).
But I will have to say that the piano quartet we saw had the BEST violinist we ever have seen perform live. If you are ever in the area PLEASE go see if they are performing. It was one of the most movingly beautiful pieces I ever have seen.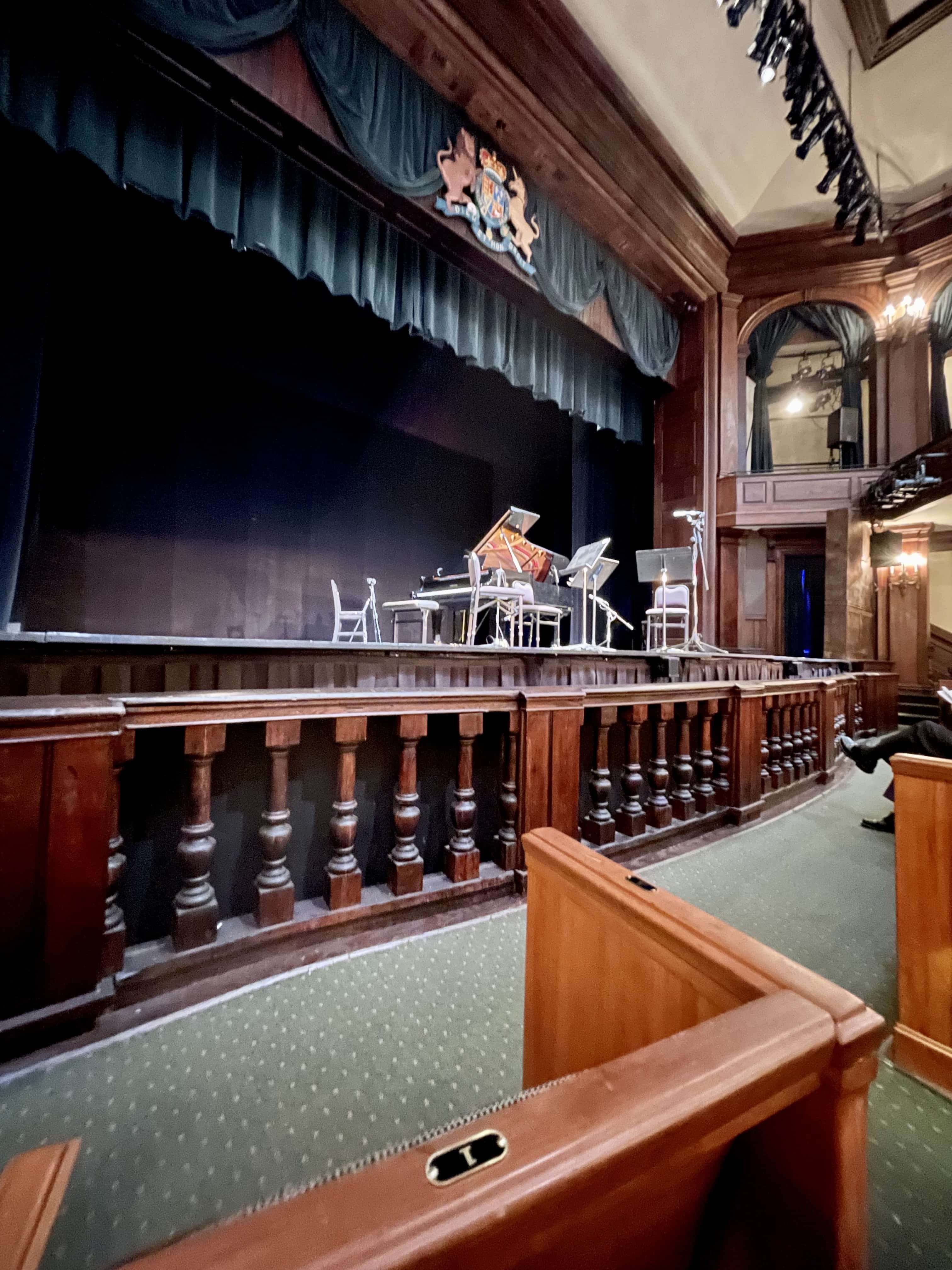 That's a wrap! I hope you enjoyed this travel guide to a weekend in Charleston,SC! I had a fun time writing it and I hope it encourages you to visit one of the prettiest towns on the East Coast.