If you are planning your first trip to Venice, this 2 Day Venice Itinerary is perfect for you! Within 2 days you will get to see the highlights and a few hidden gems of The City of Dreams. Plus with this itinerary you can stick to your budget - we spent less than $1,000 for a weekend in one of the most romantic cities in the world.Tour St.Mark's Basilica, listen to an audio tour of the Piazza San Marco, marvel at the grand canal, take a romantic gondola ride, and best part is to simply get lost in the streets of this magical place. Now, grab a cappuccino and get ready to order some plane tickets (cause you are going to want to go ASAP).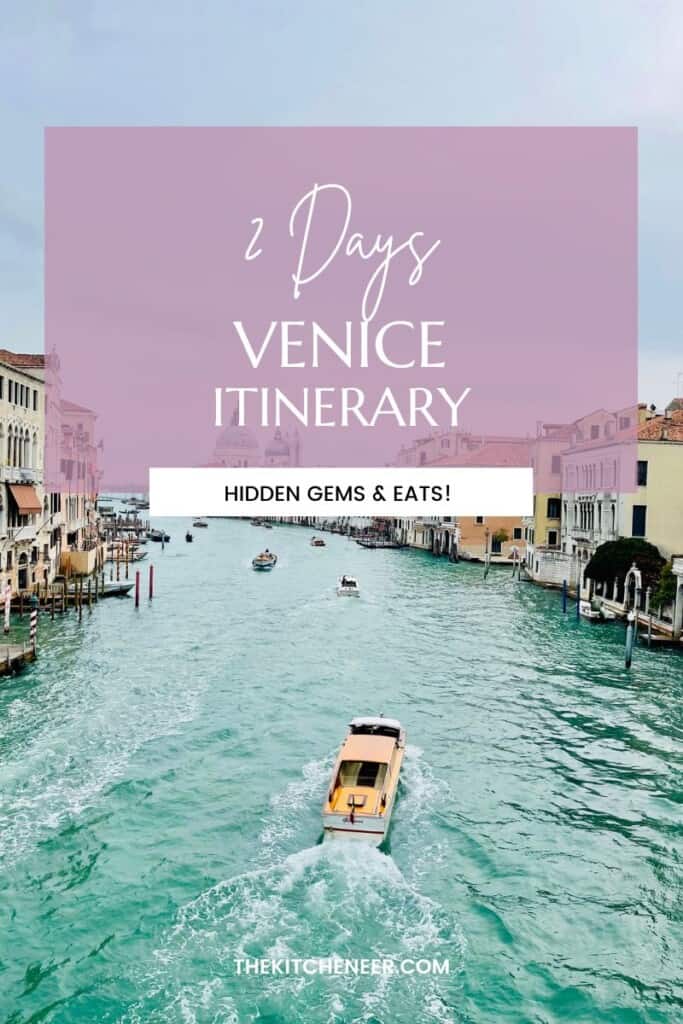 As I write this, I am simply still in awe of the fact that I was HERE. Even while we were walking around the streets and bridges, looking at the sparkling waters, it all felt like one of the best dreams that I never wanted to wake from. And I wanted to capture my feelings and thoughts while it is still fresh in my mind. We even bought a travel journal to write down specific stories while we were there so we wouldn't forget a thing! I have dreamed of visiting this beautiful city my whole life and it exceeded ALL my expectations.
This is just part 1 of my Italy series! I am breaking our trip down by city from Venice to Tuscany to Rome. I can't wait to share it all with you and hope you get inspired to use these guides to plan your own dream vacation!
A Little about Venice - The City of Dreams
Venice (or Venezia) is located in northeastern Italy and is made up of around 118 small islands that are connected by more than 430 bridges! With it's open piazzas, Venetian Gothic architecture, the origin of some Baroque and Renaissance artists, and narrow canals; no wonder Venice is known as one of the most beautiful cities in the world.
Honestly I wish we had 3 days here. Some travel blogs even had the audacity to say even one day in Venice was enough. I 100% disagree. I think in 2 days in Venice is enough to see the main attractions but I think with 3 days you would have plenty of time to slow down and soak in the floating city even more.
Here's how this 2 Day Venice Travel Guide is going to work: I am going to provide you with where we stayed, What we did on Day 1 then what we did on Day 2 (including where we ate!). Honestly wasn't too concerned with what we ate ( I knew it was all going to be delizioso!) also in regards to being clean; Europe in general has the freshest foods made usually with single source ingredients! Plus we walked about 21k steps a day! Not worried about it! Plus I was all about being in the moment!
Where we stayed
We actually stayed in an AMAZING Air BnB apartment! We decided to try out Air BnB internationally after hearing so many great reviews from others we knew and from our other stays previously in Waco,TX, Charleston,SC, and Gatlinburg,TN (still need to write a post about this one!).
This apartment is located in the Dorsoduro neighborhood (western side of Venice) which was super close to the bus station and an easy trek from the bus to drop our things off upon arrival. We decided on using backpacks as our only luggage (plus a tote for me!). BEST choice ever. We saw so many others struggling with rolling luggage on the stone streets ... and honestly they get beat to hell and more than likely would have to be replaced quickly. Here is the backpack I got and here is the one Jake used. What I liked about Jake's was that it was a 2 for 1! It separated into a smaller back pack which was PERFECT for a day pack! We both recommend them!
Another great thing about this apartment's location is that it's not in the super touristy side of town (like near St. Mark's Square). It was clean, safe, and the host was super responsive. Plus he allowed us to check in a little early so we didn't have to ruck our heavy backpacks all around Venice!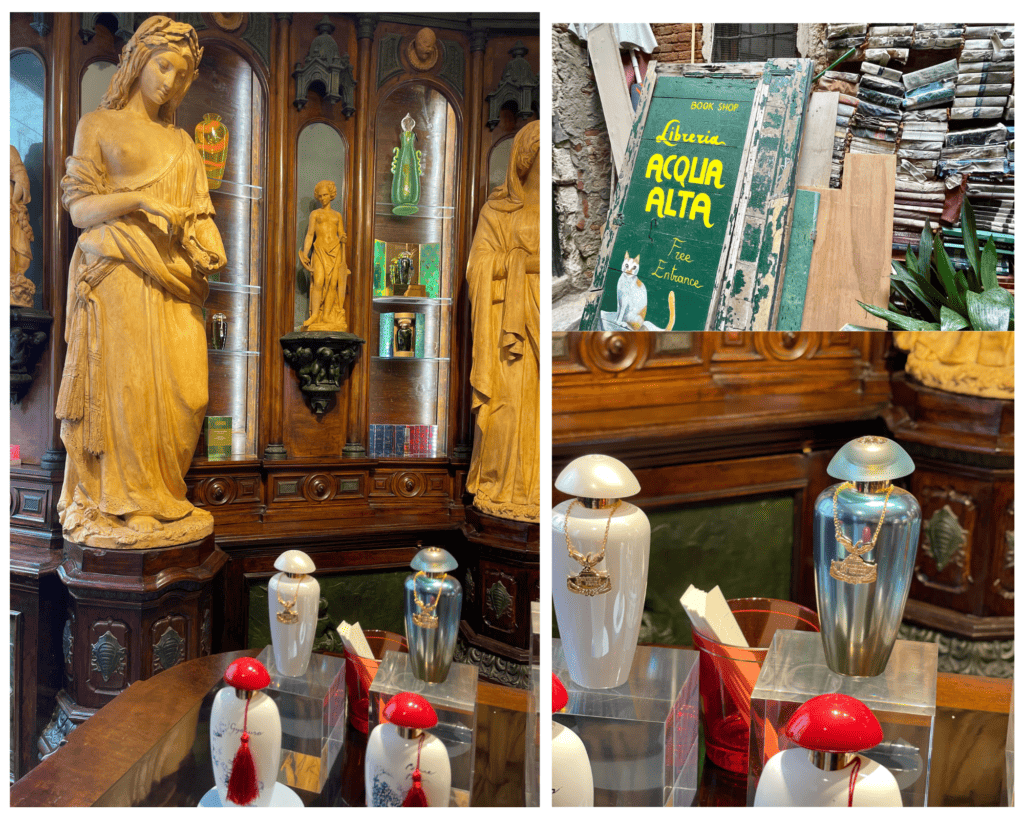 Venice Itinerary: Day 1
We did A LOT. We landed around 9:30AM and I was legit as excited as a kid at Disney! I HAD to try to see as much as possible! We had a rough list of things we would like to see/do but also no pressure to get it all. First stop was actually a perfume shop!
The Merchant of Venice - An old apothecary shop that is now used as a perfume store. There is a LONG history of perfumers and soap makers in Venice over time. What makes this place super unique is that it perfectly combines two goals: culture and commercial. "In October, the new Brand, The Merchant of Venice, is launched, which includes the first collection of Eau de Parfum, the Murano Collection, and a series of high -level ancillary products. The Flagship Store of the Brand opens inside the ancient pharmacy shop (circa 1600) in Campo San Fantin." They also sell an exclusive scent with collaboration with Teatro Le Fenice (the opera house) to capture its essence. And since we already had tickets to the show, I had to see what the smell was! Y'all... EVERYTHING smelled SO GOOD. It was hard to choose. But in the end I had to go with the Le Fenice scent. The woman in the store was SO NICE. We were actually a little nervous as this was our first experience talking (or attempting to speak Italian). We wanted to be respectful ! We told her this shop was our first place we visited in Italy and she was SO flattered that she threw in extra samples AND showed us to the theater!
The "Secret Tower" - Also known as the Palazzo Contarini del Bovolo. It's a little difficult to find but SO worth it! The palazzo is located in a small, less-travelled calle (street) near Campo Manin, about half-way between Campo San Bartolo, at the foot of the Rialto, and Campo Santo Stefano. The staircase leads to an arcade, providing an impressive view of the city roof-tops.
Best Way to Find it: In Venice if you look and see street signs... they are not named anything specific. But they are pointing you to different land marks (like doge's palace or the rialto bridge). Same goes for this. Look up and when you are close, look for signs pointing you to the "Contarini del Bovolo". It was down an alley and suddenly it opened up to this amazing place! It costs about 10 euro for a ticket to climb up to the top. Well worth it in my opinion!
Visit the Rialto Bridge - it's the largest bridge in Venice and is beautiful. Try to get there early in the morning for some amazing views of the Grand Canal with not so many tourists!
Visit the famous bookstore " Libreria Acqua Alta" - this Venetian bookstore has resigned itself to constant flooding so it keeps its books in bathtubs and boats! There are old books stacked EVERYWHERE - you can even climb them! There are also cats who are the "librarians" which I LOVE. A gorgeous black kitty helped us check out our order... which I got an Italian version of Harry Potter's Goblet of Fire 🤓. So if you love books & cats this is a MUST!
A Romantic Gondola ride! Honestly one of the MOST magical experiences of my life. We went right when the sun was beginning to set which by then a lot of the gondoliers had packed up. BUT going in the evening is BEST... you will find the more dedicated gondoliers who actually LOVE what they do. We met Marco, who is a 6th generation gondolier and was so PROUD of his lineage and making sure our experience with him was the BEST. He sang to us and also gave us a little history lesson as we glided through the sparkling canals of Venice.
Have an appertivo - Which essentially a snack and drink before dinner. It is VERY common to see so many folks laughing and having a great time at the local bars. Fun Fact: In Italy a "bar" doesn't always mean it's all about alcohol. A lot of the time it's simply a coffee bar (that usually also serves alcohol). Stop and get a budget friendly snack! We got our first pizza and a spritz at a place called Formini for only 12 euros!
Simply get LOST - Venice doesn't have any cars around. So you are free to literally wander everywhere carefree! I felt SO SAFE here. We wandered all around and found lots of small shops and businesses. We even found a local artist and bought one of her works for our living room. It captures books, art, and Venice - all of my favorites.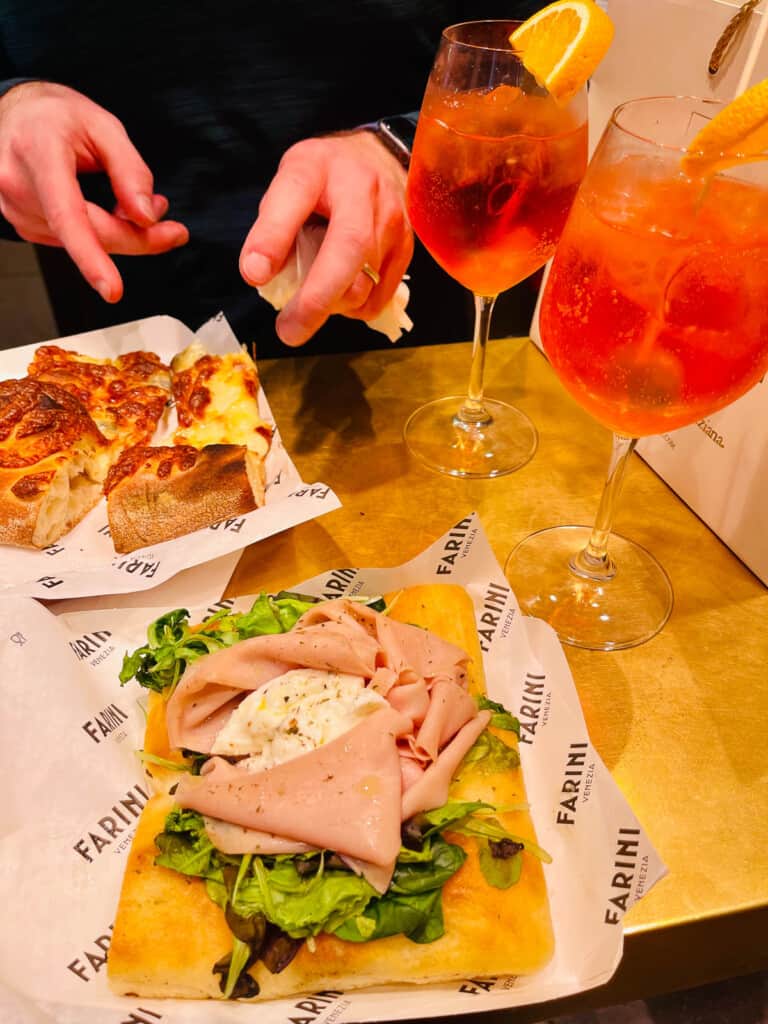 Where to eat? Honestly we found you can't go wrong in Italy. It doesn't matter if it's a fancy sit down restaurant or a bar... everything is delicious. Simply one of the best places for food in general. And as I mentioned... everything is FRESH. We got up early the next day and saw the boats coming in with the daily food supplies for the restaurants! All looked AMAZING. But for our first night in Italy we listened to a local (our gondolier Marco) he pointed us to a small restaurant named "Vittoria's". Didn't take pics of the food... but just my handsome date 😘. All I know is the food was delicious and our waitress was very accommodating of our "simple Italian". She even taught us a few things ;).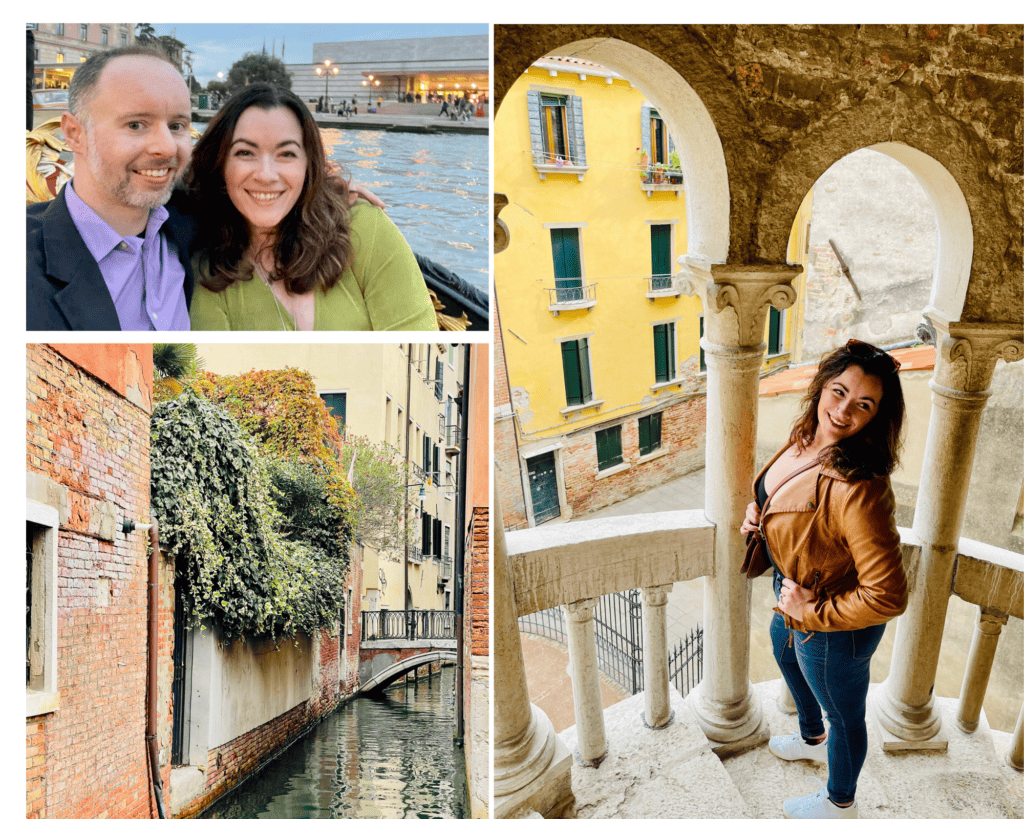 That pretty much sums up our first day in Italy! It's a lot to fit in and about 20k steps!
BIG TIP: Wear BROKEN IN shoes! I THOUGHT mine were broken in but with my flat feet... I should have broken them in more! Like I know this is common sense... but shoes are SO important when you are walking about 10 miles a day! Oh! And be sure to pack some blister band-aids!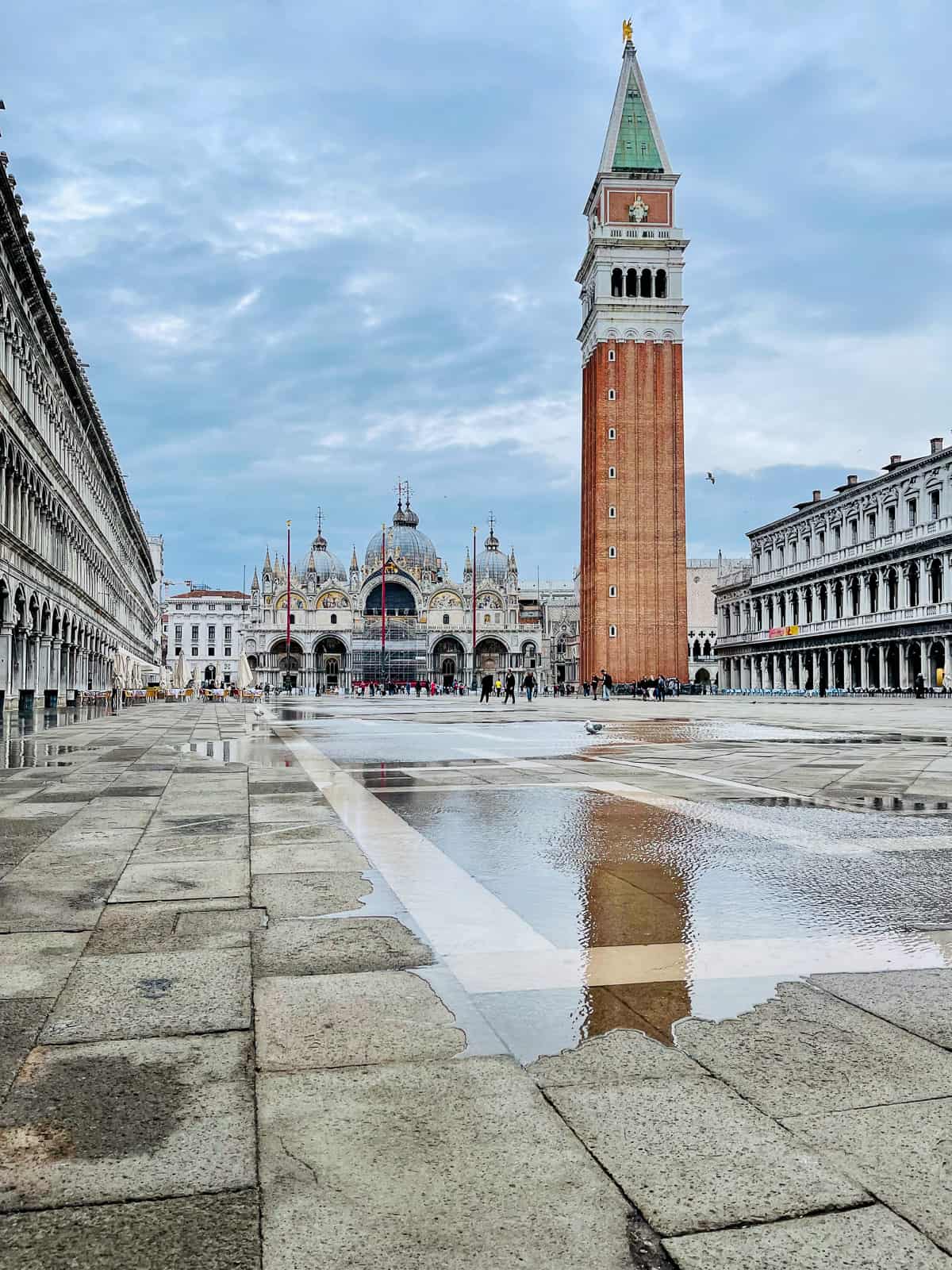 Venice Itinerary: Day 2
Day 2 we had a few moving parts including some scheduled things! We had tickets to "Le Fille du Regiment" at the Teatro Le Fenice opera house at 3:30PM and dinner reservations at the L'Alcove Ristorante at 8:00PM (dinner times in Italy are MUCH later than we typically eat! Most don't start eating until 10PM!) AND we both really wanted to get to Murano Island before we had to leave the next day! A LOT. But we got it done!
Our first stop: The Cafe Florian!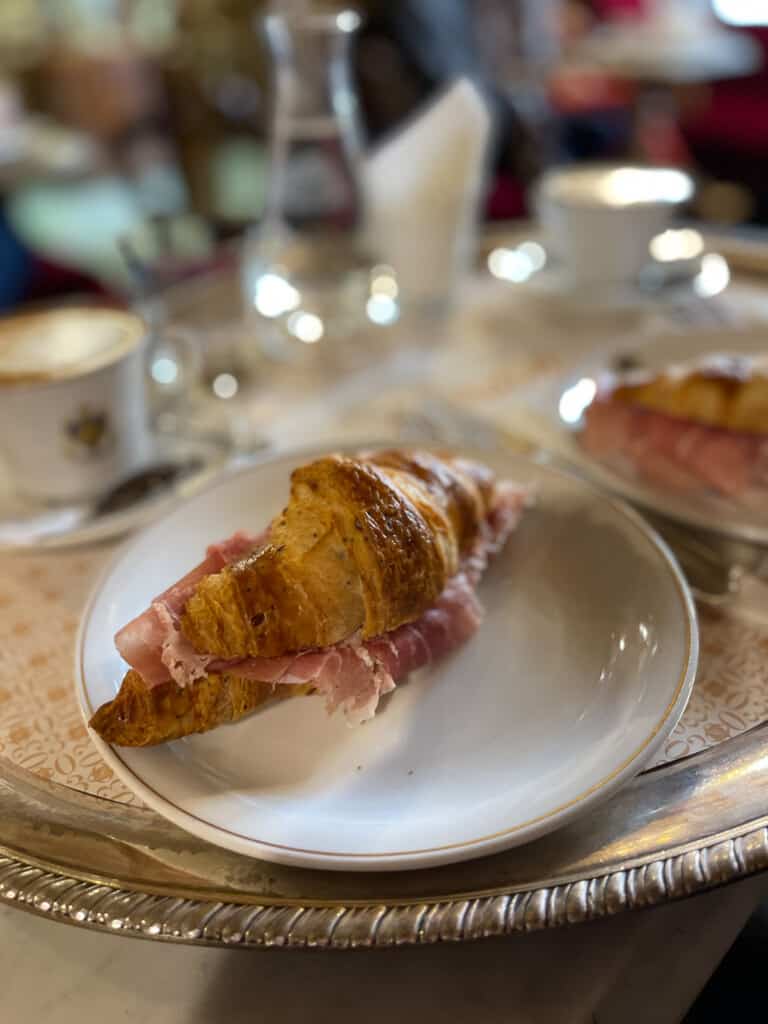 Cafe Florian was on our list of places to visit as it's absolutely the most ornate cafes (and oldest one in Venice!). It dates back to the early 1700s! We decided to set our alarms and enjoy walking around the city as the sun was rising. BEST DECISION EVER. Everything here is simply beautiful (and I know I am going to say that 1000x so... not sorry).
St Mark's Square: we ended up getting there in the early morning. Funny thing is I didn't even notice we were in st mark's square! I saw other photographers kneeling and getting different angles of this open piazza and so I did the same thing! Then I looked toward the far end and saw saint mark's basilica 😆 but didn't realize it because there was hardly anyone there! We actually didn't get to go inside the basilica this time as by the time we left the cafe, the line was INSANE. I am so glad I got a great shot of a pretty empty st mark's square though! We did set aside some time to do a Rick Steve's audio guided tour of the square before heading to our next destination.
One of the most interesting sights on St. Mark's Square is the Torre dell'Orologio (the Clock Tower). This clock and its tower dates back to the 15th century.
Next stop was Murano Island! But while we were walking to the local water taxi or vaporetto which is a Venetian water bus, we almost missed the bridge of sighs!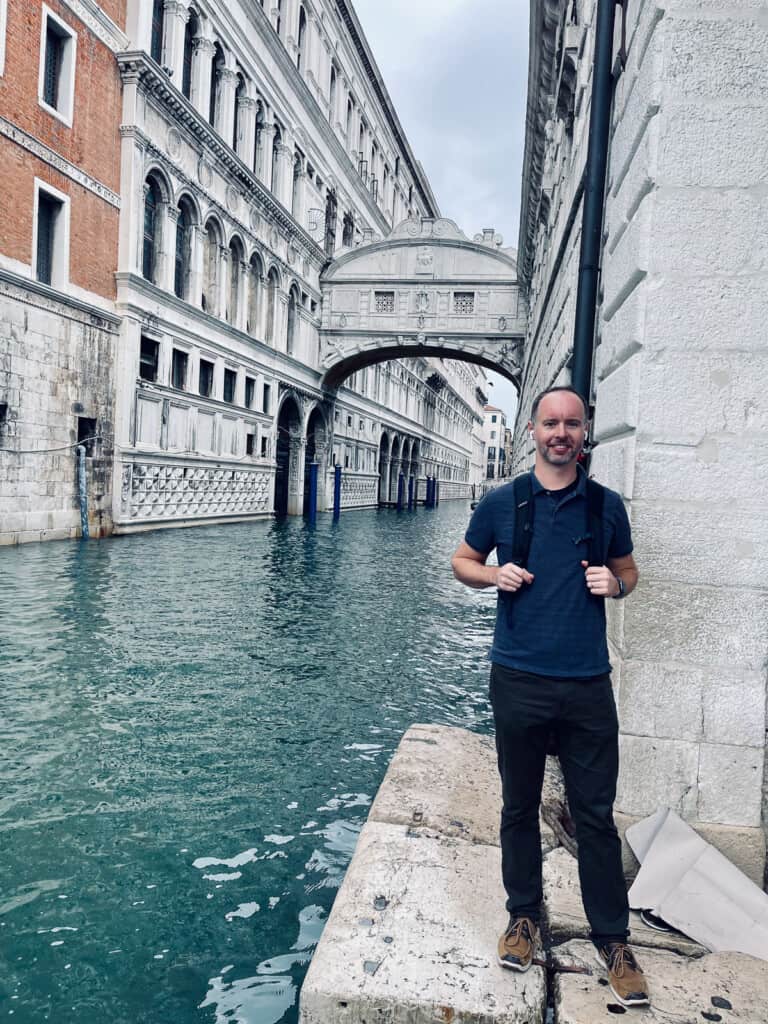 This is a famous bridge with a reason for its name. It's connected to the Doge's Palace where it was used to escort prisoners to the prison where they would sigh at their last look of the Venetian Lagoon.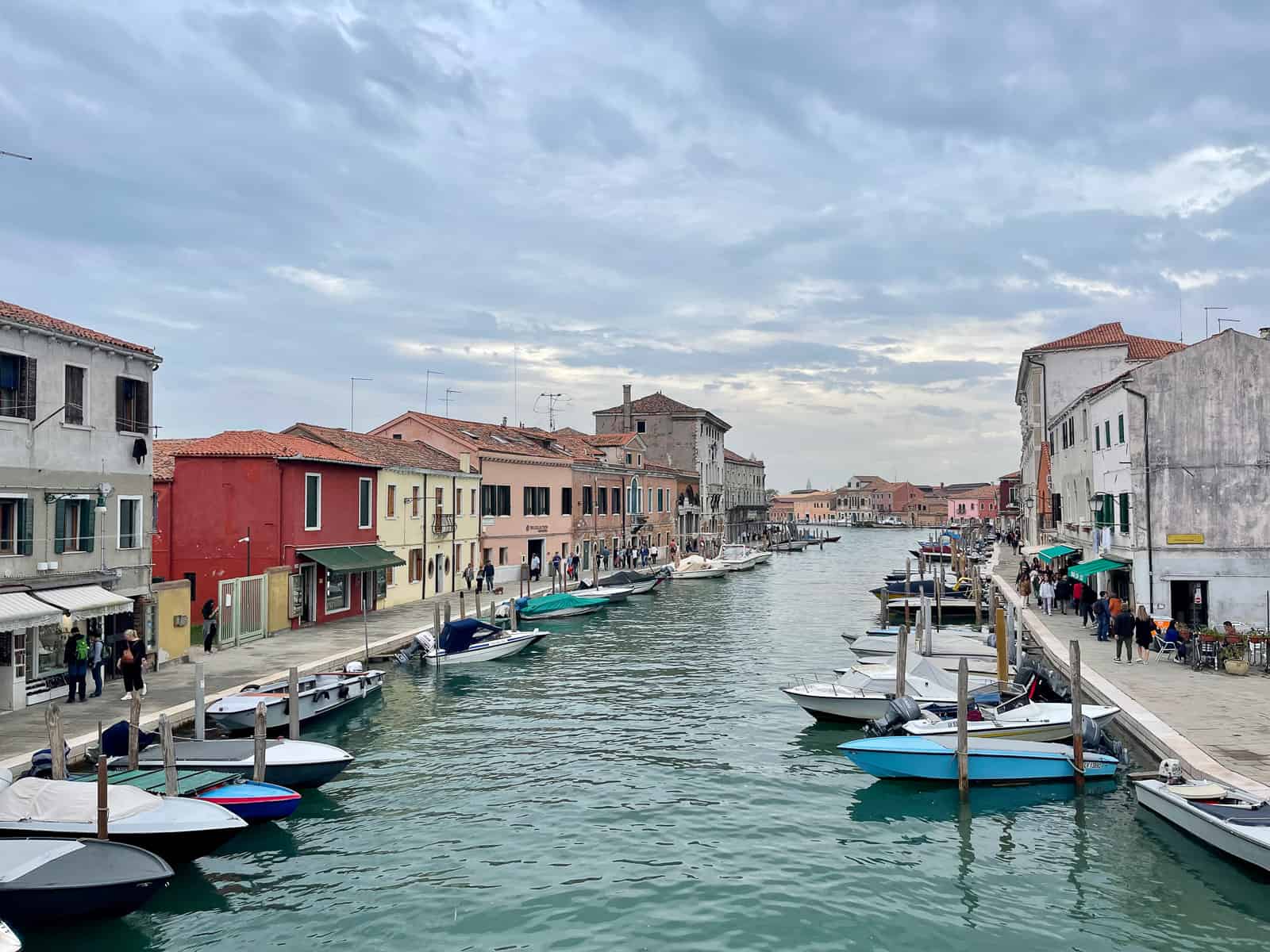 Ok, back to the water bus! Public transport in Venice is SO easy! There are self-service ticket booths where you can choose English and easily get a day pass (or a 3 day pass) to take any water bus all over Venice for the day. SO easy. And they come by almost every 20 minutes! You can also hire a private water taxi if you so choose (but it's pricey and the water bus was a good experience).
Murano Island was perfect place for a little day trip! We got off near Faro (the non-touristy area). WARNING: there are tourist traps all over trying to sell overpriced Murano glass that isn't even made in Murano (but in China!). Find a glass factory that is not near the hotels or other tour groups and has working furnaces with people working - those are the REAL ones!
Story time: Now Jake and I have gone back and forth if we paid too much for a set of Murano glasses... we followed a group into a free glass demo (which was SO COOL). This glass master made this horse in like 2 MINUTES! Then we took a look around their store. Apparently we looked like we wanted to buy something so one of the workers showed us upstairs to show more glasses (and the most gorgeous chandeliers I have ever seen!) We were able to haggle with them but in the end we made out with a set of 6 glasses and a pitcher plus free shipping back home. They even are going to inscribe our name on them! Conclusion: I believe we paid 20-30% more than other glasses we saw but we had proof that these glasses were made on the property and they covered the shipping costs (which was going to be $200). All in all were happy but a lesson learned for you!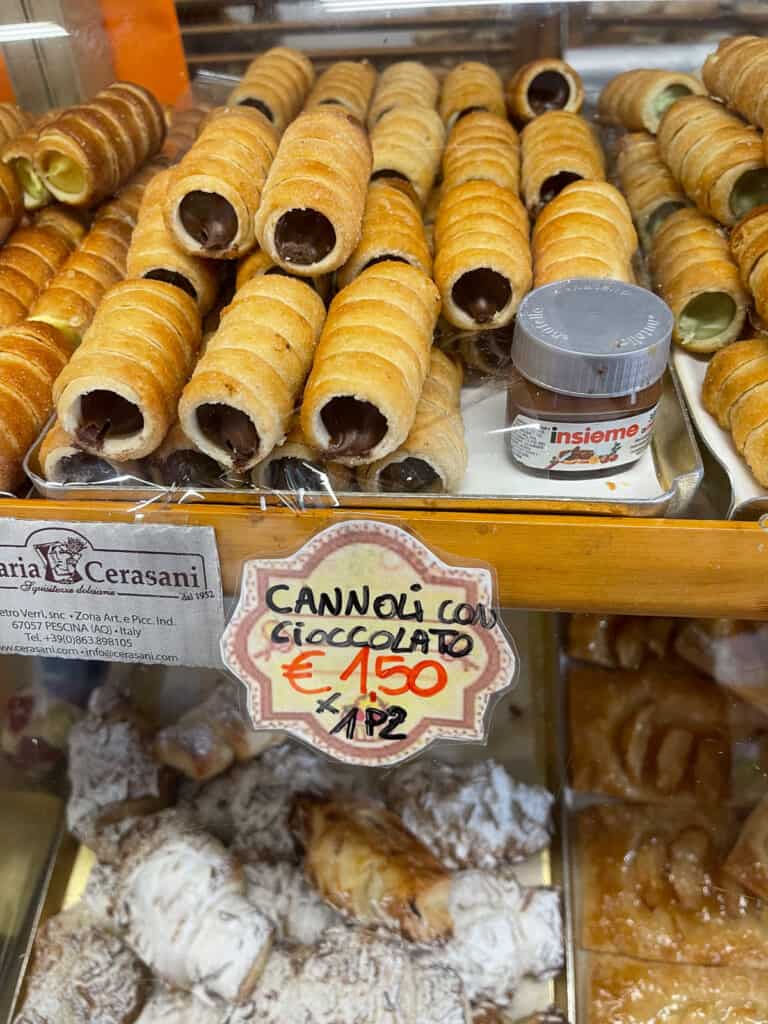 After the glass shop, we wandered around the Murano and found such a cute family owned shop for a quick lunch. Everything there looked delicious! In the end Jake ordered the small cheese pizza and I got 2 of these cookies as they are regional to this island! Very light and only slightly sweet with hints of vanilla and lemon!
We stopped in a few more stores to make sure we picked up some souvenirs and gifts for family at home!
Then we had to book it back to the apartment to change for the opera at Le Fenice opera house!
This is possibly the most grand theater I will ever be in and I was surprised our tickets allowed us to have our own little booth on the 3rd floor! I had no idea! I actually thought I bought semi-nose bleed tickets from the seating chart! It was quite a pleasant surprise! And if you do go to this theater you HAVE to get the tickets from their site directly. No other tickets from 3rd parties will be accepted.
But let me be clear: YOU HAVE TO GO HERE. I had goosebumps from the talent on that stage! And even if you don't speak Italian (or French) in this case they had subtitles so you could understand everything!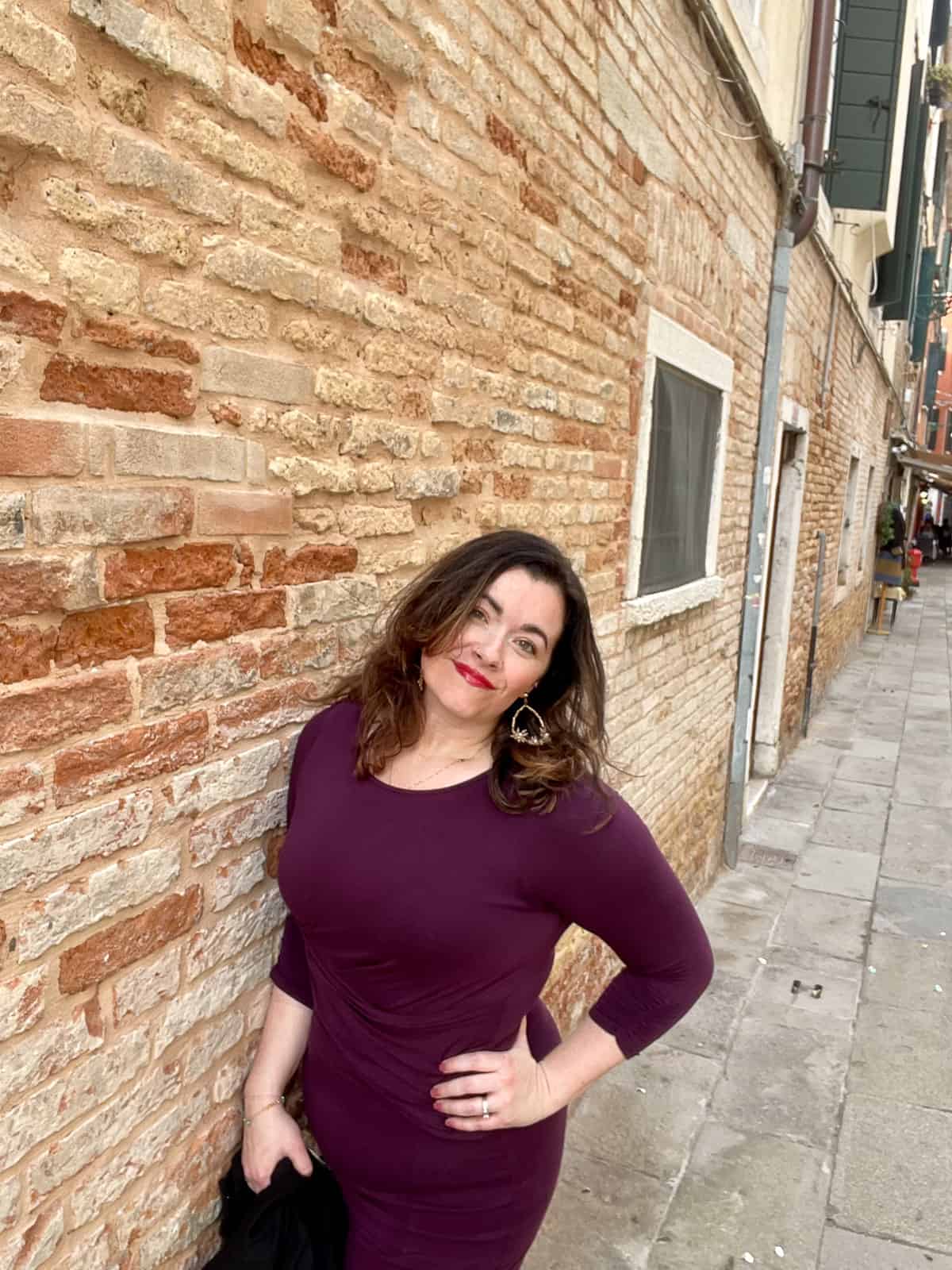 We climbed over the many bridges and wandered over to the Casa Segrado Hotel for our dinner reservations with a night time view of the Grand Canal.
When you are in Venice the thing to order is seafood! We went with our waiter's recommendation of an Antipasti of grilled octopus (our first time trying it - actually tasted very similar to scallops!) and a main course of Seafood Risotto for me and Jake had the fried seafood and veggie plate (not fried like here in the US) very lightly breaded. Click here for the details on this restaurant! I highly recommend. The staff was super nice and friendly and the food was... chef's kiss!
Other Tips to Think About for your 2 Days in Venice
What is the best time to go to Venice?
We chose mid October to go because it's the beginning of the off season and the temperature is a nice 70F everyday. Perfect weather! It does have a higher chance of rain this time of year, but it didn't rain at all for us! We were told by the locals to not come in the summer months due to it's like 100 degrees plus incredibly crowded with tourists. It's also more budget friendly to go in the Fall/Winter!
Do's and Don'ts of Visiting Venice
DO take a bus or Water Taxi from the airport. The only way to reach the main island is the Causeway if you go by bus. The bus was about 10 euro a ticket and they allowed you to put your luggage underneath in storage.
DON'T buy souvenirs in St Mark's Plaza. These are tourist traps and are over priced junk. Seek out local artists or pop in a local family owned shop for your souvenirs to take home. We found SO many great ones, HIGHLY recommend stopping in an antique store!
DO order as many aperol spritz's as you can 🙃 Trust me. They light and bubbly cocktails are worth the hype. And they are usually less than 5 euros a glass!
DONT try to see Venice in less than two days. It is a tiny island but there is SO much to see! Like I said we wish we had 3 days here!
DO be aware of your surroundings. Pick pockets are pretty common in the most touristy areas so just be alert. And DO NOT accept a rose from anyone! It's a scam. We saw this numerous times there. Someone tries to give you a rose and if you accept it they demand an absurd amount of money. But in general I felt the safest in Venice vs most of the cities here in the US!
After dinner we made our way back to the apartment to try to catch some sleep and pack to leave in the morning for our next destination TUSCANY 💗.
I am sort of new to doing travel posts here but I am enjoying recapturing my own memories from our adventures as well as the thought that if I can help someone else plan their first trip to Italy then it's worth it!
Other Travel Posts You May Like: