Cocoa Rubbed Bacon Wrapped Filet Mignon - the PERFECT steakhouse style cut that is dressed to impress.Because bacon+chocolate+melt-in-your-mouth steak will blow your mind. Valentine's Day is quickly approaching and I think you deserve to splurge on this crème de le crème of all beef cuts. And this fancy steak isn't just for Valentine's Day. We make this bacon wrapped filet Mignon as a great meal for any special occasion or a way for your dinner guests to experience this tender steak.
THIS POST MAY CONTAIN AFFILIATE SALES LINKS. PLEASE SEE MY PRIVACY POLICY FOR DETAILS
Made in a classic cast iron skillet, these cocoa rubbed filet mignon steaks (also known as beef tenderloin steaks) actually come together very quickly and pairs well with crispy brussels sprouts, green beans, roasted carrots, baked potatoes, and any other salad or veggie side that you can imagine.
Then there is the bacon. And even chocolate and bacon go together like peas and carrots. It's just natural.
And it also tastes better served accompanied by some fresh roses. It doesn't matter what your relationship status is. Flowers + drool worthy steak= freakin awesome V-day!
The cocoa flavor plus salty bacon just elevates the overall flavor and texture of these cuts of steak. I have been known to make my tried and true coffee-garlic steak rub but I decided for these filets (and to go with the Valentine's/ date night vibes) to be more adventurous with some chocolate thrown in. Now, the steak DOES NOT taste like chocolate. But more of the smoky-earthy flavor. Unsweetened cocoa powder or cacao powder has strong earth flavors and gives the filets a rich crust when we sear it in the cast-iron skillet.
I will show you not only how to cook it, coat it in a cacao pepper rub, and wrap it in bacon. I'm already drooling thinking about this.
Since Valentine's Day falls on a Tuesday, why not celebrate a little the weekend before instead of going out to a crowded fancy place, dine in and make something special for your SO.
So what is your favorite date? Mine is April 25th. Because it's not too hot or too cold, all you need is a light jacket! (PLEASE OH PLEASE let there be someone who gets this reference!)
Jake and I are thinking about doing the Valentine's thing over the weekend and taking hikes, walking around downtown, and going on a coffee date. But it WILL be including this steak AGAIN. It was seriously THAT good the first time I made it a few weeks ago for a test run.
Like, I ran the idea by him and his mouth literally dropped and was like,"yea, do that one!"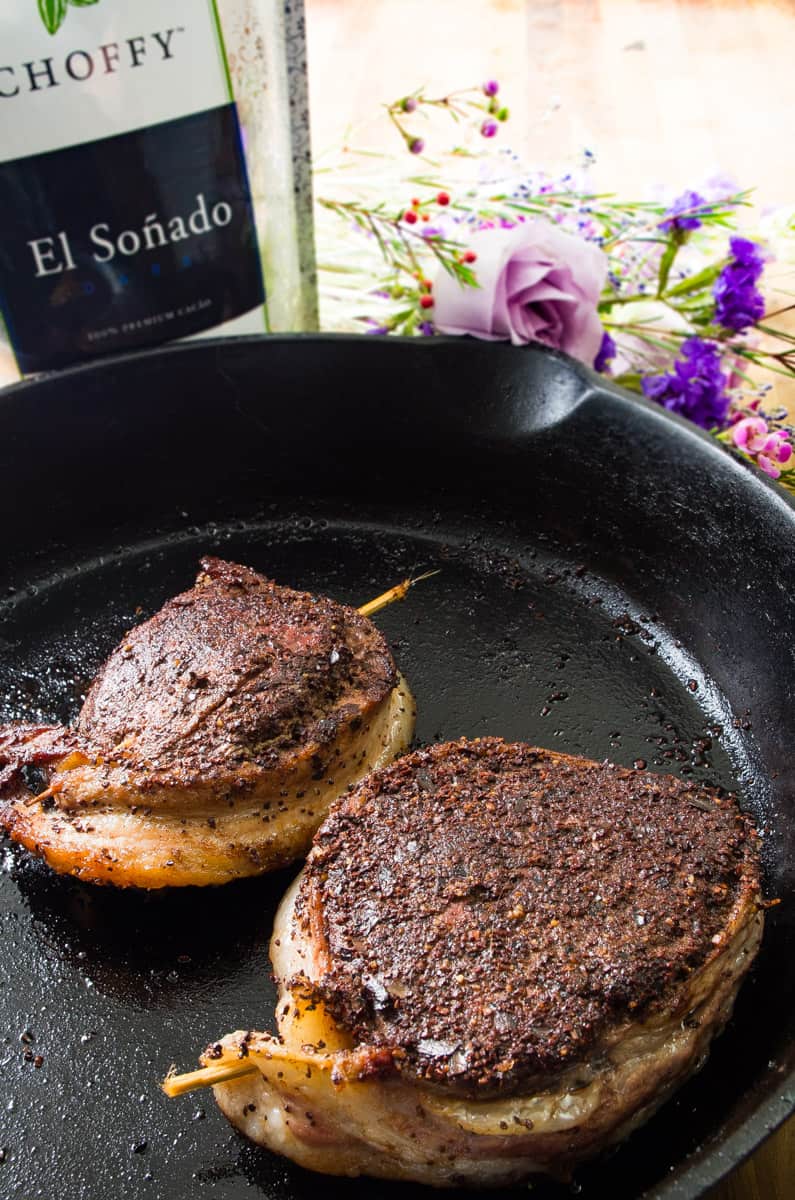 What you Will Need
extra virgin olive oil - important for adding a light amount of fat in the searing process.
black pepper - and a liberal amount! This helps balance the cocoa powder!
cocoa powder or cacao powder - unsweetened please!
filet mignon steaks - also known as the beef tenderloin cut of steak. No marinade is needed! Just ensure to season liberally with the rub before searing. I LOVE geting our steaks from Butcher Box recently! (Honestly worth the hype!) Try it here and get $30 off your first order!
Bacon - just two slices of bacon are needed. Secured with some kitchen twine - does the trick to ensure everything stays in place.
How to cook these Cocoa Rubbed Bacon-Wrapped Filets in a Cast Iron Skillet
This filet mignon recipe has a two-factor process.
Note: As per usual, more details and instructions are provided in the recipe card below.
First, season the steak with salt, black pepper, cocoa powder and wrap with a strip of bacon and secure with butcher's twine. Searing the fillets in the cast iron pan on medium-high heat gives this cut of meat that nice crust before transitioning the skillet to the oven. About 2 minutes per side.
Next part, is once the fillets have a good sear transfer the fillets to the oven for about 6-7 minutes. This allows the steak to come to the desired temperature and crisps the bacon at the same time!
Temperature Pro-Tip!
Don't forget to ensure the internal temperature is around 135 degrees f using an instant read thermometer in the thickest part of the steak! This steak MUST be around a medium ( a little pink) for the best results. IMO I just CAN'T with an overdone steak... it becomes really tough and dry... just trust me on this ok?
PRO TIPS to consider making Cocoa Rubbed Filet Mignon:
Ensure the steak has come to room temperature. This is the best way to ensure a nice crust is formed during the searing process. If the meat is too cold, then there will be too much moisture to allow the steaks to form a crust.
Allow the steaks to rest! This literally requires you to do NOTHING for about 10 minutes. Foolproof method to achieve the best tasting juicy steak.
Removing the steaks at a slightly underdone temperature (Example: I WANT a medium doneness on the steaks (which is around 140F) but since the steaks continue to cook for a minute or so off heat I should take it off heat around the 135F mark).
And I also know that this not a super budget friendly cut. If you need another cheaper cut to make for Valentine's Day, date nights, or any occasion see below for other wallet friendly options:
[These delicious steaks were made using Choffy. Thank you so much Choffy for your supply of products for this post!]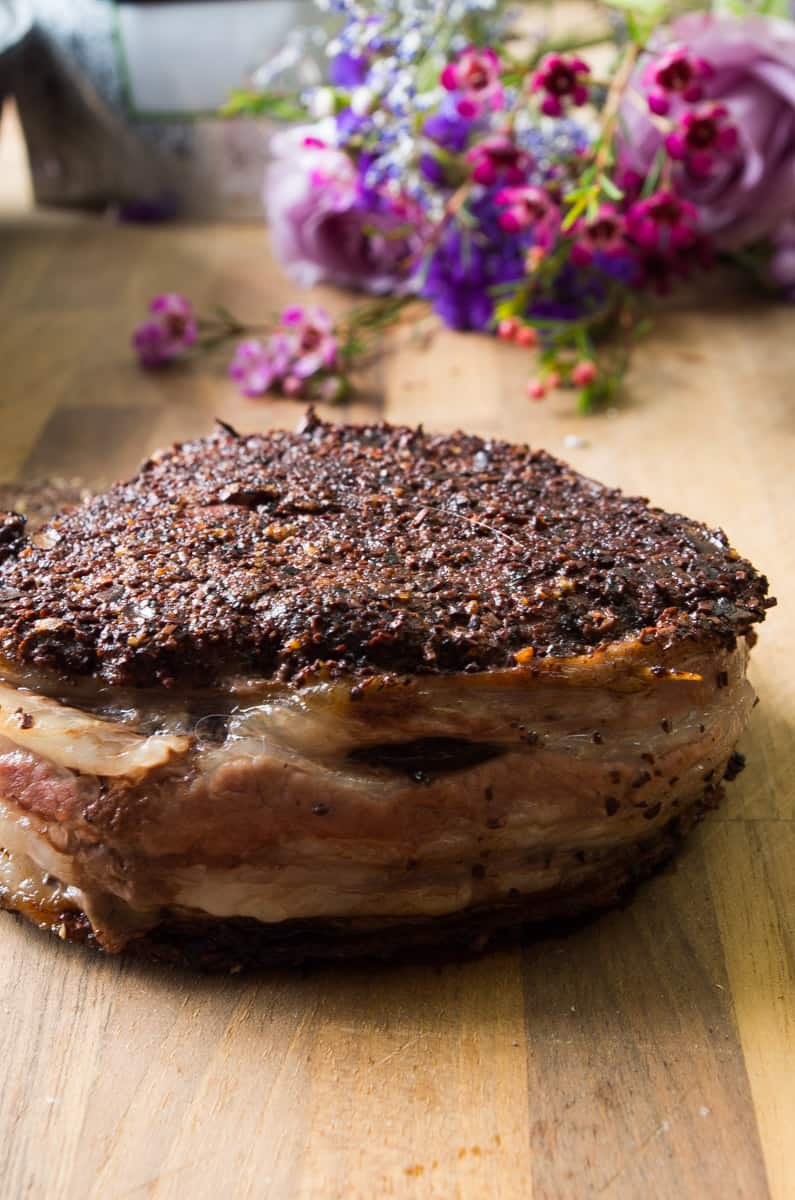 Save
Save
Save
Save
Save
Save
Save
Save
Save
Print
Bacon Wrapped Cacao Crusted Filet Mignon
---
Author:

Total Time:

20 minutes

Yield:

2

steaks

1

x
Cocoa Rub
2

tbs unsweetened cocoa powder

2 tsp

kosher salt

1

tbs freshly ground black pepper

½ tsp

paprika
For the Bacon-Wrapped Filet Mignon
1

tbs extra virgin olive oil

2

slices of bacon
---
Instructions
Preheat the oven to 425F. In a small bowl mix together the cocoa powder, salt, pepper, and paprika.
Season the steaks on all sides with the cocoa rub.
Wrap each steak with bacon and secure with some kitchen twine.
Heat a cast iron skillet on medium high heat. Once you see it smoking slightly add the oil, circle it around to coat the pan, and add the steaks.
Sear the steaks for 1-2 minutes per side. Then transfer the skillet to the oven to finish cooking. (6 minutes or until desired doneness is achieved).
Remove the steaks from the oven and transfer to a plate or cutting board to rest for about 8-10 minutes. Also discard the twine.
Serve and enjoy!
Prep Time:

10 minutes

Cook Time:

10 minutes

Category:

Dinner

Method:

Stove Top

Cuisine:

American
Keywords: Bacon-Wrapped Fillet Mignon, Fillet Mignon recipe, cocoa rubbed steak, date night recipe, valentine's day recipe