Can you EVEN friggin' believe that today and tomorrow are the LAST TWO DAYS of 2018?!
I can't.
I feel like this year FLEW.
And i realize how cliche this sounds. But between 2018 being our first full year in our new home, + house renocations (let me know if you guys want to see those), and a new job...let's just say it's been hectic! In a good way!
With the new year comes resolutions.
I have come up with a few:
Spend more quality time with Jake. He's priority. Meaning no phones, no work talk, just us and a fun weekly date night!
Self-Care: working out, face masks, bath bombs, walks, saying no,and weekend day trips
Workout 4-5 times a week. I am making this a priority. I LOVE lifting weights (CrossFit style) and I really want to focus on working y weaknesses and increase my numbers with my barbell PRs.
Do 2 Macro Cuts (macro based diets-helps increase metabolism while not losing my hard earned muscle and promotes fat loss!)
Do another Whole30! Yup I want to get Whole30 round 9 under my belt
Travel to Europe
ADOPT A PUPPY!!!!! (I FINALLY convinced Jake we NEED one!)
But mainly, I am always on this crazy healthy journey. There is no finish line. And once I realized that, I was free that I was "trapped" in a "diet". It's a lifestyle.
So why not make healthy food with REAL food that actually tastes good.
Enter these Whole30 Blueberry Sage Sausages.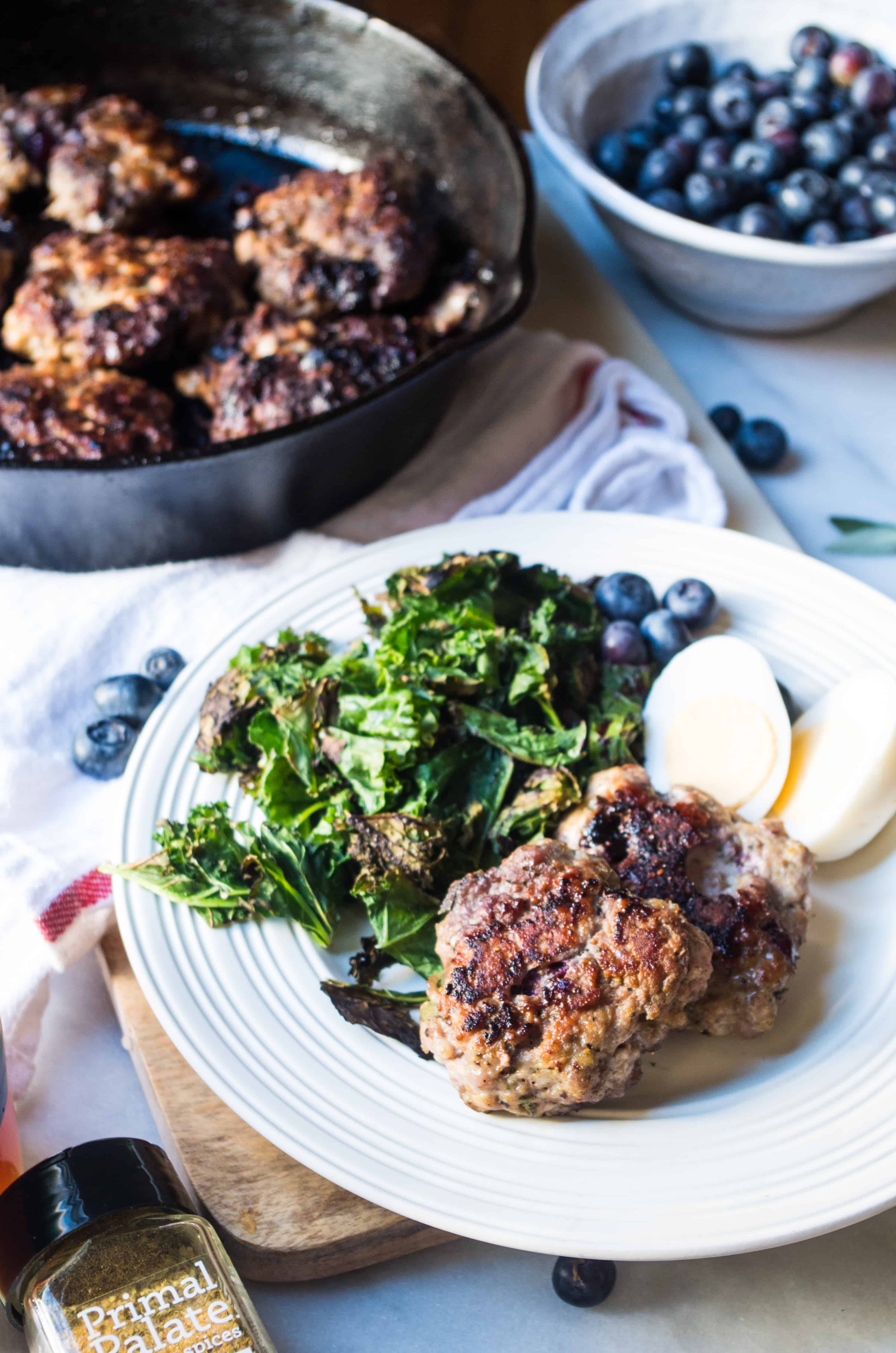 Let me say these are a GAME CHANGER.
LIFE CHANGING.
MEAL PREP.
WORDS!!!
But seriously, Jake has been requesting these for breakfast weekly. And I usually cave.
I even make a large batch for Jake's meal prep for the week. It's THAT good.
You need these in your life ASAP.
You need these breakfast options too:
and of course coffee....cause duh.
Print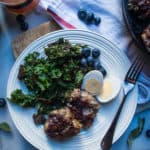 Whole30 Homemade Blueberry and Sage Sausage
---
For the sausage:
1lb ground pork
1 tbs chopped fresh sage
1 tsp salt
1 tsp pepper
2 tsp Breakfast Blend (I love Primal Palate!)
¼ tsp cinnamon
⅓ cup blueberries
For the blueberry reduction sauce:
½ cup fresh blueberries
¼ tsp cinnamon
2 tbs apple cider vinegar
---
Instructions
MAKE THE SAUSAGE PATTIES
In a large bowl, mix together all ingredients for the sausage
Set aside
MAKE BLUEBERRY SAUCE
Preheat a small sauce pan on medium heat
Once heated, add all ingredients for the sauce and stir to ensure all berries are coated with the vinegar
Bring to a simmer while breaking down the blueberries until all have burst (About 5-8 minutes)
Bring heat down to low, and continue to stir frequently to further breakdown the berries. The sauce is finished once its reached a jam-like consistency.
Allow sauce to cool slightly
While sauce is cooling, cook the sausage
Heat a large skillet on medium high heat
Once heated, add patties
Flip every 2-3 minutes until cooked through (internal temp is 165F)
Serve with sauce and enjoy!!
Notes
PRO TIP: Try to squish all blueberries in sausage mixture. This helps prevent pockets in the patties and keeps their shape as they cook.