Feed your gut bugs and you might need new clothes! (because yours will be too big!)
Everyone seems to have an opinion on "gut health". And for a long time I had ZERO clue what that even meant. Like why should I even care about my gut? Isn't gut health just for people with IBS?
Seriously, completely ignorant on my end. 😳
I will try my best to recap what we have learned about gut health in general and expand to include our results from the ONLY and largest in-depth nutritional study in the world on collecting gut health/blood sugar data conducted by Massachusetts General Hospital, Stanford Medicine, Harvard T.H. Chan School of Public Health, and King's College London.
Use my code for 10% off your gut health test - THEKITCHENEER10
Just a quick disclaimer that I am not a doctor or a nutritionist and that you should ALWAYS seek their advice first.
All of our bodies are unique. So why are we SO dependent on one-size-fits-all diet plans? There is a reason and a SCIENCE as to why our bodies respond to different types of foods....well, DIFFERENTLY.
Can we all agree that generic nutritional advice isn't working?
Your weight gain and/or weight loss may NOT BE YOUR FAULT. This was HUGE for me. The "diet" plans I had been following for so long were SO WRONG for my gut aka microbiome.
Once I decided to educate myself on gut health via my favorite book on the topic Fiber Fueled . This was such a 🤯 for me. To learn and understand that my own unique biology and bacteria currently living in my gut was literally CONTROLLING everything from my metabolism to immunity to hormone regulation to weight management!
Like did you know that your microbiome makes up around 70% of your immune system???
or did you know that 95% of seratonin hormones comes from your gut?
This means once you know what uniquely makes up your gut and how to feed it correctly you could literally be healthy AND happy all the time???
SIGN ME UP.
NOTE: If you are not into the nerd stuff just skip down to our results and see about taking a gut health test yourself!
What is Gut Health and Why should I care?
Gut health is an elusive and broad term that has become the trend recently but it is difficult to define. When I first started learning about gut health I initially thought "how to relieve stomach issues". Never did I think that my gut was an actual community of living microorganism that were relying on my food choices to function.
This community of microorganisms living inside of each of us is referred to as your "gut microbiota". But even more specifically it is more known as your "microbiome". Which makes sense if you take the word apart.
Micro (tiny) + Biome (world/ecosystem) = tiny ecosystem
You should care about this tiny world living inside you.
Why you ask?
We carry inside of us 39 TRILLION microorganisms in our colons. THIRTY NINE TRILLION! Most of them being bacteria.NOT as gross as you think.
We are technically 90% bacteria if you sit and think about it! 🤯
We are superorganism that serves SO many different kinds of bacteria that actually have their own roles and responsibilities in your gut. AND get this your gut microbiome is ALL interconnected to EVERY part of your body and studies have shown can link your "gut health" or "gut microbiome" health to:
"Leaky Gut" - also known as "dysbiosis" which is when there is a loss of balance lack of diversity of good bacteria in the gut. Which leads to inflammations and makes it harder for your gut to process nutrients and allows it to absorb the not-so-good things. Meaning you might feel that "goes right through me" feeling after eating something. It's because your little factory of bacteria is all out of order and too busy trying to fix the damage it can't process other things correctly. The "leaky" part comes from a spillage of something called bacterial endotoxin and can be produced by bacteria like E.coli and salmonella which encourages inflammation and can range from low-grade all the way up to life-threatening sepsis,shock, and multi-organ failure! YIKES.
Symptoms Associated with Leaky Gut:
Cramps
Gas
Food Allergies
Nausea
Indigestion
Belching
Bloat
Weight Gain
Fatigue
Brain Fog
Weakness
Joint Pain
Bad Breath
Basically ALL THE THINGS.
Since 70% of our immune system lives in our gut, I would say it is SO important (especially in these times) to pay attention to your body and how it feels after eating certain foods.
And if you are here because you want to lose weight and not diet... LISTEN UP
BECAUSE of these microorganisms living in YOUR GUT processes all the food and drink you intake, that depending on the bacteria living inside you can yield different effects depending on YOUR SPECIFIC GUT MICROBIOME! No two guts are alike, which is why it is SO important to take a gut health test to figure what is inside you.
We have spent SO LONG TRYING to lose weight, eat well, exercise and for some of us we just feel stuck.
What if we just need to REPROGRAM your gut bacteria?!
💙 If your gut is out of whack, chances are you don't even have the correct "good" bacteria living inside of you to help regulate your metabolism, insulin release, etc.
UNLEARN everything you have been told about metabolism, diabetes, and weightloss.
"It's a loss of diversity in the gut microbiota, increase in pathogenic bacteria, and low-grade inflammation from bacterial endotoxin that is associated with diabetes, weight gain, and obesity. " 
- Dr. Bulsiewicz, Fiber Fueled 🤯
💙 When we feed out gut mibrobiota with proper nourishment, we actually CREATE new microbes that WILL extract everything we need from our food and nothing we don't.
💙 This promotes a natural balance that doesn't need a calorie counter in order to lose or maintain a healthy weight. A healthy microbiome takes care of this without any effort.
💙 This is why I previously thought I had a GLUTEN INTOLERANCE. I would get terrible pain and aches after consuming gluten, but because I did so many Whole30s my own microbiome no longer had a healthy balance of bacteria to PROCESS GLUTEN!
Your body NEEDS all food groups to find balance! Including CARBS. Which I love because....carbs.
Jake and I took a gut health test from ZOE (a name that means life in Greek) because I was tired of guessing how to make our own microbiomes balanced and have better digestion and get to our leanest healthiest selves naturally and without all the stress (HELLO cortisone - which also is produced in your gut!) of dieting.
I HIGHLY recommend taking this at-home test and discovering for yourselves what is really going on inside and stop looking for it on Google or in a fad 30-day diet plan to feel better and lose weight.
You are provided with a full list of "gut-suppressors" and a list of "gut -boosters" and lots of ideas on how to incorporate MORE FOOD to lose weight! WHAT.
Welcome to a life of abundance and not scarcity!
His and Hers Gut Health Test Results
OK! Time to discuss our gut health test results from ZOE!
We took this test in the Summer of 2021 and was SO impressed with the quality and level of analysis done throughout the process.
The food you eat has a huge impact on the trillions of "good" and "bad" microbes in your gut.
First we need to determine WHAT exactly was in our guts!
Zoe sends you a whole kit that includes a blood sugar test kit and a gut health test kit. AND you take it all at home! No doctor's visit necessary!
What was it like taking the test at home?
It was actually a lot easier than we initially thought! Zoe made it super easy to follow and it definitely wasn't as gross as I thought! You don't actually have to touch anything (which is what I was apprehensive about 🙈)
Pack it all up with the provided pre-postaged mailers and then it's off to the lab!
After about 3-4 weeks we had our results which came in a really informative PDF straight to our inbox!
My Results: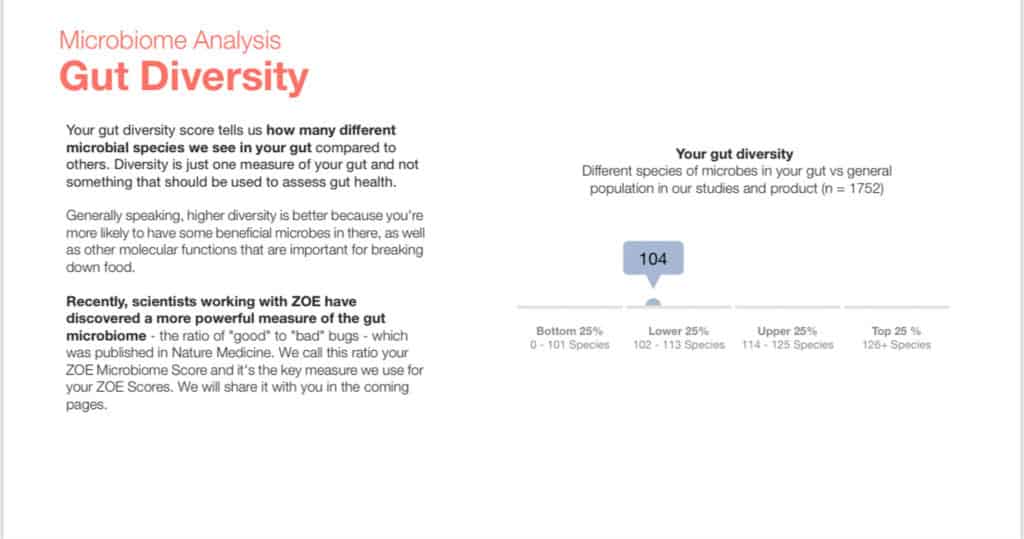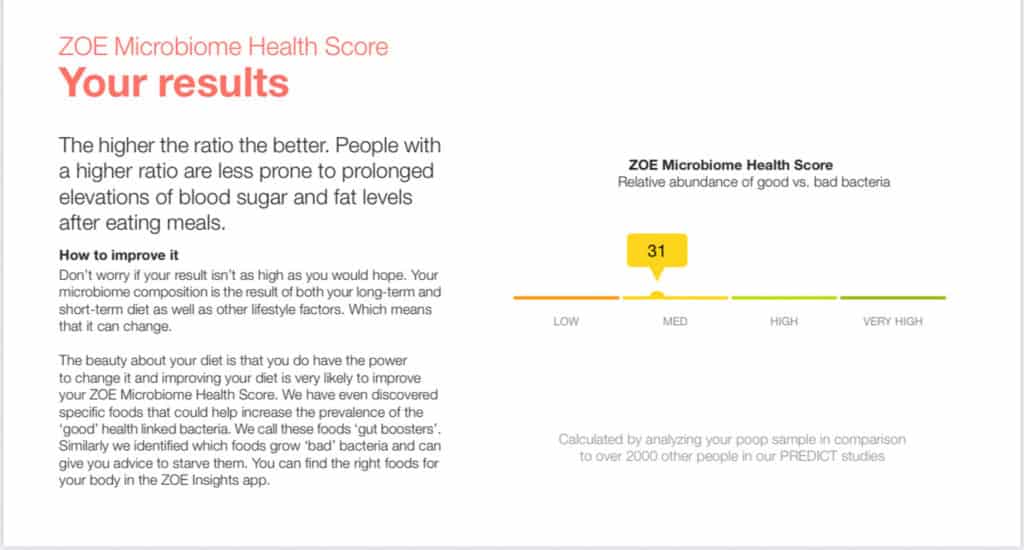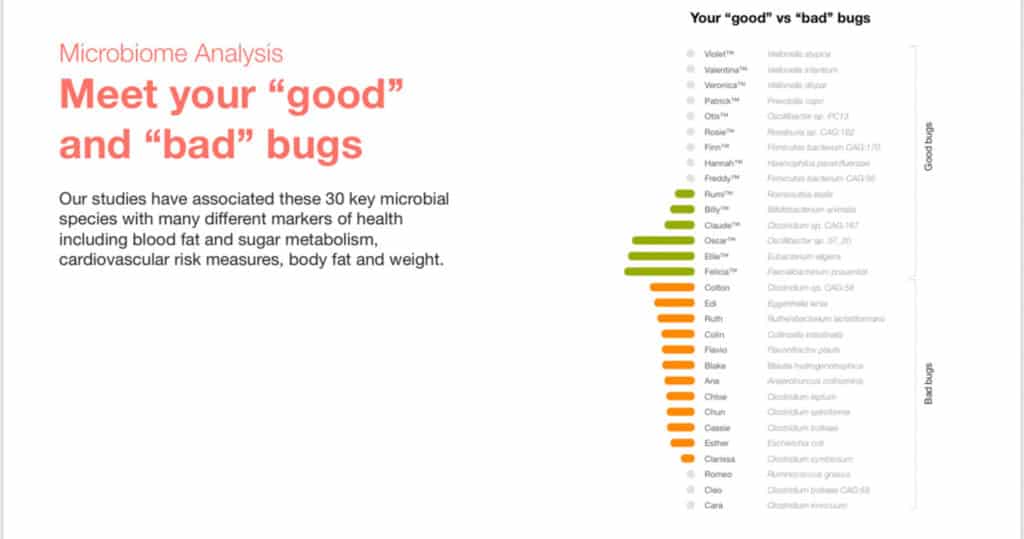 Here are the identified Gut Suppressors & Gut Boosters to help kill off the bad bacteria and create more good ones!
How this has positively changed my life:
Gut Health and WEIGHT LOSS
When I ditched diets completely back in 2019 I thought I would lose all my "progress" but to my surprise LISTENING to my body helped me maintain my weightloss.
But understanding how my body was reacting to certain foods was the missing KEY to living a healthy and sustainable life! Now that I know that eating pork and red meat (or cold cuts) impacts my gut, I limit my intake and guess what??? NO MORE BLOAT.
To me it's NOT restrictive because this is actually loving my body well. Inside and out.
And a side effect of loving your body well? Getting to your body's leanest self. (and note that your body will naturally start releasing a hormone called leptin.)
Leptin is a hormone that your gut will start producing once you get your gut on the right track that sends the "stop eating" signals to your brain. This way you physically CAN'T over eat. And when you are not over eating you are either maintaining or losing weight! HOW COOL IS THAT???
I'm NOT HUNGRY
When I decided to abandon diets completely I thought I would eat pizza and doritos forever. But that was SO not the case. My microbiome literally was sending chemicals to my BRAIN (read all about it in Fiber Fueled) and dreaming of veggies. Even though I was satisfying my cravings from a physiological perspective I was wreaking havoc on my gut and I was more bloated than ever and because I thought I was losing all my progress I knew something needed to change.
Now that I have my LONG list of foods that are all great for my gut! I can eat in abundance, not count calories and my clothes are getting looser!
By eating in ABUNDANCE. I eat lots of greens, fruits, fresh herbs, whole grains, lots of guacamole and avocado toast because avocados scored the highest in my gut booster list.
I'm no longer ANXIOUS
If you suffer from anxiety like I do, then you know how HUGE this is. I used to be on EDGE all day everyday. Even while listening to my body's hunger cues.
Studies have linked a healthy microbiome actually has control over cortisol release into your body. Meaning your gut can CAUSE you stress! By eating nutritionally dense foods (aka PLANTS) not only are you satiating your physical hunger BUT aligning the stars in your body which your gut just sighs happily and releases SEROTONIN instead. So literally eating foods to please your microbiome overlords literally will make you happy and less stressed!
I have a sense of calm everyday since eating MORE.
SUPER HIGH ENERGY
Jake and I both have been sleeping more soundly since focusing on our "gut boosters" and eating mostly plant based. Again, goal is NOT to be a vegetarian. Just to eat a diversity of vegetables and fruits daily!
We have had SO much energy! Sleeping so great at night has been so life giving. We get up at are able to get a good workout in. Not slug our way over to the gym. But actually energetically WANT to move our bodies!
Jake's Thoughts
After Amanda experienced the knowledge explosion using the ZOE information, I was excited to learn about my own microbiome! Upon reaching out to ZOE, I was gifted a ZOE kit in exchange for a comparison review of the process. The process was very straightforward and easy, just as Amanda described above. The interesting parts were uncovered upon receiving my results, there were differences!
TWO INDIVIDUALS (WITHIN THE SAME HOUSEHOLD, EATING NEARLY THE SAME FOODS) HAVE UNIQUE MICROBIOMES!
I have a uniquely diverse mircobiome, within the top 25%of the study, while Amanda is within the lower 25%. However the ZOE microbiome health score (ratio of good vs bad bacteria) was lower than Amanda's. Therefore, I need to increase my good gut bacteria!
The best part of my ZOE results, was the knowledge on what foods support my healthy gut.
I HAVE A WAY TO INCREASE MY ZOE SCORE, THANKS TO KNOWING WHAT MY GUT LIKES!
Bottom line, my ZOE results identified what foods to eat regularly, and what foods to avoid. The knowledge Amanda and I both gained will be invaluable moving forward to achieve our goals!