Kicking the sunny season off with this Summer Strawberry Salad recipe with avocados, crunchy pistachios, creamy goat cheese, and a homemade Strawberry Balsamic. Basically summer's bounty presented to you in a bowl.
This post may contain affiliate links. Every item on this page was chosen by The Kitcheneer team. The site may earn a commission on some products (read more here.)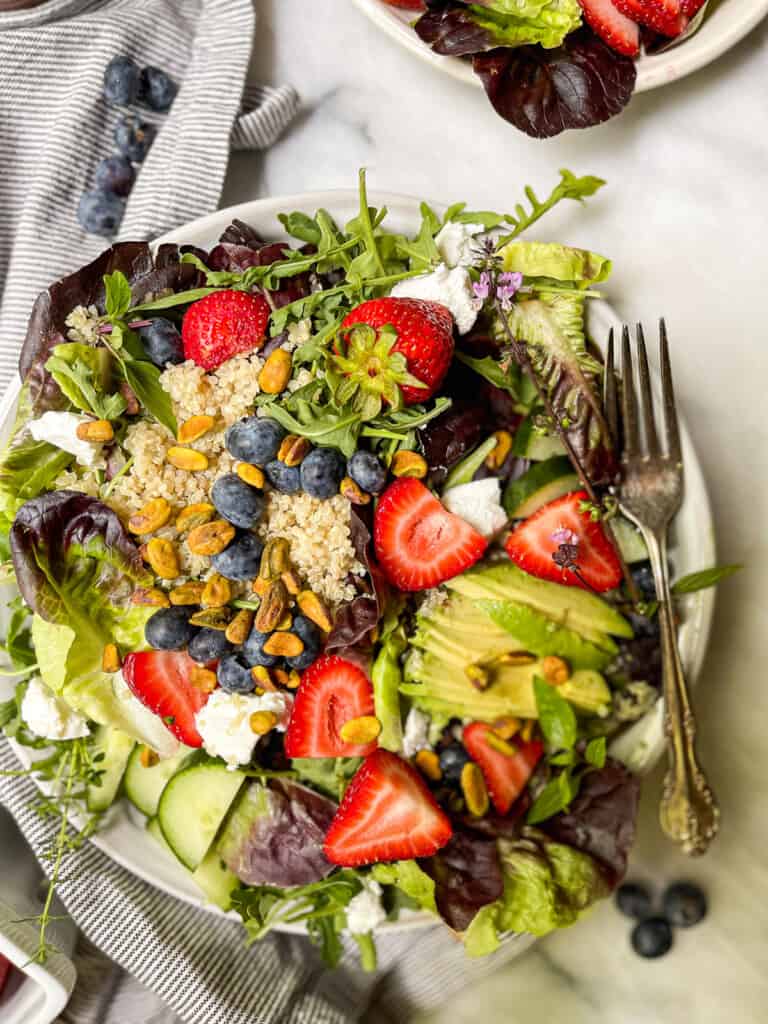 I have actually been making this strawberry spinach salad recipe for YEARS and actually never thought to make it into a blog post! (smacks forehead - like a V8 commercial). But better late than never right???
Jake and I are still exploring our green thumb abilities with our own organic gardening we have been doing this year. So far so good, but not ready to harvest quite yet! Our vertical garden stalk is FILLED with spinach, romaine, and spring mix and I am STOKED. Which is why every time I stare at them (like a loving -creepy plant mom does) I want to make salad. 🥗
Hence all the development of salad recipes over here. I love it! From this salad to this smoothie to this one here. Can't get enough green salad!
Jump to:
This Summer Strawberry Salad has it ALL
Not only are you going to be as obsessed as I am and making this everyday this summer, but it's PACKED with all the nutrient dense things we LOVE to fuel our bodies! And of COURSE taking advantage of all the warm weather fresh ingredients summer has to offer!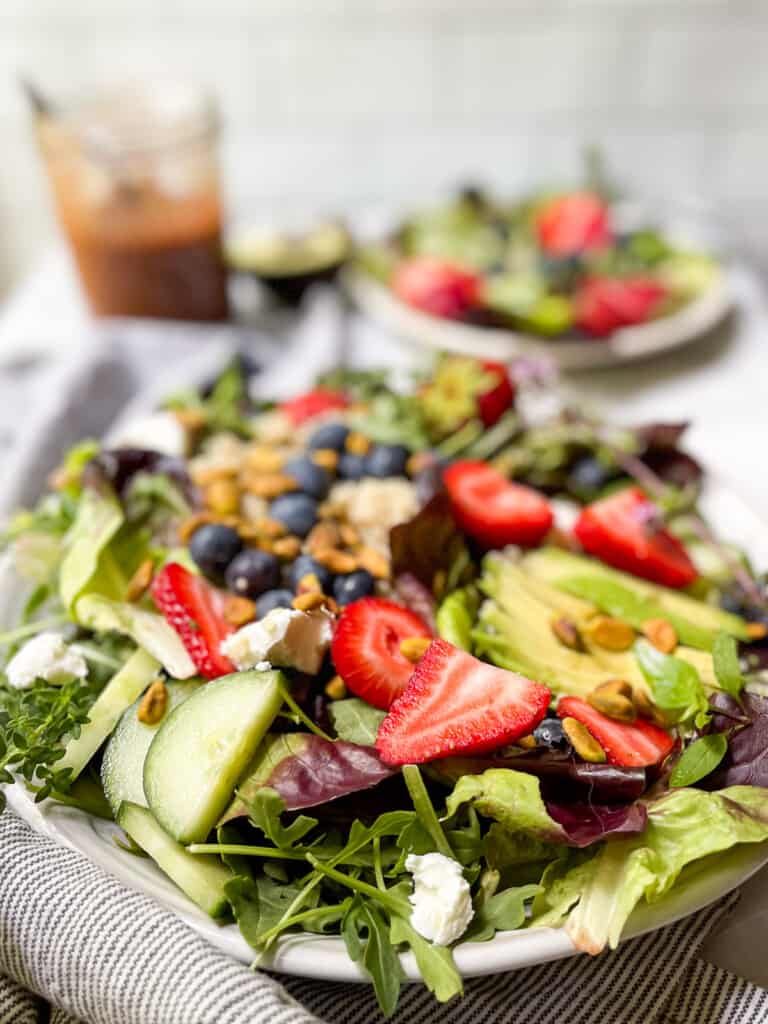 Lots of fresh sweet strawberries - because tis' the season 🍓
Tangy crumbly goat cheese - I LOVE goat cheese and if you are dairy sensitive - this is easy on the stomach.
Fresh crisp mixed greens of your choice
Crunchy pistachios - perfect texture for this summer salad
Homemade Strawberry Balsamic Vinaigrette! (I like to reduce some balsamic vinegar and add some fresh strawberries to simmer and muddle together) It is SO good and no extra added sugar here!
The Summer Strawberry Salad Process
This salad is actually VERY simple and I promise you probably have most of the things to make this already! Olive oil, vinegar, ripe strawberries, red onion, and leafy greens. DONE! 🥗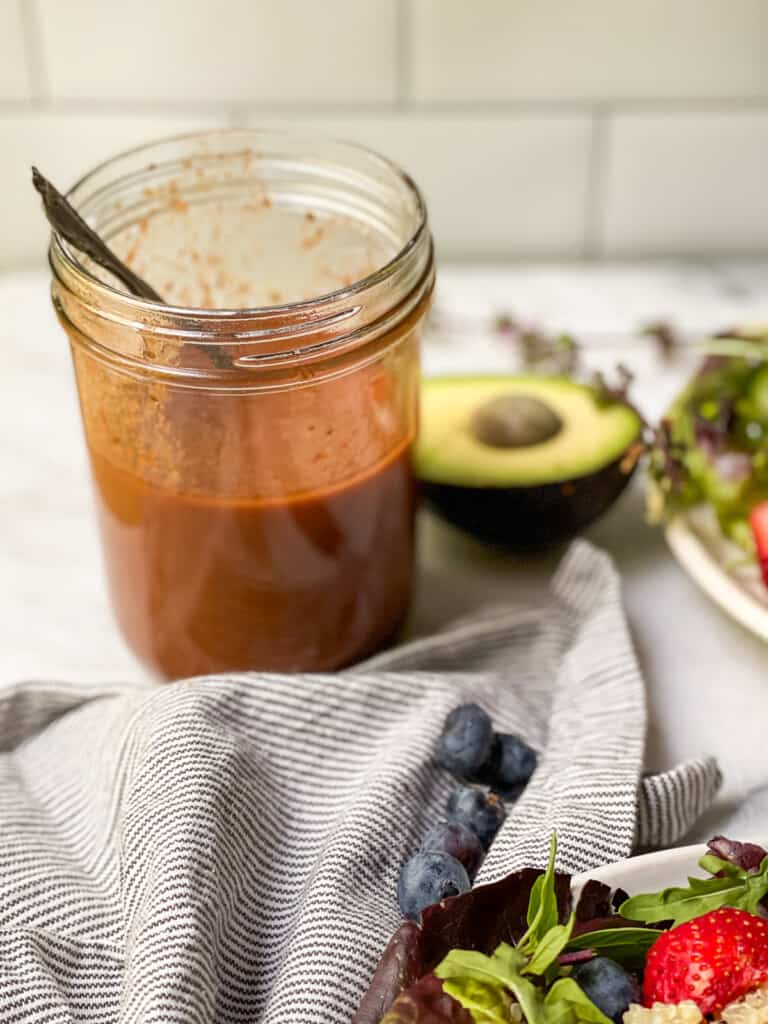 Make the salad dressing first, you can even make this ahead of time! Cool in the fridge while the rest of the salad comes together.
Toss some of those salad greens in a large bowl
Add the creamy goat cheese, cubed avocado, quinoa, pistachios, sunflower seeds, strawberries, crisp cucumber, and some bluebs for extra fresh fruit!
Toss with dressing and eat!
PRO TIP: Highly recommend making the strawberry vinaigrette dressing the day before so the flavors have more time to meld together and get all chilly and delicious! 🍓
Other ways to enjoy this Strawberry Summer Salad
Here are some simple swaps to enjoy this summer salad with strawberries
Add more CRUNCH - I love adding almonds or even crispy chickpeas to this salad
Add ExtraProtein to make it a complete meal - Add some grilled chicken, tuna, quinoa, or even some sautéed tempeh!
Add some fermented foods! - Fermented foods quite literally make superfoods even MORE nutritious believe it or not. Read Fiber Fueled to learn ALL about how FANTASTIC fermented food is to the gut!
How to store this Strawberry Summer Salad
Best thing I recommend making the Strawberry Balsamic Dressing ahead of time! This way it has time to get more flavorful and chilled thoroughly before making this delicious salad.
Keep salad separate from greens if you plan to store for another time.
Print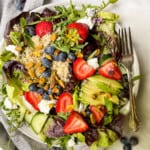 Summer Strawberry Salad 🍓
---
Author:

Total Time:

10 minutes

Yield:

4 servings

Diet:

Vegetarian
Description
crunchy pistachios, goat cheese, and a homemade Strawberry Balsamic. Basically summer's bounty presented to you in a bowl.  
---
Strawberry Balsamic Dressing
- ¼ cup balsamic vinegar 
- ½ cup strawberries
- 1 tbs dijon mustard
- 1 tbs honey
- ¾ avocado oil 
For the Strawberry Salad
- 4 cups of arugula
- 4 cups of spring mix 
- 2 cups of strawberries, sliced
- 1 avocado, cubed 
- 4oz of goat cheese
- ¼ cup of blueberries
- kosher salt & ground black pepper for seasoning
---
Instructions
Make the Dressing: In a small saucepan, bring the balsamic vinegar to a high simmer on medium high heat. Stir, then reduce heat to low and cook until the liquid has reduced by half and thickened (8 minutes). Remove from heat and allow to cool slightly. Muddle the strawberries in. 
Transfer to a wide mouth mason jar (or whatever container works), add the oil, mustard, and honey. With an immersion blender, blend the dressing until smooth. Store in the fridge until ready to eat. 
Assemble the salad: In a large salad bowl, toss the greens, strawberries, blueberries, avocado, goat cheese, and pistachios. Toss with dressing and serve! 
Prep Time:

10 minutes

Category:

Lunch

Method:

Stove Top

Cuisine:

American
Keywords: summer recipes, summer strawberry salad, berry salad, vegetarian recipes, summer salad