This Whole30 Plant Based bolognese recipe is going to be on REPEAT in your house because your whole family will be begging for it. Seriously. A slow-ish homemade ragu-style red sauce that is FILLED with good-for-you veggies. From meaty eggplant, fresh basil, soffritto, and served over veggie noodles. It's not only great if you are doing a Whole30 but will wow any vegetarian!
This post may contain affiliate links , please see our privacy policy for details.
What you are going to LOVE about this Whole30 Plant Based Bolognese
✔️ Literally checks the box for Meatless Mondays - whether you are on a plant based diet or not I ALWAY try to incorporate as many plants as possible in my diet to help my gut health!
✔️ It's Healthy Comfort Food - at the root of it all isn't that what we are going for here? Fall is HERE and that means that I want the cozy factor without the side effect of feeling fluffy after 😂
✔️ Traditional and Humble - just like the authentic bolognese sauce recipe (traditionally made ragu-style with beef or pork) but this is made with wholesome ingredients like carrots, celery, onion, diced tomatoes, a drizzle of balsamic vinegar, fresh and dried herbs, and lots of garlic and basil.
Whole30 Vegetarian Bolognese Ingredients
The ingredients needed for this recipe aren't anything crazy just simple ingredients... most are veggies I typically have in the fridge or pantry staples. (Note: full ingredient list and measurements are in the Recipe Card below)
Soffritto - essentially the aromatic basis of most Italian sauces, soups, stews, and braises. The finely diced combo of carrots, celery, and onion.
Garlic - If you know me, you know I AM A GARLIC LOVER. So of course I throw in 4-6 cloves in this recipe 😉
Eggplant - because this is traditionally a meat sauce I knew I needed to incorporate a "meaty" veggie like eggplant or mushroom. I went with eggplant because that sounded super good here. Plus I LOVE eggplant. And it also adds purple to the rainbow we are eating in this sauce.
More aromatics - such as bay leaves, black pepper, fresh thyme, and oregano.
Crushed Tomatoes -
Coconut Milk - A splash of cream is traditionally used in this meaty sauce, but because we are doing this vegan style and being dairy free; we are substituting coconut milk here. But again, if you are not doing a Plant Based Whole30 then please do a 1:1 swap with heavy cream or half and half.
How to make Whole30 Plant Based Bolognese?
The key to making the BEST vegetarian bolognese sauce at home is to REALLY let the flavors at each step come into their own. Meaning at each step of the process is like a new layer of flavor to the sauce. And because we are skipping out on the meat in this sauce recipe, it is VITAL to build each level of flavor. Also, don't be deterred by a few extra pieces of equipment needed for this sauce. It is WORTH it. It makes a pretty big batch which will SAVE YOU TIME in the days to come with lunches. It also freezes well so you can simply heat it up on the stove and voila! Dinner!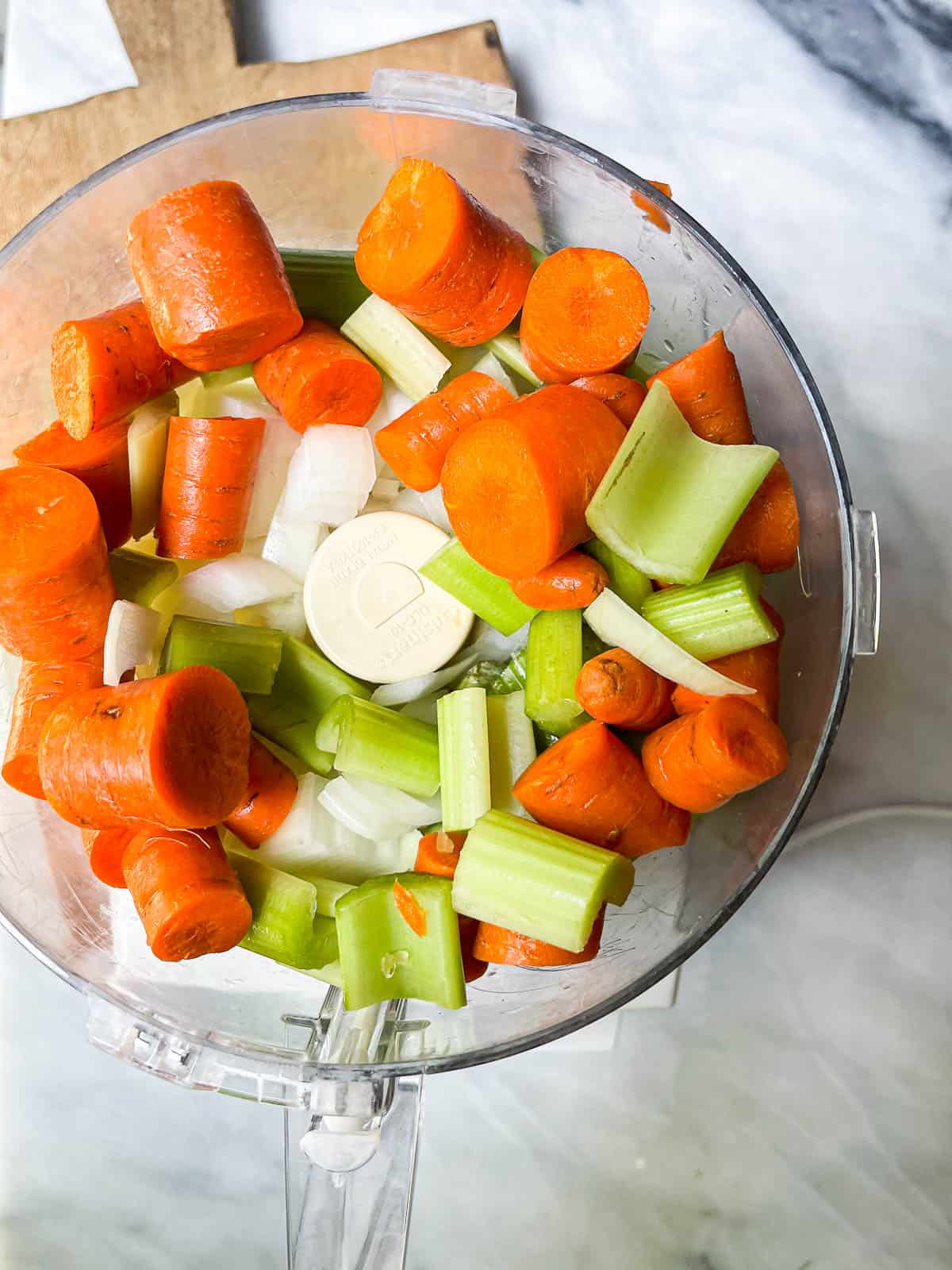 First is to add the roughly chopped carrots, celery, and onion to a food processor and pulse until broken down into fine pieces.
Grab a heavy bottom pot (like a Dutch Oven) or large skillet , drizzle some olive oil in it, then begin to brown the soffritto mix. You are looking for a deep brown on these veggies. Give it about 15 minutes with frequent stirring to prevent burning.
Add in and brown the tomato paste. Again, don't RUSH THESE STEPS. A lot of other ragu recipes on the web have you doing the above steps in a few minutes and honestly I DISAGREE. Taking your time on these small parts will equal a super great tasting sauce!
Now, we are ready to get saucy! Deglaze the pan with some broth and balsamic vinegar and add the tomatoes. Remember to scrape up any browned bits. BROWNED BITS = REAL GOOD FOOD.
Finally we add the aromatic/ fresh herbs ingredients and let it simmer for a while. Like an hour to 90 minutes. Which I know seems like a long time BUT the more it simmers the thicker it gets and it's the perfect lazy Sunday afternoon recipe as from this point only requires stirring very occasionally until it's done.
Last but certainly not least is adding the coconut milk. Again I chose coconut milk based on creaminess factors but if it's not your thing, you can swap it for almond milk here. This is NOT your run of the mill tomato sauce here.
Once the sauce has simmered down to it's thick, luscious perfection it can be immediately served over hearts of palm, spaghetti squash, zucchini noodles, or a generous portion of bucatini (if not on the Whole30). I LOVE a thick chewy noodle here. Which is why I recommend the hearts of palm pasta. It has the best texture/consistency out of the veggie noodle varieties.
FAQs 🍝
Can I use the Instant Pot or Slow cooker for this recipe?
Yes & Yes! See my recipe card below for all the details and directions for this.
Can I skip adding milk to the bolognese sauce?
I wouldn't recommend it. The milk lends a hand to building those layers of flavor we have been talking about! If you want that last bit of WHOA to this sauce DON'T SKIP IT.
Can I make this bolognese sauce ahead of time?
YES. This is meal plan HEAVEN right here. I love making a bunch of different sauces at the beginning of the week to toss with various bowls, salads, or pasta dishes. And dude, the sauce DEEPENS in flavor as it sits in the fridge 🤯
This will keep in an air-tight container for up to 5 days or keeps in the freezer for up to 2 months.
What are other veggie options I can use in this sauce?
In addition to eggplant (or instead of), I would use mushrooms and/or sweet potatoes in this hearty sauce.
Am I going to Bologna to sample the real deal soon? MAYBE. Sorry - not super relevant but I just HAD to mention that Jake and I are going to ITALY soon and Bologna may be on our list of places to stop! Aka the ORIGIN of the bolognese sauce! Maybe I will do a food travel post when we get back!
To sum this Whole30 Plant Based Bolognese up: It is a slow and simmer kind of sauce made with fresh ingredients and is one of those recipe ideas that will make a hearty meal for the whole family!
Need more Vegetarian Inspiration?
Print
Whole30 Plant Based Bolognese
---
Author:

Total Time:

1 hour 40 minutes

Yield:

6

servings

1

x
Description
This Whole30 Plant Based bolognese recipe is going to be on REPEAT in your house because your whole family will be begging for it. Seriously. A slow-ish homemade ragu-style red sauce that is FILLED with good-for-you veggies. From meaty eggplant, fresh basil, soffritto, and served over veggie noodles. It's not only great if you are doing a Whole30 but will wow any vegetarian!
---
2

tbs olive oil 

1

yellow onion, roughly chopped

3

carrots, roughly chopped

3

stalks of celery, chopped

5

-

6

garlic cloves, minced 

1

eggplant, diced 

1

can of tomato paste

1 cup

vegetable broth 

2

tbs balsamic vinegar 

1

28oz can of crushed tomatoes 

1 tsp

salt 

1 tsp

pepper 

1 tsp

dried parsley 

2 tsp

dried basil 

1 tsp

dried oregano 
---
Instructions
 Prep the veggies. 
Make the soffritto. In a food processor or blender, pulse the onion, carrot, and celery until finely minced. 
To a heavy bottomed pan (such as a Dutch oven), heat the olive oil on medium high heat. Add the soffritto & eggplant and brown the veggies stirring occasionally as to not burn them. (About 10 minutes) 
Add the tomato paste and garlic and stir to combine. Wait until the aroma begins filling up the kitchen (2 minutes). 
Deglaze the pot with the broth and vinegar. Make sure to scrape up any browned bits! 
Stir in the tomatoes and seasonings and bring to a simmer. 
Bring the heat down as low as it will go. Allow to simmer (stirring every so often) for 60- 90 minutes. Ideally 90 minutes to get the MOST flavor. 
Stir in the coconut milk. 
Serve over your favorite veggie noodle and eat! 
Prep Time:

10 minutes

Cook Time:

90 minutes

Category:

Dinner

Method:

Stove Top

Cuisine:

Italian
Keywords: bolognese, whole30, whole30 plant based, italian cuisine, vegetarian bolognese