These no bake almond butter granola bars are THE energy boost you need to fuel your body throughout the day! They are gluten free, studded with dried cranberries, and no cooking involved! No more store bought granola bars for you!
It's that time of year where you have to accept the fact that school is just around the corner. You can either sigh, kick and scream, or begrudgingly accept it. I was one of those kids that disliked the idea of going to school and spending 6-7 hours there, but LOVED learning and LOVED shopping for school supplies. I miss it now. But I never stop learning, as I try to learn something new all the time.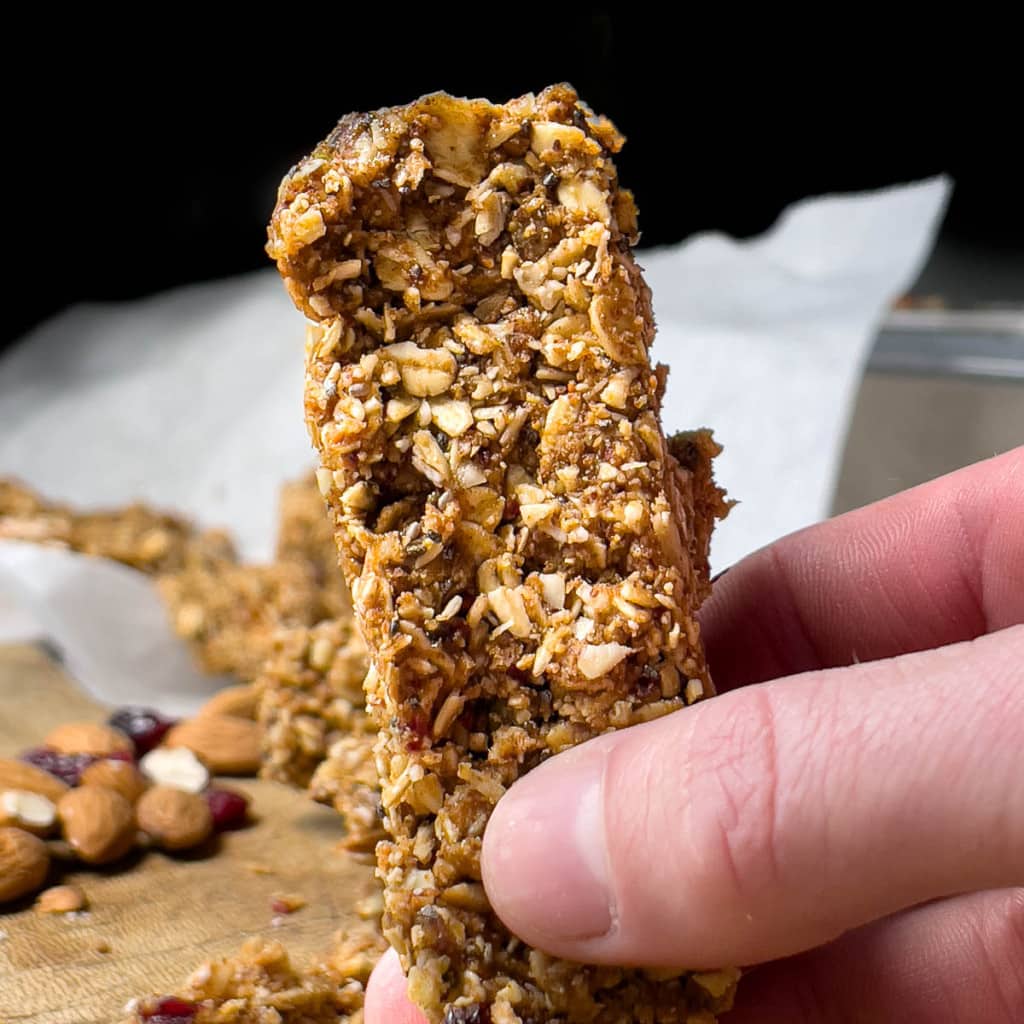 Skip the grocery store and see how EASY these almond butter granola bars are!
These are the sweet nutty meets salty flavor with a burst of fruit from the cranberries. What more can I say?
What I LOVE about these almond butter granola bars is how easy peasy they are to make. Just combine everything in a large mixing bowl, spread into an even layer in a parchment paper lined bread pan, chill it, then cut it into bars. DONE.
None of that cooking business. Just give me the chewy crunchy yet sweet satisfying granola bars!
No Bake Almond Butter Granola Bar Ingredients
Gluten Free Rolled Oats - Keep it simple with these rolled oats. And oats are naturally gluten free (so unless you have Celiacs) any rolled oats will do here but double check the bag to make sure it's made in GF free facility if it is important to your health 💛
Almond Butter - I love the all natural drippy almond butter made from just almonds with a touch of salt. But feel free to substitute another nut butter or a seed based butter if you have allergens.
Chia Seeds - To not only provide another layer of crunchy texture but to add to our list of diversity of plants in this single granola bar! Plus the health benefits of chia seeds are BOMB. They contain fiber, protein, AND Omega 3s! Did you know that one of the 3 neuropods in your gut are pre-programmed to CRAVE omega 3s and can combat your sugar cravings?!
Pure Maple Syrup - Even better if it is organic (less toxins entering your body) if you are interested in learning why organic is worth it for some foods click here. But maple syrup is my personal favorite plant based sweetener! I use it in my coffee all the time!
Cinnamon - SO many reasons I am a cinnamon slut. I said it. I am OBSESSED with it. But there again are so many health benefits of cinnamon it's UNREAL. It not only helps regulate blood sugar levels but is also a major anti-inflammatory agent.
Dried Cranberries - but make it unsweetened. We don't want any of that refined processed sugar crap in here 👋. It is one of the few plants out there that can increase your gut boosting levels of Akkermansia. Basically boosting this Short Chain Fatty Acid (SCFA) - BRAIN FOOD and helps your gut filters out the bad stuff and keeps all the good things. Want to learn more? Click here.
Homemade Granola Bars FAQ
How do I get granola bars to stick together?
While there are several sticky ingredients to get your homemade granola bars to stick together. We have found that pure maple syrup or honey does the trick! It acts as the glue to stick everything together!
If you find that your granola bars are still crumbly, add a table spoon or more of maple syrup or almond butter.

PRO TIP: Freeze for 30 to 45 minutes prior to cutting. THEN wrap individually and store in the freezer. Makes for a cool chilly snack on a hot day!
Are Granola bars healthy?
Short answer:depends. The store bought brands are so full of chemicals and processed refined sugars that wreak havoc on your gut. Sugar raises insulin levels and can create lag in your metabolism over time!

Making homemade granola bars are the sure fire way to create healthy granola bars. Using REAL from the earth ingredients. In these granola bars we are using a plethora of plants and natural sweeteners. PERFECT for a healthy convenient snack!

These granola bars are PACKED with fiber which means not only good for your gut BUT good for any weight loss or weight management goals you may have!
How do I store homemade granola bars?
Once you have cut the bars, wrap individually in plastic wrap or parchment paper as they will stick together if stored together.
Will keep in the freezer for up to 2 weeks.
The Process of making Healthy Homemade Granola Bars
These granola bars are so easy to throw together! I typically make these every other month and store in the freezer for on the go snacks!
Simply mix everything together in a food processor. This ensure small texture and allows everything to stick together. But if you want a different texture you can mix half in a mixing bowl and half in a food processor.
Just ensure that if the mixture is too crumbly to add more almond butter until it's nice and sticky.
Next, press the mixture HARD into a parchment paper lined baking pan. The harder it is pressed, the more likely it won't crumble at all.
Freeze, cut into bars, drizzle with chocolate, and EAT.
Print
No Bake Almond Butter Granola Bars (with Cranberries)
---
Author:

Total Time:

45 minutes

Yield:

8

-

10

bars

1

x

Diet:

Gluten Free
Description
These No Bake Almond Butter Granola Bars (with cranberries) are the perfect healthy snack or breakfast to go that will help fuel your day! Soft chewy granola bars studded with dried cranberries topped with flaky sea salt is the sweet and salty combo we all love in a good granola bar. No more store bought granola bars again! 
---
1 ⅓ cup

of gluten free rolled oats

⅓ cup

of unsweetened shredded coconut

⅓ cup

of raw almonds, roughly chopped

2

tbs pumpkin seeds

1

tbs chia seeds

½ tsp

ground cinnamon
Pinch of sea salt
 ½ cup pure maple syrup

1 tsp

vanilla

1 cup

of almond butter

¼ cup

of no sugar added dried cranberries 
For the chocolate drizzle: 
⅓ cup

of dairy free chocolate chips (my favorite are these) 

1

tbs coconut oil 
---
Instructions
To a large mixing bowl, add in all ingredients. Stir until thoroughly combined.
To a food processor, add half (or all of the mixture - depends on what texture you want). I like more whole pieces of almond in mine. So i put half the mixture in the food processor and pulsed until thoroughly chopped. 
Place a piece of parchment paper in the bottom of an 9x9 baking dish. With a wooden spoon or spatula, press the granola mix into the pan. Freeze for 30-45 minutes. 
Cut into 8-10 bars. Drizzle with chocolate (if desired)* Top with flaky sea salt.
Wrap individually in plastic wrap or parchment paper as they will stick together if you want to store them together.Keep in freezer - keeps up to 3 weeks. 
Notes
* To make the chocolate drizzle - In a microwavable container add the chocolate and coconut oil. In 30 second increments, microwave and stir in between increments until completely melted. Drizzle over bars. Also makes a great "magic shell" for ice cream! 
*Use a very sharp knife to cut through the bars to prevent crumbling. If it does crumble slightly, thats OK. I just added those pieces to my granola container 🙂 
Category:

Breakfast

Cuisine:

American
Keywords: homemade granola bar, healthy granola bar, no bake granola bar, almond butter granola bar