This Whole30 EGGLESS breakfast is one of my favorites. AND it can be a great choice to meal prep on the weekends and put on top a bed of greens when your in a rush to get to work/school! Sauteed veggies, browned chicken sausage, and caramelized butternut squash...this makes the easiest and quick recipes for breakfast, lunch, or dinner!
Guys, I feel like I have been on fast forward this past week. Lots of things going on in my working world (good things!), trying to establish an actual blog calendar for the year (includes realistic timeline, brands, trends (who knew almond butter is OUT in 2019?!), and finishing the fireplace and pantry this weekend!
Oh.... and we may or may not be looking at puppies this coming weekend!!!! SO MANY THINGS happening and I can't ait for them all!
That's why I stick to my nutrition by coming up with quick, simple, and tasty recipes for myself and FOR YOU too!
Bring in this Whole30 Breakfast Skillet.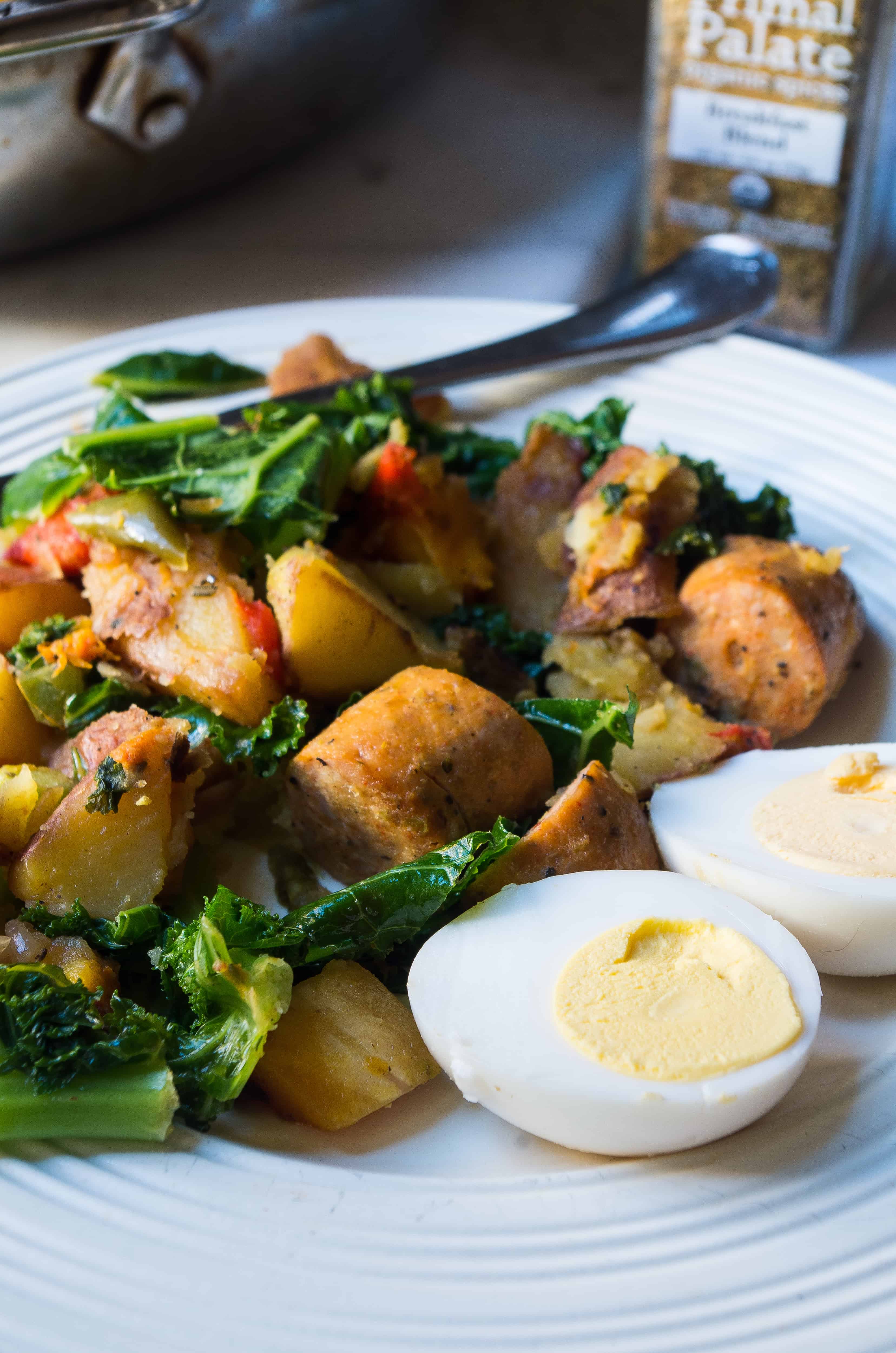 I make this one pan meal on a weekly basis because I use up my leftover produce that didn't get used during the week!
It's SO versatile!
For this one I used:
Biliniski's Chicken Sausage ( MY FAVORITE brand of chicken sausage)
Bell Peppers
Onion
Potatoes (red or sweet potato is great here!)
Butternut squash
But, like I said use what you have on hand! No need to go to the store unnecessarily and spend money on more stuff!
I buy produce seasonally.
Meaning in the winter months I use butternut squash, sweet potatoes, apples, and kale.
In the warmer months, I love shallots, garlic, spinach, peppers, onion, zucchini, whatever you have on hand!!
Basically, its the best one pan dish to have when your in a hurry or to split into several meals for your weekly meal prep!
And if you like this breakfast, be sure to check out the many others I have here on the blog!
Homemade Blueberry and Sage Sausage
Whole30 Spicy Sheetpan Breakfast
Print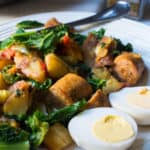 Whole30 Chicken Sausage Breakfast Skillet
---
1 tbs ghee butter (clarified butter) or your choice of cooking fat
4 garlic cloves, minced
1 medium sized butternut squash, peeled, de-seeded, and diced
½ lb of red potatoes, diced
2 bell peppers, cut into strips
1 small onion, diced
1 package of compliant chicken sausage, cut into pieces
1 tsp salt
1 tsp pepper
2 tsp of Primal Palate's Breakfast Blend Seasoning (this stuff is BOMB)
Few handfuls of kale
---
Instructions
In a large skillet, add ghee on medium heat until melted
Add garlic and onion, saute for 5 minutes or until softened
Add squash and potatoes plus seasoning
Stir and saute squash and potatoes for 5 minutes
Add bell peppers and sausage
Stir frequently (every 2-3 minutes) until sausage has browned
Cover to finish softening the squash (5-7 minutes)
Stir in kale
Serve on its own or on top of greens!