Want to learn how to grow broccoli sprouts on your kitchen counter? I have been OBSESSED with these little peppery tasting greens for the past year and love adding them to pretty much everything! It is also super budget friendly to grow broccoli sprouts at the home vs buying at the store. For only 2 tbs of seeds you can grow what would cost you $14 at the store! 🤯
One 4oz bag of broccoli sprouts seeds you can grow over $50 worth of broccoli sprouts!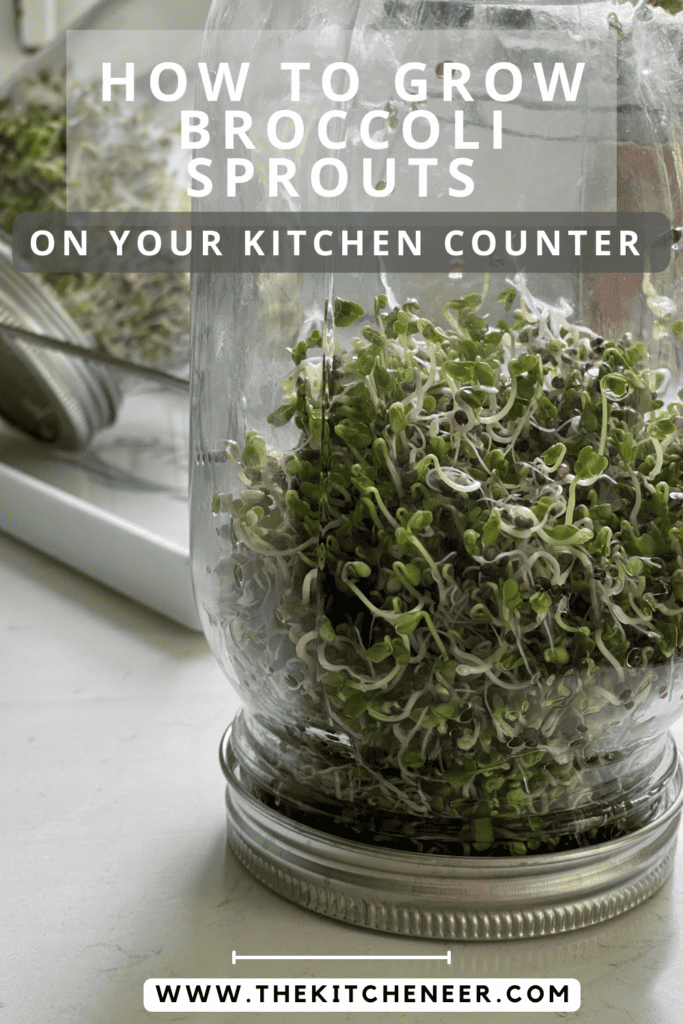 After learning about gut health and about how eating a diversity of plants can improve our wellness over all, I read about broccoli sprouts in Dr. Bulsiewicz's book Fiber Fueled. Broccoli sprouts are literally just baby broccoli plants. And we all know that broccoli is a cruciferous vegetable. And cruciferous veggies are known for their super chemical they can produce called sulforaphane.
What is sulforaphane?
It is technically a defense mechanism deployed by cruciferous veggies. The cruciferous use an enzyme called myrosinase to convert glucosinolates into "toxic" compounds. When the plant begins to be eaten, it sets off the defense leading to the production of isothiocyanates (ITCs) aka sulforaphane bomb.
What are the health benefits of sulforaphanes?
- Studies have linked consumption of suforaphanes to cancer prevention!
- Works as a powerful antioxidant
- Reduces amyloid beta plaques and improves cognitive impairment in Alzheimer's patients
- Boosts brain function
- Improves mood, as well as anxiety and depression
- Shuts down the pro-inflammatory pathways
- Flips the body into FAT BURNING mode!
- Assists in repairing a leaky gut
- I COULD keep going!
What is the health benefit of broccoli sprouts?
I had to build you up on the sulforaphane knowledge to tell you the amazing thing about broccoli sprouts.

BROCCOLI SPROUTS HAVE 100X the amount of sulforphane production than mature broccoli.

This means you can get all the benefits of what is listed above with only a small amount of broccoli sprouts! 🤯
How long does it take to grow broccoli sprouts?
Only 3-5 days from seed to harvest! YUP. That's why I started growing broccoli sprouts at home every week!
Time needed: 4 days.
How to Grow Broccoli Sprouts on your Kitchen Counter!
Soak the seeds

In your jar, add 2 tbs of broccoli sprouting seeds plus enough water to thoroughly cover all seeds by a few inches. Let soak for 6-8 hours.

Drain and put jar on rack

After 6-8 hours, drain the seeds and place The sprouting jar I linked above came with a nice draining dish and rack to set the jars on. This allows the seeds to not become too moist sitting in water.

Sprout the Seeds!

After about a day the seeds will crack open. Hooray we are sprouting! Simply rinse and drain the seeds 2-3x a day. That's it!
To rinse: Fill the jar with fresh water, swirl around, and drain through the mesh lid. Place back in draining rack area. (Ideally near a sunny window).

Harvest & Store!

After about 3-5 days of rinsing and draining your sprouts, they should be ready to eat!
To store: Lay a clean paper towel in the bottom of a glass container and store in the fridge for 3-5 days.
You can also freeze broccoli sprouts for up to a month. They won't lose any of their nutritional value either! In fact they might even become more sulforaphane dense! 🥦