Smoked Tri Tip roast - a seriously MUST have on your grill this season. This easy recipe will help guide you on how to smoke a tri tip low and slow and PACKED with flavor. Seasoned with a simple rub of black pepper, garlic, sea salt, and a hint of ground coffee makes this tri tip steak super tender, juicy and perfect to serve all summer long, Father's Day, backyard BBQ, and 4th of July!
This post may contain affiliate links. Please see my Privacy Policy for more details.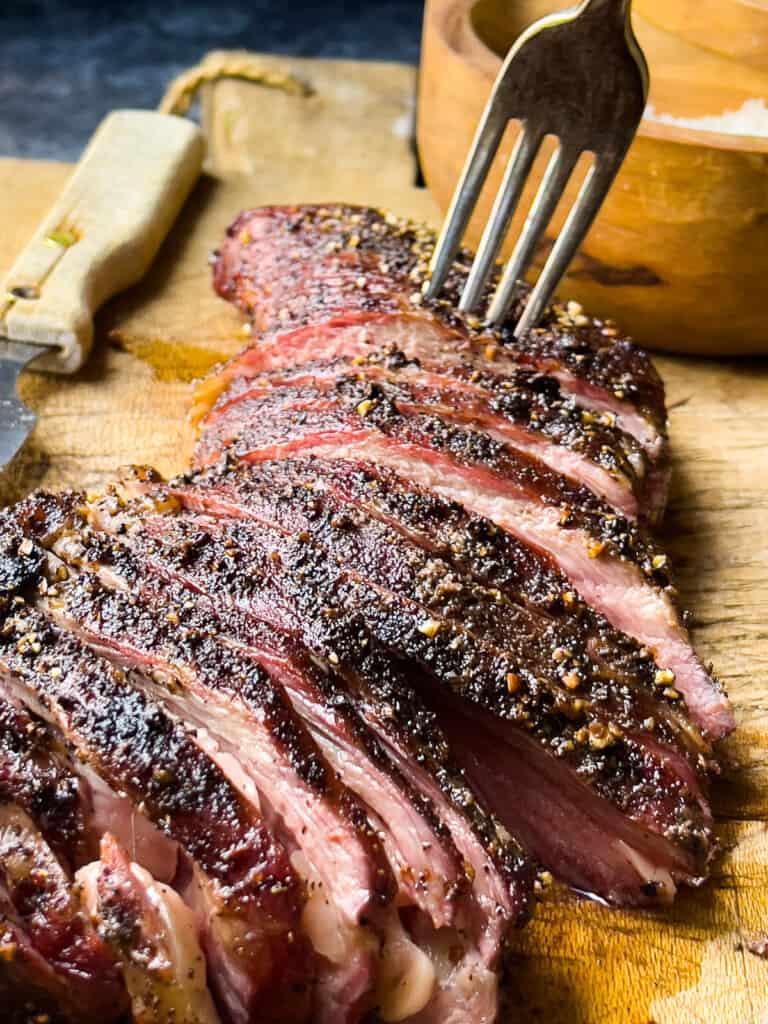 What is Tri Tip anyways?
Tri tip is a triangular shape steak is cut from the bottom part of the bottom of the sirloin. It is a lean cut of beef that when cooked with indirect heat (aka smoked), makes for the perfect cut to throw on the smoker and cook low and slow. The fact that it is lean means, that the longer you smoke it, the more tender it becomes. The lean muscle fibers begin to loosen making for a very yummy tender cut that I KNOW will become your new favorite! I used my Traeger Grill (pellet grill) for this recipe and I honestly will always choose this cooking process going forward. It is also a widely popular cut on the west coast and is becoming more popular and available everywhere. I typically get my tri tip cuts (here on the east coast) from Butcher Box. This way I know it's the highest quality (has a nice little fat cap - which adds even MORE flavor as the smoking process renders it down). Butcher Box has actually LOWERED our grocery cost per month on meat... I know. I am actually shocked that we were spending more on meat per month before trying Butcher Box. If you have been asking, yes. Butcher Box is worth the hype. If you want to try and save $30 off your first order, click here!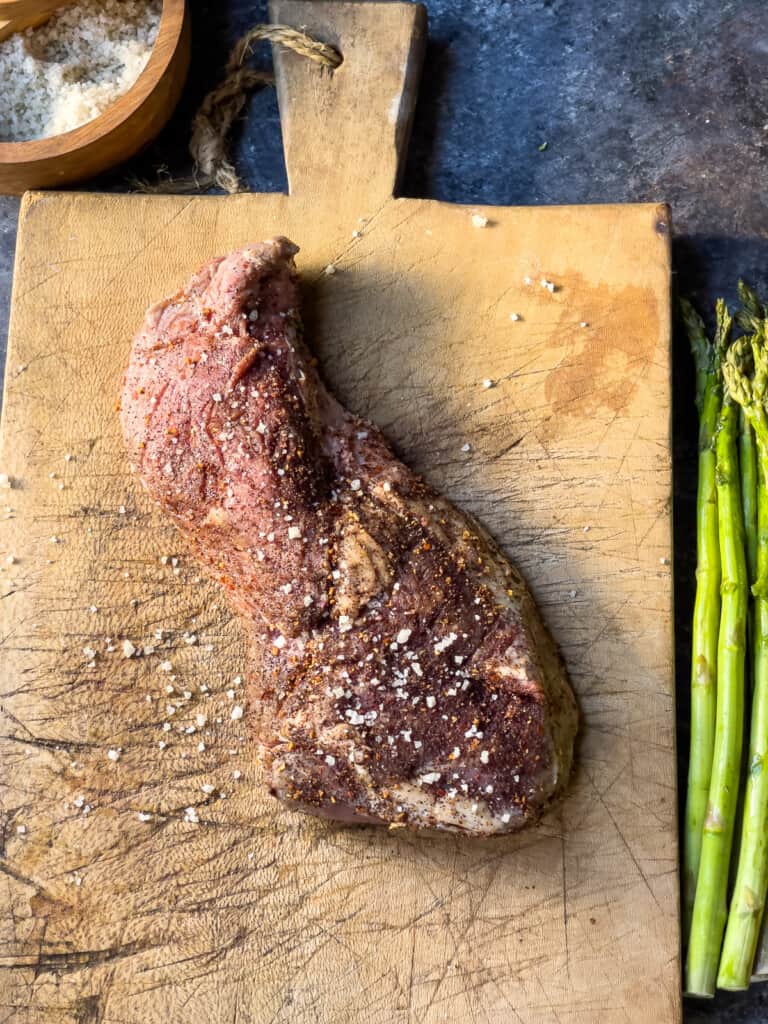 What you will need
Tri tip roast - of course!
Seasoning - I like to use a simple dry rub for this cut consisting of black pepper, kosher salt, garlic powder, and a touch of ground coffee!
Flavor Boosts - ghee (Fourth & Heart is my favorite!) or grassfed butter, garlic, herbs.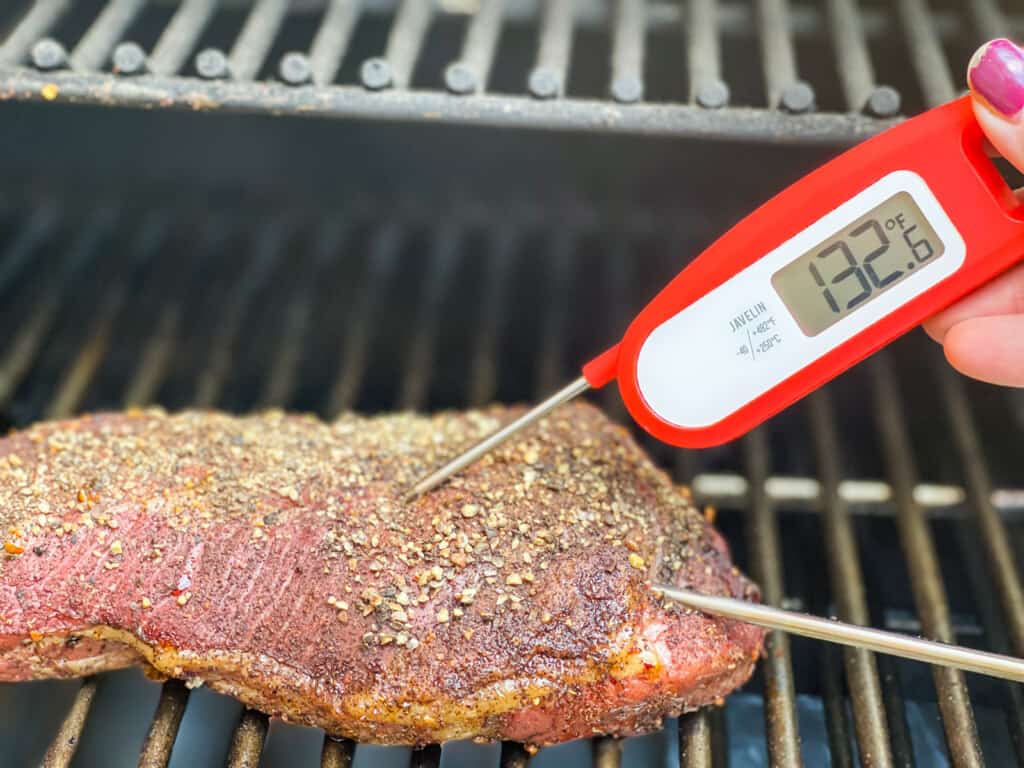 How to Smoke Tri Tip
You can smoke this cut of meat on any smoker/grill you have available as long as it can maintain a 225 degrees f. It is ESSENTIAL to maintain this temperature to achieve the ULTIMATE smoke flavor and those delicious looking smoke rings we all love to see!
Once the trip tip has been seasoned (at room temperature). Place in the preheated smoker at 225 degrees f, close the lid and let it do it's thing for about 2 hours or a desired internal temperature has been reached. I HIGHLY recommend a medium temperature steak (145F) AND to take it off the grill when it's about 10 degrees less (so 135F). Our Traeger pellet smoker actually has a digital thermometer that allows us to view the internal temperature the entire time. This means perfect timing when achieving that glorious final temperature EVERY TIME.
This is because in the final step, the tri tip is seared in a cast iron skillet (or any skillet) on high heat with a little butter or ghee to lock in the juices. This will bring the internal temperature up to that gorgeous 145F. Getting a meat thermometer is CRUCIAL to achieving the perfect doneness to your steak.
Once your steak has reached the desired temperature, remove from heat and allow to rest for about 15 minutes. DO NOT slice into this baby until it has rested. The resting period allows all those juices and flavors to get LOCKED in there. And PEEPS we worked HARD for those flavors. So don't ruin it in the last quarter. You hear me?! This will guarantee the best results.
Using a cutting board and a carving knife, slice against the grain of the meat.
Should I sear my Tri Tip BEFORE smoking?
Short answer, no. I do not recommend searing this cut BEFORE smoking. This can result in a dry and over cooked steak. Which is a big faux pas in my book. The actual technique we are using in this recipe is something called "reverse sear". This means you first smoke the tri tip THEN flash sear it quickly to get that nice crust we all love and captures allllllll of the smoky flavor.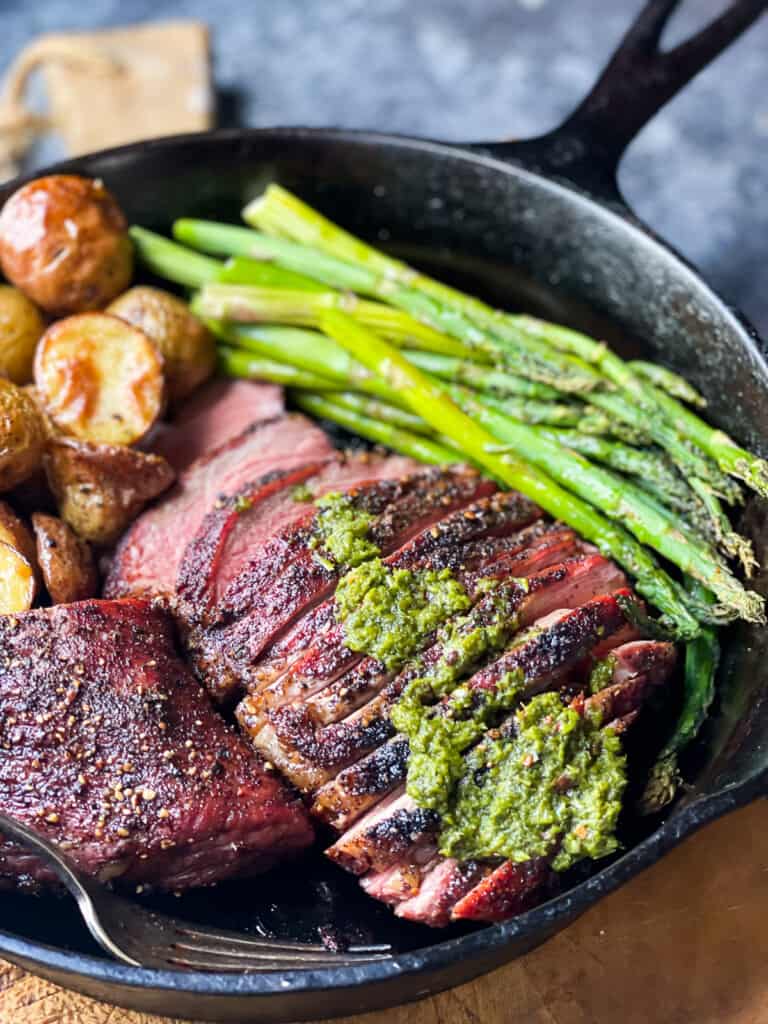 What to Serve with Tri Tip Roast
The options are literally endless on what to serve with this roast! My favorite way to serve this with a side of air fried baby potatoes (simply dress with S&P, 2 tbs evoo, and air fry for about 20 minutes at 400 F) plus a side salad. Or serving with some smashed brussel sprouts, and mashed potatoes. The easiest way IMO is to cut into thin slices and serve over a bed of greens. Try it over my favorite kale bacon salad!
Other grilling recipes you might like
Print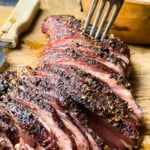 Seriously the Best Smoked Tri Tip
---
Description
Smoked Tri Tip roast - a seriously MUST have on your grill this season. This easy recipe will help guide you on how to smoke a tri tip low and slow and PACKED with flavor.
---
2

-

3

lb tri tip roast

2 tsp

kosher salt

3 tsp

ground black pepper

1

tbs ground coffee

2 tsp

garlic powder

2

tbs ghee or grassfed butter

3

sprigs of fresh thyme or your choice of herb (rosemary, parsley, and sage work well here)
---
Instructions
Preheat your grill to 225F. Close the lid once it reaches this temperature.
Prep your steak. Season all sides of the steak with salt, pepper, coffee, and garlic powder
Place the tri tip directly on the grill, close the lid and remove from the smoker once the internal temperature (taken from the thickest part of the meat) is with in 5-10 degrees of the desired doneness. For a medium, take off the grill at 130-140F.
Sear the tri tip. Preheat a cast-iron steak on high heat. Once you can see it start to smoke, add the butter and sear the tri tip on both sides for about 1-2 minutes per side. The internal temperature should be 145F (for medium).
Allow the steak to rest. Resting time is about 15 minutes.
Slice and serve!