I left my heart in Italy. But specifically in Tuscany. The limitless rolling hills, dark green cypress trees, the gorgeous sunsets over the countryside, and medieval towns studded everywhere with bits of hidden gems and history. There honestly SO much to do and we can't wait to go back again ourselves! We came back IN love with Tuscany and honestly out of the three places we visited; from Venice to Tuscany to Rome... Tuscany wins hands down. I cried when we left this magical place and even asked Jake if we can just skip Rome! 🙃 And I wanted to share our 3 Days in Tuscany Itinerary with YOU.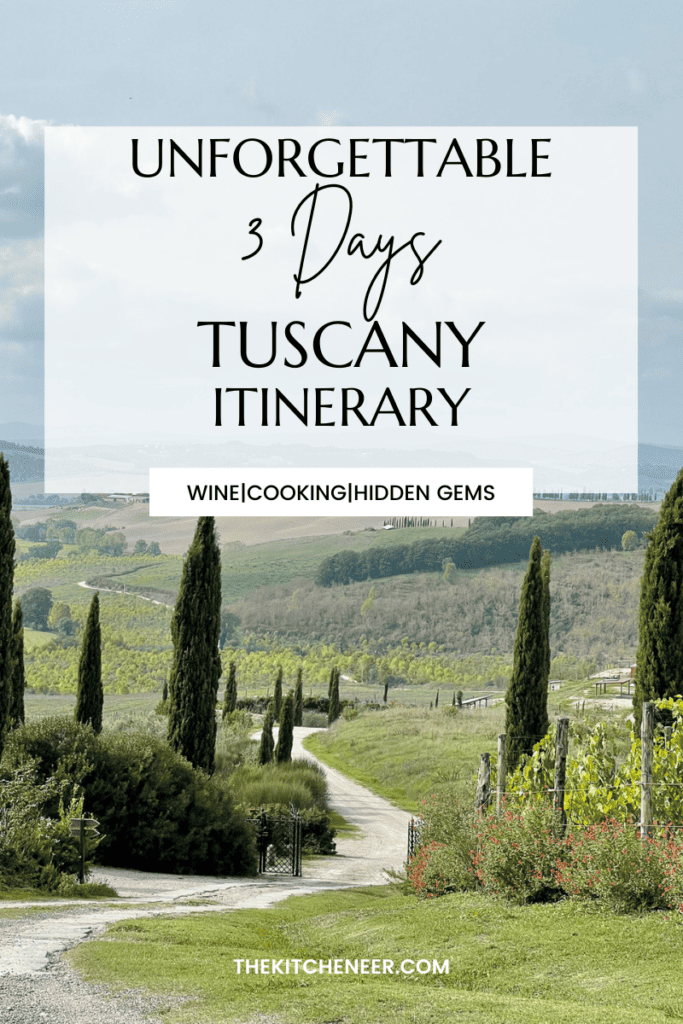 The Tuscan countryside offers more than just scenic beauty beyond words; but it also offers: history, culture, food, WINE, and so many outdoor activities.
This post like my other travel posts is going to provide you with an itinerary based on our own personal experience! We visited the Tuscan countryside this past October 2022 and plan on heading back this year too!
When we planned this trip last summer, I did A LOT of research on how long we were staying and to make the most use of our time AND on budget! So our trip started with 2 days in Venice, then we rented a car from the Venice airport, and drove down the autostrada (Italian highway) for roughly 3 hours to the magical land of Tuscany.
This is where our 3 Day Tuscan adventure begins, I hope you are ready to buy your plane tickets! Welcome to Part II of our Italy adventure!
1. Stay In An Agriturismo
Not only is this a VERY cost effective way to stay in the Tuscan countryside but it's is an absolute MUST to be completely immersed in the Italian culture and have a true authentic Tuscan experience. For us we stayed at the Podere Cunina and had the BEST time of our lives.
Basically you stay in a small apartment on a family's property (like a mix between and Air BnB and a hotel) but you get to stay in a historical Italian country inn!
I mean, look at our view! (That isn't a painting!).
Everything on this property was grown from ruins by this lovely family. A 16th century farm turned into a GORGEOUS Tuscan Podere! You can enjoy delicious food and coffee from your patio, take a dip in the pool, take a cooking class with their son Marcello (who is a chef and wine sommelier) - it's where we learned to make this eggplant parmigiana!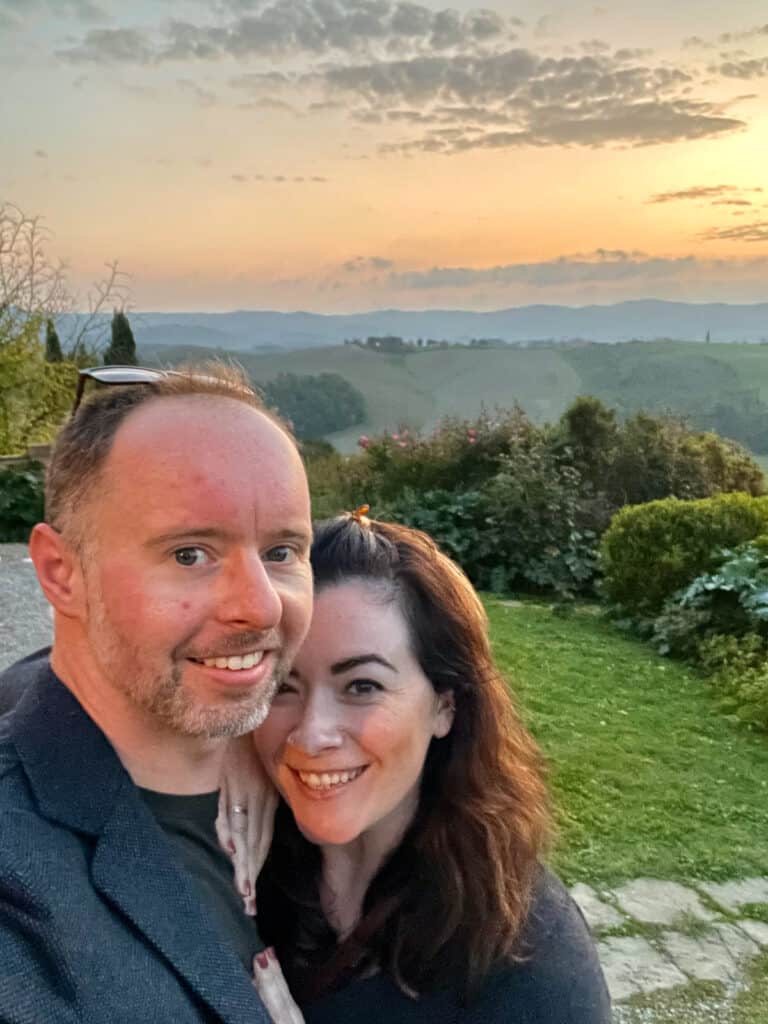 We arrived mid-day from Venice to our agriturismo and were greeted by owner Silvana. She is LOVELY. We got a tour of the property and our apartment and we were SMITTEN. Then spent the afternoon relaxing, settling in, reading a book while watching the Tuscan sunset, enjoying the best view,and then went to dinner at the La Porta Di Sotto in the town of Buonconvento.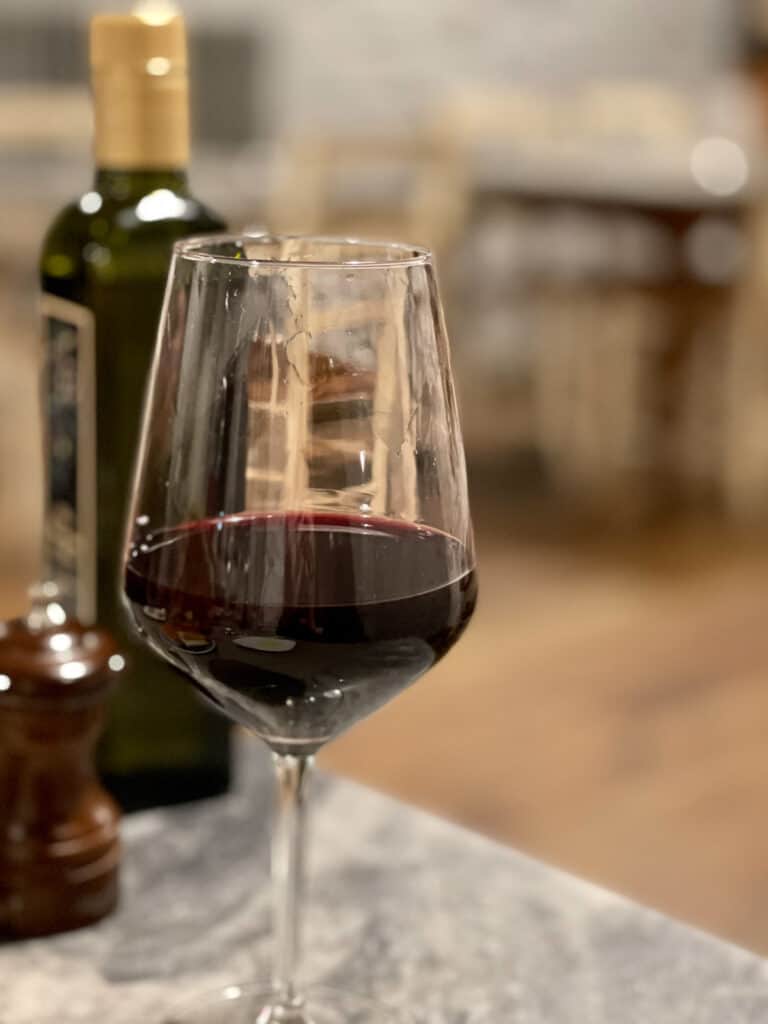 We fell absolutely in LOVE with Buonconvento. Which is a tiny sleepy town hidden by ancient medieval walls. The culture here is absolutely one with a posture of hospitality. We felt SO welcome and immersed here with no questions asked and our lack of Italian language.
So, Day 1 recommendation - Find an agriturismo to stay in and EXPLORE.
Day 2 - Take a Cooking Class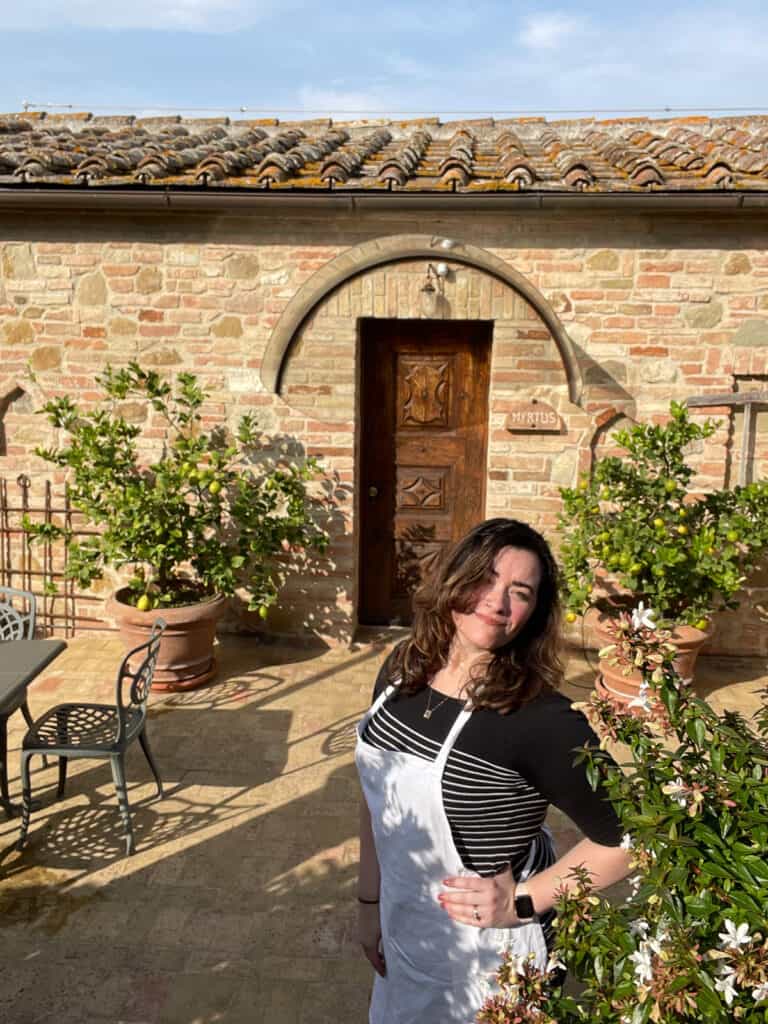 Basically our agriturismo became our one stop shop! Silvana told us her own son teaches cooking classes and I said, "Sign us up!". We spent the day in their Tuscan gardens to pick our own herbs and eggplants for the four course meal we were about to prepare.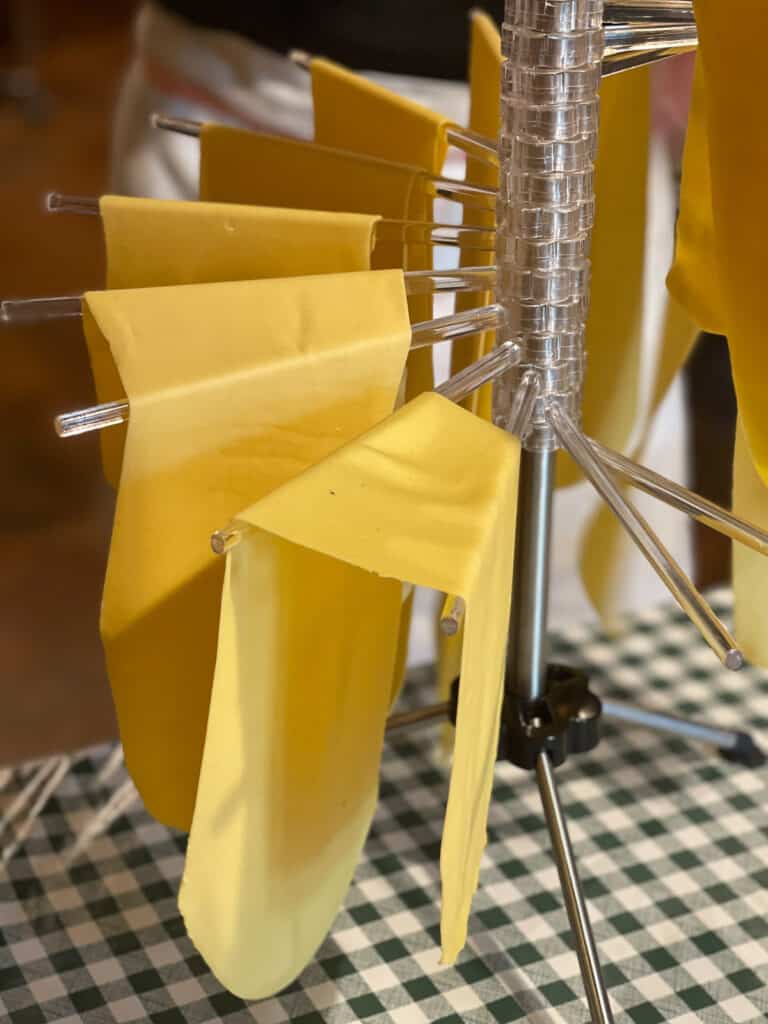 Marcello taught us so much from how to make an authentic bolognese sauce, to making pasta, to how to tell fresh olive oil from bad. And the food was WORTH IT. We started with our eggplant parmigiana course, followed by bolognese over our homemade fettuccine pasta, then the strocata (Italian pot roast) with roasted pumpkin. The 4th course was to be saved for breakfast (tiramisu). Yes, espresso and tiramisu was breakfast the next day.
We then ended our day of cooking by sharing it with the family and the other couple (Ben & Emily) who joined us for the day. If you truly want to be immersed in Tuscan culture you MUST do this!
Day 3 - Unwinding in Tuscany's Hilltop Towns with Wine Tours
I am going to sound like a broken record here, but we spent the day with Marcello AGAIN. Remember I mentioned he is a wine sommelier??? Well... he picked us up at 9:30AM the next day to go on an all day wine tour to the 3 BEST local vineyards in the BEST wine country in the WORLD.
We began our day at the smallest vineyard in Montalcino which is known for their Brunello wine. One thing we learned about Brunello wine is that all you need to know is that the grape is "San Giovese" grapes. Meaning they are large but the thickness of the skin allows for more of a deep brown color.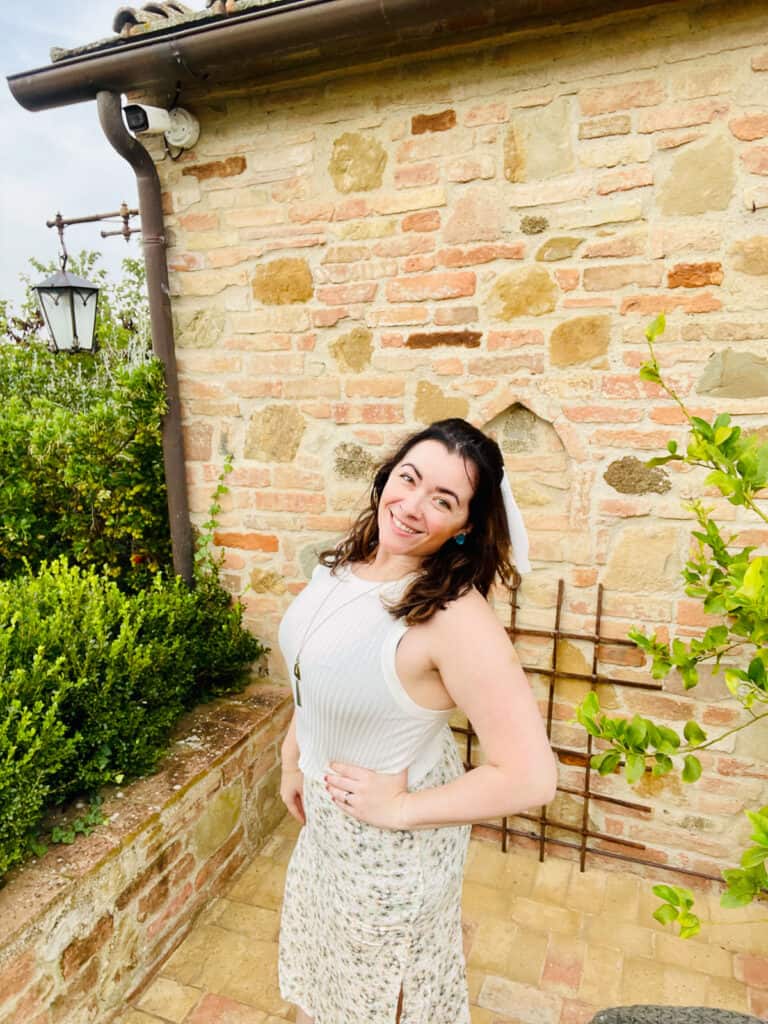 We then went to a winery that used to be a cathedral in the 13th century! Because of Marcello's inside connections with the owners we were able to bypass the lines and go in all by ourselves! What was even cooler about this winery was that you kept going DOWN and it got even OLDER. It keeps going until you reach an area that is an old set of Etruscan tunnels! Jake and I were able to be like little kids and run around these tiny tunnels! One of the best moments ever!
To be honest I knew ABSOLUTELY NOTHING about wine before this tour and now I feel like I know things... you know? I actually didn't care for red wine before this tour. That has definitely CHANGED. I now enjoy and LOVE it! 🍷 But only DOC or DOCG reds 😉.
As an add-on Marcello drove us to the small town of Pienza after our wine tours where we enjoyed more gelato and the most GORGEOUS views. We also went inside Pope Pius II cathedral that has been there since the 15th century!
I am an art history enthusiast and was in awe of the Byzantine art inside 😍.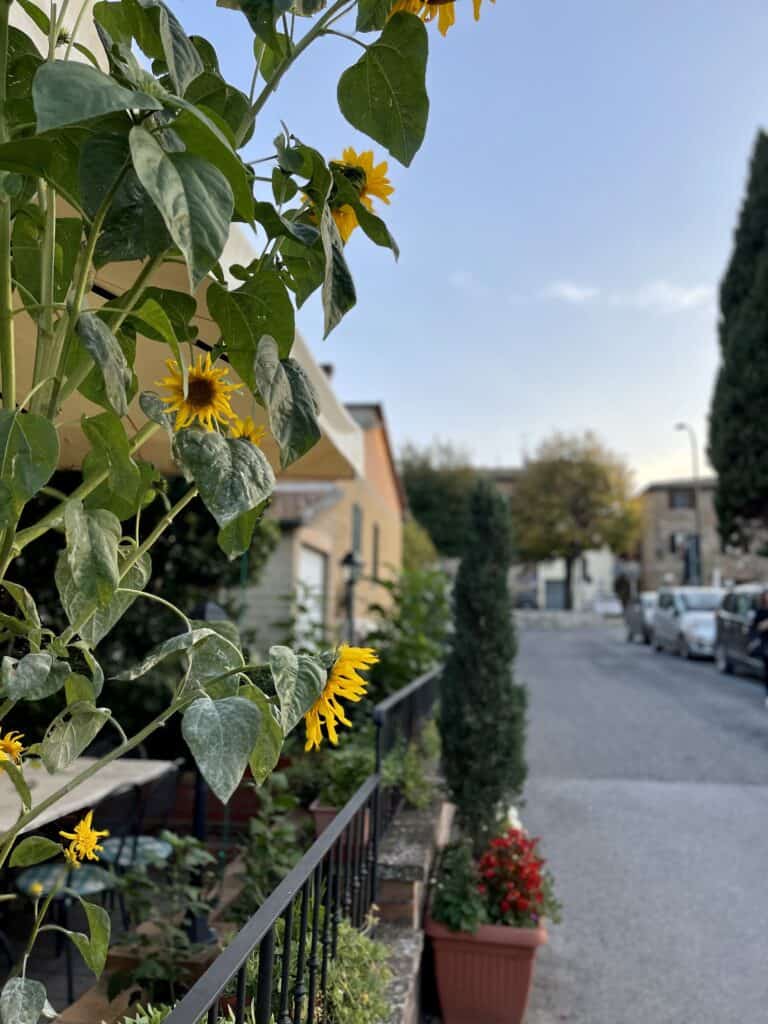 Afterwards we went back to the town of Buonconvento had dinner again at La Porta Di Sotto (it was THAT good) and I got a Pianigiani bag (look them up - they are manufactured here in Buonconvento and are basically a designer bag over there).
Day 3 - Options for your 3 Day Tuscany Itinerary
Explore the other neighboring hillside towns of Montepulciano and Pienza (the town where peccorino cheese originated).
Visit the local coffee bars. The espresso here was UNREAL. No added milk or anything needed. Fun Fact: In Italy ordering an espresso with milk after 11AM will get you weird looks. It's not common to have milk in their coffee in the afternoon.
Olive Oil Tasting - we did this and learned SO much!
See historic Florence - we actually had exactly 2 hours to run through Florence! We returned our rental car there and stopped at a coffee bar and ran to the Duomo Di Firenze for another Rick Steve's Audio tour and snap a few photos before catching our train to Rome. But if you have the time you can climb up to the top of that famous dome for a small fee as well as see the famous statue of David!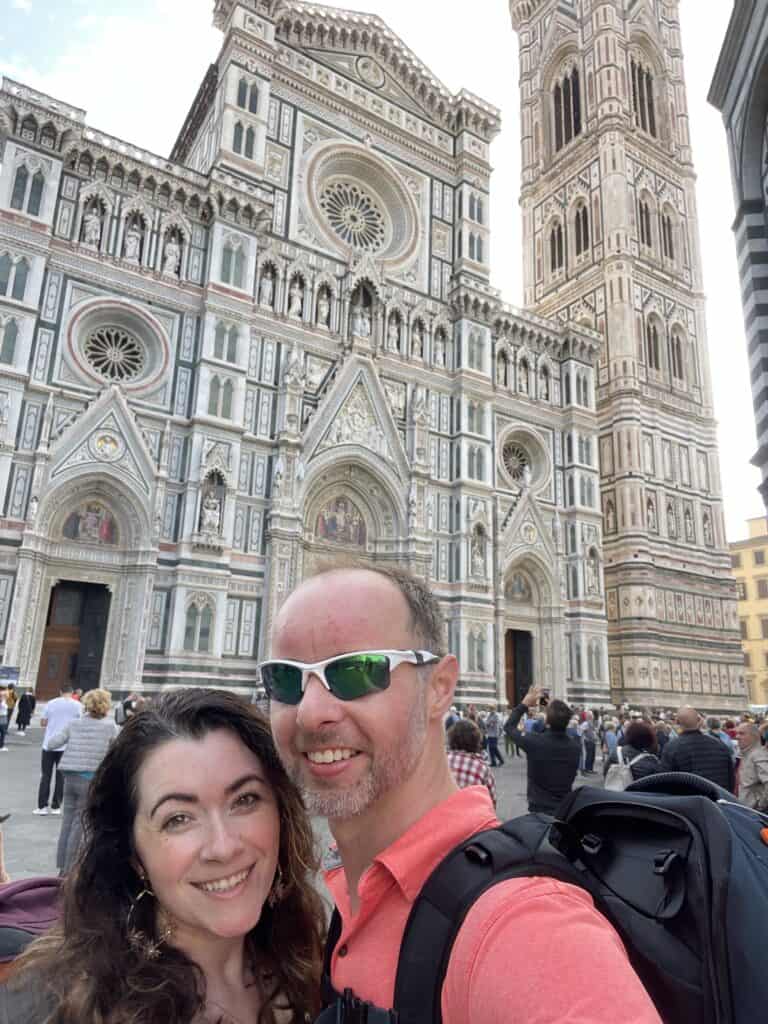 How To Budget For A Trip To Tuscany?
Honestly, the entire trip to Italy for 10 days was a LOT cheaper than we expected. The air fare was the most expensive part of our trip. That said, going with an agriturismo or an Air BnB is the most cost effective way to stay here. We were able to stay in this wonderful place for less than $500 for 3 nights!
How Much Does Food Cost?
We were pretty much able to order whatever we wanted for less than $50 for TWO PEOPLE! A full dinner with 2 courses AND wine cost an average of $45!
How to Drive in Italy?
First off they DO drive on the same side of the road that we do! So there's that. But PLEASE read all driving and road regulations. There are lots of restrictions and no drive zones that you need to be familiar with the road signs. Especially if you plan on driving into busier areas like Florence. Here is a good guide on Driving in Italy!
I am sort of new to doing travel posts here but I am enjoying recapturing my own memories from our adventures as well as the thought that if I can help someone else plan their first trip to Italy then it's worth it!
Other Wanderlust Posts You Might Like