I honestly don't feel like I need to explain the deliciousness of this Caprese Sandwich with Basil Pesto. Crusty sourdough bread with grated garlic, slices of fresh mozzarella cheese, fresh basil leaves, juicy ripe tomatoes, a drizzle of balsamic glaze, and a basil pesto spread THEN all toasted until nice and melty. YUMMMMMMM. Seriously such a great option for lunch, dinner, a picnic, or any social gathering! This Caprese Sandwich recipe is a delicious twist on a classic Italian salad and WAY better than your average grilled cheese sandwich recipe.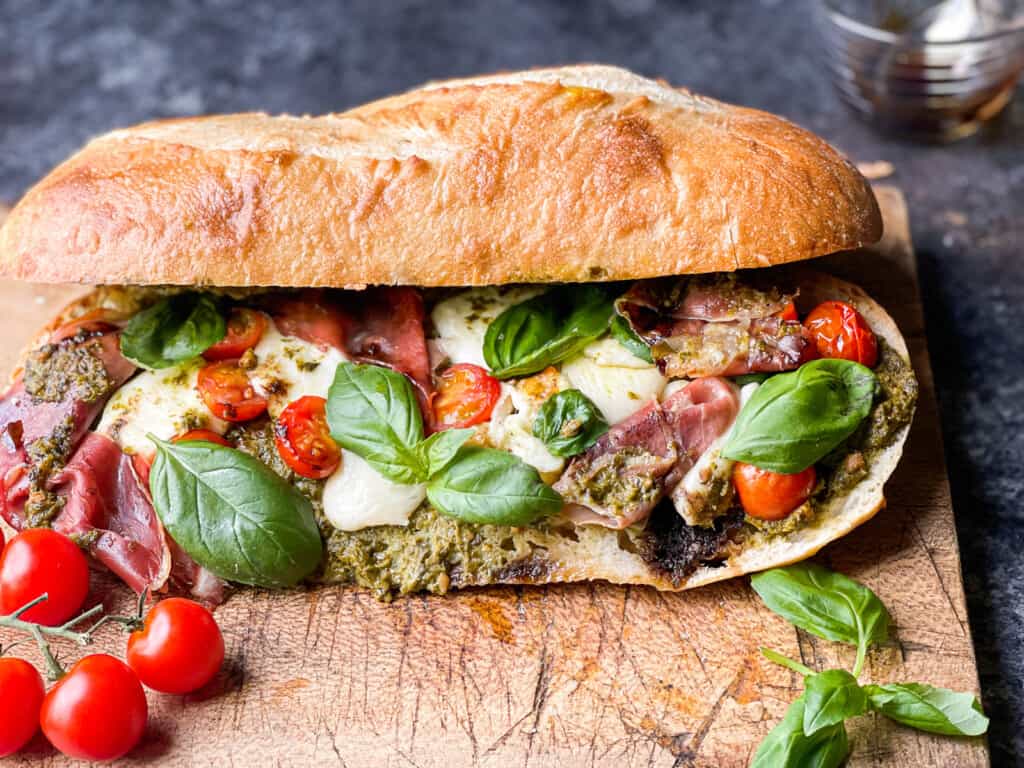 What is a Caprese?
Caprese is a widely popular Italian salad made up of fresh mozzarella, fresh tomatoes, and basil leaves.The term caprese is from the Island of Capri AND it colorfully represents the Italian flag colors or red, white, and green. I have been wanting to post this sandwich version of a caprese salad for FOREVER. And with my Italian travel and recipes I need to post INSPIRED by our Italian adventures... this has been on the back burner and on repeat testing for WEEKS and now she's on the internet!
The Twist: Toasted Caprese Sandwich with Basil Pesto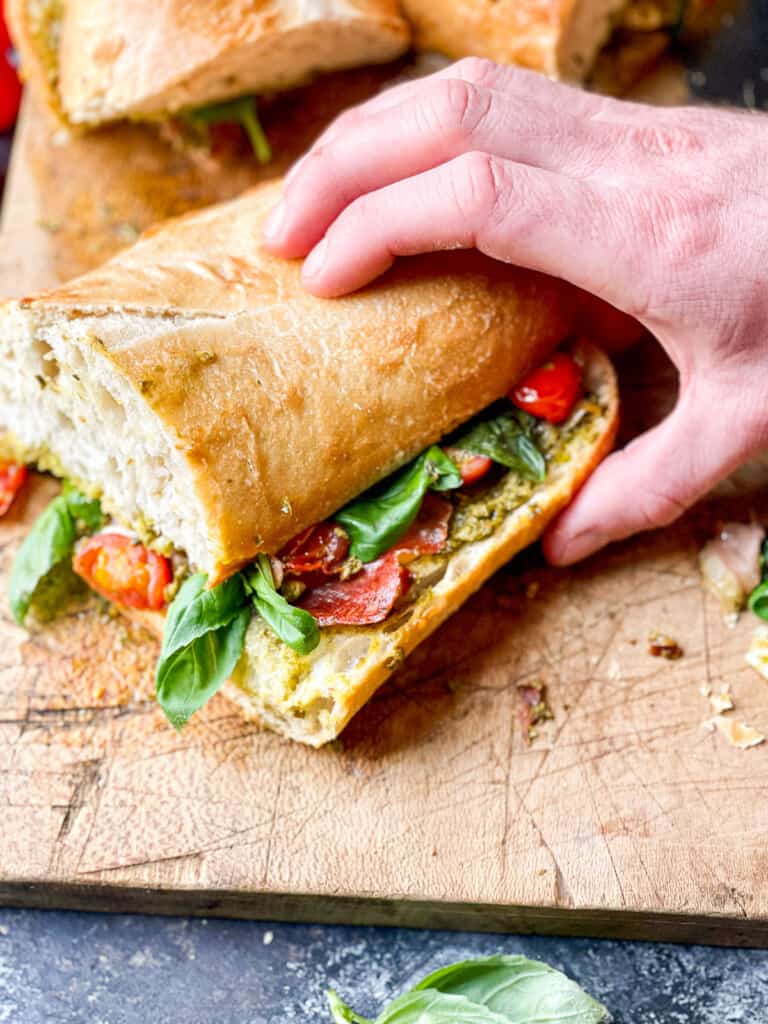 Caprese Salad + Grilled Cheese = I AM IN LOVE. 😍
Crusty bread with a thin layer of basil pesto, melty balls of fresh mozzarella, fresh tomatoes, a drizzle of balsamic glaze, and then studded with fresh basil leaves. HEAVEN. I was inspired to make this sandwich from our trip to Venice last year. We had our first taste of REAL ITALIAN pizza and it was literally caprese salad on crust and it WAS SO FREAKIN GOOD. I knew I have to make my own twist on this when we got back.
The secret ingredient (s) - Basil Pesto AND grated garlic INTO the bread. I am telling you. YOU MUST GRATE THE GARLIC INTO THE BREAD. It gives a spicy garlic bread vibes and I am HERE FOR IT. Seriously, SMUSH and spread that garlic all over. If you have been here for a while you KNOW I am a GARLIC LOVER. Hence my garlic stuffed chuck roast, my garlic roasted chicken, and this skillet chicken dish with a dreamy creamy garlic sauce (uses a whole head of garlic!). 🧄❤️🧄❤️🧄
Why You Should Make this Caprese Grilled Cheese
✔️ Don't be AFRAID of bread! I know bread gets a bad rep but this is why QUALITY INGREDIENTS MATTER. Choose sourdough (which is a fermented food and is actually good for your gut!) or choose a high quality whole grain bread I LOVE this recipe from Instantloss.
✔️ Filled with fresh herbs and veggies - again I am all about replacing vs restricting myself. I eat basically 80/20 and focus primarily on whole good quality REAL FOODS. So I make something like this sandwich, a pizza, or even a bagel but I make it myself so I know it's not processed and filled with preservatives or refined sugar.
✔️ It's GLORIOUS - I mean, just LOOK at it. It's made with only 7 ingredients and done with a total time of 15 minutes. WHY NOT try it???
✔️ Wanderlust - Travel with your tastebuds! We were inspired to make this caprese sandwich in our recent travels to Italy. We wanted to bring it home in some ways!
How To Make The Perfect Toasted Caprese Sandwich With Basil Pesto
This classic caprese salad on this toast golden brown sourdough bread is SUCH a good sandwich to bring to a big outdoor picnic lunch but making it EXTRA. Think outside of the bread 😉.
First step is to gather your ingredients: sourdough bread, tomatoes, basil pesto sauce, balsamic vinegar, fresh mozzarella, sweet basil leaves, and prosciutto.
Preheat the oven to 400F. While the oven preheats, make the balsamic reduction. All you need to do here is heat a small saucepan on medium heat and add the balsamic vinegar until it is thick and reduced by half.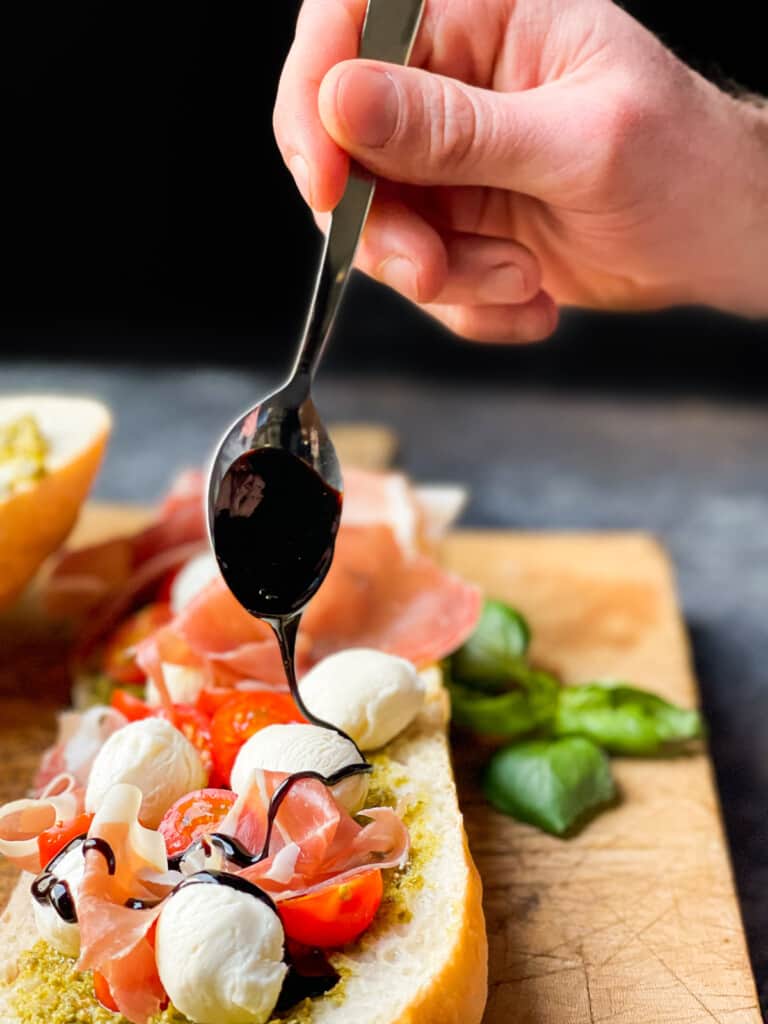 Next, spread a thin layer of the basil pesto on both halves of the bread and grate the garlic directly into the bread (try to make it as evenly spread as possible). Add the tomatoes, whole milk mozzarella ( I used the small mozzarella balls you can find in most grocery stores), add prosciutto, and drizzle the balsamic vinegar.
Toast in the oven until the cheese is bubbling and the bread is a nice toasty golden brown. Stud with fresh basil leaves. EAT.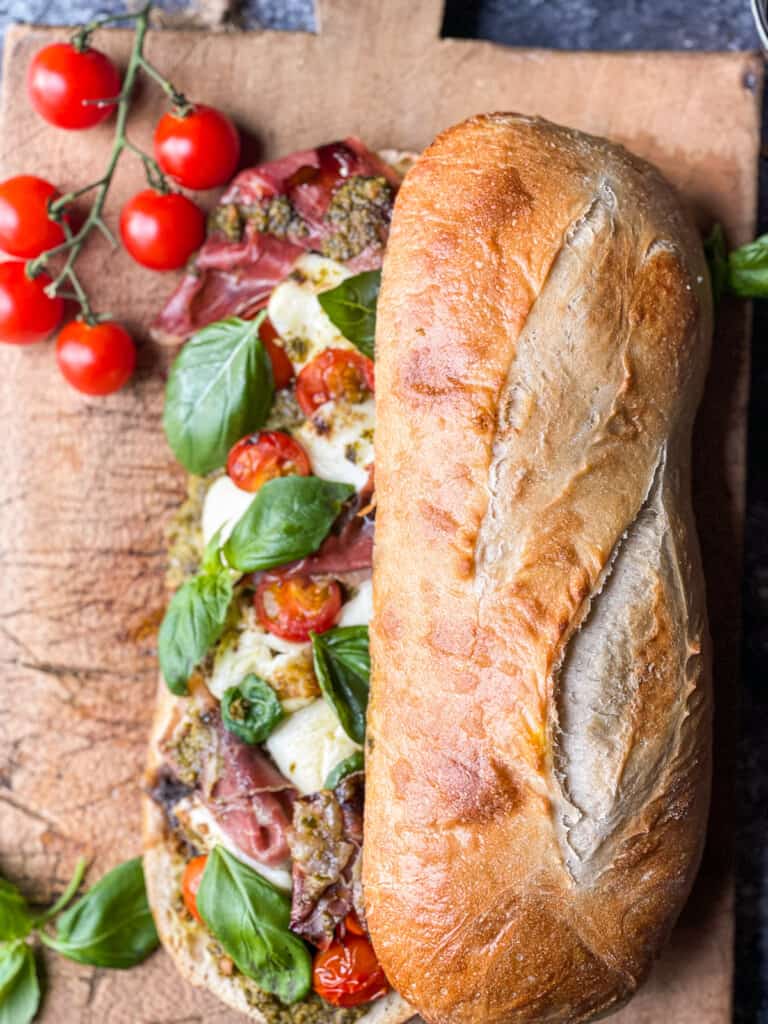 Serving suggestions and what beverages go well with this Toasted Caprese Sandwich.
To wrap it up, this Toasted Caprese Sandwich with Basil Pesto is a delicious and easy-to-make dish that will satisfy any craving for something savory and satisfying. With its combination of fresh mozzarella, juicy tomatoes, fragrant basil pesto, and crispy bread, this sandwich is sure to become a new favorite. Whether you're looking for a quick lunch or a tasty dinner option, this recipe is perfect for any occasion. So why not give it a try today and enjoy all the delicious flavors that this amazing sandwich has to offer!
OTHER RECIPES YOU MIGHT LIKE
Made this recipe and LOVE IT??? I would so appreciate a star review and rating in the comment section below! Thanks again for stopping by my little corner of the interwebs! Don't forget to follow me on Instagram for the latest!
Print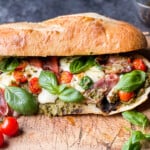 Toasted Caprese Sandwich with Basil Pesto
---
Author:

Total Time:

20 minutes

Yield:

5

servings

1

x
1

loaf Sourdough Bread

⅓ cup

Balsamic Vinegar

2

cloves of garlic, grated

2

-

3

tbs Basil Pesto

½ cup

Cherry Tomatoes, sliced in half

4 oz

of fresh mozzarella

8

Fresh Basil leaves

2 oz

of prosciutto (optional is you want to keep it vegetarian)
---
Instructions
Preheat the oven to 400F. While the oven preheats, make the balsamic glaze.
In a small sauce pan, heat the balsamic vinegar over medium heat, stirring occasionally, until the vinegar has thickened and reduced by half. (About 3 minutes).
Next, spread the garlic and basil pesto on each half of the loaf in a thin even layer. Add the tomatoes, mozzarella, and prosciutto. Drizzle the balsamic glaze on top.
Toast in the oven for 15 minutes. Or until the bread is golden brown in color and the cheesy is nice and bubbly.
Pull out of the oven to cool slightly. Add the fresh basil leaves.
Enjoy!
Prep Time:

5 minutes

Cook Time:

15 minutes

Category:

Lunch

Method:

Oven
Keywords: caprese sandwich, caprese grilled cheese, grilled cheese