These Easy Whole30 Burger Bowls will allow you to re-imagine burger night with loaded burger bowls with all the fix ins. Pickles, red onion, ground beef seasoned WITH pickle juice, sweet potato fries, crisp cucumbers, and vine ripe tomatoes. Pretty much the perfect low carb recipe for busy weeknights with all your favorite burger toppings!
This post may contain affiliate links. Every item on this page was chosen by The Kitcheneer team. The site may earn a small commission on some products (read more here.)
Because bowl-style foods are the best foods. If you have been following my blog for a hot minute, you KNOW I love food in a bowl. It's convenient, easy to throw together, and I simply just love all of the flavors all together! And as a bonus, burger bowls are just as easy and flavorful (and better) than the classic burger on a bun. (and prettier 😍).Hits the spot on my burger cravings.
BLUF (Bottom Line Up Front): These Whole30 Burger Bowls are the essence of a burger in a bowl and instead of taking the time to form patties for this recipe, I simply lightly crumbled the ground beef (seasoned with salt, pepper, crushed red pepper, and some pickle juice), this way it's like eating little burger bites. And let's be real here: you would be breaking up the patty anyway with your fork. So we are just skipping all that k?
Jump to:
Easy Whole30 Burger Bowl Ingredient Highlights
Basically we plop greens in a bowl, top with onion slices, tomato wedges, sliced dill pickles, and crispy sweet potato fries. SO freakin good!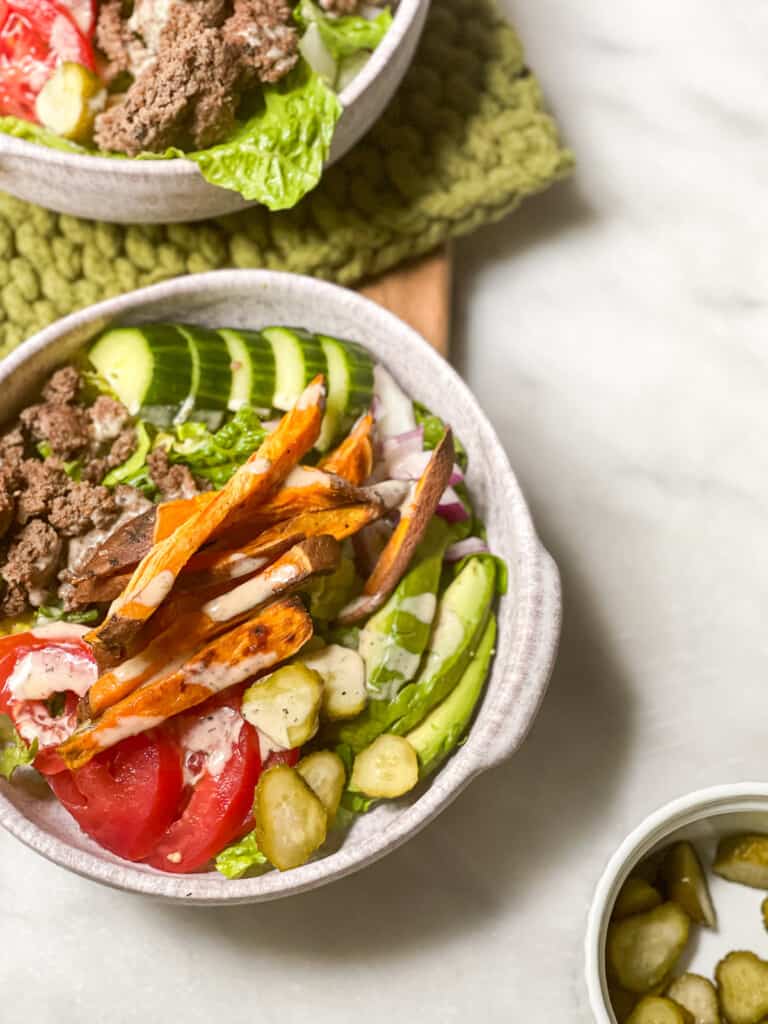 Ground Beef: I love a lean-ish ground beef here. I go for 85%. It has just enough fat that you don't really need to add extra into the pan when you cook it. Plus only simple seasoning here. And to give it some extra burger flare I added a little pickle juice!
Sweet Potato Fries: You can't go wrong putting fries on this burger salad! I actually do this A LOT with my salads. It's a GAME CHANGER and it satisfies those cravings without breaking your healthy habit!
Burger Bowl Toppings: Make it your own here! I love fresh mixed greens, pickled red onions or marinated onions, ripe tomatoes, pickles, cucumbers, avocado slices, pico de gallo, radishes, and broccoli sprouts!
How to make this Easy Loaded Burger Bowl with Sweet Potato Fries
You are absolutely going to LOVE how easy this all comes together. (As by design 😘).Welcome to the good burger. May I take your order???😉
Combine all spices and pickle juice into a large bowl and mix thoroughly into lean ground beef. And get the sweet potato fries in the oven!
Preheat a large skillet and add the ground beef mixture.Break into large clumps and cook on medium heat.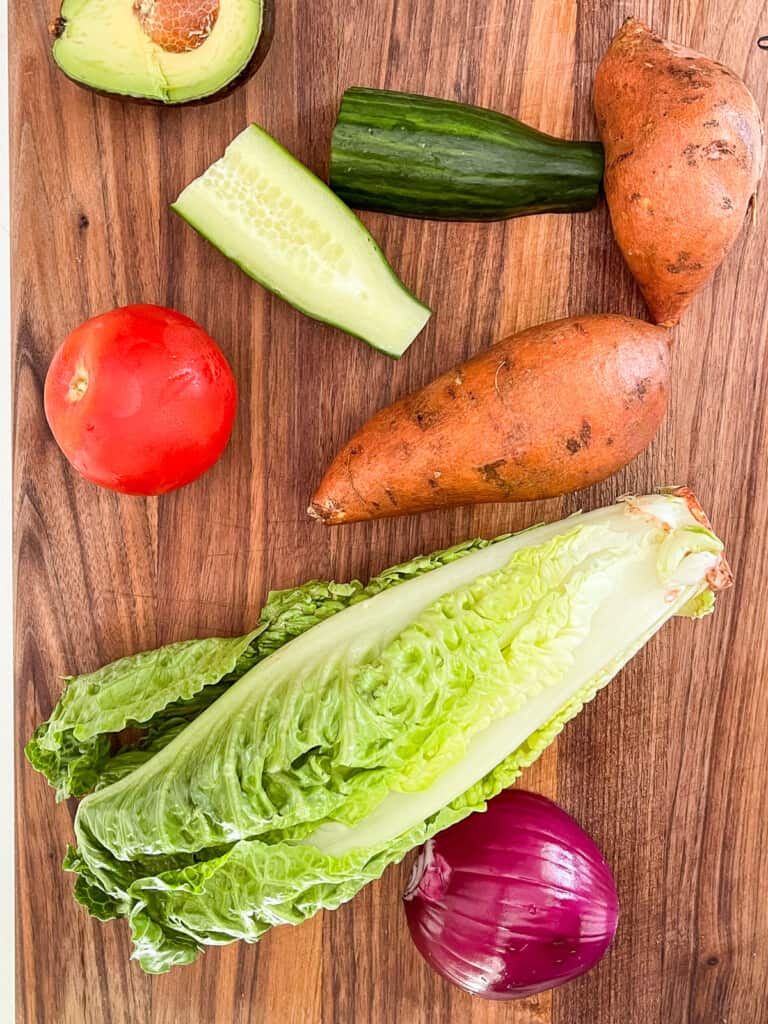 While the burger crumbles cook, chop up the veggies and whatever toppings you would like.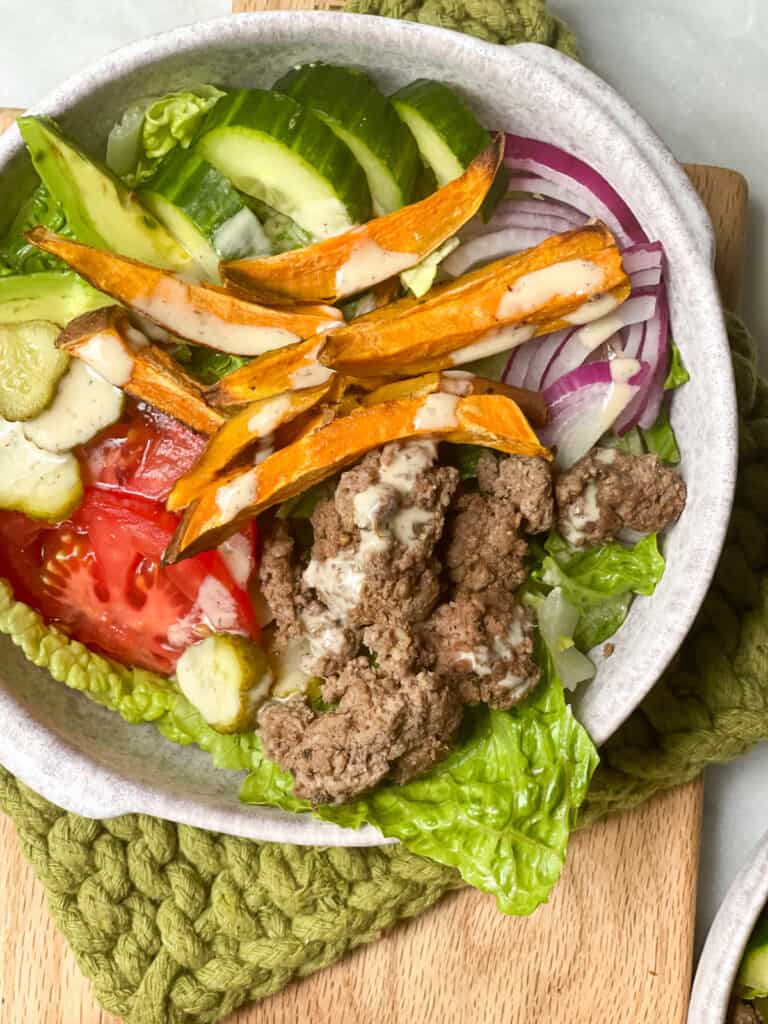 Assemble!
Note: To time batch (save time) here, I will put the fries in the preheated oven first and when they are 20 minutes in I will start the burger bowl recipe. This way everything comes together all at once.
Healthy Burger Bowls Variations
Not on the Whole30? No problem! We can easily adapt this recipe to accomodate your whole family's needs! Plus all your favorite toppings!
Swap the Greens - Not a romaine fan? No prob! I love spinach, arugula, spring mix,butter lettuce, etc. Always use what you have on hand!
Wrap It - I sometimes turn this bowl into a wrap! Use your favorite whole wheat wrap or collard leaves to make this into a wrap!
Vegetarian - the beef can be replaced with a plant-based burger to make this vegetarian
Add Cheese! - Sometimes not every one is dairy free and we support that! I like to have a block of cheddar to shred on top of some of the burger meat in the last minute of cooking and serve that ooey gooey goodness!
Spice it UP - Want it spicier? I love adding diced jalapeños, chili powder, onion powder, and some of that delicious Chili Lime Spice from Trader Joe's. 🌶 Swap Protein! Not a beef fan? Swap for ground turkey or ground chicken! Either is a great option!
Need more Whole30 Recipes?
I can't wait for you to try these Whole30 Burger Bowls! They're an extra-fun way to spice up any night of the week. If you do give them a try, be sure to let me know! Leave a comment with a star rating below. You can also snap a photo & tag @thekitcheneer on Instagram! I LOVE hearing from you and seeing your Kitcheneer creations!
Print
Easy Whole30 Burger Bowl with Sweet Potato Fries
---
Description
These Easy Whole30 Burger Bowls will allow you to re-imagine burger night with loaded burger bowls with all the fix ins. Pickles, red onion, ground beef seasoned WITH pickle juice, sweet potato fries, crisp cucumbers, and vine ripe tomatoes. 
---
1

lb 85% Lean Ground Beef

1 tsp

of salt and black pepper
Pinch of red pepper flakes

¼ cup

of pickle juice
For the Sweet Potato Fries
2

sweet potatoes, cut into fries

1

tbs olive oil
Salt and pepper
For the bowls (as desired)
4

-

5

cups Mixed Greens/Romaine

1

-

2

roma tomatoes, diced

½

cucumber, quartered then cut into half moon shape

½

small red onion, sliced thin (or use pickled red onions)
Pickles
Possible Dressings to Use on the Burger Bowls
Home Mayo (Optional)
Spicy Brown Mustard
Your favorite ranch dressing (I love Tessemae's Habernero Ranch!) 
---
Instructions
Bake the Sweet Potato Fries: Preheat the oven to 425. On a parchment lined baking sheet toss the potato fries with olive oil and seasoning. Bake in oven for 20-25 minutes, shaking the pan halfway through. 
Mix the burger meat: In a large bowl, add the ground beef, salt, black pepper, red pepper flakes, and pickle juice. Stir well with a fork (or clean hands) to combine.
Cook the burger bite crumbles: In a large skillet, on medium high heat add the burger mixture and stir occasionally until cooked through. 
Assemble these Easy Whole30 Burger Bowls:  Build your burger bowls as desired.  I personally like to start with my mixed greens and romaine, then nest the burger crumbles in there, add the tomato, onion, pickles, cucumbers, and last but not least the sweet potato fries. Drizzle with your dressing or sauce of choice. 
Notes
Storage and Reheating: Store any leftover burger crumbles and sweet potato fries in an airtight container. This will keep in the fridge for up to 4 days. Reheat in microwave until warmed through and serve over a bed of greens, cauliflower rice, or over steamed brown rice. Maybe add some fresh diced avocado?